Is your IT company website optimized for lead generation and customer service?
As an MSP, you understand the value of data collection and streamlined processes. The same value can be applied to your biggest online sales and marketing engine — your website.
There are a number of WordPress tools available to help with everything from email marketing to sales automation. Here are some of our favorite sales and marketing tools for IT company websites:
GlassHive, a robust sales and marketing app designed especially for IT companies
ActiveCampaign, a highly customizable sales automation and email marketing tool
Keap, a CRM platform that can also handle appointments scheduling and payments
HubSpot, an all-in-one growth platform that provides CRM, marketing, sales, and customer service tools
Gravity Forms, a popular plugin for creating and embedding contact forms
In this post, we'll cover what to look for when choosing add-ons for your site. Then we'll share five of the best IT sales and marketing WordPress tools. Let's go!
How to Choose the Right Tools for Your IT Company Website
Most IT companies need to keep track of large amounts of information on both current and potential customers. Following up with leads, tracking appointments, and maintaining client records are crucial tasks that take a lot of time.
As such, finding preferred website add-ons that streamline or automate sales and marketing efforts can enable you to do more with fewer resources.
As a small or medium-sized business, any website tool that can save you time will be beneficial. You might want to concentrate on finding tools that enable you to gather, interpret, and leverage actionable data about website visitors without requiring a superhuman effort on your part.
Top 5 Sales & Marketing Tools for IT Company Websites
Now that you know what to look for when choosing WordPress tools for your IT company website, let's have a look at the top five (in no particular order).
GlassHive (formally Honey CRM)
GlassHive, formerly known as Honey CRM, is a sales and marketing app designed specifically for IT service providers. Implementing a line of code will enable your website forms to feed directly to the CRM application.

Key Features:
Native integrations with ConnectWise, Autotask, Office365 and more!
Multiple automations for repetitive tasks
Branded marketing content designed for MSPs
Bulk actions to make following up on leads quick and easy
GlassHive's contact research feature can simplify your contact management processes. Enter whatever information you have on a potential customer. Then, this CRM app goes to work searching Google and social media platforms to fill in the gaps. The tool then uses this data to build a profile for your lead.
You'll also gain access to a collection of marketing content. Your team can use it in your website content, social media posts, or email marketing campaigns. Choose from infographics, white papers, and other materials to help entice new clients to your IT business.
If you're already using other tools for marketing, such as Gmail or HubSpot, you'll be pleased to know that they integrate well with GlassHive. These integrations should help to eliminate some of the headaches that can accompany migrating to new systems.
Price: Prices range from a limited free version to $499 per month.
ActiveCampaign Plugin
You may already be familiar with ActiveCampaign. However, did you know there is also a WordPress plugin available? Adding this tool to your website enables you to connect it to your ActiveCampaign account.

Key Features:
Site tracking for more precise segmenting
Live chat widgets for your website
Detailed reports to zero in on your most engaged contacts
ActiveCampaign could be an ideal choice if you're hoping to automate some of your marketing tasks. The plugins allows users to embed an ActiveCampaign form on your site. It can capture lead information and trigger an email series, helping targeted email campaigns run more smoothly.
You can also use ActiveCampaign to segment your audience according to a variety of parameters. For example, you can isolate clients who are likely to leave and take steps to prevent them from moving to competitors. Additionally, if you're ready to bring on new customers, you can build a segment of contacts who consistently open your emails and focus on converting them.
Price: The plugin is free with ActiveCampaign subscriptions ranging from $15 to $279 per month.
Keap
Keap, formerly Infusionsoft, is another powerful CRM that integrates with WordPress in many ways. You can connect your Keap account directly to your website or take advantage of the Infusionsoft Official Opt-in Forms or Infusionsoft Landing Pages plugins.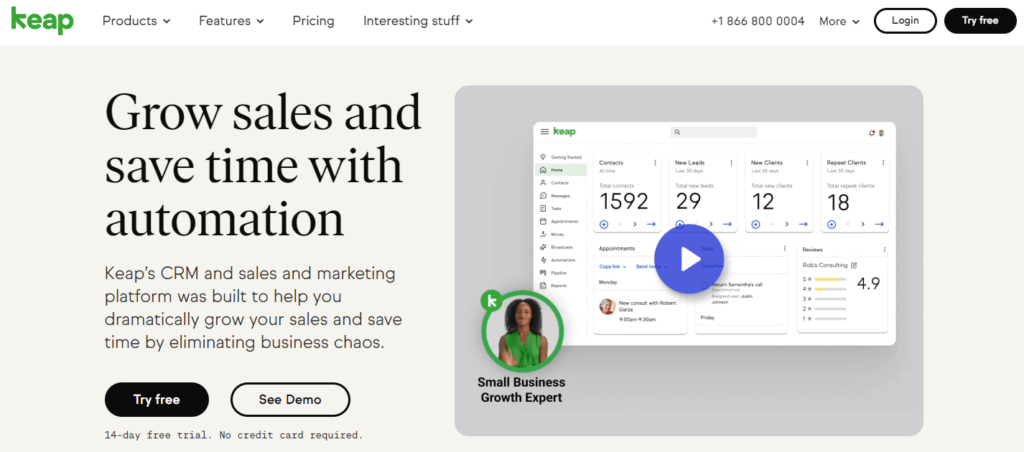 Key Features:
Enables you to build engaging landing pages to collect leads
Has tools to create sales pipelines
When it comes to automation, Keap has a lot of flexibility. You can set up appointment booking on your website using the platform's built-in scheduler. Then, you can create a workflow that automatically sends a reminder after a certain number of days. It's a thoughtful feature to offer your clients that doesn't sacrifice your valuable time.
Keap also has an Advanced Automations builder you can use to set up custom workflows for your IT company. Since Keap integrates with many other powerful apps, the possibilities are pretty impressive.
Price: Prices range from $79 to $199 per month, depending on how many contacts you have. Keap also offers a 14-day free trial.
HubSpot
HubSpot offers a free WordPress plugin that allows users to leverage its HubSpot email marketing, CRM, forms, popups, and live chat features on their WordPress website.

Key Features:
Enables website forms to be automatically synced with HubSpot CRM
Email marketing & newsletter automation
Live chat and chatbot features to enable 24/7 customer support
HubSpot enables you to grow your IT business to greater heights. By using their plugin, you can turn website visitors into leads, nurture them into customers, and measure your business growth.
With HubSpot's free plugin you can easily engage visitors with live chat and chatbots, and convert leads with forms and popups. The plugin also allows you to build responsive email newsletters directly inside WordPress, and nurture your leads with marketing automation campaigns.
Price: The plugin is free with HubSpot premium software subscriptions ranging from $45 to $3,200 per month.
Gravity Forms
Gravity Forms is a popular and easy-to-use contact form plugin. Using its visual editor, you can build forms that will work with your MSP website.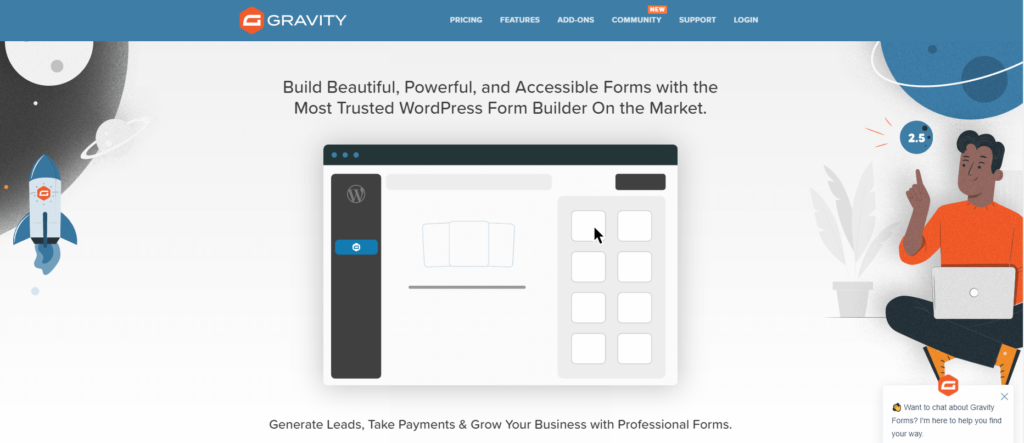 Key Features:
Integrates with Keap, ActiveCampaign, ConnectWise, Autotask, and many other online services
Includes responsive contact forms that should work well across various devices
Enables users to save forms and complete them later
If you're looking to add even more functionality, check out the official Gravity Forms Add-ons. These extra programs enable integrations with CRMs, payment processors, and other business tools. There are also many third-party extensions available from the Community Add-ons Directory.
One of our favorite features of Gravity Forms is its integration with ConnectWise. After setting this up, users can have form submissions to be automatically sent to their ConnectWise account. This feature makes it easier for users to keep track of client performance issues and security threats.
Gravity Forms offers over 30 pre-built form fields you can use to gather all the information you need. To avoid overwhelming customers with a large number of questions, you can take advantage of conditional logic. With this feature, you can show users only the most relevant fields based on their input.
Price: A license for Gravity Forms ranges from $59 to $259 per year. A limited free option is also available.
Conclusion
Choosing the correct MSP marketing and sales tools for your IT website is an excellent way to generate leads and improve the overall customer service experience for your clients. They can also streamline processes and make life easier for you and your staff.
Do you need help maintaining and choosing the right sales and marketing tools for your IT website? At Pronto, we can get your WordPress site optimized.