Google Maps isn't just for figuring out how to get from one place to another. It's a valuable marketing tool for getting your business to pop up in Google search results. If someone in your business's local area searches for something you sell or provide, Google Maps can potentially display your business first in the search results.
Let's say you run a dental practice and offer services like dental exams, cosmetic dentistry, and fillings. Someone four miles away is in desperate need of a filling, but they're not sure where to go. So like many of us do, they turn to Google for an answer. They search for "dentist near me" and your practice pops up first. The listing includes your practice's name, rating, reviews, address, photos, and everything else that person needs to make a decision. Later that day, they come to your clinic with the assistance of Google Maps. They get a filling, and you have a new patient all because of Google Maps.
But it doesn't stop at dentists — or restaurants, fitness clubs, and retail stores. From MSPs to law firms, businesses of all kinds can leverage Google Maps to drive more direct calls, walk-ins, and website visits.
You might be wondering how all of that is possible. What matters when it comes to Google Maps marketing is your proximity to the person running the search, reviews from customers, and an informative and accurate Google My Business profile.

What is Google Maps marketing?
Google Maps marketing is about leveraging Google My Business and local SEO techniques to help increase your local search presence for a service or product. Google Maps marketing involves primarily focusing on these tasks:
Creating a Google My Business listing

Optimizing your listing

Getting positive reviews

Adding photos, links, and questions and answers

Keeping the listing up to date
Why is Google Maps marketing so important?
Local search is enormous! Forty-six percent of all Google searches are from consumers looking for local information, and 86% of consumers use the internet to find a local business (Source: GoGulf). 
What is Google My Business?
Google My Business is Google's business platform to manage your business presence on Google. Your profile can appear on Google Maps and Google Search. The Google My Business dashboard comes with valuable insights to see how your listing performs on Google Maps and Google Search and enables you to post updates or replies to customer feedback.
Understanding the local pack
The local pack refers to the top businesses that appear in a local search. The search results display a map, followed by the top three business results. These are separate from the regular organic result items and ads, so it's possible to appear in all three positions.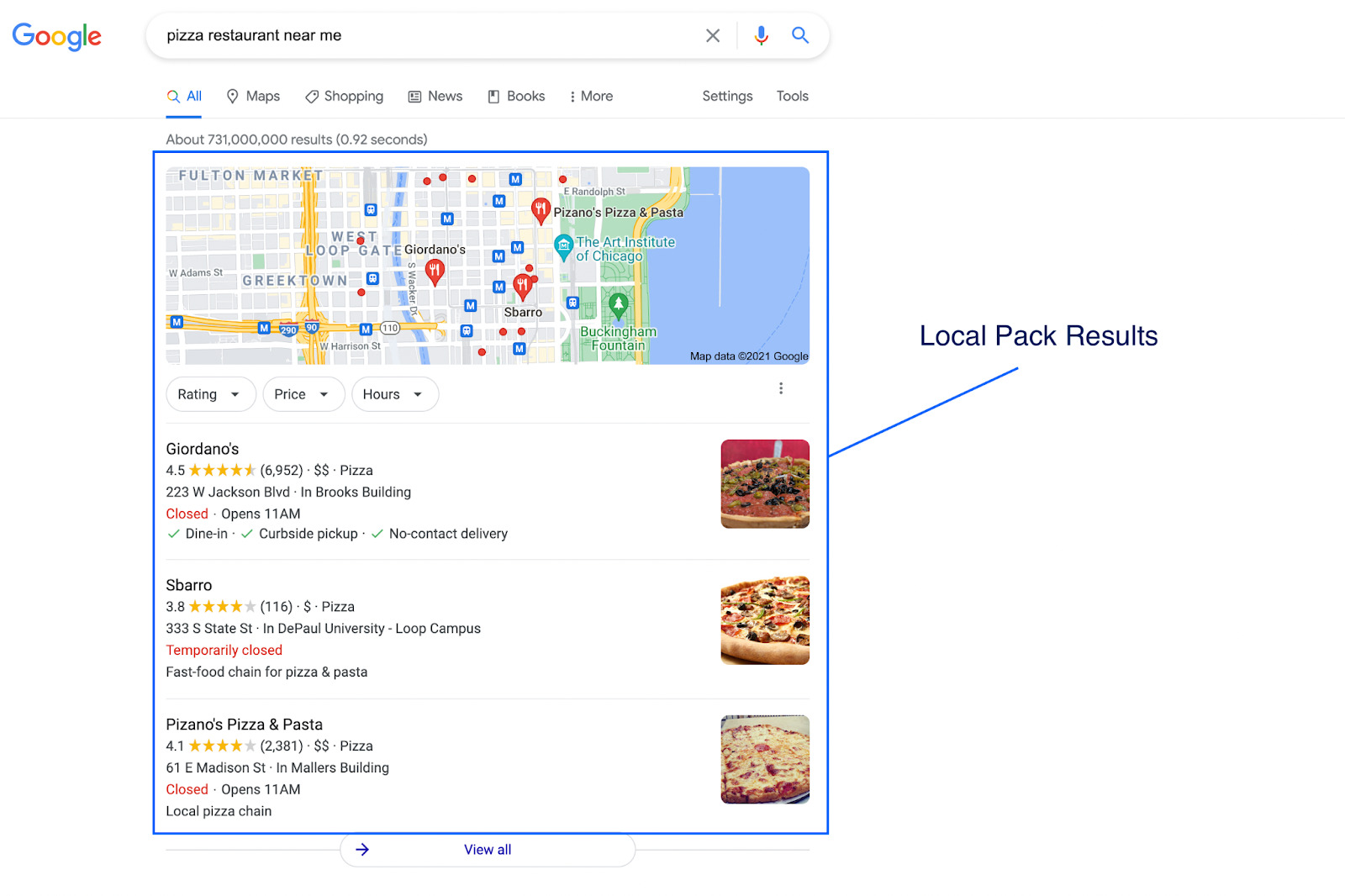 Why is Google My Business important?
If you want to rank well for local searches, you must sign up for a Google My Business profile. Many people in the SEO community believe Google My Business is the biggest contributing factor for appearing in the local pack results. According to this Whitespark survey, the most important factors for local pack rankings are: 
Google My Business – 33%

Reviews – 16%

On-page optimization – 15%

Links – 15%

Behavioral – 8%

Citations – 7%

Personalization – 6%
What your Business Looks Like on Google Search
Local pack mobile view
The mobile search view will always contain a map of local listings for the searched area (or near me searches) and the top three results with a button to view all.



Mobile business view
The mobile view of a business listing contains less information than the desktop view. However, it still includes the company name and essential button links, including a listing overview, post updates, customer reviews, photos, and a company brief.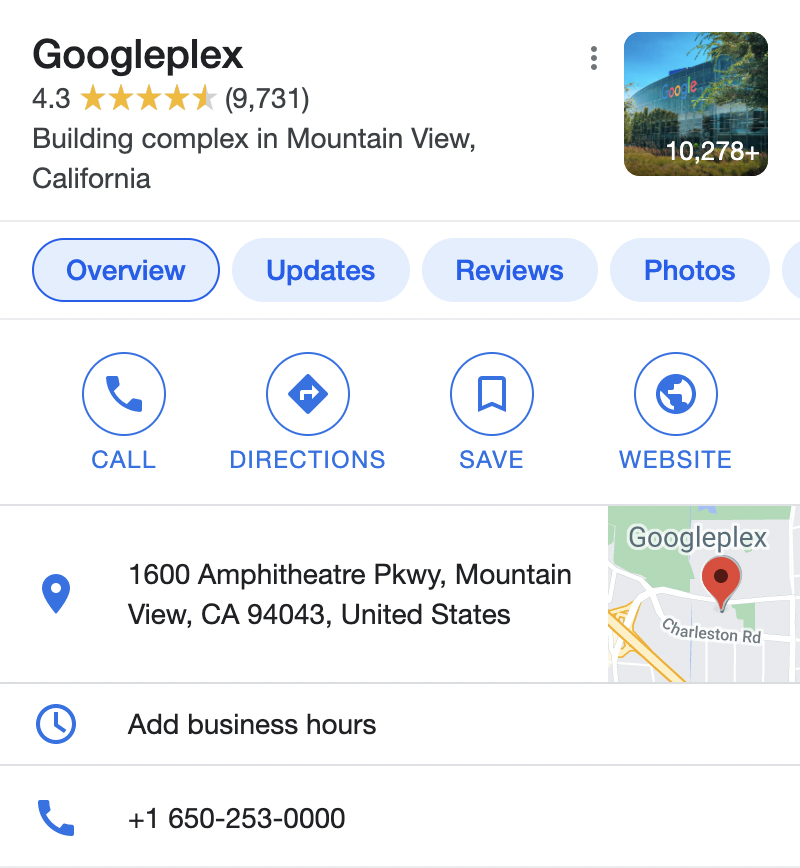 Local pack desktop view
Like the mobile search view, the desktop search view will always contain a map of local listings for the searched area (or near me searches) and the top three results with a button to view all.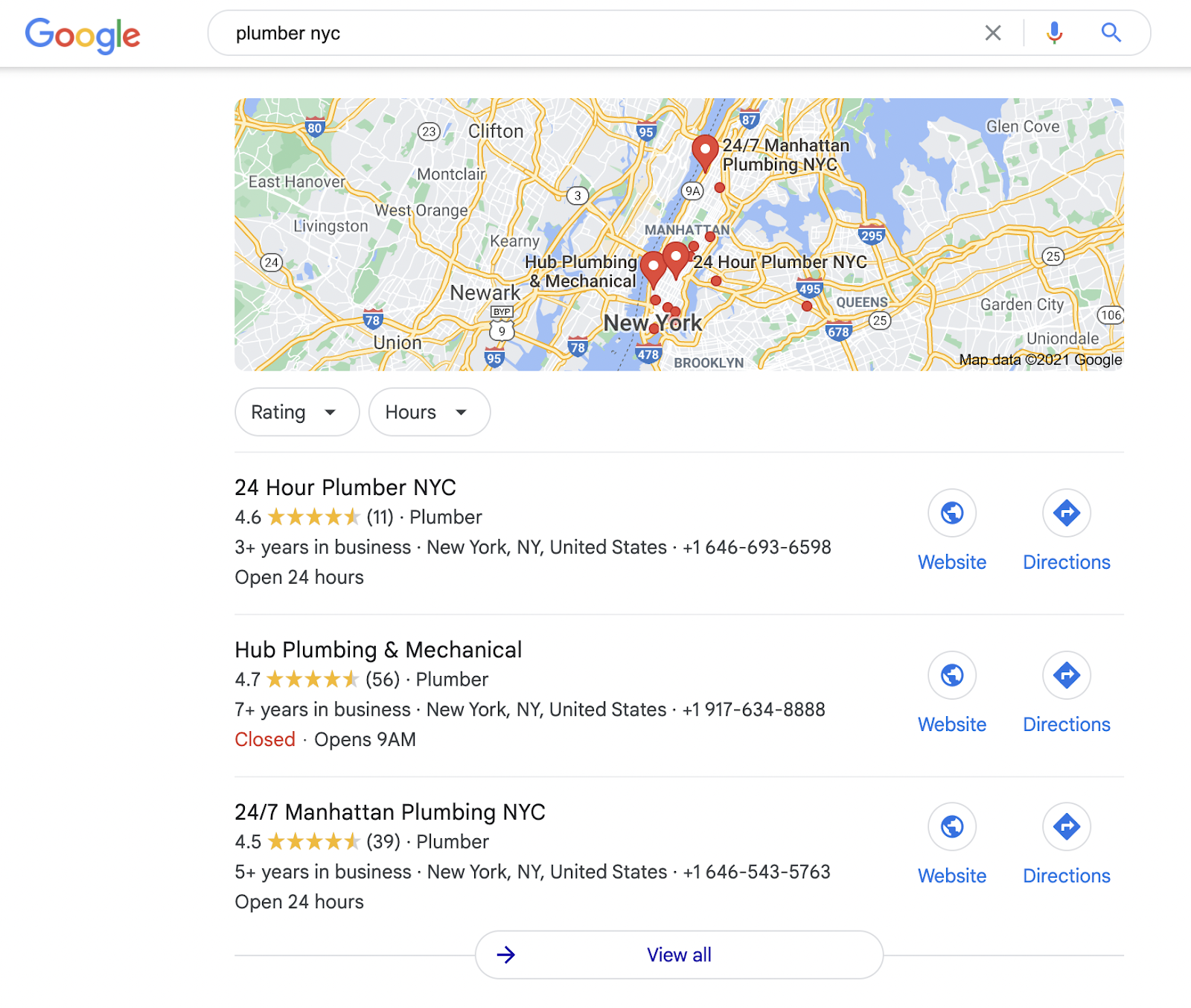 Desktop business view
The business panel of your listing appears on the right side of your desktop screen. It includes your company or building name, relevant links, and your business address and description.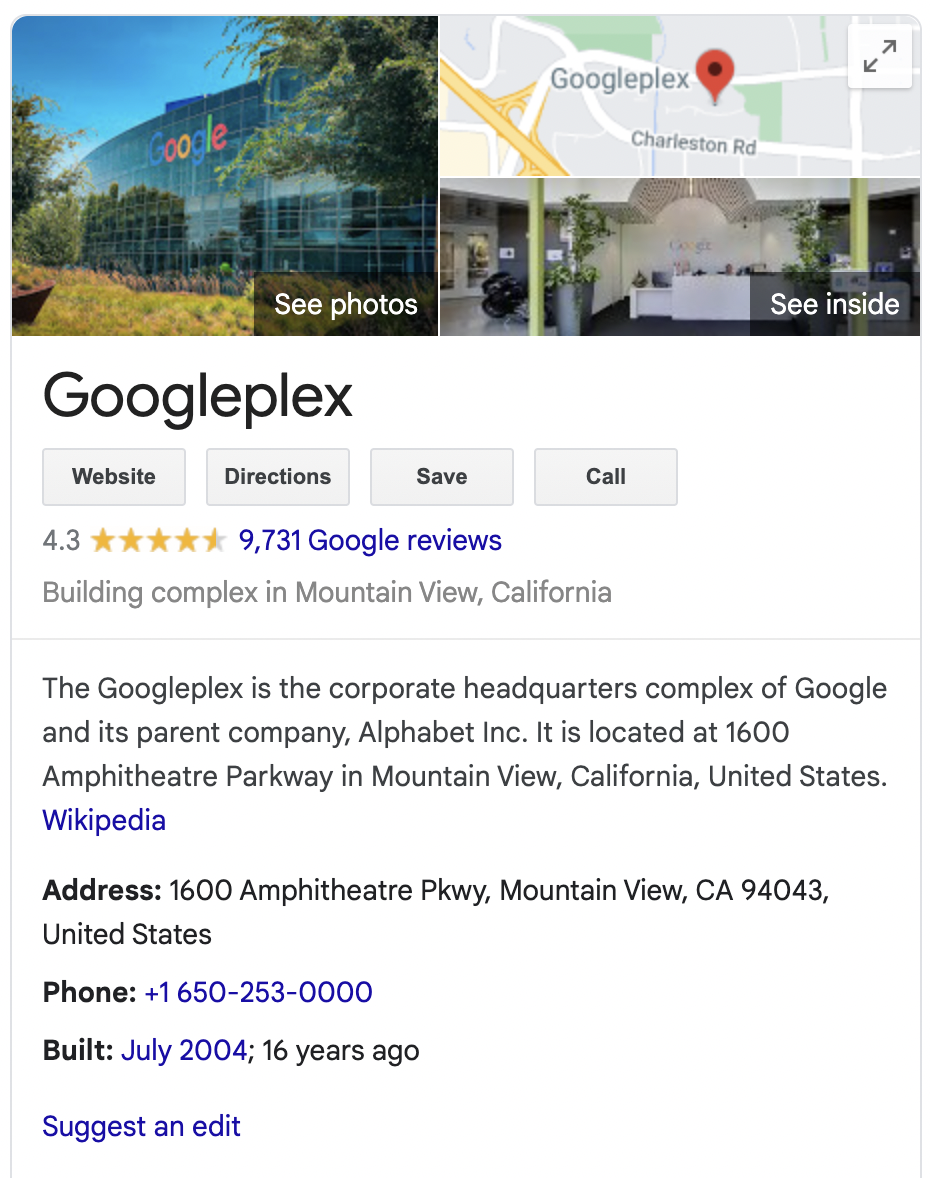 The panel often displays a "Questions & Answers" section. Consumers can ask the business (or other consumers) questions about the company or location. For example, what services they offer or if they are open on upcoming holidays. Since anyone can answer these questions, it's best to address them quickly so that you can give an official response. 
Below the Q&A section is the latest customer reviews. Here, the public can leave a review or upload an image related to the business or business location.


The Google My Business Dashboard
The Google My Business dashboard is the control center where users can manage everything for their business profile on Google. There are many different options available, so we'll go through the core tabs one by one.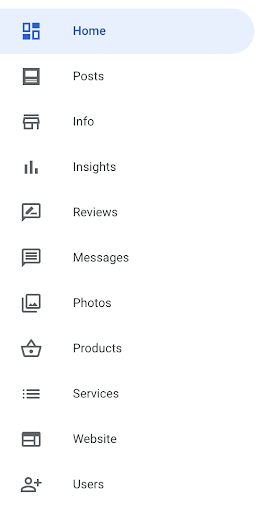 Home
The Home tab is where you'll find an overview of the business profile, including:
Performance overview

Recent customer photos

Latest customer reviews

Shortcut to create a post

Google My Business Posts
The Posts tab allows you to pin recent updates or promotions to your listing. It's like posting on Facebook or Twitter, but for Google Maps and Google Search results.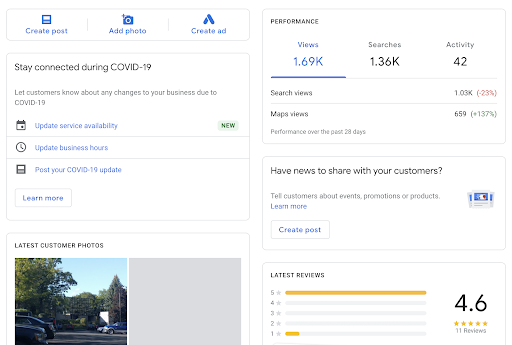 With Google My Business posts, businesses can publish updates about their brand and promote their businesses, thus engaging with consumers.
Google currently provides 4 different post types:



Note: During the pandemic, Google also offers a special post type called COVID-19 Updates.
Businesses can also include a call to action (CTA) to their posts to guide consumers through any next steps.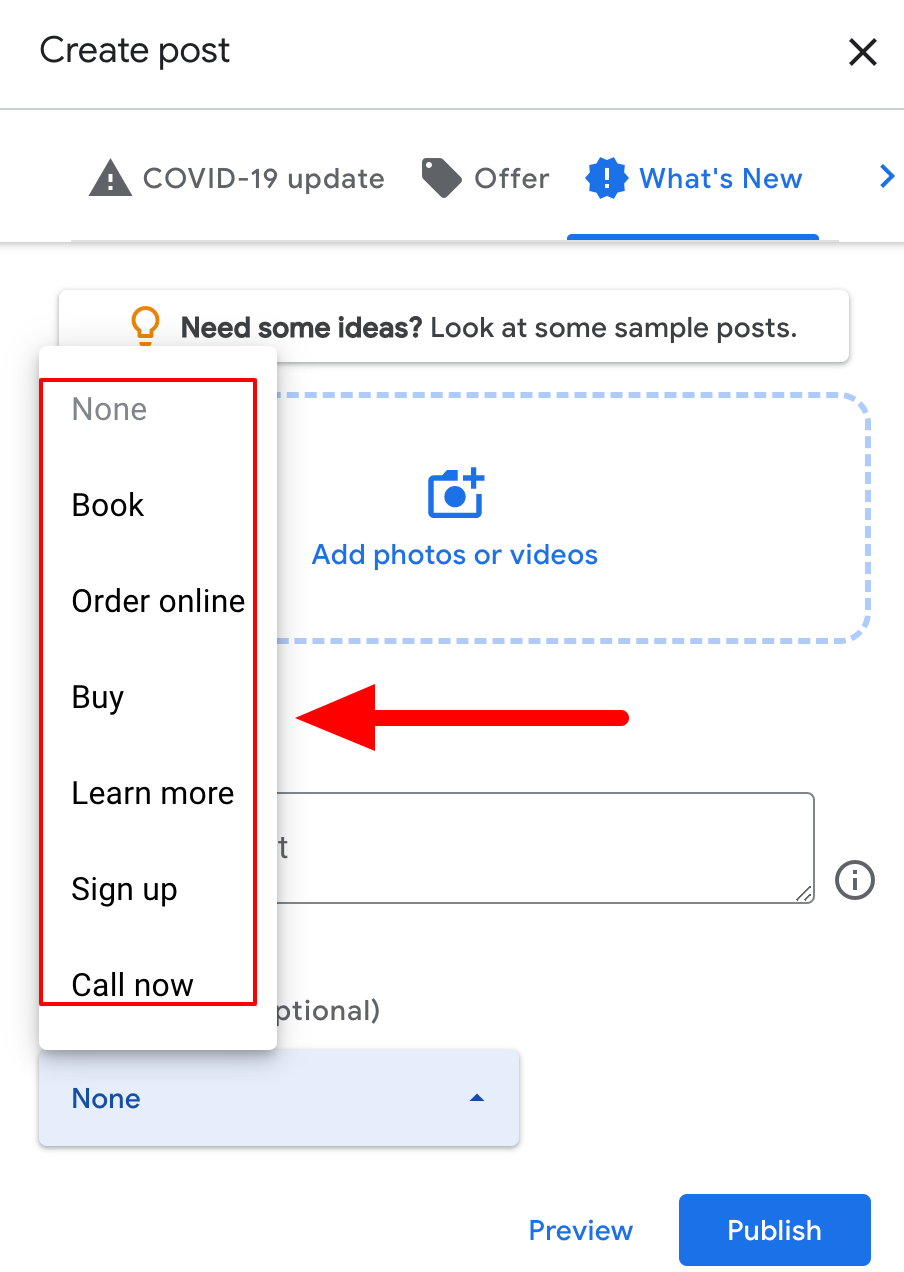 Google My Business posts also have a feature that allows viewers to share your posts on social media or email platforms.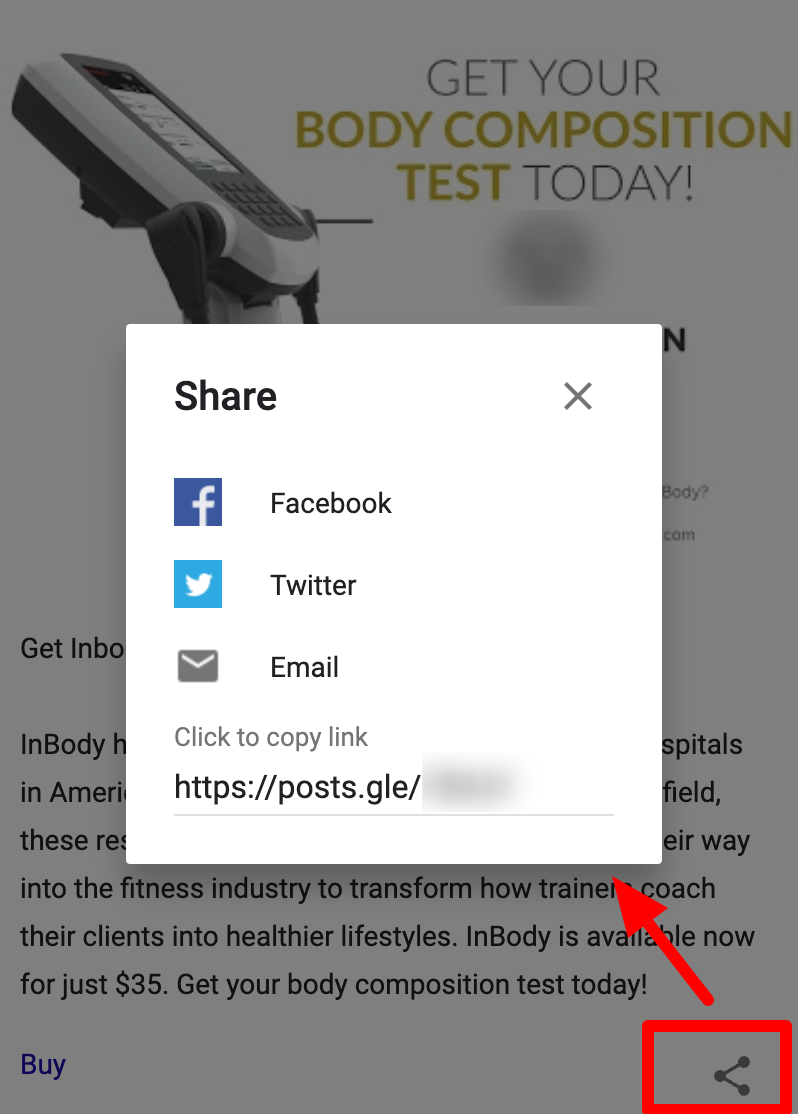 Advantages of Google My Business Posts:
Build brand awareness:

Google My Business posts allow you to promote your brand, products/services, special events, and deals at no cost.

Engage with your audiences:

Google My Business posts also help you to connect with your customers. They can interact with your posts and share them on social media.

Increase calls:

More and more consumers are finding all the information they need on Google without ever visiting a website. So writing posts about your services, promotions, or products can help offer the consumer enough incentive to give your company a call directly from Google.

Info
The info tab is where you'll find all of your company's information. This is where you can update your name, address, business categories, opening hours, and other information.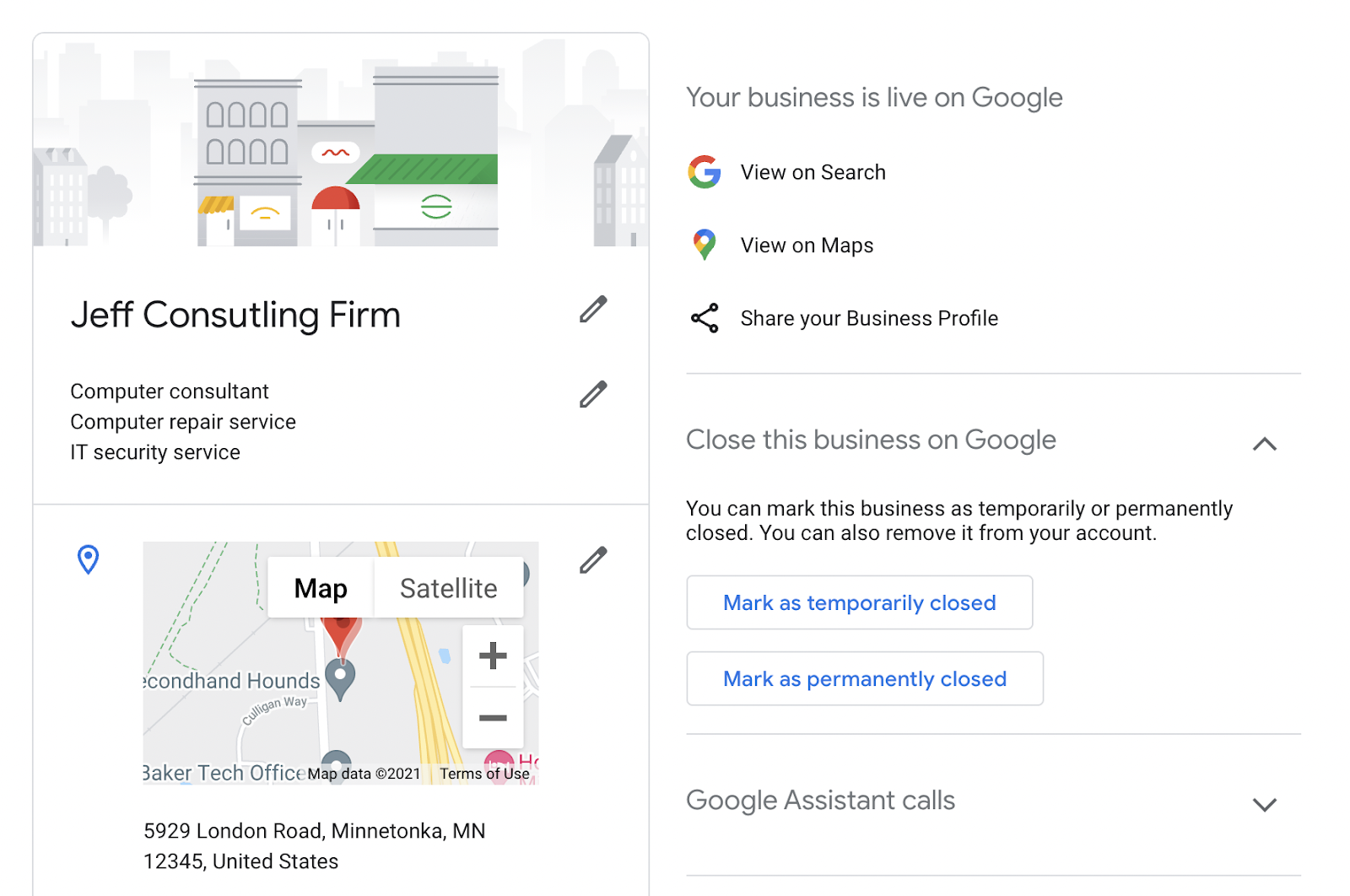 This is also where you can create a custom "short name" that you can share with your prospects and existing customers.




Insights
The Insights tab is where you can find any traffic data related to your listing, broken down into three types of traffic:
Direct

– People who find your listing by searching for your business name.

Discovery

– People who find your listing searching for a category, service, or product.

Branded

– Customers who find your listing by searching for a brand related to your business. This means they may have arrived on your profile via a competitor's listing.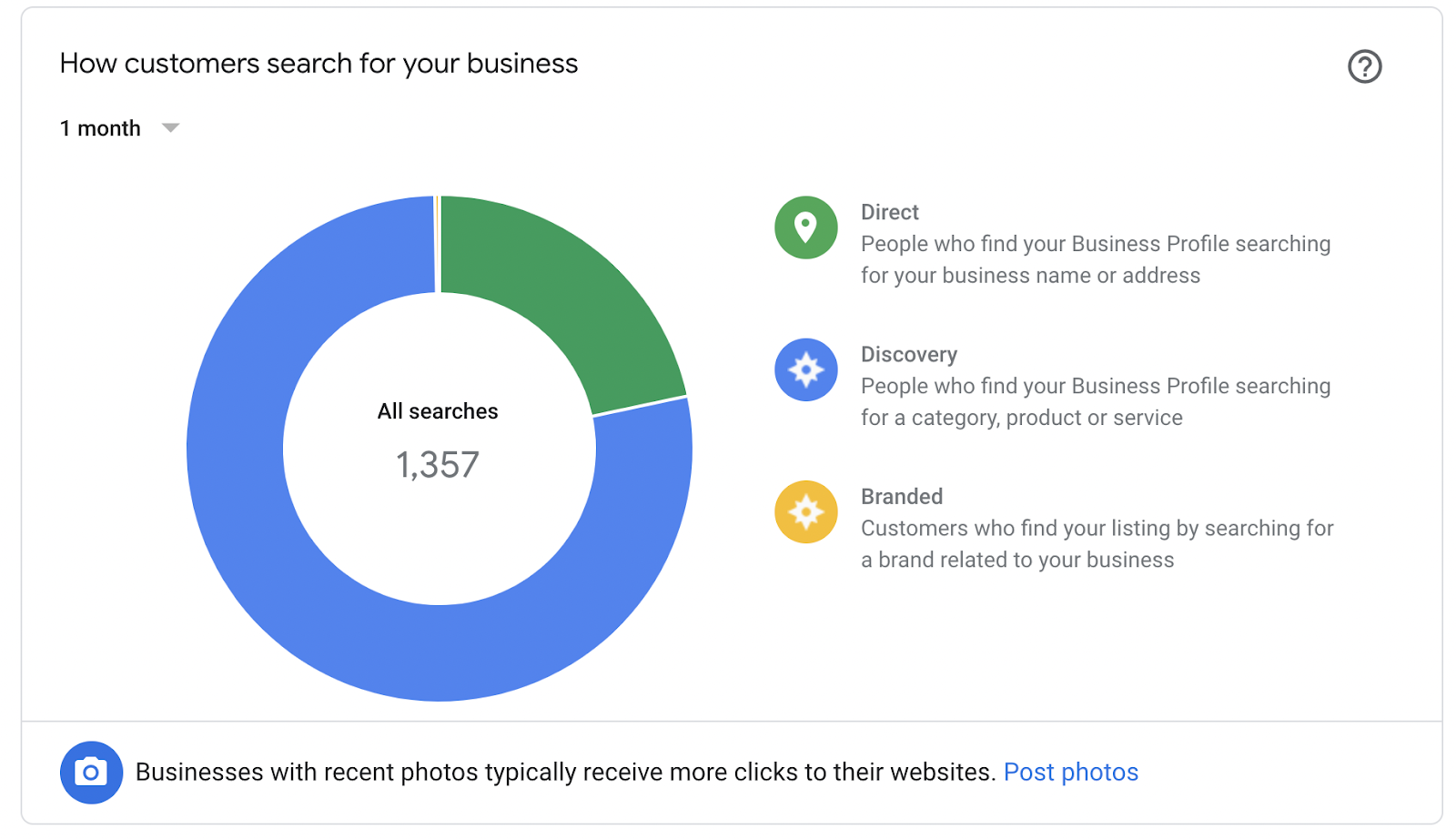 The Insights page also gives you valuable information about where your listing was viewed (Google Search or Google Maps). Any actions consumers have taken, like making a phone call, visiting the website, or requesting directions, are also found here.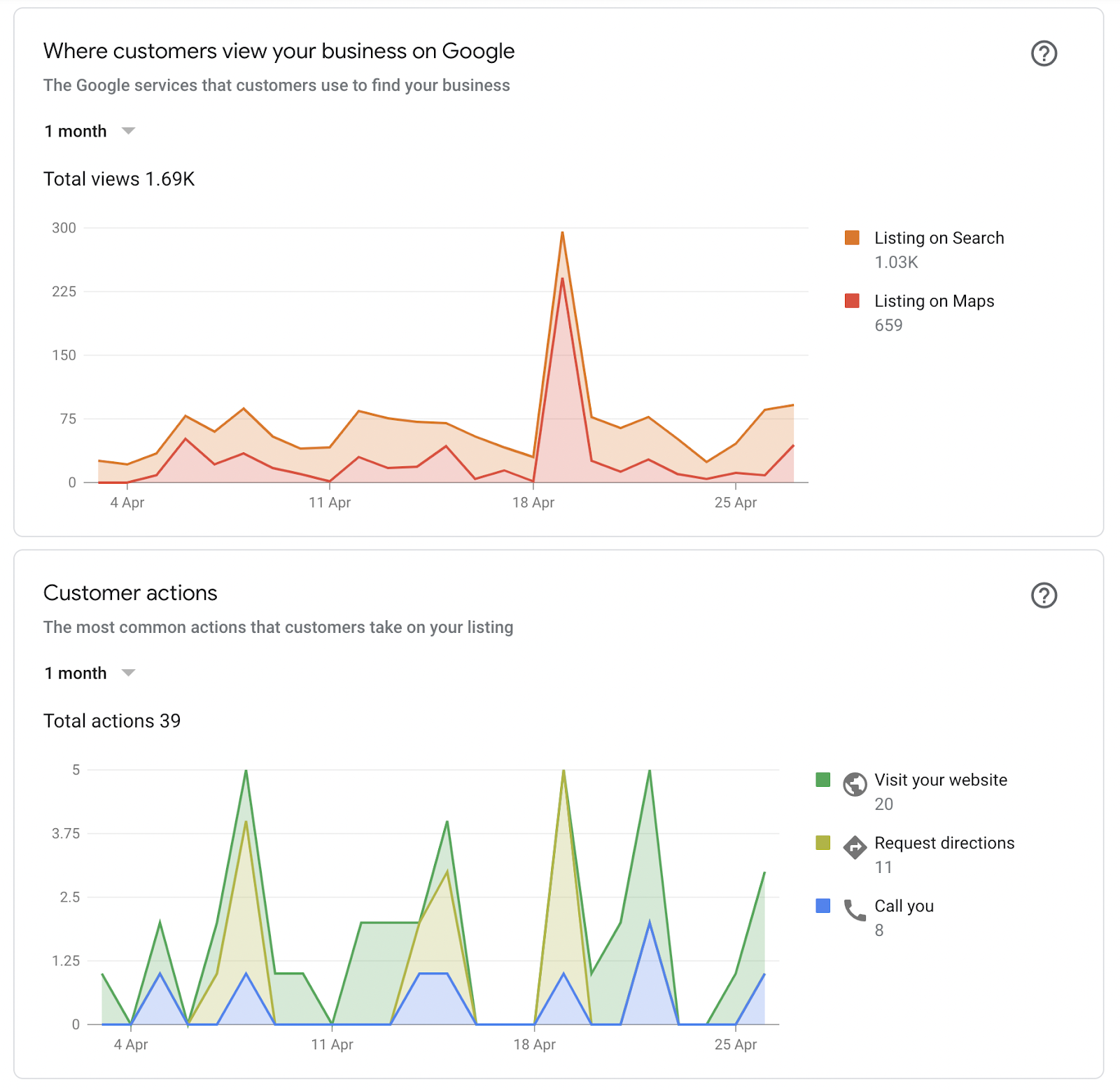 Reviews
The Reviews tab is where you can reply to your customer feedback. You can sort among all reviews, replied reviews, and reviews not yet addressed. It's a good idea to make sure every review is responded to (particularly the negative ones).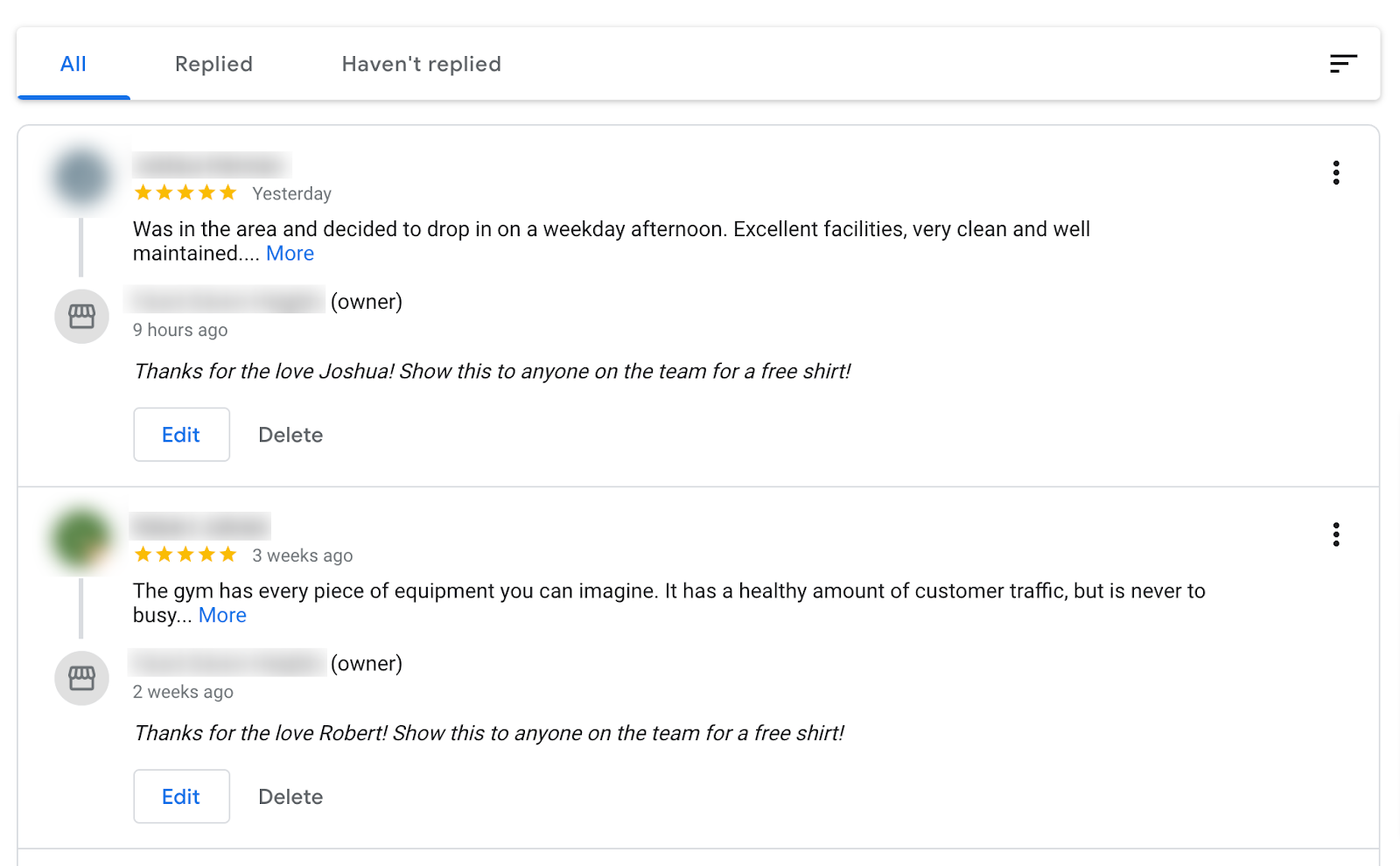 Messages
On the Messages tab, once turned on, you can reply to consumers directly from the dashboard. You can also receive and respond to messages on your mobile by downloading and turning on the feature via the Google My Business app (Android / iPhone).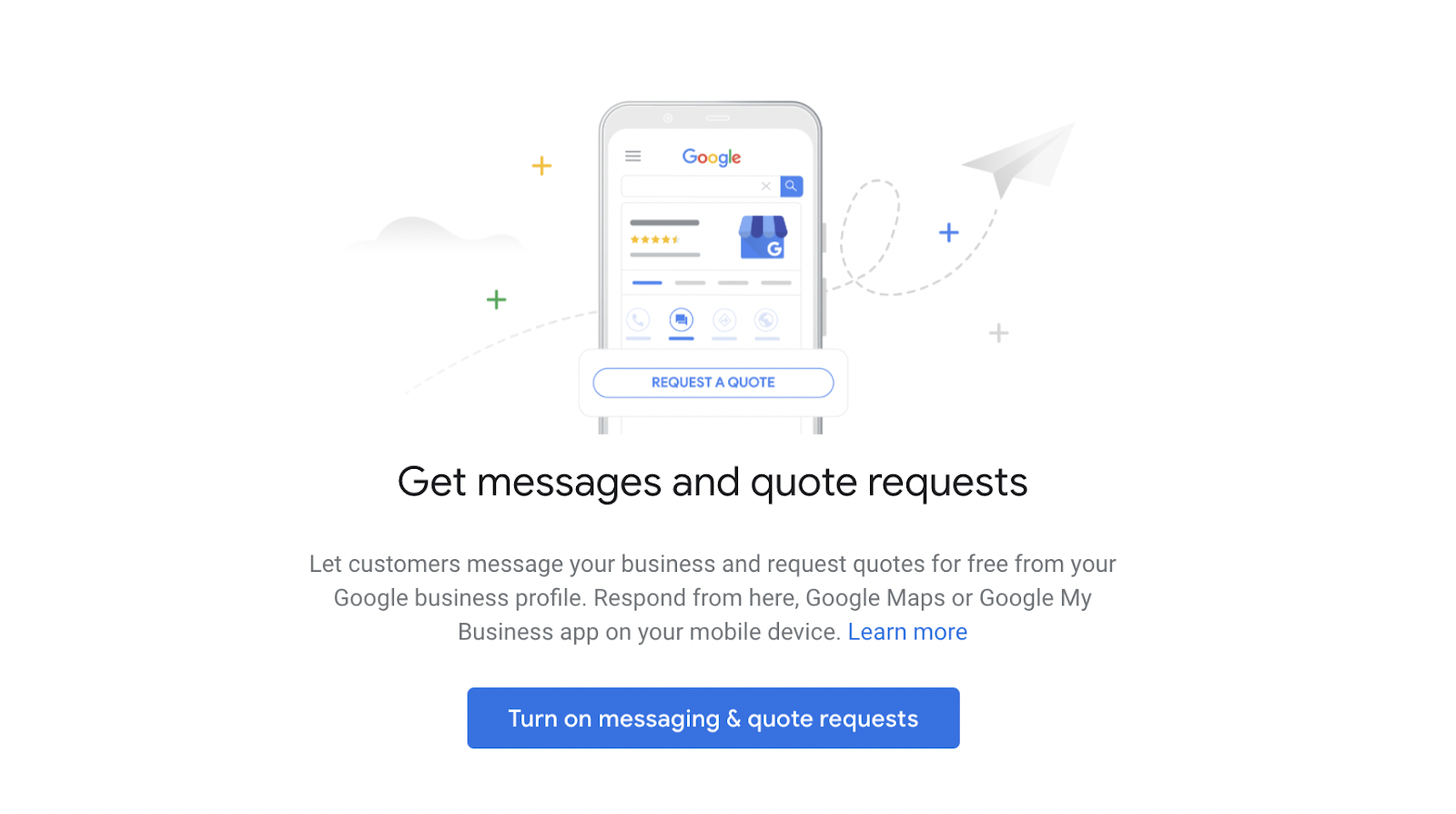 Photos
Google allows businesses to upload various types of photos, including a profile photo, cover photo, photos of the team, and photos of the interior or exterior of the building.



Adding visuals is vital for your listing. According to Google, businesses with photos included are more likely to receive requests for driving directions to their location and more click-throughs to their websites.
Google's photo guidelines
Be sure you follow Google's guidelines when adding a photo to avoid any trouble later:
Format:

JPG or PNG.

Size:

Between 10 KB and 5 MB.

Recommended resolution: 720 px tall, 720 px wide.

Minimum resolution: 250 px tall, 250 px wide.

Quality: The photo should be in focus and well lit, and have no significant alterations or excessive use of filters. In other words, the image should represent reality."
Photos to upload
Google recommends businesses upload the following:
At least three exterior photos at different times of the day

At least three interior pictures to show customers how the atmosphere and the company looks inside

At least three photos of products/services that you offer, especially the most popular ones

At least one photo of each of your common areas

A minimum of three pictures of the executive team and employees

Products
The Products tab is for small and medium-sized businesses to showcase their products. Once added here, products can appear on mobile and desktop computers in Google Search and Google maps.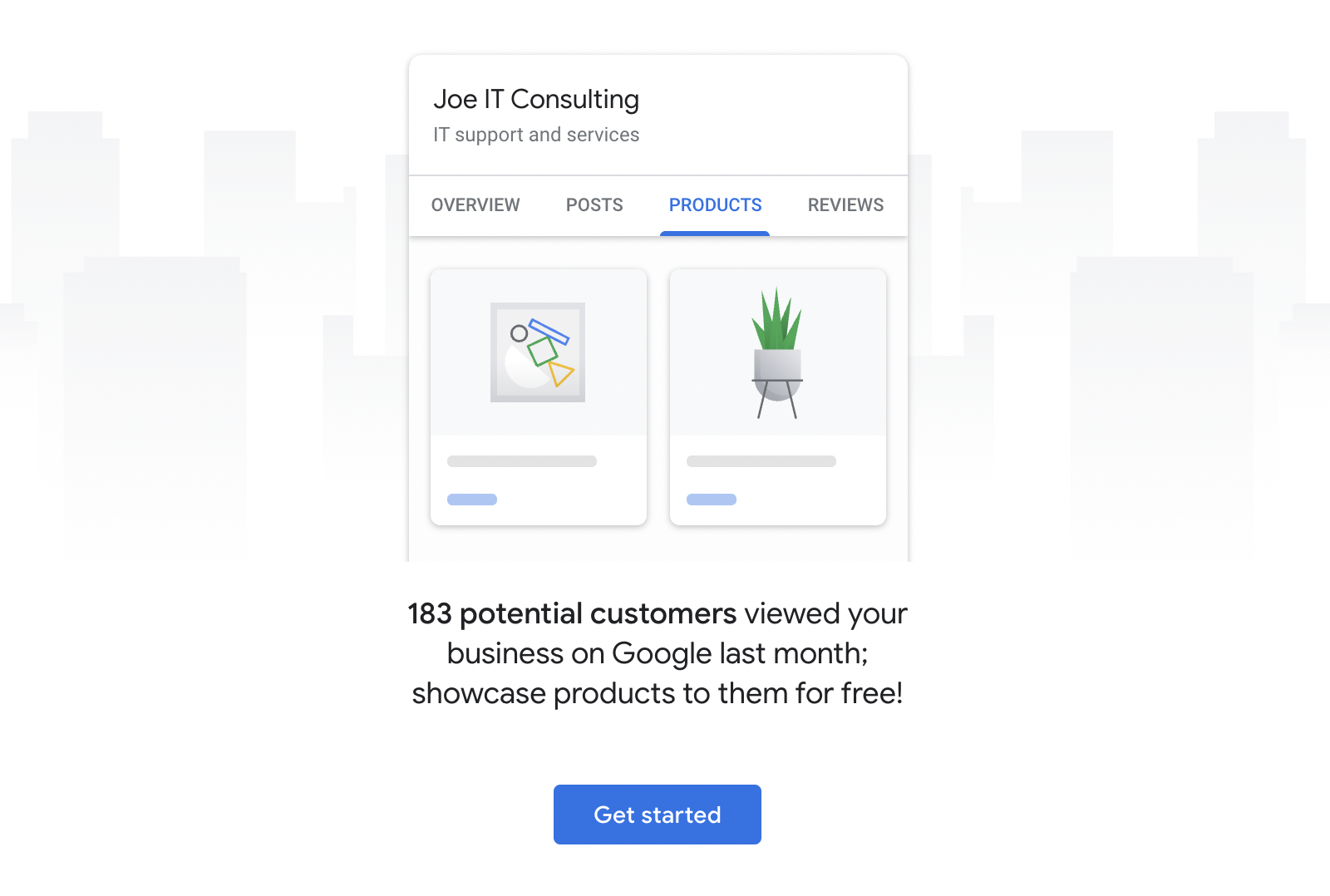 Services
The services tab is where you can add additional services underneath your primary and secondary categories.



When you click on "Add services," Google will automatically recommend related services to add. If a service doesn't automatically appear, you can add it manually.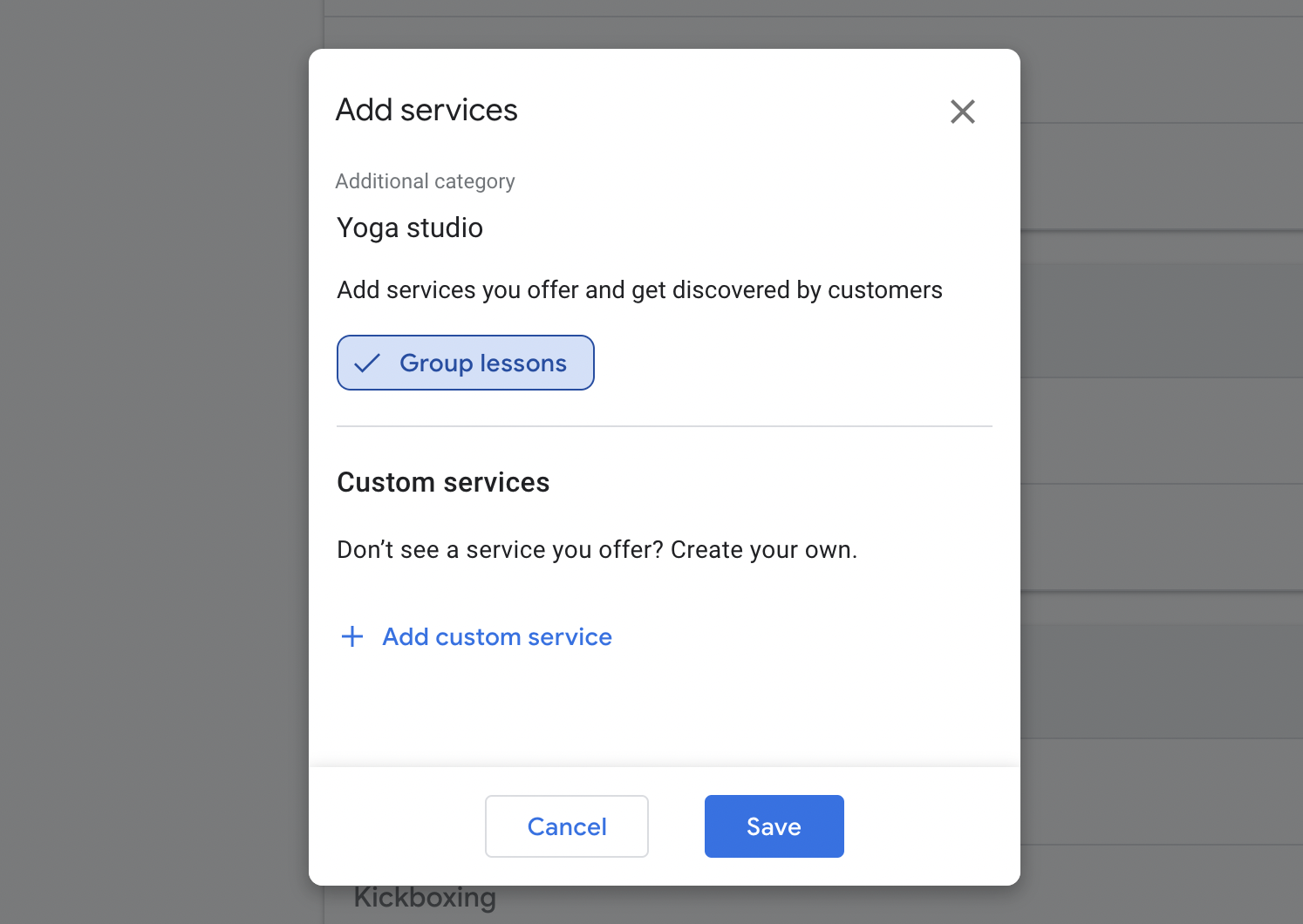 Note: Services added don't have much effect on your ranking position, so there's no need to spend too much time trying to add every service you offer.

Website
If you don't have a website, Google has incorporated a simple website builder into the Google My Business dashboard. The website comes pre-populated with information, images, and posts you've already added to the listing. This is a simple way for solopreneurs to get started online, but to really ramp up, it's recommended that you work with a vendor to help design, create, and maintain a website that is SEO optimized.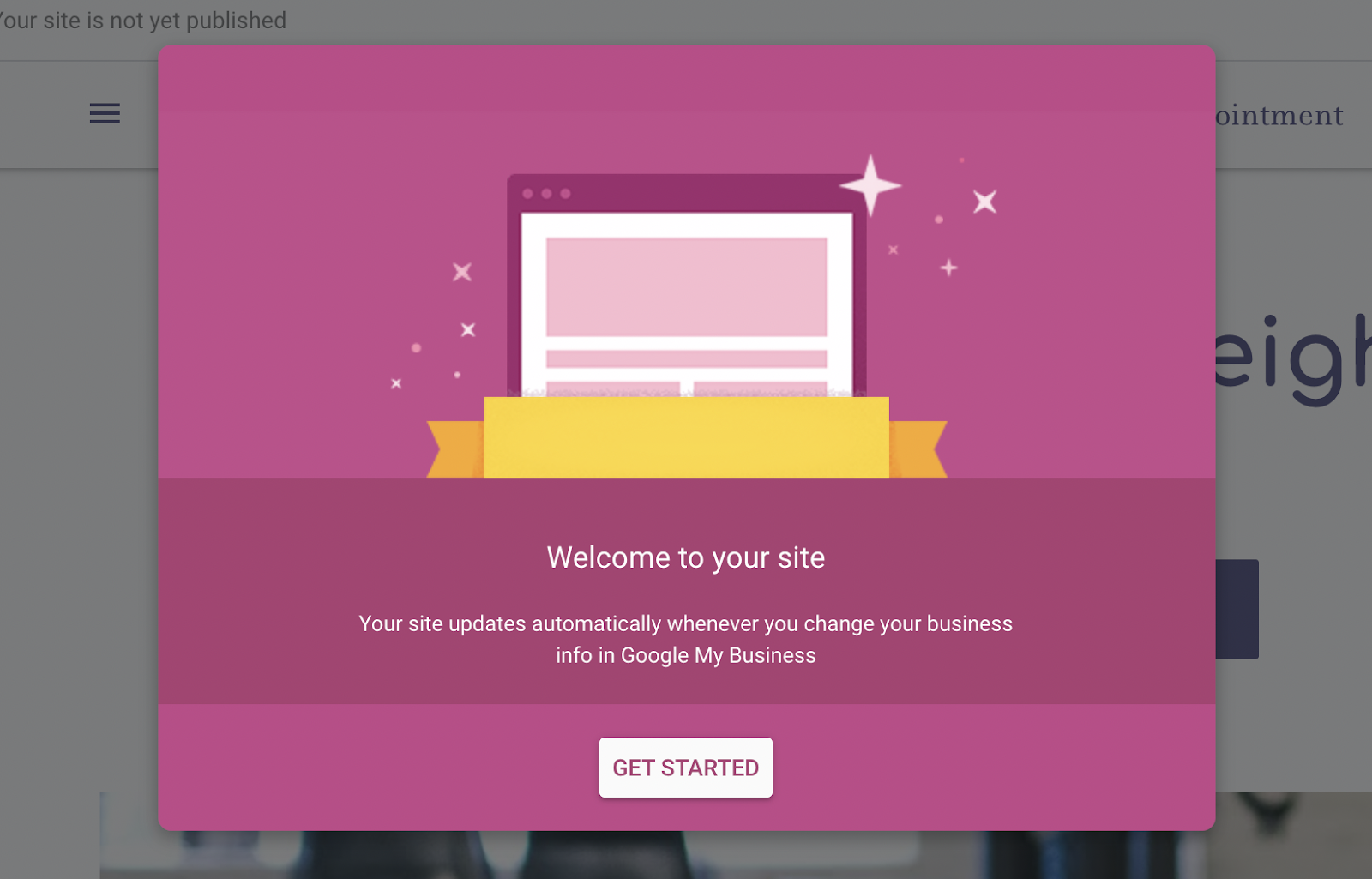 Users
The users tab is where you can add or remove users and change the role of existing ones. The different roles available are Owner, Manager, and Location Manager.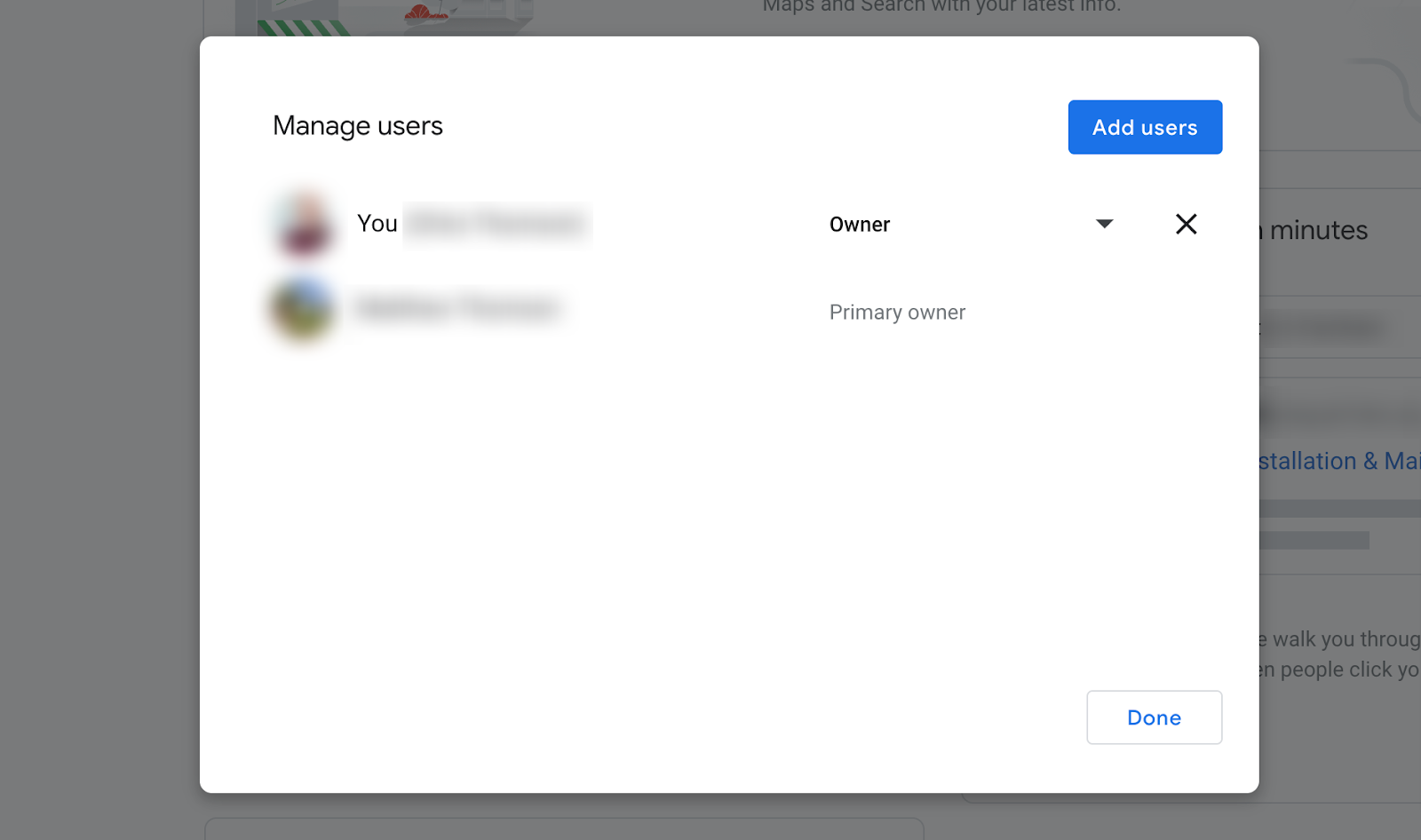 Citations and How They Influence Search Results
What are citations?
Citations are any online mention of a local business's information, e.g. name, address, and phone number. Citations can include local business directories, review sites, and even social media platforms.
Popular places to add your business details are in data aggregators. These are companies that collect business information and distribute them to other directories. The big three are: 
Foursquare

(recently merged with

Factual

)

Data Axle

(previously InfoGroup)
Why Are Citations Important to Local SEO?
Google is always looking for the best way to provide reliable and accurate information to searchers. Google ensures quality by searching for businesses that have solid and consistent profiles across the web. 
*According to the local citations statistics of 2020-2021, a local business ranking in the Top 10 position on a search result page has an average of 81 local citations.
The more consistent and accurate information Google finds across multiple citations, the more confident Google becomes to show this information in search results. On the other hand, if Google sees conflicting details about your business, it won't know what to believe. As a result, it's less likely that information about your business will be shown.
Google Maps Marketing Tips
1. Your real-world business name
After setting up your Google My Business listing, you should first choose the real-world name for your business. You should also avoid using services in your name. This is a popular SEO hack as this can sometimes boost your rankings, but this is against Google's guidelines and can get you delisted.
If your business name already has keywords included (such as lawyer or dentist), you will likely experience increased visibility in the map results. 
But if your business name doesn't have any of those industry keywords in it, don't despair. There are plenty of other ways to enhance your Google My Business listing visibility without adding keywords to your business name.

2. Use your keywords
So you've probably heard people talk about keywords. We advise including keywords when you write your description in Google My Business. We recommend including keywords everywhere. When you get someone to leave a review, when you write a reply, when you write a post — these are all places where keywords need to live.
Try to get in the mindset of your visitors, or even better, of somebody who knows nothing about your services. Think of what they would type into Google to find you. 
Once you have a list of keywords, try and use them in your listing, into your website, and everywhere else. When users find you, they should feel like they have found the solution to what they were searching for in the first place.

3. Choose the right categories
Categories on Google My Business are a huge part of ranking, so selecting the right category is essential to getting the most (and right kind) of traffic to your listing. Let's take a look at Google's suggestion for this.
"Choose a primary category that describes your business as a whole, and be specific."
So, be specific with your primary category. If you have a dental clinic, use that as your primary category rather than the broader "dentist." 
If your company has other related services offers, you can add them to the secondary category section, but don't go overboard. We recommend limiting the secondary categories to around three, as the more you add, the more diluted their effectiveness becomes. As Google says:
"Use as few categories as possible to describe your overall core business"


4. The 4 basic Google My Business information you need to get right
One of the essential steps in optimizing local SEO is ensuring that the name, address, and phone number are consistent across all platforms (LinkedIn, Facebook, Google My Business, etc.). 
If one or more of these three elements of your business changes over time, you need to make sure to update this information on each platform your business name shows up. 
As stated in point 3, Google My Business categories are vital influential local ranking factors for your listing in Google Maps. The perfect category choice for your business listing will drastically increase the chances of being discovered by your ideal customer. 
Your primary category is the most important as it holds more ranking power than the secondary categories. As a basic rule, you should choose your primary category based on the service your business concentrates on the most.

5. The website link doesn't always have to go to your homepage
Usually, the website link goes to your homepage. However, if you have multiple listings and a dedicated location page for each of them on your website, it can be a good idea to test linking directly to those specific pages. This will give the consumer a more relevant experience as your location page should contain specific information about that particular location.

6. Add ongoing photos to your Google My Business listing
Businesses with over 100 images receive 520% more calls than the average, according to a BrightLocal survey. The study shows a clear correlation between the number of Google My Business photos and search performance.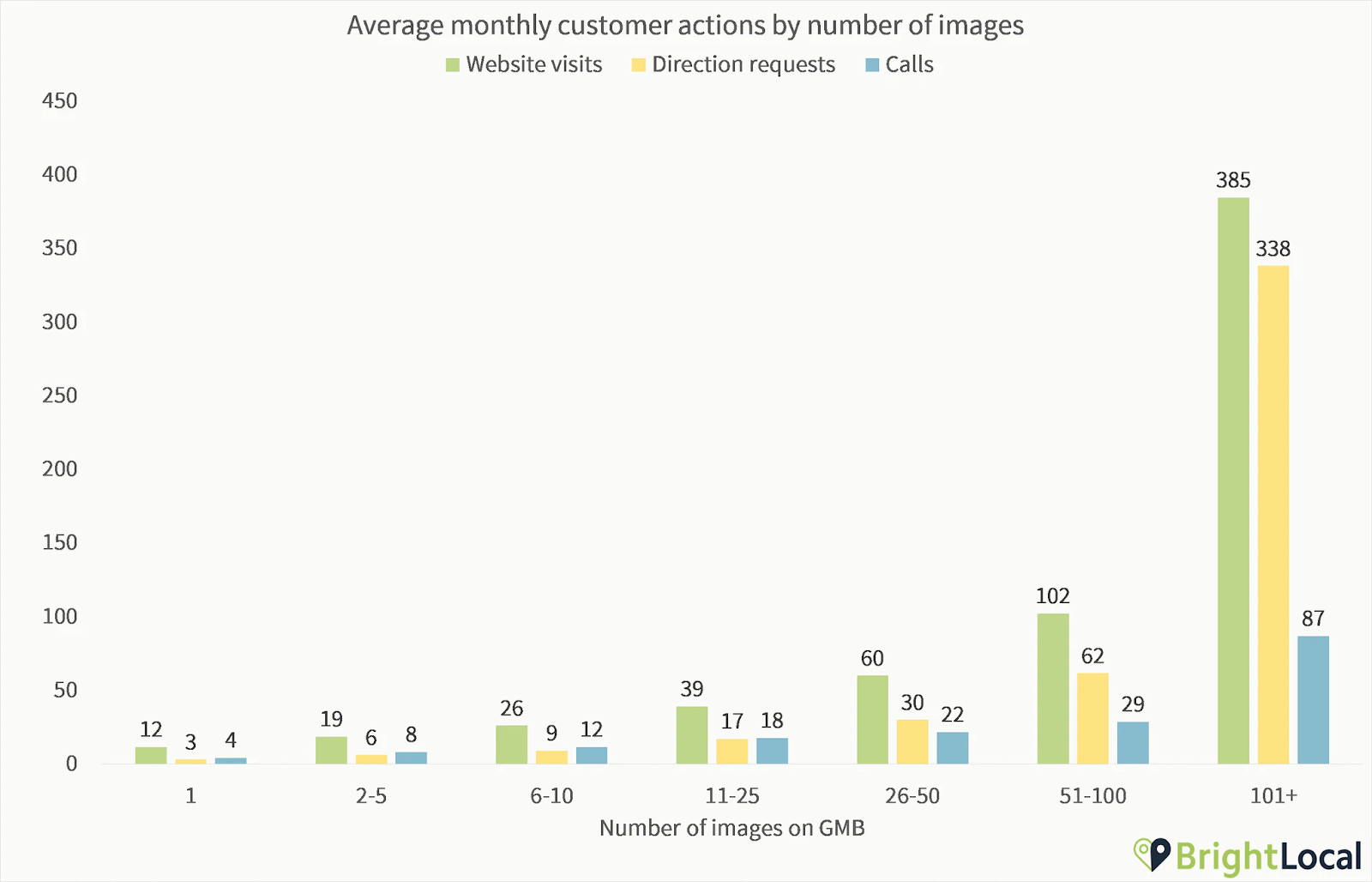 However, please keep in mind that the number of photos a business has on its Google My Business listing varies considerably by industry.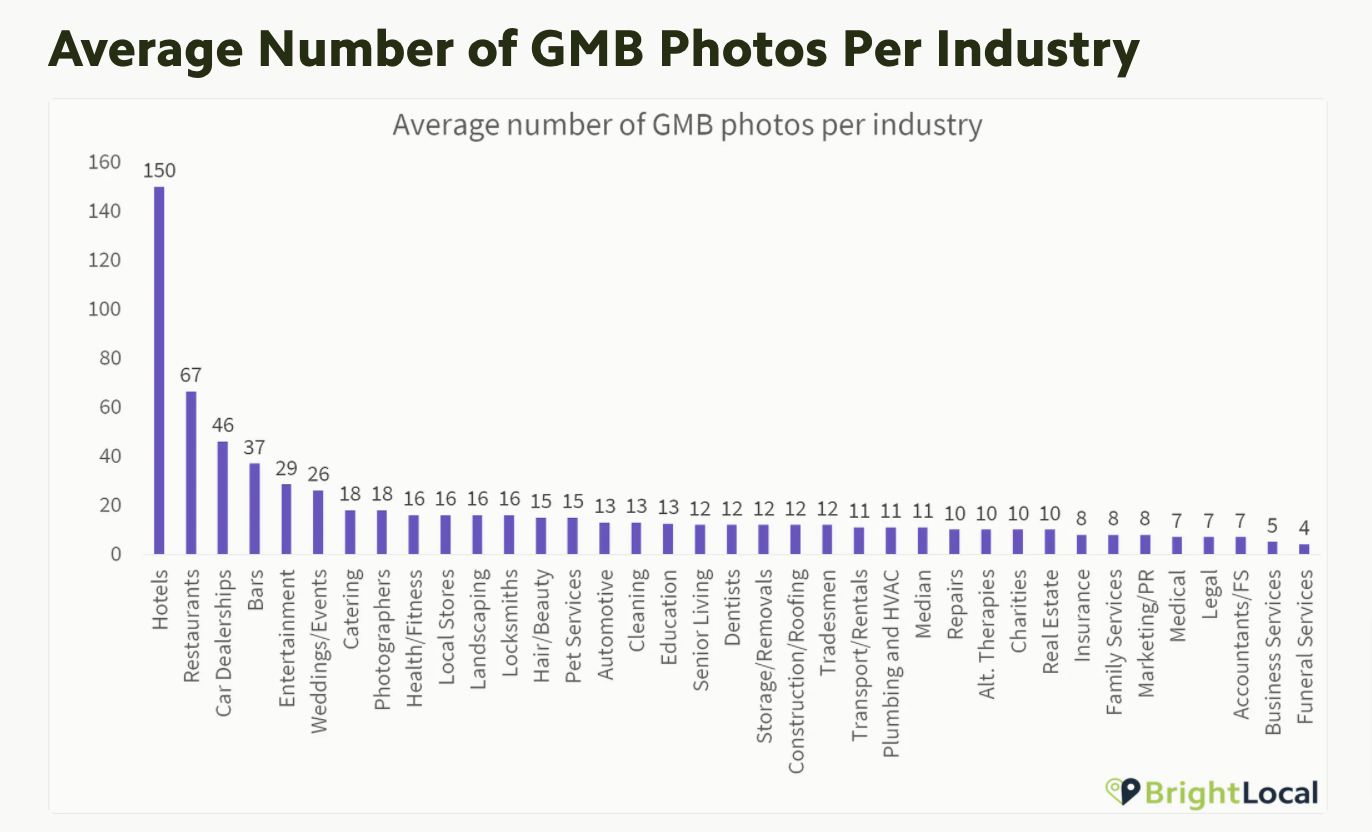 7. Build online credibility through Google My Business Reviews
Reviews help give legitimacy to businesses and build confidence in customers. Beyond that, reviews are also a significant ranking factor for Google's algorithm. 
A whopping 87% of consumers read online reviews for local businesses in 2020. Not only that, but only 48% would use a business that has fewer than 4 stars. So if you have less than four stars, you could be losing half of your potential customers.
We recommend seeing how many reviews your competitors have and what their rating is. Then reach out to existing happy customers to see if they have time to leave some feedback on your Google listing. You need to try and beat the number of reviews and star ratings your competitors have.

8. Post regular updates about your business
Post regularly to your Google My Business listing to keep your customers up to date. Having an active listing will also help consumers view your business as an active, engaging, and professional company. Just remember that posts only stay visible on your profile for seven days, so it's best to post content around once a week.

9. Write an enticing Google My Business description
Your Google My Business description is the perfect place for you to tell the story about your business, your unique value proposition, and what's in it for your customers. 
In these 750 characters, you have enough space to tell prospective customers, in an honest and non-spammy way, what your business is all about, the services and products you offer and the locations in which these products or services are sold.

10. Make sure your citations are consistent
Consistency propels Google's confidence in your business information, so make sure your business details are consistent across the web. To find citations that already exist on the internet, try typing "business name" + "your postcode" or "telephone number". Check through the results to make sure the address and other details are correct. If they aren't, do what you can to edit them.
Conclusion
Customers can find your business online in a multitude of ways. Google Maps and the Google My Business marketing platform lend an opportunity for business owners to put their best foot forward. Google My Business helps boost local SEO, offers a platform to engage directly with customers, and provides real-time insights to better understand your customers' purchasing roadmaps. And best of all — it's free.
If you want help setting up your own Google My Business account to take your Google Maps listing to the next level, we're here to take your call!