Running a website is a never-ending job. In addition to creating new content and attracting visitors, you also have to keep up on routine care by running backups and updates.
Time spent on the latter is time you aren't using to improve your site. Therefore, you may be looking for a solution that will enable you to devote your effort to more vital tasks.
In this article, we'll cover eight of the best WordPress maintenance services that can handle mundane maintenance tasks as well as offer additional support. Here are our picks:
Pronto Marketing: Full-featured maintenance service with quality hosting.
WP Buffs: Frequent backups and updates with a weekly report.
SiteCare: Standard maintenance service with additional support options.
Maintainn: Good maintenance and a great cost.
GoWP: Basic maintenance with extra security and premium support options available.
Total WP Support: Solid maintenance with additional support included.
Newt Labs: Good maintenance with free and paid support services.
GoDaddy: Subscribe for an allotment of monthly fixes; no regular maintenance.
These services can take some of the routine work off of your plate so you can focus on what you do, and each also offers additional perks that could enhance your site. Let's find your perfect fit!
Why You Might Need a Maintenance Service for Your Website
Managing a website is no easy task. Staying on top of updates and backups is crucial to maintaining security and avoiding costly setbacks. Plus, you need to make sure your site is always performing at its best.
However, with all of the other responsibilities involved in running a website, regular maintenance is easy to push down on the priority list.
WordPress maintenance services can take over many of these routine duties, to ensure that they get done as often and as thoroughly as they should. This frees up your time for higher-level tasks.
However, finding the best WordPress maintenance service for your unique website is important, as different companies specialize in various aspects of maintenance and support.
On a basic level, you'll want a service that handles updates for WordPress, along with any plugins and themes installed on your site. That way, you can rest assured that everything is running at its best and free of security flaws.
In addition, you'll want to make sure the service you choose creates regular backups and stores them securely.
Many of the best WordPress maintenance companies also offer additional levels of support, such as developers who can assist you in improving or fixing issues with your website. Some companies also offer advanced security features, perform website monitoring, and can even optimize your site for speed and Search Engine Optimization (SEO).
8 Best WordPress Maintenance Services
Since each website is different, no single service will be the best option in every case. To determine which maintenance service is best for you, you'll have to consider the strengths of each option and how they will apply to your situation.
Do you only need routine maintenance to handle mundane tasks like updates and backups? Would developer support help improve your website? Or do you want active monitoring to warn you in case your website goes down?
Let's compare the best WordPress maintenance services and find the perfect fit for your needs.
1. Pronto Marketing
At Pronto Marketing, we offer everything you need to keep your website running at its best. With 24/7 monitoring, we're constantly checking the status of your website and have engineers standing by to address issues right away.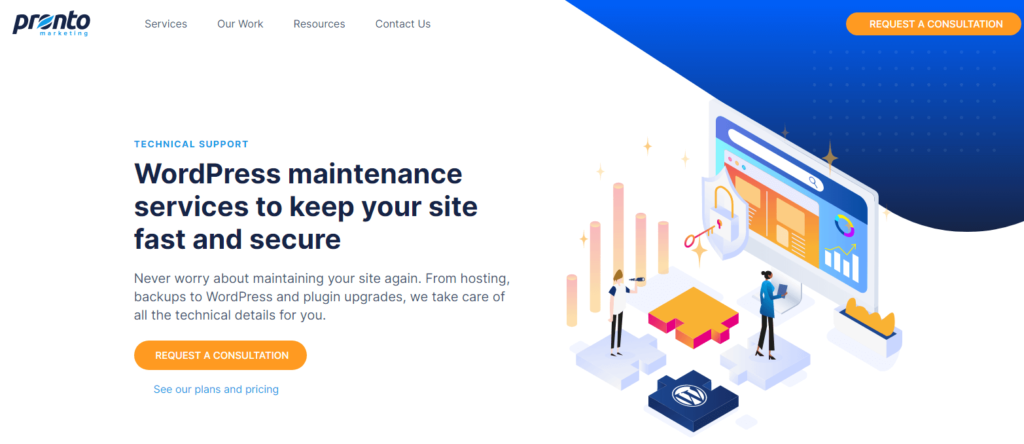 Unlike many WordPress maintenance and support services, Pronto also hosts your website. We provide a full-package solution that comes with several perks to boost your site's performance.
Automatic scaling from the Google Cloud Platform means that spikes in traffic won't overload your website. You will also benefit from enhanced security features and efficient architecture to maximize loading times and user experience.
All of this is in addition to daily backups and monthly updates to ensure that your WordPress core, themes, and plugins are all up to date with the latest bug fixes and security improvements. If you are looking for additional support, Pronto also has a team of WordPress experts who can edit and improve your website.
Key Features:
24/7 monitoring
Hosting included
Daily backups
Monthly updates
Price: Offers three tiers of support starting at $99 per month.
2. WP Buffs
WP Buffs is an attractive option because of its flexibility. With five different plans available, you can scale the service as your site grows to suit your evolving needs.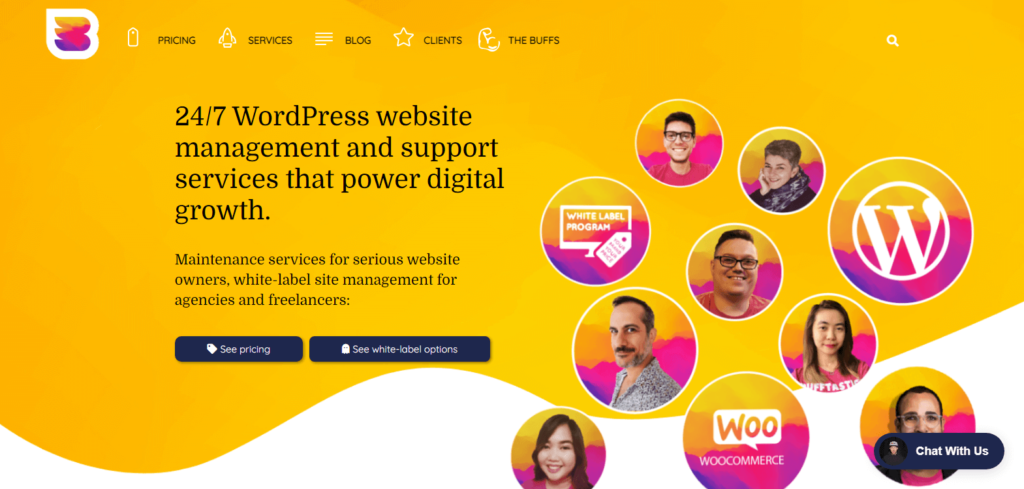 Like Pronto, WP Buffs offers 24/7 uptime monitoring and emergency support, to ensure that you're always up and running. It also provides daily backups, while updating WordPress, themes, and plugins every week.
Weekly reports are another nice feature, so you can see exactly what you're paying for and how much time you're saving to devote elsewhere. Higher-tier plans include advanced security, speed optimization, and more.
Key Features:
24/7 monitoring
Daily backups
Weekly updates
Weekly reports
Price: Plans start at $79 per month.
3. SiteCare
SiteCare offers a baseline level of maintenance services, including updates and performance optimization. However, this service's real selling point is its extensive support options.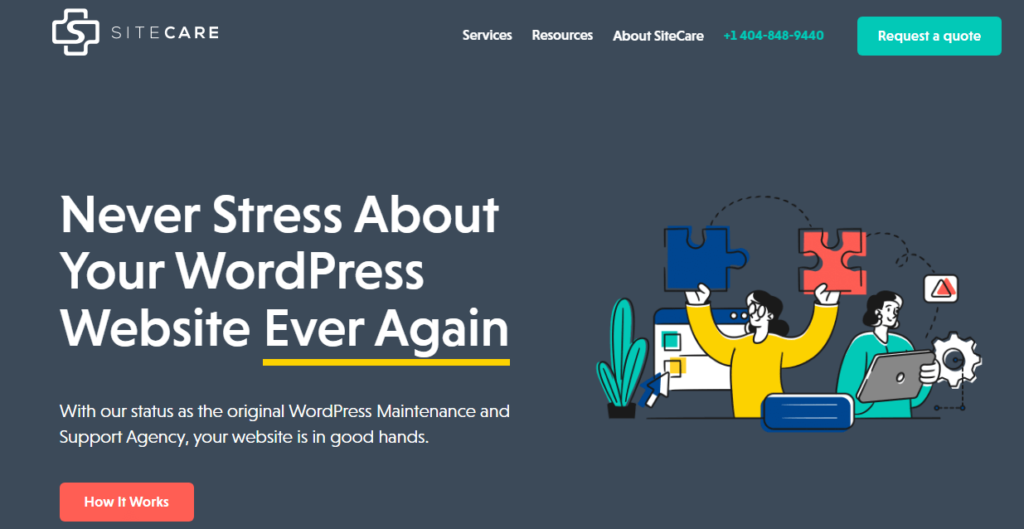 Do you need the expertise of a developer to perfect your site? Could your SEO use a boost? Maybe you want some one-on-one counseling to learn new ways to improve your website.
If so, SiteCare has experts in these fields and more standing by ready to assist.
If you are in the market for a WordPress maintenance service, but could also benefit from the assistance of professional developers and marketers to upgrade your website, SiteCare can be a solid pick.
This is a great option for independent webmasters and small teams that don't have full-time developers, engineers, and a marketing team on their payrolls.
Key Features:
Daily updates
Daily monitoring
Audit logging
Price: Plans start at $990 per year.
4. Maintainn
Maintainn is a smaller company that offers basic maintenance services at a very affordable cost. If you are looking for weekly updates, daily backups, and 24/7 security monitoring, you'll be hard-pressed to find better prices.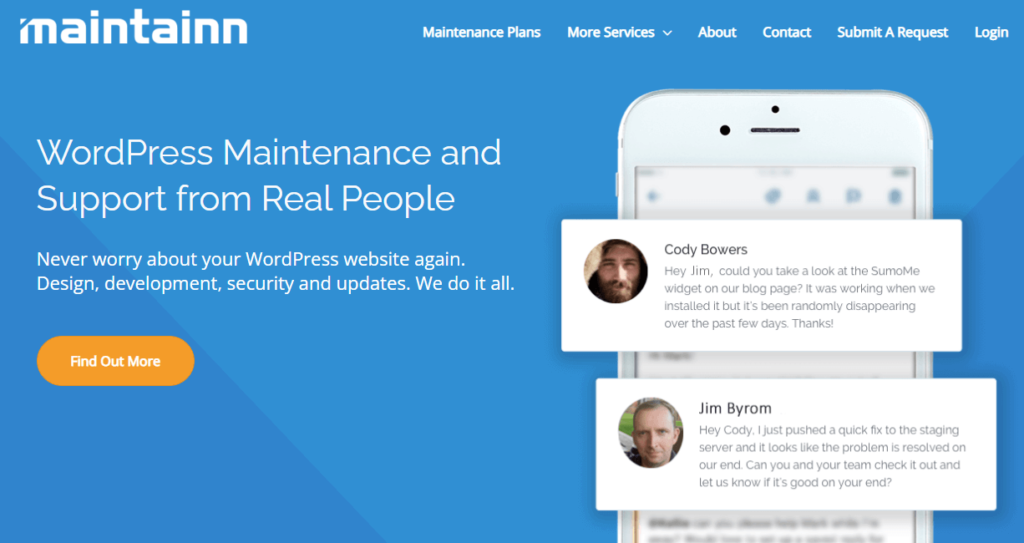 If you need a higher level of support or have multiple sites, the Professional and Enterprise tiers have you covered. Although not included in its subscription plans, Maintainn also offers design, development, and hosting services if you are looking for additional help beyond routine maintenance.
Maintainn is a good choice for simple websites that want basic maintenance, with the option of extra support if needed.
Key Features:
24/7 monitoring
Weekly updates
Daily backups
Price: Plans start at $49 per month.
5. GoWP
GoWP offers pretty basic website maintenance, but the real standout element is its extensive lineup of support services. While these services aren't cheap, they enable you to add a developer, designer, project manager, and copywriter to your team with the click of a button.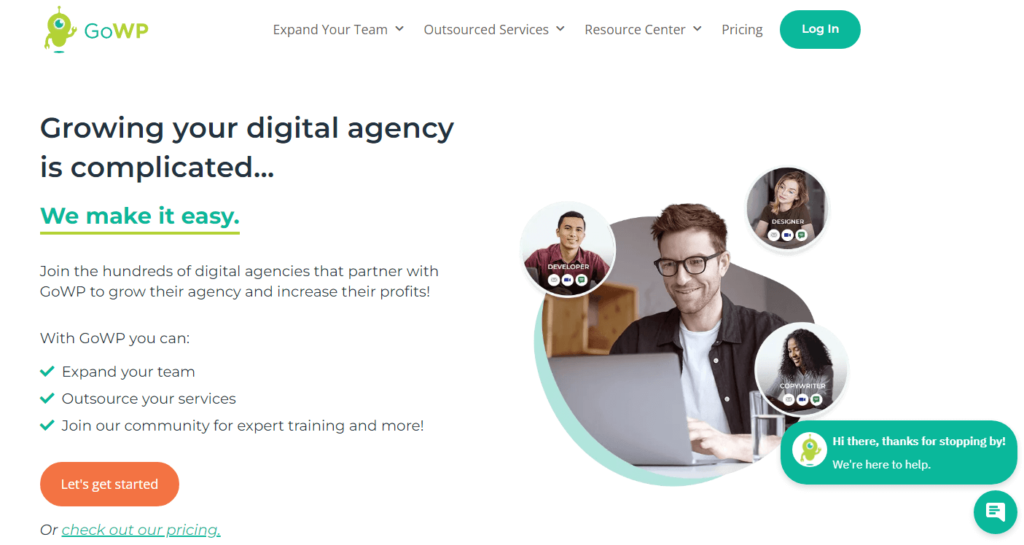 GoWP is a good choice for websites and agencies that are rapidly growing and need experienced professionals who can take their sites to the next level. If you have the budget available, this can be a worthwhile investment.
Key Features:
WordPress updates
Off-site backups
Daily security scans
Price: Plans start at $29 per month.
6. Total WP Support
Total WP Support offers a solid base of maintenance services, including multi-layered security, email and chat support, updates, backups, and monitoring. Plus, the Premium and Professional plans include small development and publishing tasks.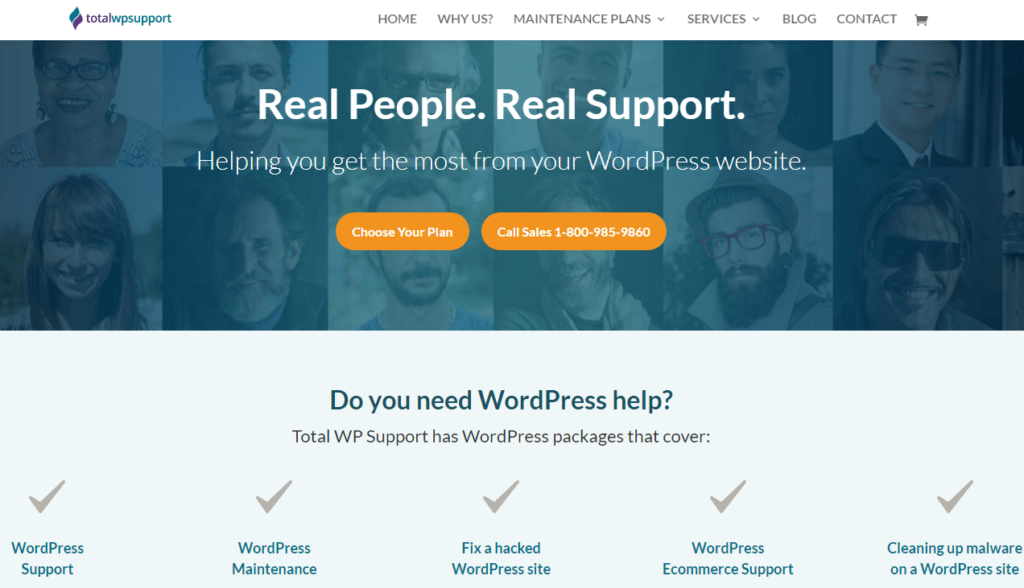 This is a great option for small teams and independent webmasters who might need help with minor improvements to their sites. For a very affordable cost, you can get daily maintenance and monthly assistance with small development tasks that might be too technical or specific for you or your team.
If you need more support, Total WP offers additional development time at a reasonable cost.
Key Features:
24/7 monitoring
Regular updates
Malware scans
Database optimization
Price: Plans start at $49 per month.
7. Newt Labs
Newt Labs is a UK-based company with standard maintenance offerings, in addition to unlimited small website fixes included in its Core plan. This is a great value for handling all your updates, daily backups, and 24/7 monitoring, with the added peace of mind that you have support standing by for minor issues that come up.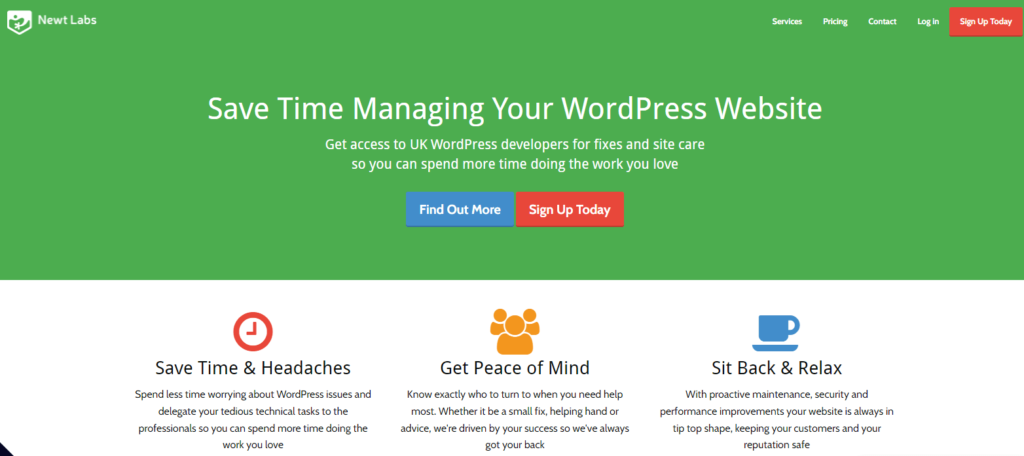 Newt Labs charges additional fees for cleanups and fixes beyond what is included in your plan. However, with no contracts and a 30-day money-back guarantee, this service has a lot to offer at a reasonable price.
Key Features:
24/7 monitoring
Regular updates
Daily backups
Unlimited small fixes
Price: Plans start at £59 per month (about $79).
8. GoDaddy
GoDaddy doesn't provide a traditional maintenance service, but it does offer WordPress Premium Support. This is a subscription service designed to give you quick access to support when you need to fix problems with your site. It also includes backups each time a task is started.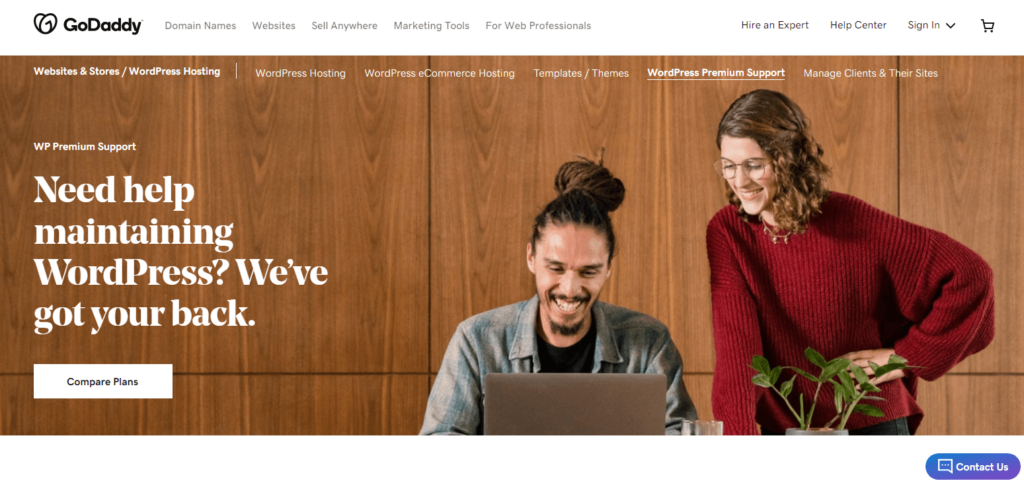 If you need development support, database management, or a website evaluation, GoDaddy has you covered. This is a good option if you have a list of non-urgent improvements you would like to makeover time, and want the option of emergency support at an additional fee.
If you require more regular maintenance, however, you'll need to look elsewhere.
Key Features:
Monthly allotment of support services
Quick help with WordPress-related issues
Price: Plans start at $49.99 per month.
Conclusion
If you are tired of spending hours on mundane upkeep tasks or need expert help improving your WordPress website, a maintenance service can help you take the hassle out of running your site. Choosing the right service is important, so consider the strengths of each option above to determine which one will best suit your needs.
Do you need help maintaining and choosing the right plugins for your website? At Pronto, we can get your WordPress site into gear.