Founded in July, 2013, Orchestrate Technologies went from a small IT provider in Cincinnati to a nationally recognized and awarded managed IT services provider in a few short years.
Although we can't take credit for that accomplishment, Pronto Marketing has been a fundamental contributor to Orchestrate's digital marketing success.
Building a website that sets you apart
We first started working with the company when it signed up for a managed website in 2014. Ever since then, the steady growth of its online presence and web-based conversions has been the product of a few constants:
a clear vision for their company's brand
Pronto's on-going support service model
significant investments in personalized media
It's a recipe that any business can follow.
First impressions matter – make it relevant to your audience
The first thing to appear when visiting orchestratetech.com is a banner video. And whether or not visitors consciously realize it, that video tells the story of a close-knit team that cares about its community and the people who live in it.
From sweeping views of the Cincinnati skyline to shots of their team working college career fairs, this 75-second video is immeasurably better than a stock photo of models who clearly don't work in the Orchestrate office.

From their marketing team's perspective, the success of their website hinged on developing unforgettable brand identity. While stock images are more affordable, the value of authentic photography and videography is priceless.
Of course, hiring a professional to capture the Orchestrate team and their story was a hefty upfront investment. But with the help of the experienced designers at Pronto, Orchestrate was able to build a site that left visitors feeling like they've already met the staff before they even picked up the phone.
Create, improve and expand
To be fair, the current video and team images weren't a part of the site design from the beginning. Those updates were part of a homepage and site refresh that took place last year, a unique feature of Pronto's ongoing service model. And that's Part 2 of Orchestrate's success story: a seamless integration of its marketing team and our producers.
With most outsourced web design companies, clients pay for a website, approve a finished product, and part ways. However, with Pronto, clients pay a monthly fee for website creation and ongoing management of their online presence.
The Orchestrate marketing team has made the most of this by making sure the lines of communication are always open. When the vision for their brand was set in stone, they let us know. When they received finished images and videos, they let us know. And that communication helped us transform their homepage from good to amazing.

We always tell our clients that when you're paying for ongoing service, good content that's live is better than amazing content that customers can't see. Fortunately, Orchestrate saw the value in that.
The marketing team got a good homepage up and running, invested time and money in high-quality visuals, and came back to us to make it better. From its homepage to its service pages, Orchestrate has been combining its vision and our ongoing service business model to create, improve and expand its online presence.
Upgraded service pages
There are fewer than 40 words on the current Orchestrate Technologies homepage. This design decision was all about nudging site visitors further into the site structure, which meant service pages needed to be as impressive as the homepage, if not more so, to keep visitors from being let down as they delved deeper.
Our Pitch Page service allows clients to upgrade their standard inner pages to more dynamic product/service pages with customized development and design elements. Even before the homepage and site refresh last year, Orchestrate had already invested quite a bit of money to turn pages like this: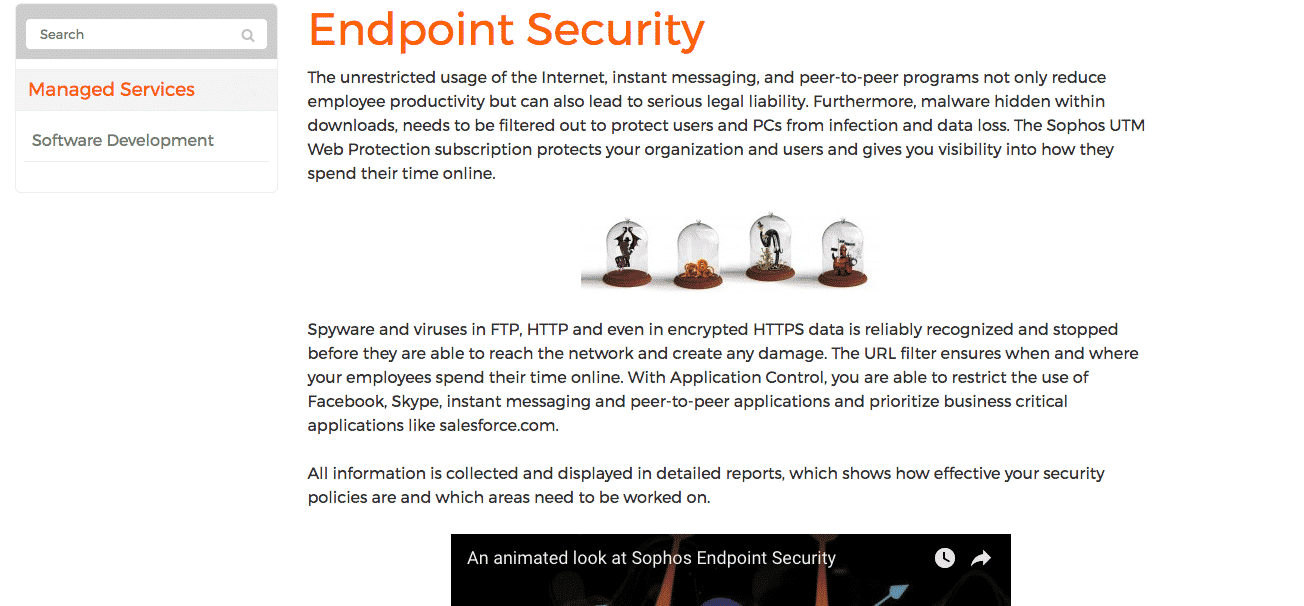 Into pages like this: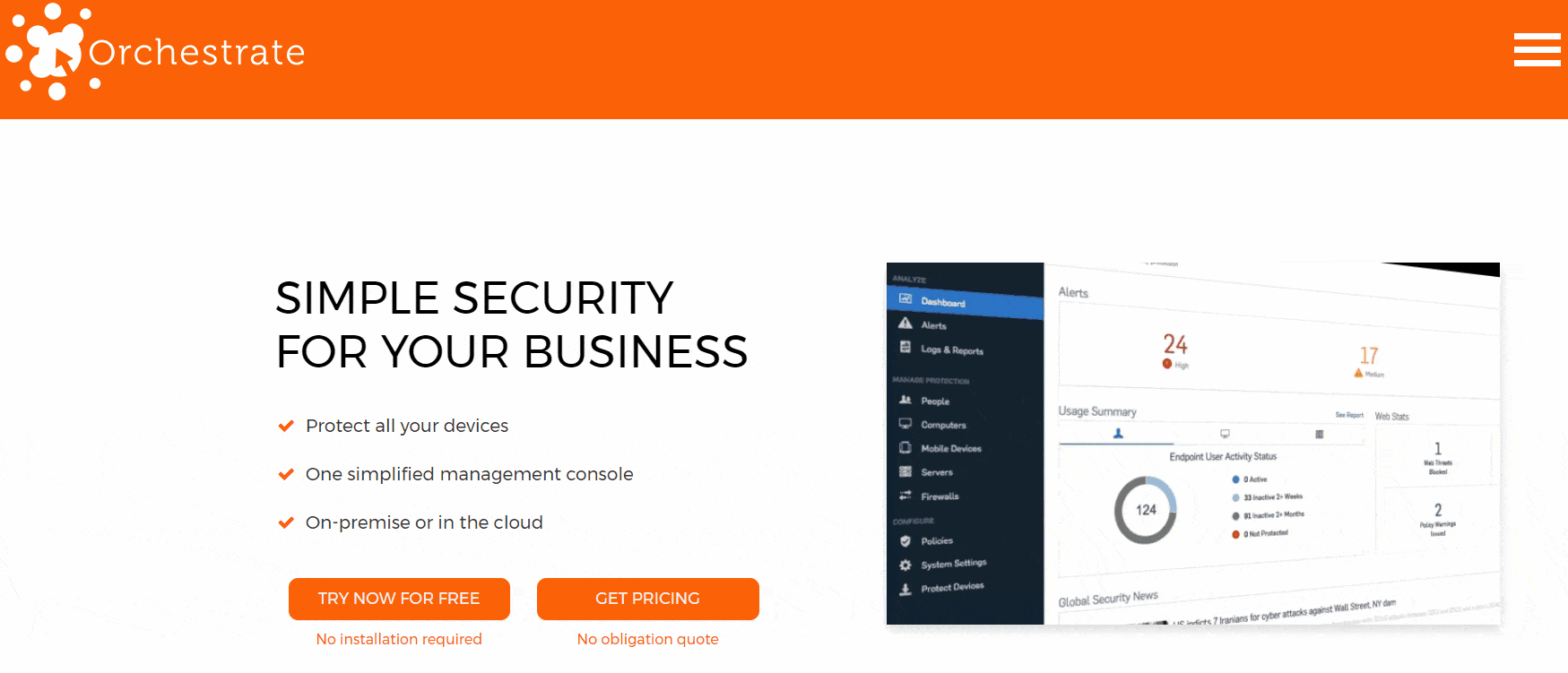 But those improvements were limited to a slim roster of service pages: Managed Services, Cloud Solutions, Office 365, etc.
After the homepage refresh, the Orchestrate marketing team was ready to apply that same striking visual style, brand identity, and technical expertise to flesh out content elsewhere on the site. This meant working with our team to create even more pitch pages to provide worthwhile information about their nuanced services and the industries they serve.
Going beyond organic search results
Even with investments in our Advanced SEO package, only three places will link a visitor to one of these new pages:
The main global navigation menu
A search engine results page after a related search has been made
Paid advertisements, email newsletter announcements, or other marketing campaigns
Although Pronto has a number of add-on marketing services to beef up that last point, Orchestrate also worked hard to push links to these new pages in off-site channels.
Ultimately, its investments in upgrading standard pages to pitch pages, and Pronto's Advanced SEO package and custom design work totalled over $10,000. And that's not including the photography and videography they paid for.
For businesses that want a website like Orchestrate, the place to start is with your branding. Solidify what it is that makes you special. Then devote resources to our ongoing service model and upgrades to create, improve, and expand your online presence.
The results: increased visibility and profitability
Since the revamped homepage and new pitch pages, the extra investments have proven more than worth it. First of all, the company's site started ranking higher on search engine results pages. Search Engine Optimization (SEO) is a complex field and there are hundreds of variables that come into play, but refining and improving content is always a significant factor.
When handled correctly, updated content shows Google that a site is working hard to increase its value to visitors, and in most cases those efforts get rewarded. As the Orchestrate Technologies content was updated across the entire site over several months, the improvements to keyword rankings were considerable: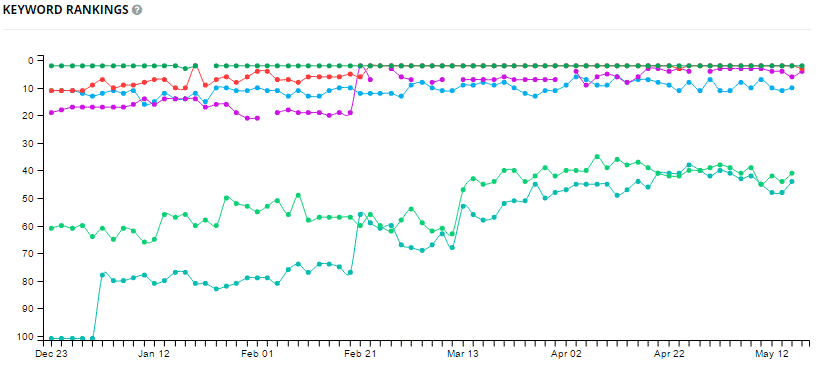 Each of those lines represents where the Orchestrate site ranks for a specific search phrase (e.g., "Managed IT Services Provider Cincinnati"), and as you can see, every line has an upward trend.
But as we've mentioned on this blog before, higher SEO rankings are most valuable when visitors are doing more than Ohhhing and Ahhhing. A truly successful website needs to be capturing every possible lead; and bad design, image layout and copywriting are some of the biggest culprits of lost leads. With significant investments in Pronto's Advanced SEO package, dozens of Pitch Pages and professional photography, the Orchestrate team captured 4x as many leads after their latest content refresh: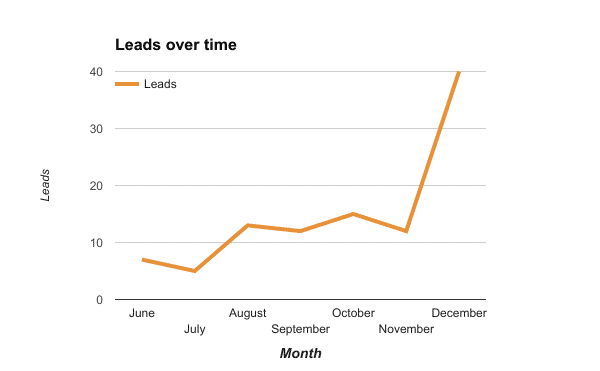 A Pronto website without these investments and upgrades is still going to put your business on the digital map, and if you're looking for examples, check out our showcase. These websites get the same 24×5 support, unlimited service requests, and even site refresh packages that Orchestrate does.
But for businesses that want to blow their competition out of the water, this four-year-old MSP from Cincinnati is one of the best examples of what Pronto can do for you. All you need is a clear vision for your brand, and some money to invest in our customizations and add-on services
To learn more about what that means for your business, schedule a call today.