This month in the Pronto showcase we have three IT Websites. While these companies are similar, their target audiences are not, so we took a unique approach to each site's design. 
First is a business-focused IT services company from right in the heart of Los Angeles. Then we have a friendly neighborhood IT services provider based in the suburbs of Kansas City. And finally, we'll look at a veteran-owned IT company located in Chicago, but serving the entire nation.
Let's get started!
1. Digilent Solutions
This company provides tech services designed to help businesses increase their bottom lines and hit growth targets. Their customers are the countless companies competing for market share in LA, so they want to let potential customers know that Digilent's services can help them get ahead.
To get this idea across, Pronto ensured everything about their site screams "growth and success." There is quite a bit of useful information on the front page, but we laid it out efficiently and logically. The design and images have a professional theme and highlight collaboration and productivity. Visitors get the impression that this is an IT services company that knows their stuff and can help their business succeed.
Explore How to Decide Who Should Manage Your Website
2. Hanebutt Technologies
Being located in the suburbs of a medium-sized city, Hanebutt deals with local small businesses that want an IT partner that they can trust to help them deal with their technology. Their clients aren't looking for statistics and jargon, just reliable and helpful services from people who really care.
Pronto conveyed this idea with a simple, straightforward design and copy that gets right to the point and doesn't mince words. The language used by our writers highlights how simple Hanebutt makes technology and how dedicated they are to their clients. Visually, the color scheme is soft and inviting, and the imagery focuses on real people working together. 
Having trouble with SEO? Use Pronto's SEOpro Service
3. IT Regulators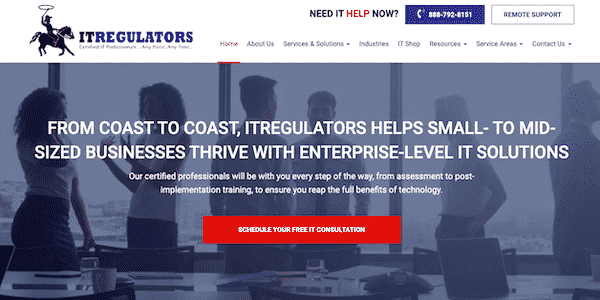 This IT services company serves clients all over the country remotely over the internet, from big-city firms to small-town businesses. As such, they needed their website to offer something for everyone: business-savvy guidance, cutting-edge hardware, friendly and helpful technicians, and a lot more.
We used a diverse array of images and copywriting styles to address a broad spectrum of needs. Our design team also implemented a patriotic theme throughout the site to highlight the company's ties to military veterans as well as its nationwide services. These and many other features come together to make a site with appeal as broad as the IT Regulators' client base.
Equip your business with an MSP Website
Know Your Audience
Once you understand who wants your products or services, you've got to get the message across that you're the right company for the job. Pronto Marketing specializes in IT Websites, but we have extensive experience building sites for businesses in every sector. We'll make one that crystallizes your message and speaks directly to the needs of your target audience to get leads and increase sales. Check back next month for a showcase of more custom Pronto websites!
Find out How Wheel & Anchor Went From No Signups to Getting Many Leads