A Revamped Medical Website Built for Function & Trust
MultiCare Cascade Surgical Center provides surgical services for the Auburn community. Their board-certified physicians and surgeons, assisted by registered nurses, medical technicians, and support staff, offer a wide range of personalized healthcare services.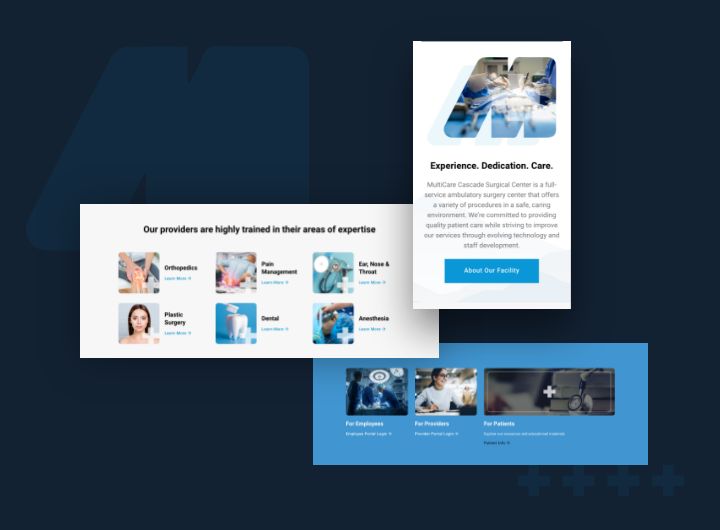 Promoting Brand Consistency
Consistent branding delivers a cohesive and unified experience for both existing and potential customers. Upon redesigning MultiCare's website, our team made an intentional effort to incorporate their most impactful brand element — the medical cross — throughout their entire website to offer visitors a brand harmony that leaves a lasting impression.
Pronto helped us visualize what we truly needed in our website redesign. They worked with us and not for us, which fostered an end product we couldn't be happier with."
Multi-layered Function for Employees
With physicians, surgeons, nurses, medical technicians, and support staff, MultiCare manages a big team in-house. To help simplify their HR means, our team built a private portal where employees can access internal education resources as well as check and change the status of their working calendars.
We set out to make our website more convenient, and Pronto brought a lot of solutions to the table. They listened to our needs and made sure to address each one of them effectively."
Streamlined Form Registration
Medical history forms have long been a nuisance for new patients. For MultiCare, our team addressed this infamous pain point by incorporating JotForm, a secure online form builder. Patients can now easily fill out the HIPAA compliant forms online and submit them directly to the center — no printer, scanner, or pen needed.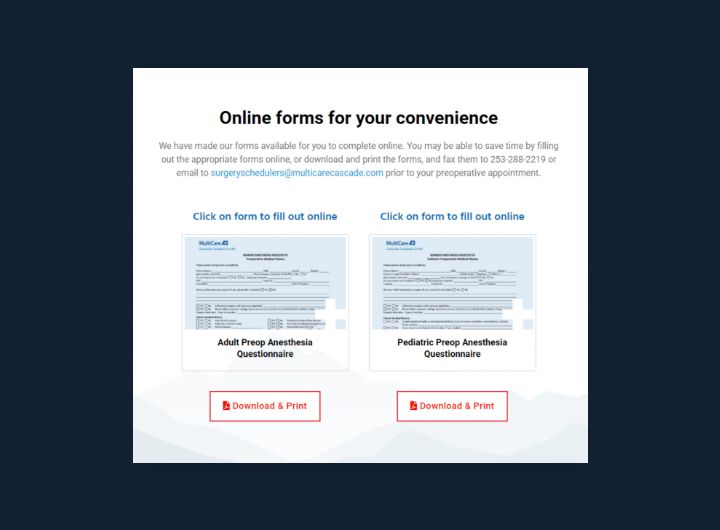 MultiCare Cascade Surgical Center offers an assortment of expert services, each one of them demanding a high level of dedication and care. By revamping their brand image and adding measures of convenience, our team was able to build a comfortable and secure experience for both patients and employees alike.
Make your business stand out with a unique WordPress website design
Reliable WordPress website support services
See Other companies we helped Dawna Gutzmann MD & Associates
Engaging patients through interactive design measures