Engaging Patients Through Interactive Design Measures
Dawna Gutzmann, M.D. graduated from the University of North Dakota School of Medicine and trained in psychiatry at Northwestern University School of Medicine. She has been licensed to practice medicine in Illinois for over 30 years.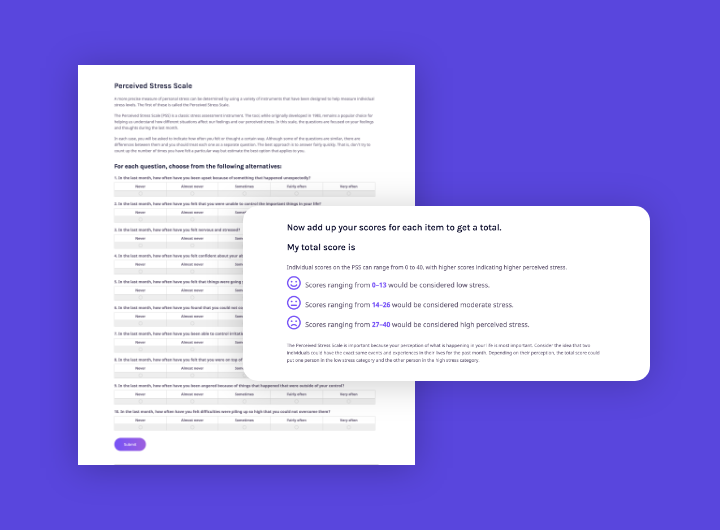 Who doesn't like a self-assessment quiz? Well, according to some social psychology journals, many people do. The pursuit of accurate self-knowledge is alive and thriving, hitting a golden age of sorts thanks to the arrival of social media. 
We worked with Dr. Gutzmann and her team to create an interactive web version of the Perceived Stress Scale (PSS) professional self-assessment test available to prospects and clients alike.
"In the medical field, it's important to establish trust with our patients. Pronto helped us improve our measures to do so by including engaging information resources that are relevant to our goals in making our patients feel valued."
For a medical practice, presentation is pivotal. It's easy for potential clients to get bogged down or overwhelmed if the pitch isn't delivered in a clear and engaging manner.
To help Dawna Gutzmann MD & Associates visualize what their practice aims to address, we created icons for each patient improvement measure. Visitors can now get an inviting look at what to expect. To add a personal touch, we also embedded a video introduction of Dr. Gutzmann on the website's homepage.
"The staff was very pleasant to work with and also patient with my lack of knowledge regarding technical matters. They responded in a very timely manner to all of my questions and requests. The final product is even better than I imagined."
Trusted payment measures are crucial in legitimizing your business, but perhaps just as important is providing an easy way for customers to pay their bills online. Complicated payment processes are enough to turn clients away for good.
In working with Dawna Gutzmann MD & Associates, we set out to build a simple and easy-to-use payment form to keep payments swift and uncomplicated. To increase legitimacy, we also highlighted Dr. Gutzmann's use of PayPal and Zelle, two of the most trusted online payment platforms available today.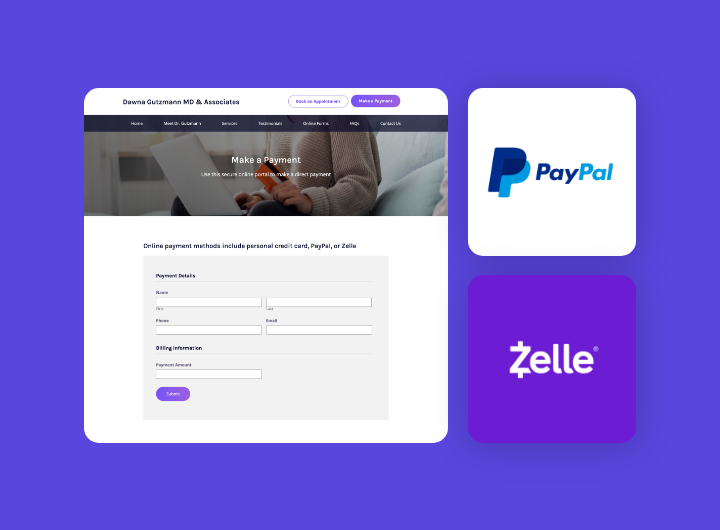 Dawna Gutzmann MD & Associates wanted to create a relaxed and friendly user experience in their website rebuild. We understood that need and went to work. We incorporated new elements, interactive tools, and presentation strategies that aim to keep website visitors engaged and informed.
Make your business stand out with a unique WordPress website design
Reliable WordPress website support services
See Other companies we helped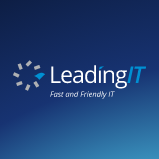 Establishing trust while driving lead conversion