To ensure you have a strong sales funnel in place, it's important to fully understand not only the people to whom you are marketing your services, but the stages of the decision-making process. Most MSPs know these things already, but their marketing and sales efforts don't fully reflect them. A general approach to marketing means ineffective conversions and low ROI that makes the investment difficult to justify. There are several things you can do, however, to build a stronger sales funnel and get the most out of your efforts. We use a four-stage sales funnel that addresses the different thought processes prospects move through as they make a buying decision:
Attract – Getting people to your website and your marketing materials, enticing them with value-oriented headlines and useful information.
Convert – Capturing lead information using high quality, value-laden resources.
Close – Moving a captured lead down the funnel to sale, a process which can take weeks or even months.
Delight – Maintaining connection with customers and past clients to provide value and build a strong relationship.
Most MSPs focus heavily on step three and have only a cursory process in place for steps one and two. By building a stronger funnel that integrates all four stages of the sales process, you can capture a larger volume of traffic, attract more people to your
MSP marketing
efforts, and maintain a higher retention rate over time. So what does this funnel look like in execution? Let's take a look.
Attract
Getting people to your website can be one of the biggest challenges of a successful funnel.
CapstoneIT.com
is a great example of how to approach this. Starting with content production, they publish a new blog to their website every week and share it actively with both their followers on social media and a larger audience of potential prospects.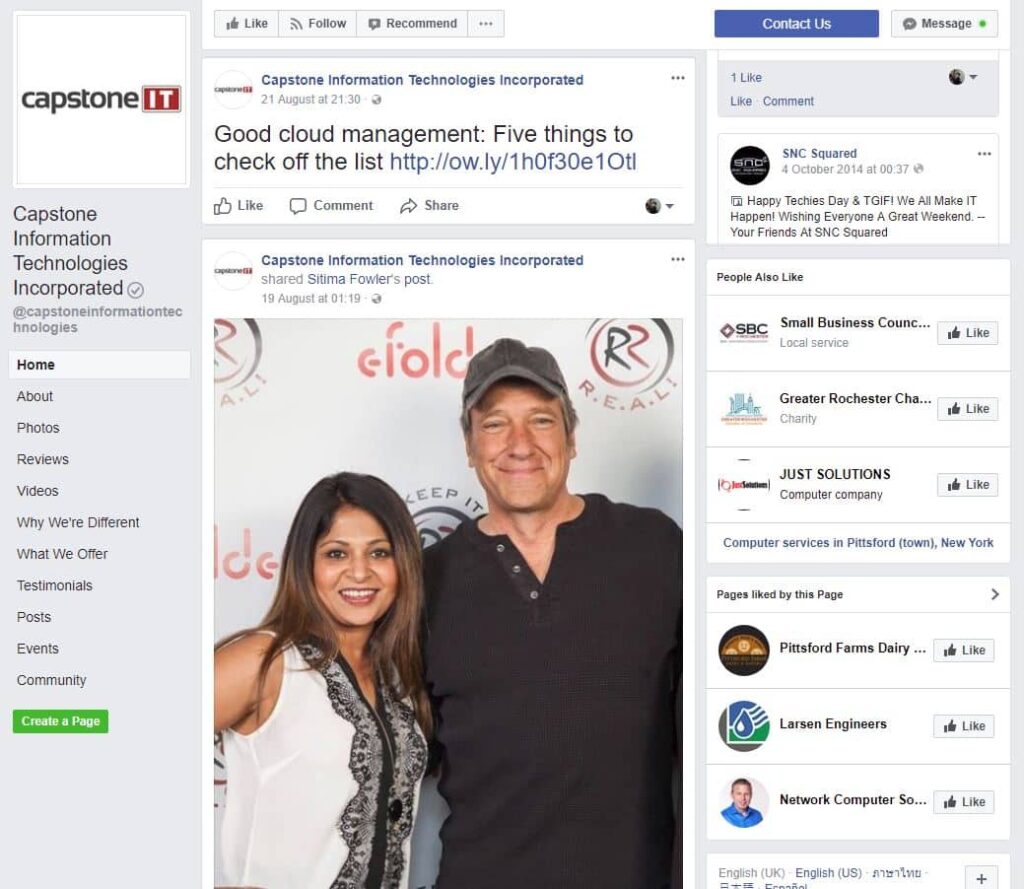 This content provides value, answering common questions and or addressing recent events that their audience will be interested in – cybersecurity in the wake of WannaCry and Petya, software selection advice, and even local travel tips. To generate traffic to your content and other website resources, you can utilize a combination of sources, including:
Google AdWords – Highly targeted ads specific to your region, services, and visitors allow you to reach your target audience in search.
Off-site SEO – Link building from relevant local and industry websites, and an active outreach effort help to ensure a higher ranking in search engines.
Social Media – Both organic posting to social media and advertising through major channels like Facebook, LinkedIn, and Twitter allow for a higher volume of targeted traffic.
Attract starts with
building the content
your prospects are most likely to need and then making sure they can find it. Do this right and you can greatly increase the volume of people who find your website.
Convert
Once prospects reach your website, you need to capture their information. To do this, you need a multi-tiered selection of options. The average
MSP website
has only a contact or consultation request form. By adding additional conversion points higher in the funnel, including downloads of useful resources and subscription options, you can convert a higher percentage of traffic to your website. Capstone does this with their website by featuring a growing resource library that consists of webinars, events, online resources, eBooks, and video content, all of which are relevant to different issues that prospects might have: By providing something of sufficiently high value, you can convert traffic to new leads with a simple form:
eBooks and White Papers – High value content can be gated with a short form that requests basic information.
Newsletter Subscriptions – Request email addresses to provide a regular newsletter with news and updates.
Retargeting – Ad retargeting allows you to recapture lost traffic through display ads that follow visitors who demonstrate interest in your services.
Demonstrate Professionalism – Your website should highlight your team with real photos of the people prospects will be working with instead of stock images. Good quality media can make all the difference in converting people on the fence.
A concentrated effort to provide value to your prospects when they need it most will allow you to generate more leads from the same volume of traffic.
Close
Once you have captured a leads information, your sales team takes over and must work to prove the value you offer customers and close the deal. There are several components to this, including:
Regular Follow up – For those who have only downloaded an eBook or watched a video, you can automate follow-ups that move them toward requesting a consultation or a quick call.
Showcase Your Services – MSPs can do a lot to stand out amongst a crowded field. Showcasing your services and team by demonstrating your quick response time when they have a question, or staying active in the community at local events and speaking opportunities helps to highlight what you can do.
Highlight Testimonials – Word of mouth and social proof are hugely important for all MSPs. Gather testimonials from as many clients as possible and feature them on your website and in your marketing materials. Live or recent testimonials are best, allowing you to date or time them.
Send Gifts or Reminders – Sending a gift basket or a favorite bottle of wine/spirit to push a prospect over the top can showcase to building a relationship. Just make sure to adhere to your local regulations.
Delight
The last stage of the sales funnel takes place after the sale. This is where a lot of companies drop off, neglecting to follow up, engage with customers, or ask for feedback. These things can make all the difference in high retention rates, referrals, and testimonial gathering. It's a lot easier to keep a current customer happy than to go out and find a new one.
Invite Clients to Your Office – Periodically invite clients to your office to show off your top of the line equipment and hardworking team.
Promote Your Referral Program – Remind your clients about your referral program by including it in your email signature and mentioning it during the sales process.
Offer Value-Add Programs – If you regularly participate in local events, or hold training or webinars, share them with clients as a value add to their service plans.
Regular communication with existing clients will help to build a stronger relationship and showcase that you really care about them receiving the very best service possible.
Building a Stronger Sales Funnel
With the right approach to providing real value to your clients and prospects alike, you can create a stronger, more effective sales funnel that
drives traffic to your website and converts more leads
. You already know your target audience better than anyone else. Build a sales funnel that reflects that and your business will benefit from it immensely.