As part of any digital marketing strategy, Search Engine Optimization (SEO) is integral in driving qualified customers to your business via online platforms. Effective online marketing demands it.
In this blog, we'll cover the basics of SEO before diving deep into eight key elements to consider when planning your SEO strategy. Let's jump right in!
What is Search Engine Optimization?
SEO is the process of increasing the visibility and traffic to your website by using various methods such as keyword research, content writing, and link building to help you rank higher in search engine results.
Although not long ago, SEO involved stuffing keywords on your site for search engines to find. SEO in 2022, however, is far more complex and involves a much broader scope of considerations.
Today's savvy business owners know that it takes more than just having the right keywords on a page to get top rankings. It also requires building an audience, then developing a strategy around how they engage with your content as well as other aspects of their online experience.
Nowadays, SEO is a full-time job for small businesses, and many are turning to website design and marketing experts such as Pronto for support.
How to create an SEO strategy
Forget what you think you know about SEO and start thinking about it as an ever-evolving field. As users' behaviors and search engines' capabilities develop over time, SEO and the tactics around it change just as quickly.
It's not just the online marketing industry that's evolving; your business's industry and competitors have also changed drastically in recent years.
So when it comes to SEO, you really can't "set it and forget it." SEO is a long-term strategy that focuses on growing your organic search traffic from search engines over time. If you're serious about attracting visitors to your website without leveraging paid advertising, then you should be planning to apply search engine optimization best practices.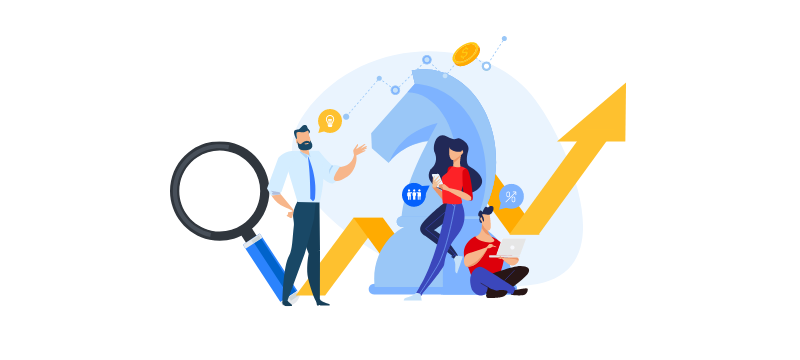 8 key elements to consider when planning your SEO strategy
How do you imagine your sales pitch when a prospect clicks a Google Ad? Consider the searcher's intent and how you plan on addressing that intention. Think about what differentiates you from your competitors.
1: Who is in your target market?
SEO today is not about just grabbing as much traffic as possible. Rather, it's about attracting targeted visitors interested in what you offer.
Who's your target audience? What are they in the market for? How and what do they search for the services your company offers? Where are they located? What are they struggling with at the moment of their search?
The more specific you get to each of these questions by addressing them with written content throughout your website, the more valuable your investments in SEO become. Google Analytics is a great place to start learning about what channels your visitors are coming from and what pages they engage with the most.
Another good way to learn about your target market is by analyzing your competitors. How do they sell to their clients? What methods do they use? What language and messaging are on their website? The goal is to gather information from as many competitors as possible and formulate your own unique selling proposition and story.
2: Most people search on mobile devices
Over the past few years, the online mobile market has exploded, overtaking desktops by leaps and bounds.
The first thing to do when planning your new website or redesigning your existing one is to make sure it works well on all devices — desktop computers, laptops, and smartphones. It's also important to consider what kind of content will be most useful on each device type.
This can help you decide whether to use responsive design, which automatically adjusts the layout of a web page based on the size of the device, or adaptive design, which uses media queries to change the page elements depending on the visitor's device.
Either way, optimizing websites for mobile browsers is critical if you want to rank well in search engine results pages. If you're unsure how your website measures up, enter your site's URL in Google's Mobile-Friendly Test.
3: Search engines are expanding
When someone mentions search engines, do you automatically assume they're talking about Google? The tech giant has such a big share of the market that 'Googling' has become a verb. However, a significant portion of searches take place on alternative sites, such as Microsoft's Bing.
Make a point to search for your site on Google alternatives to see where you rank. Just improving social media engagement and adding meta tags might be all it takes to boost you a couple of ranks on Bing.
4: What's your audience searching for?
Just a few years ago, the average user didn't trust search engines to understand conversational questions. They were searching with clunky phrases like "flower delivery new york." Now people feel comfortable typing in things like "who delivers roses near me?"
Changes in searcher habits are usually subtle but will affect which keywords will be most valuable for your site. Instead of focusing on keywords that get you more traffic, focus on understanding the intent behind the searches your visitors make.
Understanding why people search for your services online allows you to tailor the content of each page to their needs and drastically increase the chances of them performing some type of action on your site. Whether that's visiting another page, filling out a contact form, or calling you right away if they happen to be on their mobile device, those signals have a positive effect on your website's rankings.
Google wants to rank the pages that best match the searcher's intent and have higher engagement than the competition.
5: Simple navigation reigns and quality content is king
A user-friendly website, with interesting and easy-to-find information, is what will help your traffic grow over time. Each page needs to serve a specific purpose and convey a clear and accurate message around the keyword you want them to rank for.
Written content, graphics, video, and audio are the mediums you can use to let search engines know what you're trying to communicate to your visitors while also delivering a positive and educational user experience.
Positive behaviors from site visitors are your best bet for a better ranking, so keep the content natural and focused; avoid jargon and keyword stuffing to keep users from leaving the site unhappy and hurting its ranking.
6: Links to your site are extremely valuable
When another website links to yours, search engines consider that an indicator that your site contains valuable content. Not so long ago, getting dozens of links from low-quality sites was all it took to boost your ranking.
The Google Penguin algorithm update (announced in early 2012) marked a historic moment in the SEO space. Shady tactics aimed at artificially and unnaturally increasing the number of low-quality links pointing to a website started to be more seriously penalized with the websites that implemented them.
Ten years later, the SEO community strongly agrees that the value and context which links provide are much stronger SEO benefits than a high number of low-quality links.
If you need help with both link building and local SEO, check out our Link Building and Google My Business management services.
7: Social media has a pivotal role
While social media sites may seem like fun places to visit, they are also great tools for businesses that want to connect with current customers, potential clients, and new audiences.
Many users start their searches on social media and make their way to a business's site after seeing or engaging with a piece of their content. Sharing up-to-date, engaging, and personalized content will attract more people to your profile and eventually to your website.
8: Set and track your SEO goals
Monitoring your ranking on search engines is key to getting better results.
Start by tracking the most important website metrics to set a baseline for your performance.
To improve your existing content, go on Google and type the query you want each page to be found for and start to inspect what the top ten results look like. Are they text-heavy? Do they have screenshots, custom graphics, or videos? What do they focus on the most, and are they forgetting to mention that you think it's important instead?
Take notes and optimize your pages according to what you already know about their ranking. Make small, incremental changes to your pages and give the search engines time to recrawl your site and reevaluate its rankings.
Avoid making drastic changes to one or multiple pages at a time so you can always keep track of what was responsible for improved performance.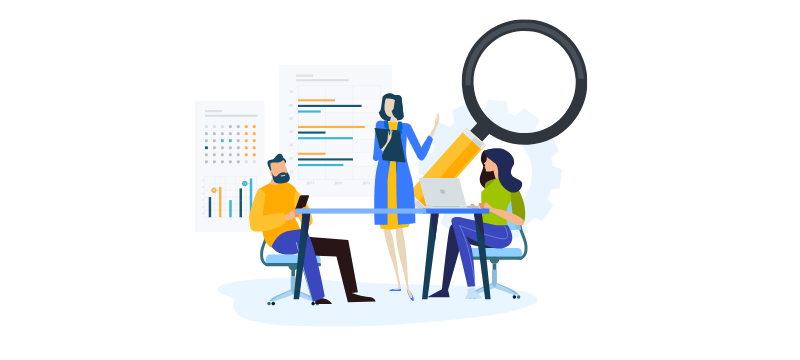 Get your own custom digital marketing and SEO plan through our Marketing Blueprint service.
Conclusion
We've discussed some of the core components of a successful SEO campaign to include in your digital marketing plan. Beyond that, several other marketing strategies can indirectly affect how your site ranks, such as Pay Per Click advertising and email marketing.
This means you really can't afford to approach each campaign individually. The most successful brands integrate all their campaigns that ensure there's always something pushing their leads one step closer to converting into a customer.
If you would like to learn more and get the most out of SEO for your business, request a free consultation with one of our experts!