Background
Since 2006, Cloud Coco has been helping UK businesses of all sizes and industries succeed by providing enterprise-grade technology at small-business prices. Their team delivers solutions and services that help improve organizational performance and effectiveness with complete life-cycle IT services.
The Project: New Service Area Pages to Establish Strong SEO Foundation
Cloud Coco requested 17 new service area pages to not only inform visitors of their intended reach but to also establish a strong local SEO foundation.
Their team had a pre-designed layout in mind and tasked Pronto to emulate it as much as possible.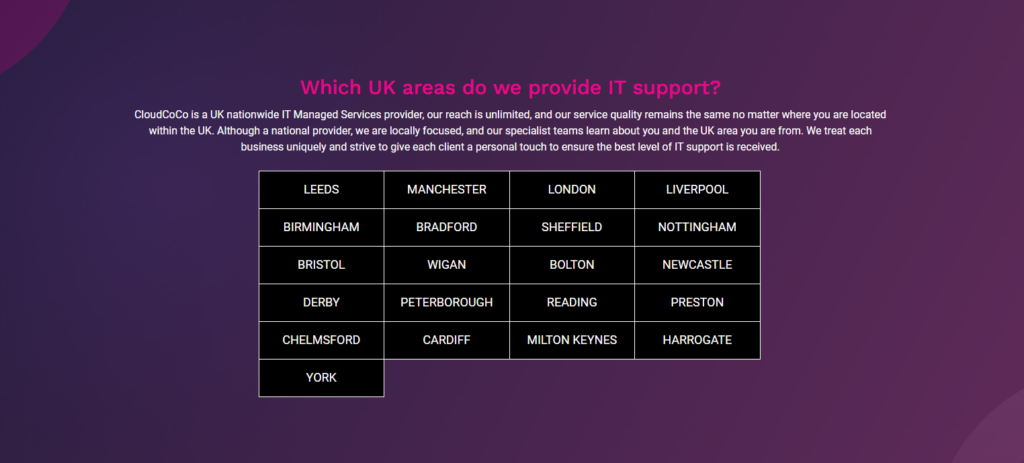 Cloud Coco's 'Services Areas' page indexes each of its 21 service locations
The Website Update Request
A clear and informative email to our support team got the process started.
Good morning,

Can you please assist in increasing the number of new area pages we need to be done? These will all be linked to from the Services Areas Page:

https://cloudcoco.co.uk/about-us/it-support-uk/.

Can you also please base the design of each page on the current Leeds landing page:

https://cloudcoco.co.uk/it-support/leeds/

When creating each page, can you please ensure the embedded google maps location is updated and that any pictures we use are geotagged to these locations?

If you have any questions at all, please let me know.
Project Breakdown: 17 Pages Done in Less Than 4 Weeks
At the request of the client, the project was separated into two phases — 12 pages for the first phase and five pages for the second phase.
Our support team started phase one by sourcing images and icons and by following the reference layout provided. The first batch took exactly two weeks to complete.
The second phase began once the remaining copy was received. Once done, the Cloud Coco team reviewed our work and confirmed that it matched their requirements.
Some additional requests included the addition of meta tags, shortening of breadcrumbs, and changing the footer.
Thanks to active cooperation from Cloud Coco, our support team got the project done in less than four weeks.
Project Outcome & Next Steps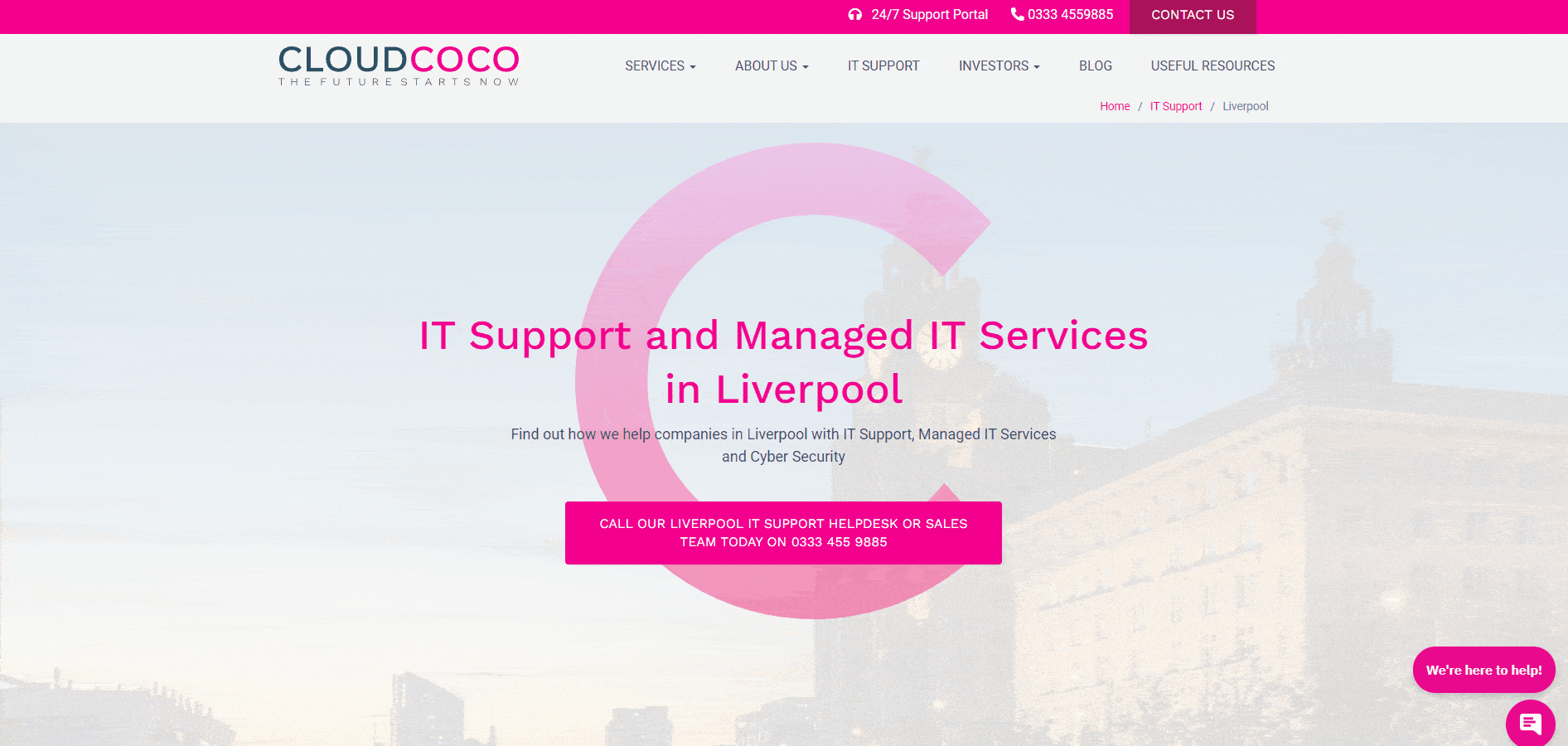 Pronto's Support team built each location page according to Cloud Coco's existing layout
Cloud Coco leveraged Pronto's Website Support service to spread the word on its nationwide coverage. By having service area pages for each of their service locations, the IT firm now offers its visitors an opportunity to consider IT solutions close by — no matter where they are in the UK.
But it doesn't stop there. These new location pages serve as the foundational groundwork for an effective SEO strategy to rank higher in local Google searches.
"Thank you so much for sorting these. This is a really big piece of work by you guys and I'm really impressed with the outcome!"  —  Peter Nailer, Head of Marketing
Pronto's WordPress Support team can help you add your own service area pages, or complete any other website edits or projects you have in mind — all for one monthly fee!
Request a free consultation, or if you're already a client – submit your support request here.