An Oklahoma-based health food business worked with Pronto to step up their local leads with an optimized Google My Business (GMB) profile.
APPEARANCES ON
GOOGLE SEARCH
Fresh Fit 405 is a health food store based in Oklahoma City that cooks and delivers healthy meals to busy parents, students, entrepreneurs, or anyone seeking a healthy diet.
Stagnant Lead Generation Results
Fresh Fit 405 approached Pronto with stagnant lead generation results in their service area of Oklahoma City. Primarily a word-of-mouth business, Fresh Fit needed to acquire more sales through online platforms to keep ahead of competitors and optimize their earning potential in their locale.
While Fresh Fit had a GMB profile, they didn't have the time or know-how to optimize it for best results.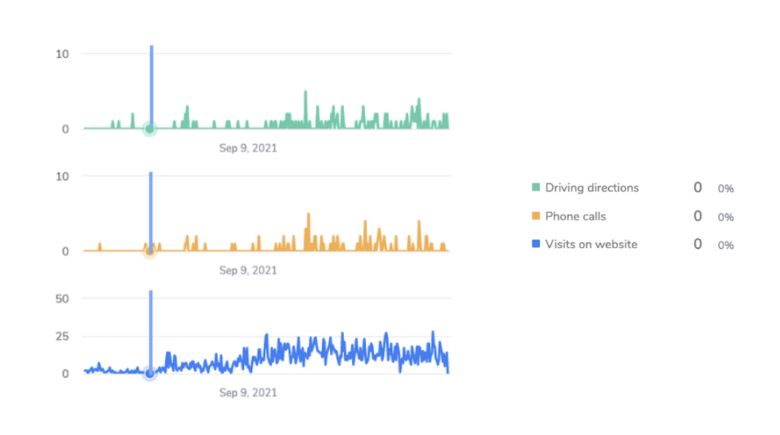 Upon signup for Google My Business in September 2021, Fresh Fit had very little interaction on their profile
"Pronto was able to take my client's Google My Business profile as is and transform it into a real means for local lead generation."
Setting Up a Strong Google My Business Foundation
To kick things off, our team conducted a GMB profile audit to seek out areas of improvement. We found that Fresh Fit was missing crucial elements conducive to interaction and conversion — things such as posts, Q&As, images, citations, and reviews.
Furthermore, the listing did not have any target keywords set up, preventing Fresh Fit from showing up in local search results.
With our findings, we optimized their profile accordingly by adding target keywords and updating other critical profile information such as Q&As and business hours.
On top of that, our GMB experts began building citations, adding Fresh Fit to a number of local online directories.
Lastly, we built a custom content calendar, which outlined a plan to publish new profile updates three to four times a month.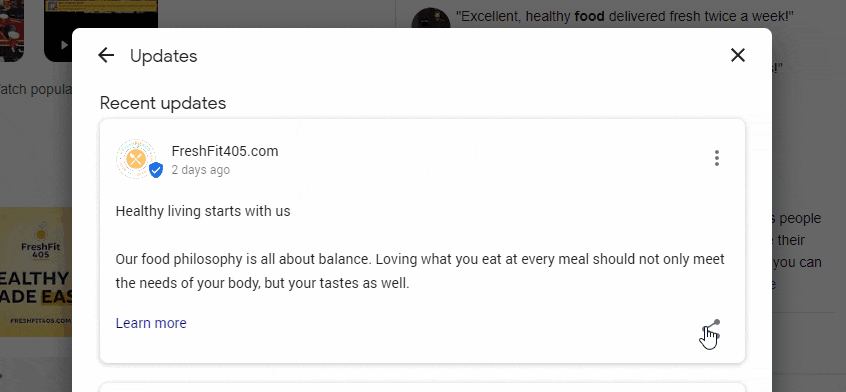 Pronto delivered consistent profile updates to help inspire more customer engagement
"With Pronto's GMB management service, Fresh Fit 405 saw an increase in their site visits immediately. I was impressed with how quickly an impact was felt."
A Sustained Increase In Site Visits & Local Leads
After our optimizations, Fresh Fit saw positive results immediately. Initial spikes in website visits, direct phone calls, and direction inquiries were observed, and over time, the health food business saw sustained growth across all performance categories.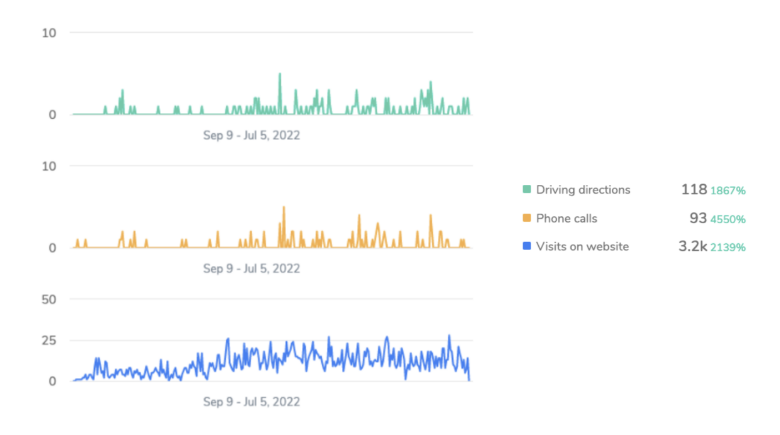 Over a ten-month sample, Fresh Fit's listing logged over 3,000 website clicks as well as 93 direct calls
Finally, as a result of setting up target keywords, Fresh Fit's GMB profile appeared on Google Maps and Google Search results for a combined 68,000 times over a ten-month period.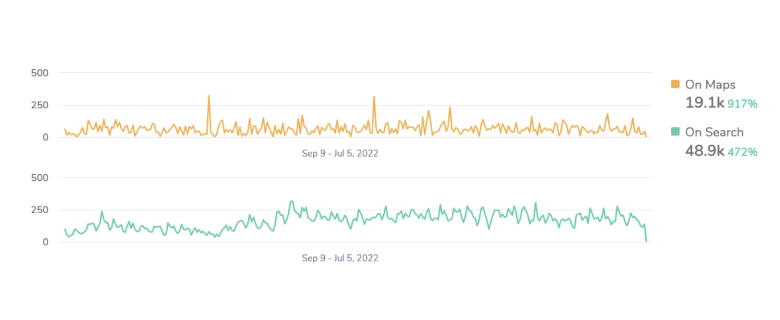 The number of times Fresh Fit's profile was viewed on Google Maps and Search
"I trusted Pronto's GMB experts with a valuable client of mine, and the result couldn't have been better. We came in to spark local leads in the OKC area and we saw positive results across the board."
Prior to signing up to Pronto's GMB management service, Fresh Fit had no interaction or conversion on their profile. Our experts were able to ignite a sustained boost in site visits (+2139%), direction inquiries (+1867%), and direct calls (+4550%) over a ten-month period.
See our Marketing Services
Drive more web traffic from mobile, Google Maps, and local searches
Get your business on page one of Google Search results
See Other companies we helped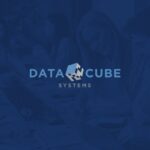 IT firm Data Cube Systems contacted Pronto to help them establish a greater presence on their Google My Business listing to help increase local leads