Organic Traffic Increase in 2023
Increase in
Organic Traffic
Number of Top Ten Ranking Keywords on Google
The LaPorte Law Firm, founded in 1982, has been providing end-to-end legal representation in Social Security Disability cases for over 40 years. They serve clients throughout the Bay Area, California, with a strong presence in San Jose and a growing footprint in Oakland.
Inconsistent Local Search Presence
Despite a strong search presence in San Jose, where the firm was first established, LaPorte Law Firm sought to rank organically for other locations in the Bay Area, particularly Oakland, where their second office is located.
Their goal was to increase their organic search presence, focusing on their local area (within 120 miles of one of their offices). The firm's marketing for social security disability insurance law was complex due to the hyper-focused target audience.
"Before partnering with the team, our local search presence was inconsistent. We knew we needed expert help to improve our rankings and increase our visibility in the Bay Area."
GMB Management & SEO Page Booster
Our team conducted a thorough audit of LaPorte Law Firm's Google My Business listings, identifying areas for improvement in terms of categories, content, and other information.
We optimized their listings by adding missing target category keywords, local schema, updating existing citations, and continuously building new citations. We also created a customized content calendar for posting content on their listing consistently.
In addition to GMB Management, LaPorte Law Firm also engaged in our SEO Page Booster service. We conducted comprehensive keyword research, a technical audit, and a robust link-building campaign.
"With the GMB Management & SEO Page Booster services, we saw a significant improvement in our local search presence. The team's expertise and meticulous approach have made a huge difference in our visibility."
Enhanced Local Search Presence & Increased Organic Traffic
After implementing the optimizations, building citations and links, and increasing the level of activity on their GMB listing, LaPorte Law Firm started seeing positive results immediately.
Their listings began appearing inside the Map Pack when searched locally for relevant keywords.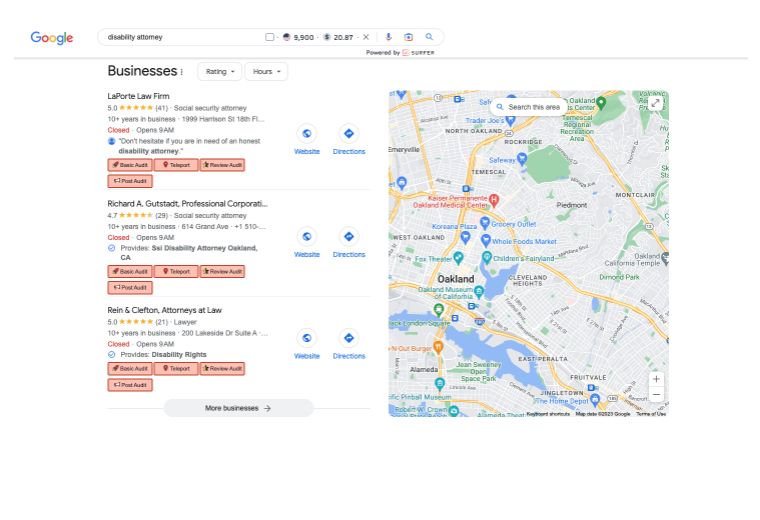 Keyword: disability attorney
Location: Oakland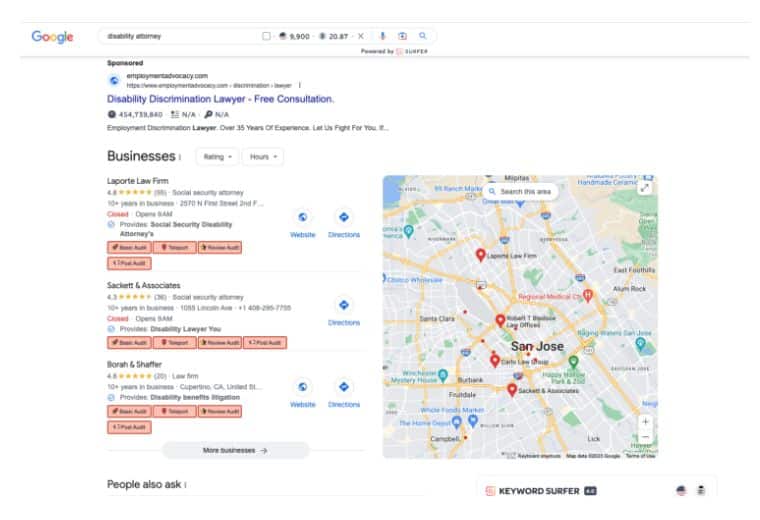 Keyword: disability attorney
Location: San Jose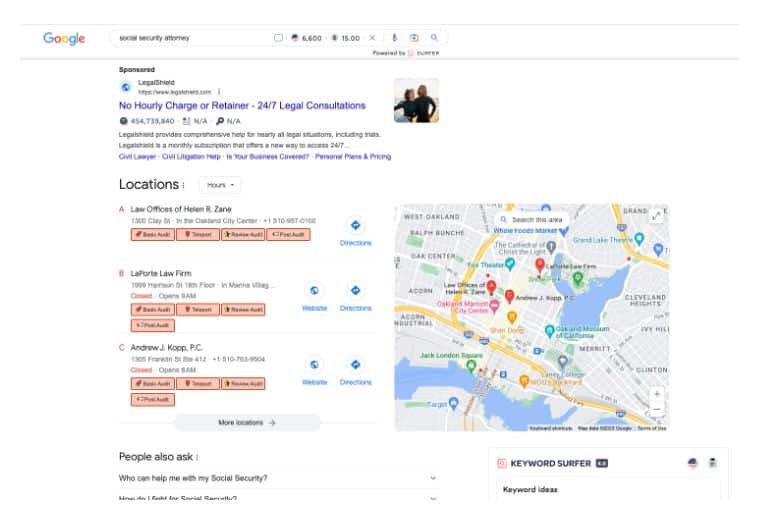 Keyword: social security attorney
Location: Oakland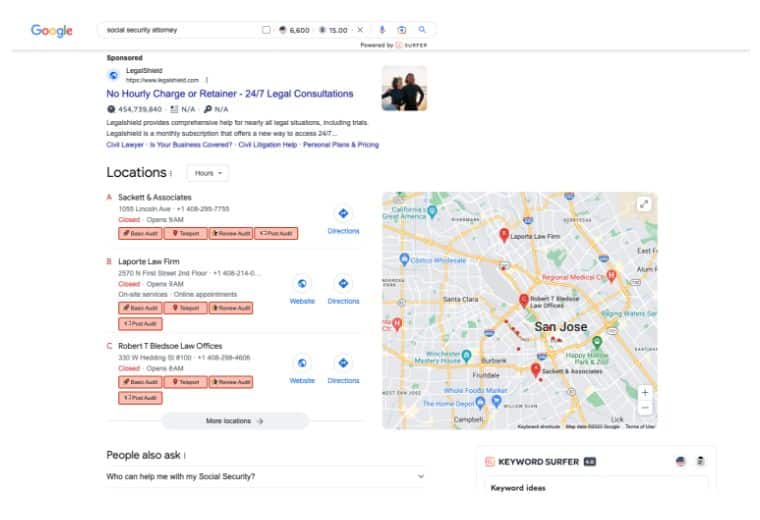 Keyword: social security attorney
Location: San Jose
June 2020 saw a conversion spike at above 60 clients, over double what Brown & Dahan was producing the year prior
These new top rankings have led to LaPorte Law now getting record breaking interactions on their GMB listing with significant click increases across all major CTAs.
Since our SEO experts began their work, the results have been remarkable. So far in 2023, LaPorte Law Firm's website has welcomed 2,368 organic visitors, marking a 513% increase compared to their 2022 results.
"We're thrilled with the results we've seen since partnering with the team. Our local search presence has improved dramatically, and we're seeing a significant increase in organic traffic. This has made a huge difference for our firm."
With Pronto's GMB Management & SEO Page Booster services, LaPorte Law Firm has significantly enhanced their local search presence and boosted their organic traffic, helping them reach more potential clients in their target areas in the Bay Area.
See our Marketing Services
Boost your rankings with professional SEO & link building services
Drive more web traffic from mobile, Google Maps, and local searches
See Other companies we helped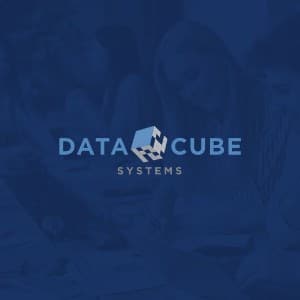 An Oklahoma-based health food business worked with Pronto to step up their local leads with an optimized Google My Business (GMB) profile.