LaPorte Law Firm came to us to increase the number of people who visited their website, especially people within 120 miles of one of their offices.
Founded in 1982, The LaPorte Law Firm specializes in Social Security legal services. They provide end-to-end legal representation to clients throughout the Bay Area.
Ranking in Google for Multiple Locations
LaPorte Law Firm came to us to increase their organic search presence and especially wanted us to focus on their local area. They had a strong search presence for San Jose (where the firm was first established), but they sought to rank organically for other locations in the Bay Area.
A consumer insights study by Google reported that 76% of local searches result in conversions, highlighting how important local search is for many companies, even national brands. Working with a local company offers a certain degree of familiarity for both consumers and businesses and reinforces a sense of community. As local search results are very targeted, your messaging and on-page SEO needs to resonate with both the user and search engines.
We wanted to increase the number of people who find LaPorte Law Firm on Google. A big part of our business is the ability to be present in the moment of need for the client. Today, that moment can often start on Google's homepage."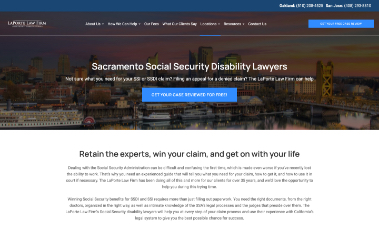 Twenty-one keyword opportunities were added to LaPorte Law Firm's website to help boost local traffic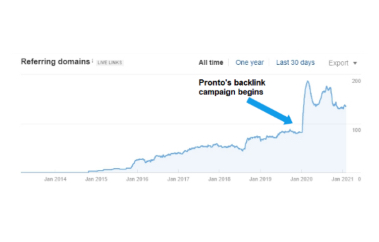 Pronto's link building campaign yielded over a 100 percent gain on referring domains in 2020
June 2020 saw a conversion spike at above 60 clients, over double what Brown & Dahan was producing the year prior
Increasing Website Authority with Link Building Campaigns
The first thing we did was assess which keywords LaPorte's website and its competitors' websites were ranking for. Any time a competitor ranked for a keyword that LaPorte's website did not rank for, we added it to a list of targeted phrases. There ended up being 21 keyword opportunities based on our research.
Next, we looked for search phrases that neither LaPorte nor its competitors ranked for or phrases where existing rankings could be improved with simple tweaks to on-page text.
All of the updates at this stage were focused on optimizing content for searches that contained the name of a city one of their offices was located in (i.e. 'disability lawyer in San Jose'). This is also when our team created new pages dedicated to details about each office location.
Besides local keywords, LaPorte also had lots of room to grow with "longtail" keywords. These types of search phrases are longer, more specific, and often associated with a question (i.e. "how long do I have to wait after my social security disability hearing?").
Lots of SEO services neglect longtail keywords because fewer people search for them. Not us. We started LaPorte on a blogging plan that targeted these phrases to further increase website traffic and get in front of people who were clearly looking for legal assistance.
After the competitor and keyword research, it was time for a technical audit. This step focuses on all of the behind-the-scenes settings and optimizations that Google considers when ranking a website. Something as trivial as a page loading in four seconds instead of two can knock hurt rankings. We combed through LaPorte's entire website and addressed all of them.
Lastly, LaPorte's website needed backlinks. One of the top three determining factors in where a site ranks in search results is how many other websites link to it. The more backlinks your website gets from reputable sites, the higher Google will rank your website.
We built a campaign that resulted in bloggers from the legal services industry linking to the LaPorte website. One of the reasons these efforts are so valuable is because they require no ongoing maintenance. As long as those links are accessible their SEO benefits persist.
Pronto worked with us to develop a plan. They walked us through it step-by-step. We were very impressed with the level of detail in their action plan."
Record Highs in Web Traffic and Leads Generated
The work on LaPorte's website began in June 2020, and by November 2020, there were noticeable improvements on the website's performance when compared to the same period in the previous year.
Most importantly, we secured 25 backlinks from authoritative, industry-related blogging sites.
Also, during the five-month period, the number of people who arrived on the website after clicking a search result increased by 51% when compared to the previous year. November 2020 was even better — an increase of 89% when compared to November 2019.
LaPorte's original request was for us to boost their visibility in local searches. Between July 2020 and November 2020, the number of website visitors from local areas increased by 35% when compared to the previous year. In particular, November 2020 increased by 70% when compared to November 2019.
Between July and November 2019, ninety-four website visitors filled out a contact form after clicking a search result in Google, Bing, or other search engines. During the same period in 2020, one hundred and six website visitors had filled out a contact form.
We were thrilled with the solutions Pronto provided. Not only were we able to increase our search visibility locally in San Jose, but we have also started to see interest from clients in the Bay Area."
We started our work with LaPorte Law Firm in June 2020, and after just five months, we were able to boost its total web traffic by 51%, its local web traffic by 35%, and organic leads by 13%.
See our Marketing Services
Get leads with our Google Ads Campaign Management services
SEO link building services to boost your search rankings
See Other companies we helped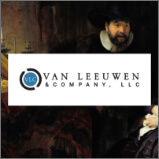 Wealth management firm Van Leeuwen & Company contacted Pronto to help them increase their web traffic via local Google organic searches in Princeton, New Jersey