If you're not easily accessible online, you'll lose market share — there are no two ways about it. And despite what traditionalists may want to believe, this is just as true in the manufacturing industry as any other.
Even if you have close to zero competition in the sector your products serve, almost 90% of your prospects will start their search online, and without a well-managed internet presence it's going to be impossible for them to find you.
But what exactly does a "well-managed internet presence" mean for manufacturing companies?
Getting attention
First off, you need to get your shop noticed. In today's digital age, one of the most effective ways to do this is to give people genuinely useful information in the form of regular blog posts. This helps build credibility, reputation, and trust without any cold-calling or overeager salesmanship.
A lot of manufacturers end up viewing their blog as a place for their sales pitch, but the main goal shouldn't be any more complicated than attracting more traffic to your website. Actually, avoid selling readers anything at all; the most shared blogs are those that get people interested in what you have to say about your industry, not your products.
For instance, if you have something that makes your quality control process stand out, such as a highly rigorous testing procedure, write a post that highlights why you've taken this approach and what your readers can look for when evaluating your competitors' processes.
Or, write a blog about where you source your raw materials from, especially if they are ethically sourced or have attributes that make them stand out. Sure, these posts showcase your products, but they also provide readers with valuable information for vetting others in the industry.
Whatever you write, make sure it's interesting, casts your shop in a better light, and has a good chance of getting shared. As long as you shy away from complicated industry jargon, and avoid getting too technical, that kind of content will bring readers back for more — and that's more valuable than just another sales pitch.
Give prospects a reason to take the next step
Everybody likes a freebie, and exploiting that weakness is a great way to get leads. It doesn't matter whether you're targeting business-to-business buyers or general consumers — giving away free stuff always works.
We're not talking about handing out trinkets face-to-face, because that strategy still requires pounding the pavement. On the contrary, electronic resources — like eBooks, white papers, and example prototype diagrams — can be offered on your website in exchange for email addresses and other contact information. That will bring in tons of new leads without sending Joe Blow out with a box of keychains and sign-up forms.
A great example of this is a digital brochure that educates readers on what to expect from your prototyping process. They get a free glimpse into the specifics of working with you, and you get a new email to add to your lead database.
Keep in touch
The next step is to decide what to do with with your rapidly expanding list of email addresses. Newsletters are an incredible way to keep your leads interested. You can announce new products and services, or if you want to be more creative, highlight industry developments that impact how people might go about choosing their manufacturer.
For example, if you manufacture products for wholesalers, write about new technology that makes their buying process easier. Newsletters should be shorter than blog posts; these readers didn't actively seek out this information, so they're already primed to hit "Delete." Provide just enough to engage those interested in what you have to say, but don't send newsletters so frequently or be so verbose that you turn off any on-the-fence leads.
And just like all the content suggestions in this post, avoid going overboard with sales material. If they get in the habit of regularly reading your email content, you're setting up shop in their consciousness — so when they're ready to buy, you'll be the first call.
Don't forget to care for your existing customers
It's common knowledge that it costs as much as 10x more time, effort, and money to attract new customers than keep the loyal ones. The tried and true methods for keeping customers loyal are the same as they've always been, but now with an online twist.
Promotional emails based on previous purchases are always a winner and incredibly easy to put together. Like your newsletter campaigns, keep these emails short and to the point. You don't need to convince readers about your product quality; they're still reading the emails, after all.
Although the core concepts are no different from the printed promotional catalogs and newsletters of years past, the real advantage comes from how quickly and easily these can be drawn up. Try to get this content out at least once a quarter, or consider taking existing customers off the newsletter list and getting these promotions out once a month.
Construct the inescapable sales funnel
The most important thing to remember is that whatever content strategy you choose, it needs to lead prospects to the next step in your sales funnel. If you follow the model in this post, that means:
Step 1: Entice visitors to your website with informative blogs posts.
Step 2: Dangle freebies alongside your blog in exchange for a newsletter signup.
Step 3: Send short and snappy product releases and developments to interested prospects on your email list.
Step 4: Keep existing customers happy with "members-only" promotions and deals.
That's why it's called a sales funnel, right? Because most leads aren't ready to seal the deal on Day 1, you have to keep them on the line without reeling in too fast. Each part of your content strategy needs to work with the other, but also be independent of each other.
With years of experience working with manufacturers and their websites, Pronto's team is fully prepared to construct the money-making sales funnel you've always wanted. Call us today to get started.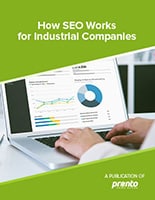 How SEO Works for Industrial Companies
This free, 15-page eBook lets you in on the secrets of tried and tested SEO best practices to drive organic traffic to your company's website.