One of the greatest challenges in building a strong online presence, including a high-quality website, researched marketing plan, and engaging content is the setup.
Most companies lack the internal resources to do it fully independently. Whether someone has the skillset or not, they likely don't have the time immediately. But even so, a lot of companies still believe hiring an outside firm it too expensive.
Many companies find themselves stuck in the middle, facing a long, winding development process internally, or a "costly" external process. How do you get the website you need if there are equal pros and cons on both sides?
That's what we are going to look at – the different options at your disposal and the impacts of each on your business.
Building Your Own Website
The first option most people look at is internal development. Whether you've dabbled in website design before or someone on staff has the skills needed to build a decent site, this can be an enticing option for several reasons.
To start, you don't have to pay an external third party to build the website for you. You also, in theory at least, get full control over how the site looks and feels. But there are several tradeoffs to building a site on your own. Let's look at both sides.
Pros of Internal Development
There are several benefits to going it alone, including:
Lower non-accounted cost – Because you are using existing resources in the form of staff, the cost out of pocket is lower on paper. You don't have to carve out new areas of your budget to make a website happen.
Autonomy in design – You and your team can build the site however you want, without pushback from designers, or people who may not understand what you're going for.
Team consistency – You don't have to worry about turnover in an agency or freelancers flaking out mid-project because you have greater control over how something gets done.
Cons of Internal Development
On the other side of the coin, there are several cons to going it alone, including:
Learning curve – Whether or not you have experience developing websites, the technology is constantly advancing and there will be a steep learning curve in developing, building, updating, and ensuring mobile optimization of a modern website.
Cost of trial and error – While the out-of-pocket expense may seem lower, over time you may end up spending even more as trial and error drags the project out. What might take 2-3 iterations with a professional can take dozens when done internally.
Longer development time – Because of the first two issues, it might take much longer to develop your website than if you hired a professional. If you need it up sooner than later, internal development can be a major barrier to getting it done quickly.
Hiring a Seasoned Developer
The next option is to hire someone to manage your web presence full time. This is an enticing option for many larger companies because it eliminates several of the cons of doing it yourself, while bringing in a professional who you now have on the team whenever they are needed.
There are two ways to bring in a developer – either full time on staff or as a contractor when needed, but in both cases, there are some issues to consider.
Pros of Hiring a Developer
Some of the benefits of hiring a professional developer include:
Instant experience – They've done this before and know the ropes a bit better when it comes to the technical side of website development.
On-demand expertise – You won't have to share their time and expertise with someone else. They are there, ready to get the job done for you.
But there are also several cons to hiring a professional developer that can make it an untenable option for a lot of companies:
Learning curve – While you now have someone who knows their craft inside and out, they may not know your business. The learning curve to onboard a new developer and teach them both the visual and spoken language of your industry, especially in such a technical space, can be steep.
High cost – Hiring someone to work independently on your project can be quite costly. Full time development support can be one of the most expensive hires you make, while even part time freelance support will require a decent sized investment.
Possible knowledge gaps – Even a highly skilled developer will have knowledge gaps when it comes to things like copywriting, some elements of design, or conversion optimization. You may still need outside assistance or other members of your team to work on the project.
Hiring an Agency to Build Your Website
One of the most common solutions to all the problems listed above is to hire an outside agency to build your website for you.
To be sure, this resolves a great number of issues. You gain instant access to a stable of experts on a variety of topics, from design to copywriting to development. You can probably find an agency with industry-specific expertise as well, ensuring you don't have to fully educate them on your industry and value propositions from scratch.
But there are still some downsides here that you should be aware of:
Pros of Working with an Agency
Working with an agency, you'll benefit from several things, including:
Industry-specific expertise – These are professionals whose sole job is to build websites for companies like yours. So, they have done it before many times and can show you their work so you feel comfortable with the direction they are likely to take.
A team you can leverage – One of the reasons agencies work so well for so many businesses is that they offer expanded expertise. For less than the price of a full-time employee, you can gain access to half a dozen experts in their field working directly for you.
Adherence to your deadlines – While missed deadlines are a persistent risk in any website development, having a third party on contract means they are much more likely to get close to those dates in the development process.
Cons of Working with an Agency
So, if an agency is such a good solution, why might you opt for something different? There are several reasons, including:
High cost of tailoring – Having a bespoke website developed for your business can be very costly. As an added expense beyond your existing overhead, it can be one of the most expensive marketing expenses your business takes on, and additional customization and development time can add up fast, ballooning both cost and timelines.
Details of the contract – Your agency partner will be under contract, as will you. This will behold them to the specifics of your original requests. Last-minute changes will meet pushback if the scope expands too much and it can cost you substantially.
Subscription Service
Finally, there is a subscription service, which offers a combination of what an agency might offer in supporting the development of your site as a third party, with the ongoing development and maintenance needed to ensure you see realistic results over time.
Pros of a Subscription Service
Subscription services offer several benefits that can offset some of your greater cost concerns.
Deferred costs – Instead of a lump sum paid all at once to build a site that you then own (and are responsible for maintaining), you can defer your costs over several months or even years with a subscription service.
Ongoing support – Most subscription services include support for your site as well, including regular security updates, server monitoring, and a certain number of hours built in to manage and work on the website.
A good subscription service that offers the same level of quality and care for your website with a focus on ongoing support over time can be very beneficial to your business.
Cons of a Subscription Service
There are, however, some issues to be aware of when choosing a subscription service over a one-time investment:
Recurring cost – While a one-time upfront cost is budgeted and paid for all at once, subscriptions are ongoing, and often are hard to extricate from without transferring a website and putting in place resources to manage the site over time.
Changing contacts – Over time, your point of contact and the resources available may change, so you'll need to remain engaged with your provider and ensure you know what options are available and how problems are dealt with.
Choosing a Website Development and Maintenance Solution
However you decide to build your website, there will be both pros and cons. From cost and time needed, to the long-term impact of things like maintenance or site upgrades, it's important to evaluate what is most important to your company, taking into account things beyond just budget.
By evaluating all these factors in full, you can create a plan that will guide you to the right solution for your new website, ensuring it is properly built in a good amount of time and within your allotted budget.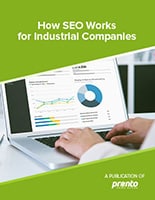 How SEO Works for Industrial Companies
This free, 15-page eBook lets you in on the secrets of tried and tested SEO best practices to drive organic traffic to your company's website.