An online marketing strategy is essential for manufacturing companies that aim to generate leads and expand operations. But spending too much time chasing any prospective customer can sometimes lead to a dead end. In this video, learn about why finding quality leads, tracking their progress in the sales funnel, and measuring ROI are key to business success.
Video Transcription
Hi everyone, I'm Tim and today I'd like to talk a little bit about leads and measuring ROI. In recent years online marketing has become more important than ever for industrial companies. Your potential customers are online looking for information about your business and leads generated online can be just as good as your offline sources.
Before going any further, we first need to talk about tracking your leads. Think about how you handle this with your sales team today – no matter if the lead was generated online or offline. It can be a simple spreadsheet or a fully integrated CRM platform. At Pronto, we track our online leads with our Pronto Insights reporting dashboard which collects information from all our website contact form submissions and incoming calls from website visitors.
Next, take some time to consider what a quality leads looks like to you. This might include factors like the size of the order requested or the timeframe in which in needs to be completed. This will make it easier to evaluate leads as they come in.
Along with this, you need to matching your quality leads back to specific sources. If 80% of your quality leads are coming from one source, you want to know, right? There are some great online tools to help with this like the Pronto Insights dashboard I mentioned or something like Google Analytics a free website traffic reporting tool that collects information about your website visitors, how they arrived on your site and what actions they take on your website like completing a request for proposal form.
funnel is essentially your map for tracking leads as they progress from a website visitor to becoming a happy customer.
All of this tracking might sounds like a lot of work, but it's really important for measuring the ROI of your marketing efforts. You'll be able to see which marketing channels and tactics bring in the best leads and result in the most new customers for you. And tracking everything in your sales funnel will help you find inefficiencies in your process and can help you see where you might need to put in some extra effort to push leads further down your funnel.
ROI tracking can be difficult, especially for an industry where the average close time can be anywhere from 2 weeks to 10 months. But having the right tools and processes in place will make it much easier and in the end, being able to determine your ROI on a very detailed level will help you make better decisions about your online marketing efforts.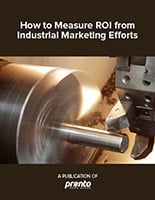 How to Measure ROI from Industrial Marketing Efforts
In this guide we'll show you some of the most effective ways to capture ROI, and how to improve potential conversion rates in each stage of the buying cycle.