"Content is the reason why search began in the first place" – Lee Odden, CEO of TopRank Marketing. Content is one of the most effective ways to deliver your brand's message and sell your product. If you haven't jumped onto the content marketing bandwagon, now is the time as there are loads of content types to choose from. This article's aim is to provide you with a comprehensive view of different types of content available and teach you how to utilize them in your business.
First and foremost, note that not all types of content will work for your business, in fact some of them might even drive users away. Be deliberate in choosing the type of content to include in your content marketing campaign and only pick ones which you feel will work best in your niche. Do your research, experiment with different types of content, and stick to ones that get you the most traffic, sales, and engagement.
Now let's take a look at the 16 types of content that you can include in your content marketing campaign, shall we?
Listicles

Listicles and checklists are easily digestible and allow users to read, scan, and choose discussion points they wish to focus on.

Checklists

Checklists help your audience follow a step-by-step process to achieve a desired outcome. They allow for better organization, motivate your audience to take action and give your audience confidence when delegating activities.

How-to guides

These usually come in a short informative piece that explains (sometimes in a step by step layout) how to accomplish a certain task. You can make the most mundane tasks interesting by injecting your own brand of flavor to it.

Testimonials and reviews

Publish testimonials from customers that talk about their experience with your company's product or services. Encourage customers to submit a review on your site and highlight ones that best reflect your brand's qualities. We've actually talked about how you can accomplish this in our previous blog: How to maximize effectiveness of customer testimonials.

Tips

Generally an idea on how to do a certain aspect of your niche easier. You can also turn it into an article that contains tips. For example 9 Tips for a better About Us page

Newsletters

Newsletters are a great way to keep your subscribers and customers updated of your company's latest events, newest products, and current projects.



Long-form blog posts

Be sure to make your long-form blog posts compelling and informative so your readers stick.

Infographics

Turn boring information into fun visuals with an infographic. You can make it yourself using free tools like Piktochart and Visually or hire a professional graphic designer to make it for you.

Videos

Videos are a great content variation that engages your users. Use platforms like YouTube and Periscope to cover topics that are relevant in your industry.

Webinars

Webinars are online workshops or seminar with live events being the next best thing to having a face-to-face conversation. Do a question and answer with your subscribers or better yet, a roundtable with authorities in your industry.



Product reviews

If you're using a product that's relevant to your niche and that your customers might benefit from, a product review can boost audience engagement tremendously.

Tutorials

Do a video tutorial demonstrating to customers how to use your products or services that might be difficult to use by following a paper manual alone.

Office tour, company culture and Employee of the Month

This gives your audience unparalleled access to your business without having to leave your website which in turn allows them to interact with your products or services with just a click of a mouse.

Data visualizations

Turn a research heavy article that has lots of statistics and figures into a data visual. This can be used together with your article or separately on social media to offer viewers a comprehensive view of your content without scaring them away with abundant text.

Case studies or personal stories

This is a way to connect with your readers and make them feel like they're not alone, that you have been in similar situations and made it out. When Greg Digneo laid out his life story on Copyblogger about why quitting his job was the most profitable thing he's ever done, his audience responded. This is because relatable personal stories or case studies evoke emotions in your readers that capture their attention.

Ebooks

Ebooks make reading comfortable on a variety of devices since they're optimized for any screen. This allows you to equip readers with the information they want quickly and easily. What's more, eBooks can be highly interactive with graphics, video and sound; it can also link to specific pages on your website.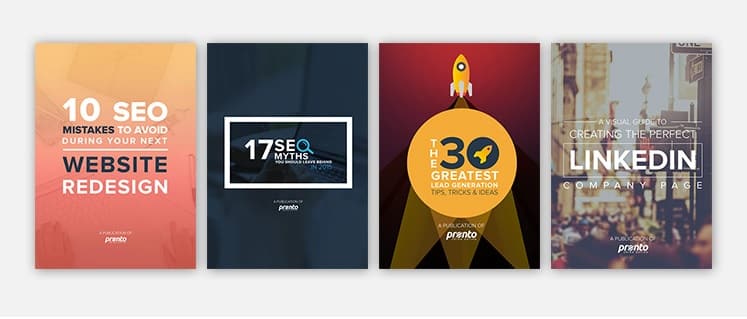 Not all content is created equal. Some will work for your business while some may not so be sure to only utilize ones that fit your business needs best. Analyze your target market carefully and be sure to post content consistently. It'll keep your customers coming back for more.
---
Need Some Help?
If you feel confused or overwhelmed, don't be. Pronto has you covered. With over 1500+ WordPress websites under our belt, we can help you with all your WordPress needs and more. From Content all the way to Integrating platforms.
Schedule a call with one of our Pronto Experts and learn how we can secure your website so you can focus on your business.