There are countless WordPress plugins that provide the features small businesses need to thrive. However, as an accountant your requirements and priorities will be different, particularly when it comes to protecting your clients' sensitive financial information.
With so many plugins promising to add essential features to your business website, it can be difficult to narrow down your options. 
This is why we've put together a list of free and premium business plugins that are the perfect fit for accountants. Let's take a look! 
In this post, we'll provide some guidance for choosing plugins for your website. Then we'll share these top five WordPress plugins for accountant websites in more detail. Let's dive right in!
How WordPress Plugins Can Help Your Accounting Firm
As an accountant, your website is your modern-day shop window. Often, it's a potential customer's first impression of your business. It can also be a useful resource for existing clients who may be considering purchasing additional services.
Regardless of whether the visitor is old or new, it's vital that your website presents your accountancy firm in the best possible light. Your site should also make it easy for these visitors to convert and become your newest clients. 
For instance, a contact form can be very beneficial to your business. However, you may also want to offer visitors the option to book a call or consultation, via a calendar or scheduling feature: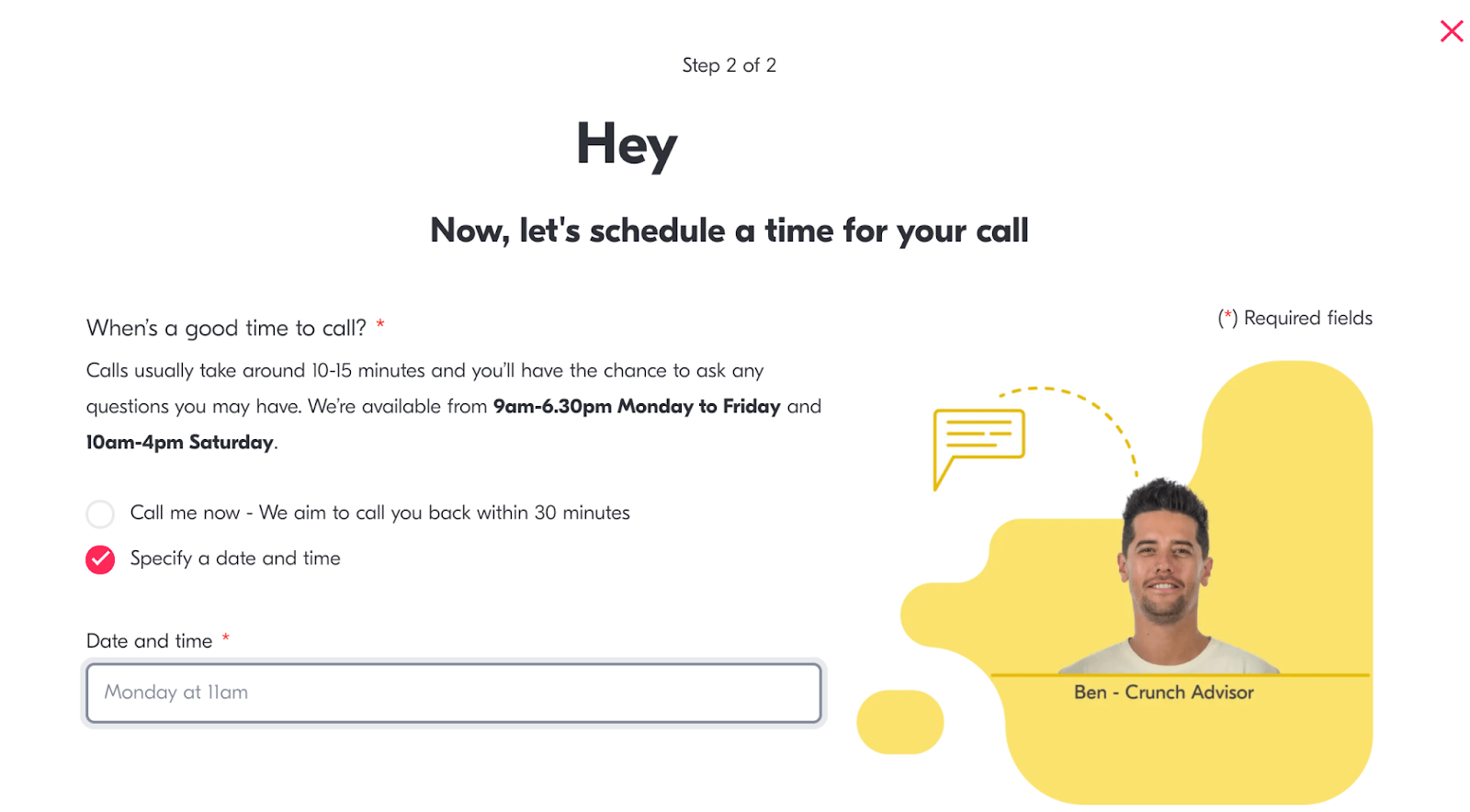 Fortunately, WordPress has a huge range of third-party plugins that you can use to add these essential features to your site. In the official WordPress repository alone, you'll find almost 60,000 plugins:
However, while these add-ons are an integral part of the WordPress experience, they can also make your site susceptible to attack. According to Patchstack's recent security whitepaper, plugins and themes account for 96 percent of detected security vulnerabilities.
A whopping 41% of hacked WordPress sites are because of vulnerabilities in the hosting platform. Hence security should be taken seriously. As an accountant, you'll handle large amounts of sensitive information, including financial details. This can make your site an attractive target for hackers. 
To help protect your clients' information, it's important that you download plugins from a reputable source and read their reviews carefully. Once you've installed a plugin, you'll need to keep that software up-to-date, as new releases often contain patches for known vulnerabilities. 
Top 5 WordPress Plugins for Accountant Websites
As an accountant, you're probably looking for plugins that can help you drive more conversions without putting sensitive client information at risk. To help you get started, here are the top five tools we recommend.
1. WP Ever Accounting

The free WP Ever Accounting plugin is designed to help small to medium businesses balance their finances. However, you can also use this tool to manage multiple client accounts from the same dashboard. 
This plugin boasts a responsive, user-friendly interface with everything you need to manage payments, invoices, and expenses across any device. WP Ever Accounting also offers a selection of detailed reports. This includes the Income vs. Expense section or Profit Summary, which displays profit line graphs.
You can use these summaries to make data-driven recommendations, which can help your clients minimize their spending and maximize their profits. 
Key Features:
Quick and easy data importation in CSV format

Support for multiple currencies

Invoice creation 
Price: The plugin is free, but a range of paid extensions is also available. 
2. Email Subscribers & Newsletters

According to the Adobe Email Usage Study, Americans spend more than five hours a day checking their emails. That's a huge window of time when you could be promoting your accountancy services.
If you don't already have a mailing list, the Email Subscribers & Newsletters plugin can help you collect leads by adding a subscription form to your website. Once someone signs up to your mailing list, you can use this plugin to design engaging and eye-catching emails using the built-in editor. 
Despite being a free plugin, Email Subscribers & Newsletters places no restrictions on the number of contacts, broadcasts, post notifications, lists, and email templates that you can use. This means you won't have to migrate to an alternative plugin if you experience a sudden influx of subscribers.
Key Features:
Server storage of subscriber data for added security

Automated notifications to your subscribers every time you post new content 

Privacy checkbox
Price: This plugin is free. 
3. WooCommerce Memberships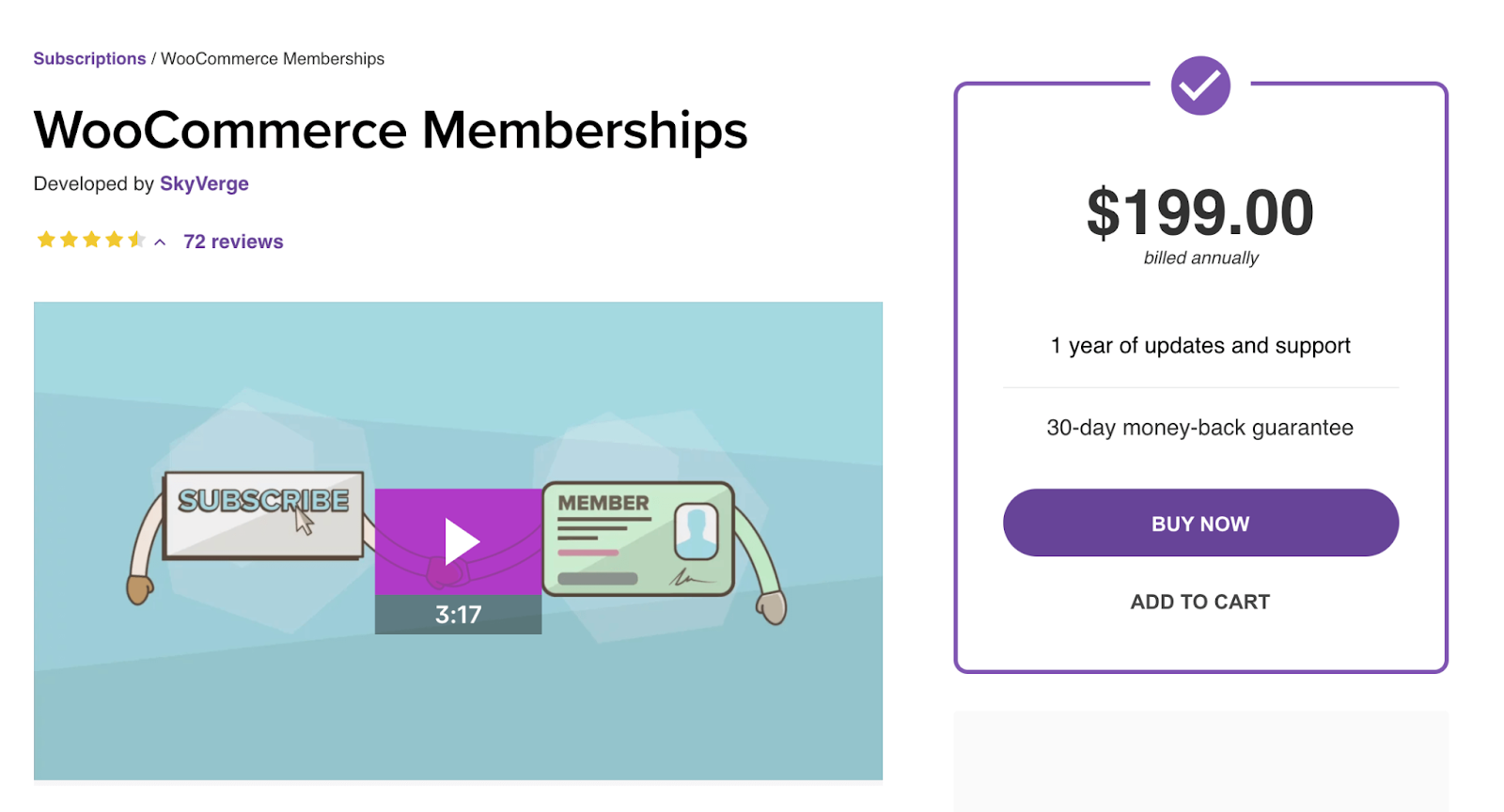 For most businesses, the key to creating a steady revenue stream lies in retaining existing customers. This is particularly true for accountants, as you'll typically manage your client accounts over the long-term. 
When the majority of your customers are in it for the long haul, it often makes sense to offer a membership for your services. This can be the first step in enabling your clients to access their own financial records, submit documents such as expense reports, or track their profits versus expenditures. 
You can quickly add a membership area to your site using WooCommerce Memberships. This extension for the popular WooCommerce plugin has everything you need to offer membership functionality.
It can also help you track each client's requirements, with a "Membership Notes" section where you can add your own information for reference. If you need to reach out to a specific client, you can even share a note with them directly from the WooCommerce Memberships interface. 
Key Features:
Ability to assign memberships manually to create an invite-only client area

Content dripping and restriction

Option to reward your best clients with exclusive discounts

Expiration and renewal reminder emails

Support for

QuickBooks Sync for WooCommerce

Integration with

your Xero account

($79.00)
Price: Available for $199.00 when billed annually. 
4. Simply Schedule Appointments

It's not uncommon for the majority of client interactions to occur digitally. However, you may still need to book the occasional appointment, especially when onboarding new clients. As an accountant, you may also offer sessions with a qualified financial advisor.
Simply Schedule Appointments is a customizable booking plugin. After adding this plugin to your site, visitors will be able to schedule a session with a member of staff. This can also be a useful conversion tactic. For instance, you might offer potential customers a no-obligation consultation where you discuss their accountancy needs. 
If you give clients the option to register with your site, then Simply Schedule Appointments can associate booked clients with their accounts. You can use this to display personalized information on your website, including reminders about upcoming appointments and tax deadlines. 
Key Features: 
Enables you to limit the number of daily appointments that you'll accept

Gives you the option to set a minimum amount of time between appointments

Contains data about appointments and customers on your own website for added security

Integrates with Google Calendar
Price: This tool is free, but professional plans are also available starting at $99.
5. Gravity Forms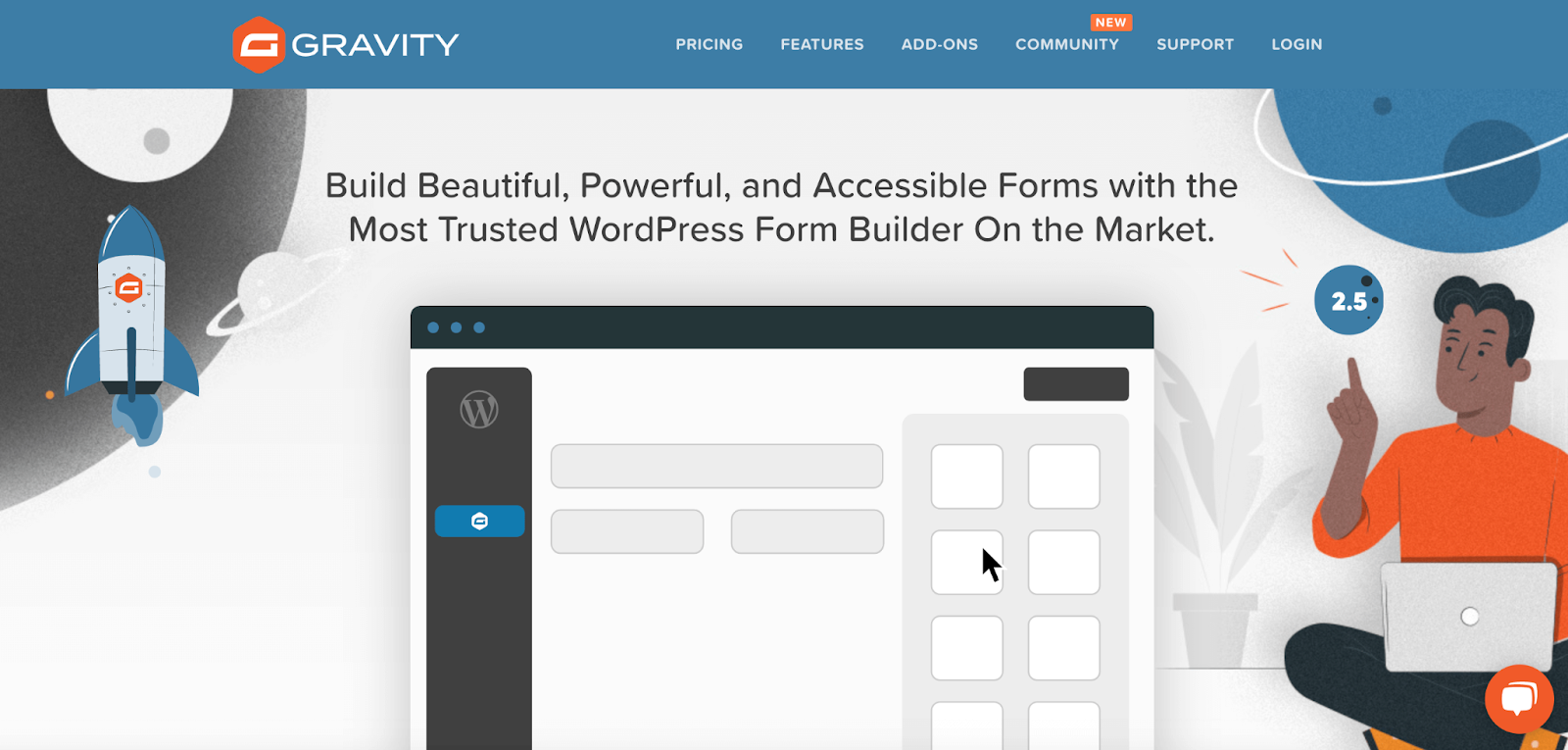 Whenever someone is looking for the right accountant, they'll likely make their decision based on the content of your website. By populating your site with engaging copy, powerful Call To Actions (CTAs), and beautiful graphics, you can encourage even the most reluctant of visitors to convert.
After laying these foundations, you'll want to make it easy for potential customers to take the next step in their conversion journeys. This is where a contact form is essential.
Gravity Forms is a powerful form builder with an intuitive drag-and-drop editor. To help you design high-converting forms, this plugin provides over 30 ready-to-use fields and offers mobile-friendly styling. 
Gravity Forms can also perform advanced calculations. This is useful if you want to collect some basic financial information from new customers. 
Key Features:
Email auto-responders that notify you when a form has been submitted

Support for file uploads 

Google reCaptcha, Really Simple Captcha, and Akismet options for additional security

A

range of add-ons

, including ones for

Stripe and PayPal
Price: Subscriptions start at $59 per year.
Conclusion
WordPress is a powerful platform. However, if you want to impress potential clients with a professional and engaging website, it never hurts to have some extra help. That's where plugins come in.
For instance, the Gravity Forms plugin can convert new leads into paying clients by encouraging them to contact you directly. 
There are also tools that can help you build a portal where your clients can access their own financial records, such as the popular WooCommerce Memberships plugin.
Do you need help maintaining and choosing the right plugins for your accountant website? 
At Pronto, we can get your WordPress site firing on all cylinders.