Background
Pavement is a Thailand-based skateboard shop featuring worldwide brands, longboards, surf skates, clothing, and apparel. With an eCommerce website already set up, the four-year-old retailer wanted to engage its visitors with a custom purchasing experience.
The Project: Adding a Custom Skateboard Builder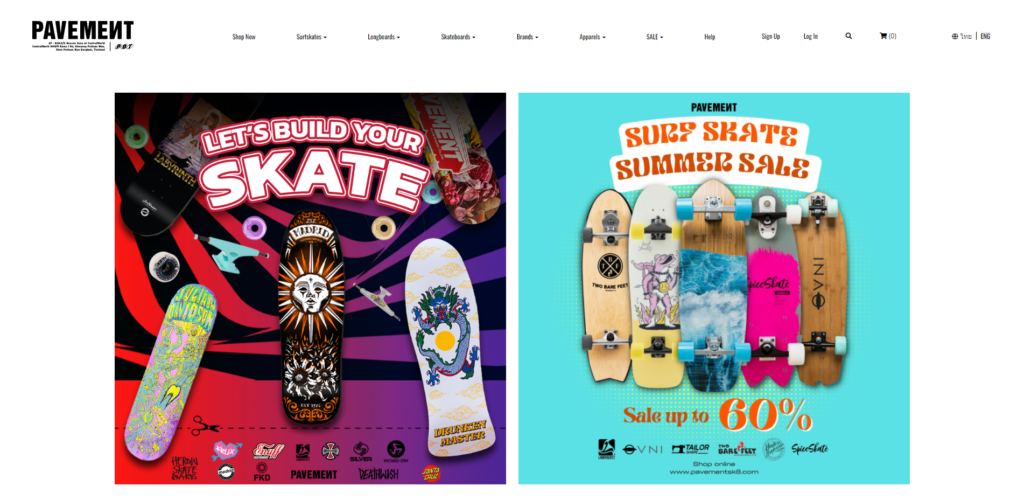 Pavement wanted to enhance the buyer experience with a "build your own skate" tool

Pavement boasts a hands-on online purchasing experience that involves piecing together a number of different parts. In-store visitors are encouraged to freely browse dozens of decks, bearings, wheels, and trucks — have their board built, and walk out with their own custom creation.
To help compliment this service at their brick and mortar locations, Pavement wanted to offer a fully custom purchasing experience on their website.
The Website Update Request
An email to Pronto Support got the project started:

Hello  — we'd like to implement an easy skateboard builder tool. 
I would like it to help the user to choose one item from 5-6 different categories:
Choose a deck = Choose one item from the deck category
Choose your trucks = Choose one item from the skate trucks category
Choose your wheels = Choose one item from the wheels category
Choose your bearings
Choose one grip tape
Each step taken should show a new checkout total.

Project Breakdown: Demo Page Testing & Review Leads to a Swift Setup
Our developers started by creating a demo page for the new product builder using the WooCommerce Composite Products plugin. This plugin allowed us to build custom product kits using Pavement's wide variety of products.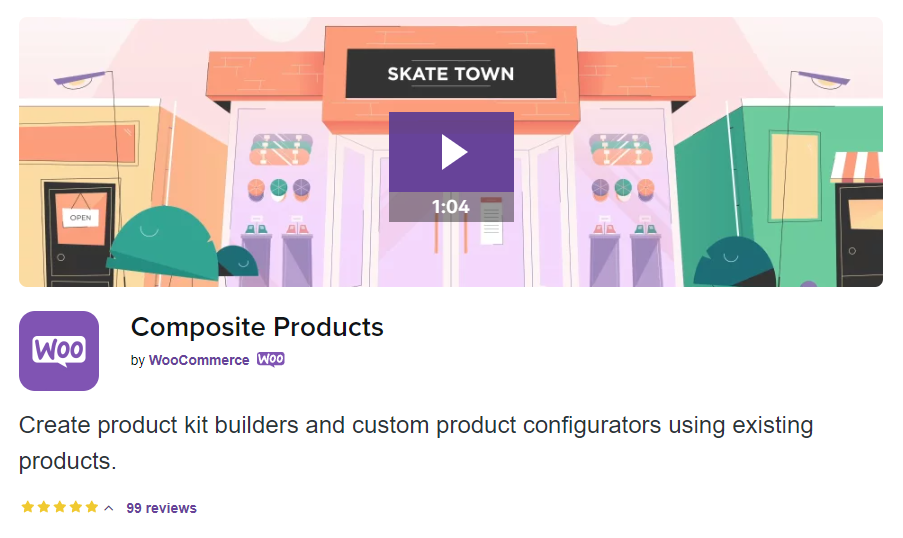 The client tested the demo page and confirmed that the skateboard builder had all the features Pavement needed. However, they wanted to reduce the number of clicks required to get to the overall view of the product.
Our developers delivered a revised demo page within a week with changes to the text, buttons, and disclaimers.
During our final round of testing and review, the client noted that the categories sidebar and thumbnail image appeared on the left side of the screen, pushing the tool to the right.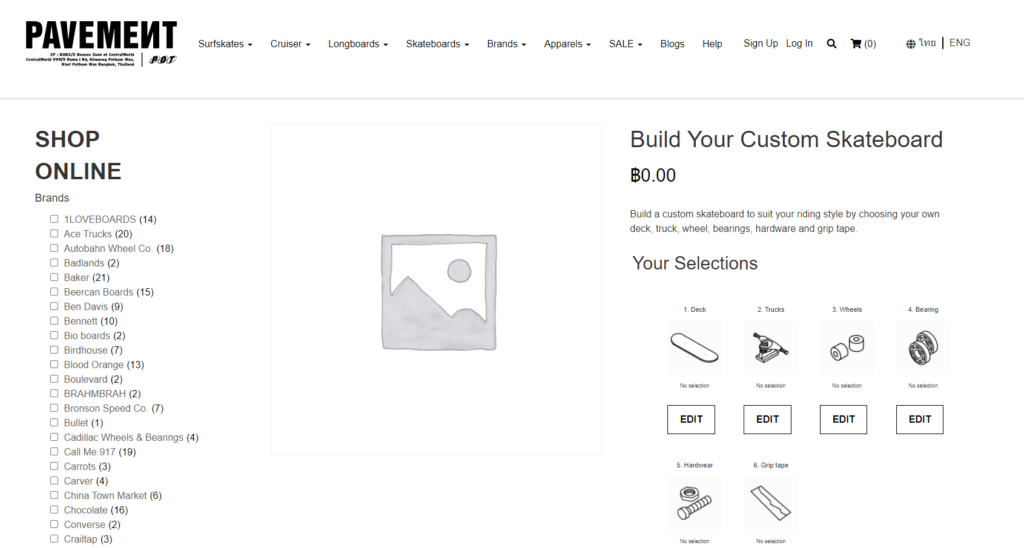 Our developers custom-coded the removal of the categories sidebar and thumbnail image, allowing for a more centered composition. Once done, the client approved the page and gave the go-ahead to launch the tool on the live site.
Project Outcome & Next Steps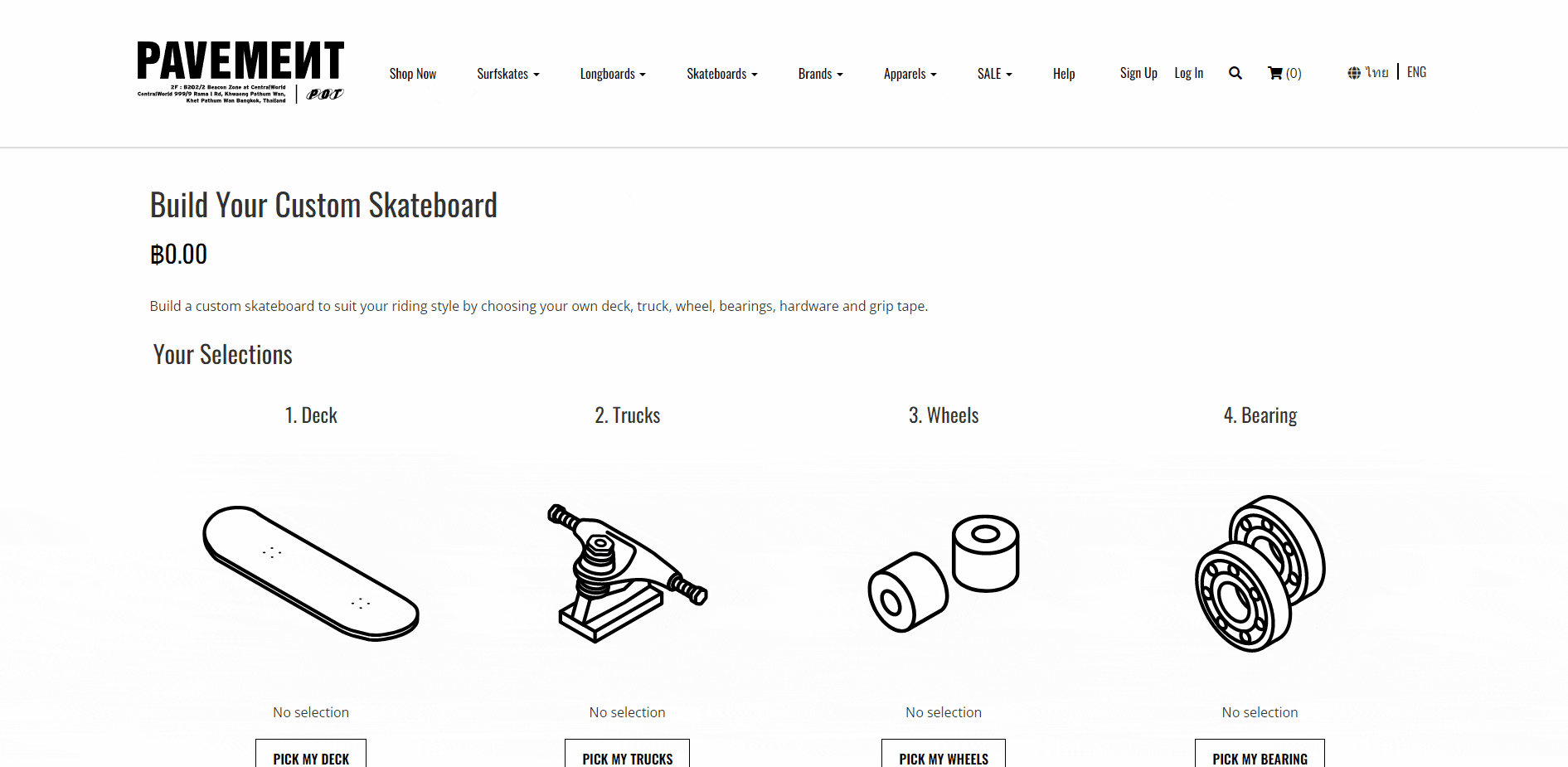 Pavement visitors can now completely customize their boards with an interactive builder
With three locations in some of Thailand's most successful shopping centers, Pavement has nailed its in-store customer experience.
A new product builder tool empowers Pavement to give website visitors the same flexibility offered at storefront locations.
Everything looks great, and we're good to go! — Chanasinj Sachdev, Creative Director.
Pronto's WordPress Support team can help you build your own eCommerce tools or complete any other website edits or projects you have in mind — all for one monthly fee!
Request a free consultation, or if you're already a client – submit your support request here.