WordPress is a robust and reliable platform. It powers over 43.3% of all websites and wouldn't have gotten there if it wasn't trustworthy. However, things can (and do) still go wrong, and often at the worst possible times. 
Having a backup in place can make these difficult situations much more bearable. There's a lot of peace of mind in being able to instantly restore your site to a working state, especially if your business relies on it. In this article, we'll explore five of the best WordPress backup plugins to keep your hard work safe:

Why You Need a Backup Plugin for Your WordPress Site
You worked hard building your WordPress site, and you continue to work hard maintaining it. You never want to be in a position where you might lose all that effort, particularly if your site is an integral part of your business, where downtime or compromised data translate directly to lost revenue.
No technology is 100% fail-proof. Accidents and bad luck can happen to the best sites. These can include:
Compatibility issues, such as outdated plugins and themes that don't work properly with a new WordPress update or PHP version

A new WordPress release that includes critical bugs

Data loss on the server that hosts your website

Simple human error, such as clicking the wrong button or deleting the wrong file
Whatever the cause of the downtime or data loss, getting back up and running quickly is critical. The fastest way to restore your site to working condition is to have a recent backup handy.
You could back up your site manually, but that method comes with pitfalls. For one, it relies on you remembering to perform the backup, and doing so frequently enough to ensure security. Additionally, the process requires technical knowledge and takes up a significant amount of time.
Fortunately, WordPress has plenty of free and premium plugins that can help. A backup plugin can automate the process for you, ensuring you always have a recent, working copy of your site available.
Our Picks for the 5 Best WordPress Backup Plugins
As with most categories of WordPress plugins, there are a lot of options for your backup solution. We chose our picks based on their features, prices, customer support, reviews, and WordPress version compatibility. While we have our favorites, any one of these options will do the job remarkably well.
1. VaultPress 

VaultPress is a powerful backup solution from Automattic, the company behind JetPack, WooCommerce, and several other major WordPress plugins. In fact, VaultPress is powered by JetPack, so you get peace of mind knowing your backups are being handled by one of the largest companies in the WordPress sphere.
VaultPress is fairly light on features, but it nails the basics. It's very easy to use and provides automated, daily backups with a one-click restore option. You can also take advantage of other JetPack features for a little extra money. Reviews are largely favorable, with a 4-star average rating.
Key Features:
Automated, daily backups of your entire site

Simple, one-click restores

Streamlined user experience (UX) and simple interface

Excellent customer support and a large community of users for crowdsourced help

Support for WordPress version 5.2 and up
Price: Although JetPack is free, the backup feature requires a paid plan. Prices for backups start at $4.77 per month. Higher-tier plans unlock additional JetPack features such as malware scanning, but won't do anything to boost backup features.
2. BackupBuddy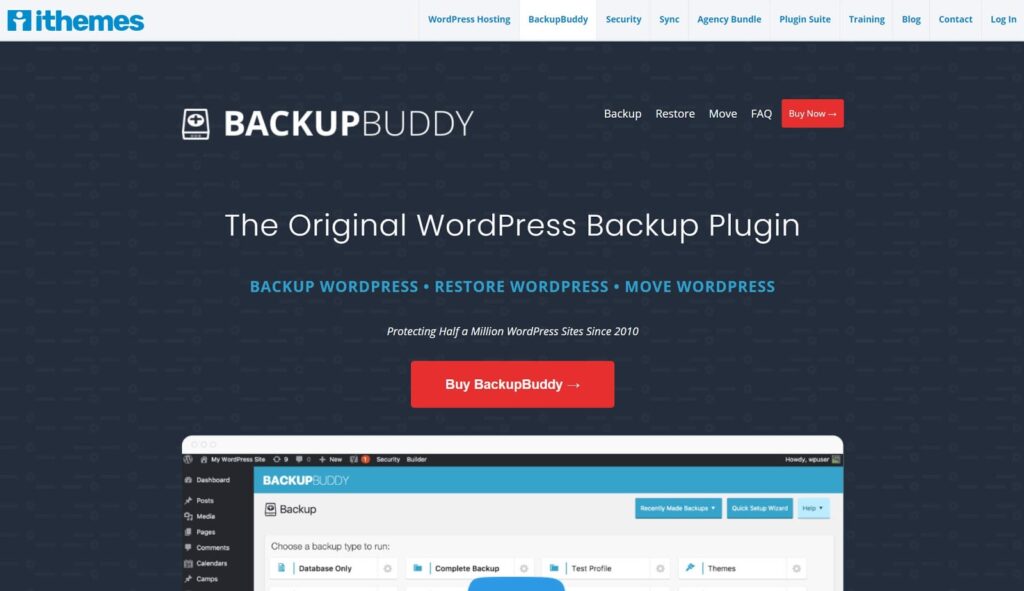 BackupBuddy bills itself as "the original WordPress backup plugin." This is a strictly backup-only service, unlike VaultPress, which packs in tons of somewhat related features. BackupBuddy saves a copy of every part of your site, including the Media Library, themes, plugins, and even your database.
Naturally, with BackupBuddy you can automate your backups, so you don't have to worry about whether you have a recent copy. You can also choose where you want to store your files, with options including Dropbox, Google Drive, or BackupBuddy's own storage solution.
Key Features:
Automated, full-site backups, including plugins and database files

Option to back up everything or to exclude certain types of files to save space

Flexible storage options, including third-party cloud storage like Google Drive

The ability to restore any part of your site, including individual files

Responsive support in the event you have issues with the plugin or service
Price: Backup Buddy prices start at $52 per year for a single site and go up to $130 per year for unlimited sites. 
3. UpdraftPlus

UpdraftPlus is an extremely popular and well-reviewed WordPress backup plugin. With over three million active installations and a 5-star review record, it's hard to go wrong with this option. 
UpdraftPlus has a free version that offers basic backup functionality. The paid option adds more advanced features like database encryption and command line support. It also offers incremental backups where only new changes are updated after the initial run, saving time, space, and bandwidth. 
The focus here is on simplicity and speed. The result is an excellent option for anyone who needs a robust WordPress backup solution with powerful performance.
Key Features:
Flexible scheduling options for backups, up to every four hours

Automatically removes outdated backups to free up storage space

Large number of remote storage options, including Google Drive, Dropbox, Amazon, and more

WordPress multisite-capable backups

Excellent support options

Compatible with WordPress 3.2 and up
Price: UpdraftPlus offers a free version that can handle basic backup needs, as well as premium plans with additional features. Plans start at $42 per year.
4. BackWPup

BackWPup is another very popular WordPress backup solution, with over 700,000 installations and a 4.5-star rating. This plugin offers flexible scheduling options and a simple restore process, as well as a standalone app for emergency restores when you can't access your WordPress dashboard.
BackWPup offers several useful features that set it apart from the competition, including encrypted archives and the ability to back up multiple databases and perform checks on their integrity. This makes BackWPup an excellent option for websites with needs that are more complex than the typical WordPress site.
Key Features:
Standalone app for emergency site restoration

Encrypted backup archives and the ability to restore encrypted backups for

additional security

Large number of backup destinations for off-site storage

Ability to export settings and share them across multiple installations

Premium support available with a paid plan

Compatible with WordPress 3.9 and higher
Price: BackWPup offers a basic version for free, as well as a robust premium plugin. Prices start at $119 for the first year and $59 for renewals.
5. Duplicator

Duplicator is another candidate for most highly rated WordPress backup plugin. With over one million active installations and a 5-star rating, this robust backup solution is an excellent option for users who want a powerful and flexible plugin.
Duplicator isn't just about backups. One of its headlining features is the ability to quickly and easily migrate a WordPress site to another server or domain. This is especially useful for setting up test environments. You can also create "bundles" – pre-configured sites that you can quickly import, making it easy to kick-start a new installation.
Key Features:
Powerful, automated, full-site backups

Support for managed hosting solutions

Simple website migration and cloning utilities

Create bundled installations for rapidly deploying new sites and testing environments

Supports WordPress 4.0 and higher
Price: Duplicator offers a functional free version, as well as an extremely powerful pro upgrade that unlocks advanced features for developers and agencies. Prices start at $69 per year.
Conclusion
If your business relies on your website (and it probably does), it's better to be safe than sorry. That means having a robust and reliable backup solution. With WordPress, the easiest way to set this up is with a plugin, and there are plenty of excellent options on the market.
These are five of the best WordPress backup plugins available:
If you need help keeping your WordPress site secure, up to date, and properly backed up, consider signing up for our Technical Support service.