Background
Executive Leadership Group is an accomplished leader in strategic planning and implementation. Since 1981, the consulting firm has been helping leaders to articulate aspirations, build organizational capability, and develop the strategic alignment necessary to make their vision a reality.
The Project: A Homepage Refresh to Bolden Their Message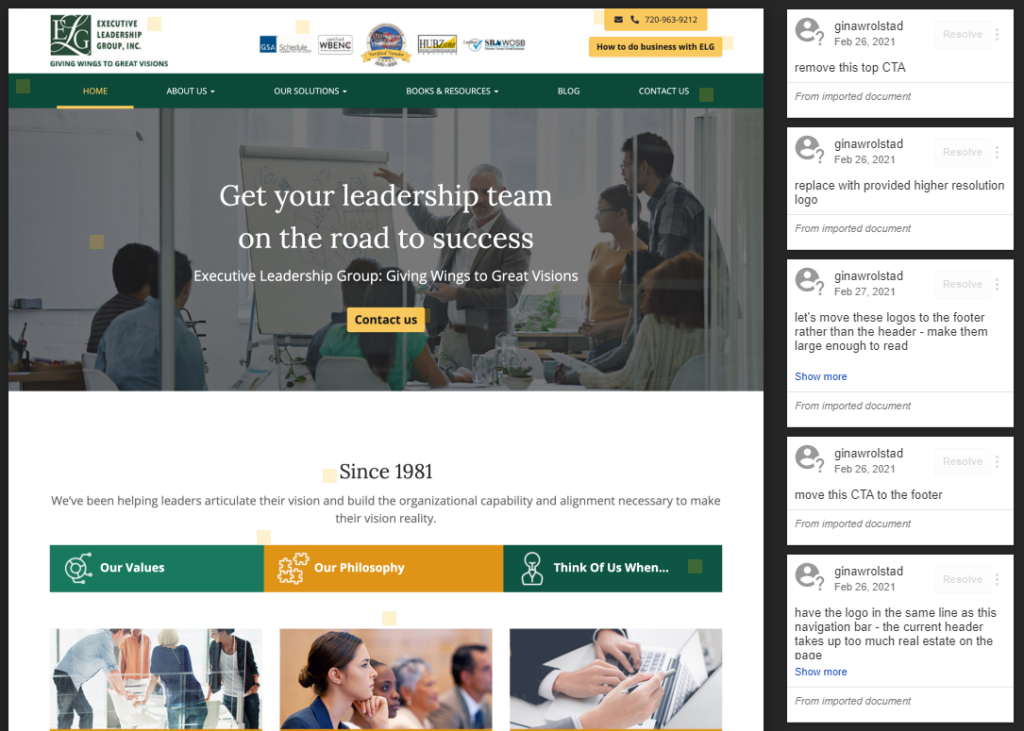 ELG shared a PDF screenshot with the changes they wanted to implement
Executive Leadership Group approached Pronto Support to help them simplify their homepage by adding new graphics and reimagining their content blocks.
With a new vision in mind, the consulting firm prepared a PDF screenshot of their homepage with notes outlining their desired changes.
The Website Update Request
An email with the PDF attachment got the job started.

Hi Pronto Team,
Attached is a PDF document with comments indicating the changes that we'd like to make to the main banner and homepage.
A general note when you're reading through the comments: when I say "chunk," I am referring to the distinct blocks/sections as you scroll down the homepage. 
I have attached a zip file with updated, higher resolution files for the main ELG logo as well as the credentials logos.
Thank you in advance, and please let me know if you have any questions or concerns!

Project Breakdown: Design Mockups and Demo Lead to a New-Look Homepage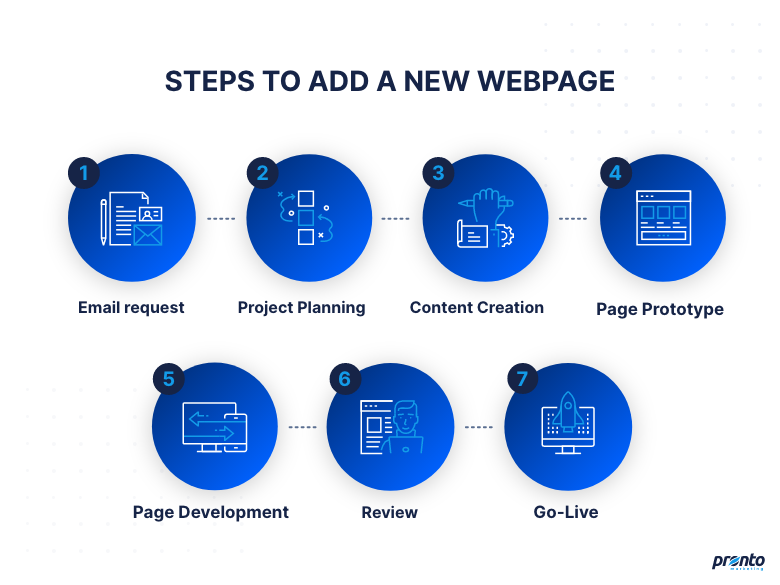 To kick things off, our support team reviewed the PDF notes and deduced a list of core changes needed:
Source a new image for the header
Higher-resolution logo
Move logos to the footer
Adjust the placement and color schemes of call to action buttons
Replace copy with provided content
Adjust the design and layout for select homepage items
With this list in mind, we proposed two mockup options with different masthead images. A significant change from the get-go was swapping out distracting stock images with high-contrast graphics and text to ease the viewing experience.
After getting multiple rounds of feedback and review, our designers quickly delivered revised mockups, implementing the changes Executive Leadership Group had requested.





                   Initial Mockup                                                                   Revised Mockup
Once all target changes were completed, our project manager conducted a live homepage demo to help the Executive Leadership Group team visualize the entire page experience. After which, the homepage was approved and published.
Project Outcome & Next Steps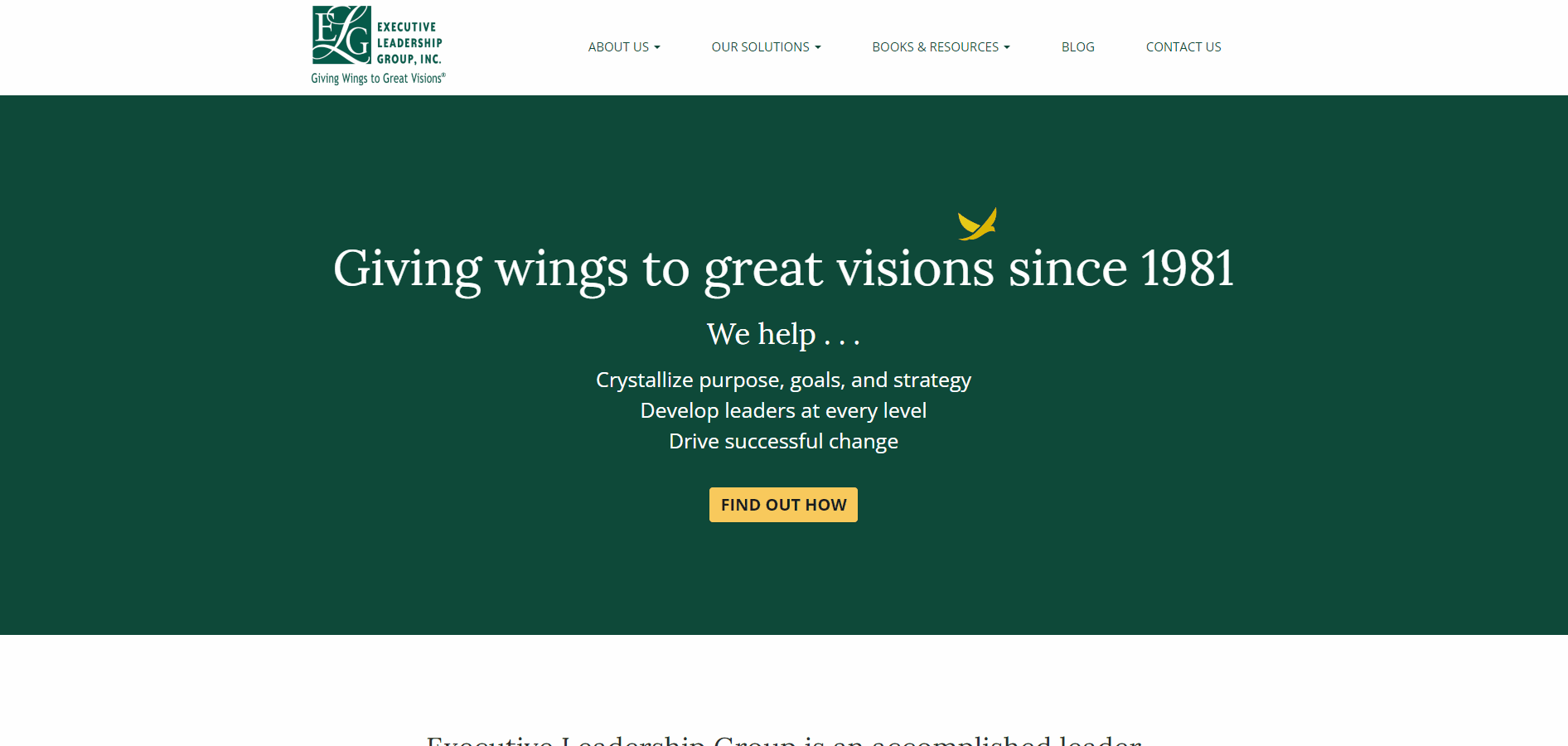 The redesigned header, footer, font, and theme colors can also be seen throughout the site
A homepage redesign is a high-level overhaul that can significantly impact a visitor's experience. For Executive Leadership Group, this project was an opportunity to phase out the noise and zero in on their pitch to potential clients.
By leveraging Pronto Support, the consulting firm published a new-look page that's both sleek and laser-focused on their offer.
"Thanks for addressing all of those items – I think the homepage looks great, and the mobile site seems to be working well!" — Gina Wrolstad, Communications Consultant
Pronto's WordPress Support team can help you transform your own homepage, or complete any other website edits or projects you have in mind — all for one monthly fee!
Request a free consultation, or if you're already a client – submit your support request here.