Almost every manufacturer in today's market faces the same set of challenges. Whether it's generating more leads, broadening the scope of its client base, or simply modernizing its marketing strategy, one thing is for certain: Nothing will fuel your shop's growth like a state-of-the-art website and finely-tuned internet presence.
East Coast Repair and Fabrication (ECRF) is one of these manufacturers. Despite leading the market with welding and fabrication services targeted at the government and marine sector since 1999, the ECRF team was hungry for more.
The first thing on their to-do list was redesigning their website from the ground up. After a bit of research, they came to Pronto to see what our unlimited monthly web design services could do for them. Just six months into their relationship with us, the results speak for themselves.
Organic traffic
The first thing ECRF asked was, "How can we get more visitors on our site?" Manufacturers sometimes mail out brochures with their web address on them, or even pay for online ads. But what they usually care about most is the number of visitors from regular searches on Google. In the search engine optimization (SEO) field, we call this "organic traffic."
In the first month of the revamped www.ecrfab.com, the site generated 280 visits from organic traffic. Each month thereafter has resulted in more traffic than the last, and in the first 90 days, ECRF's website was averaging 349 site visits per month.
The key to effective SEO is constantly analyzing and improving everything about your online presence. We worked tirelessly with ECRF to learn from those first three months, and our efforts paid off in months four, five, and six. The second quarter generated an average of 523 site visits per month — a 150% increase from the first-quarter average.

Leads
It stands to reason that a certain percentage of your organic traffic will end up as leads. It's the driving force behind the push to achieve a prestigious page-one ranking. But if your leads aren't improving, none of it matters.
Each of the first five months collected more leads than the month prior, which is a pretty great statistic. But if organic traffic is increasing by 150% every quarter while leads improve by only 75%, that's a sign that your content isn't doing enough to convince visitors to trust you with their contact information.
Thankfully, that wasn't the case for ECRF.
First quarter conversion rate: 3% (32 leads after 1,047 site visits)
Second quarter average: 4.1% (64 leads across 1,570 site visits)
With Pronto's help, ECRF was able to increase its monthly site visits and its conversion rate.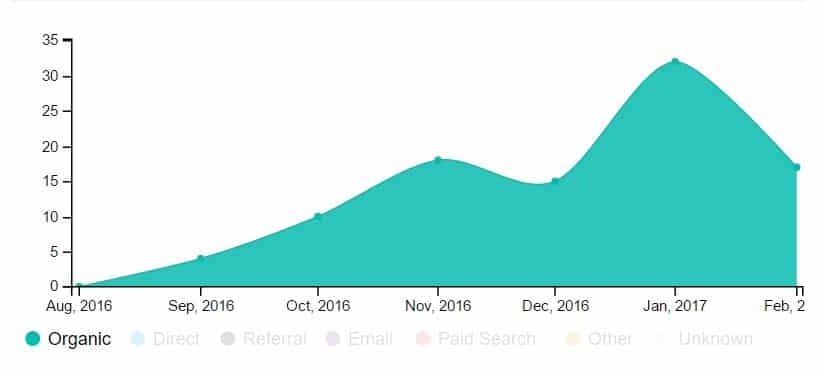 Lead Sources
After a great start, ECRF had amassed an impressive 170 leads. That's a lot to work with already, but inevitably either the Pronto marketing team or ECRF needed to analyze exactly what type of leads they were getting. Analyzing sources is one of the best data points for determining what to do with the leads you have, and how to improve those streaming in.
Below, we can see that most of ECRF's site traffic comes from organic searches. The next largest channel is 'Direct' visitors who typed www.ecrfab.com into the address bar. Lastly, a healthy portion of its traffic arrived at the site from links listed on other websites and shared person-to-person, listed in the 'Referral' category.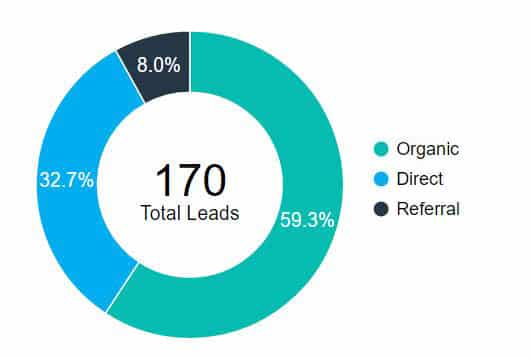 Keyword Ranking
It's impossible to discuss SEO for too long without eventually bringing up keyword rankings. Google indexes billions of websites, and to increase your organic traffic you need to beat out the thousands that contain the same keywords as your site does.
Like any website, in the manufacturing industry or elsewhere, keyword rankings are not static. Competitors enter and exit the market, Google's algorithms change, and users' preferences evolve. With our custom-built platform, ECRF was able to monitor changes in their Google keyword rankings, and quantify trends in those fluctuations.
In the report below, ECRF's current keyword ranking is the number on the left, the arrow indicates changes in rank since the site went live, and the number on the right denotes how many positions that keyword changed over time. On another section of this Pronto Insights screen, clients can chart their performance over varying periods of time and their average ranking for specific keywords.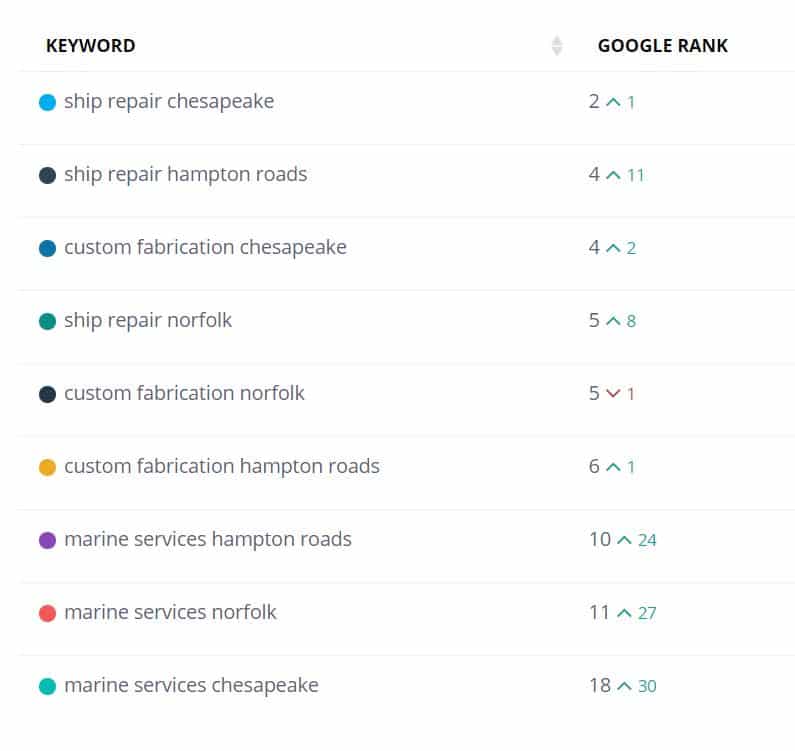 SEO rules are always changing, as is the focus of your business and your customers' needs. One of the best ways to stay ahead of these uncertainties is with constant attention to what is and isn't working well on your website. Every month, Pronto Marketing's full-time SEO team is dedicated to improving your Google ranking compared to the month that preceded it. All for a flat, monthly fee. For results like ECRF, contact us today.
Click here for further details on our Google My Business Management for SEO program.
Interested in SEO?
Just let us know by scheduling a free consultation!