If you're looking for a high-speed theme to use alongside the Elementor page builder, you may have already considered Hello. But if you need features that this theme doesn't have, there are plenty of high-quality alternatives.
Since we're comparing these themes based on a clear and measurable metric, let's start by explaining how we whittled our list down to four.
Our Methods for Testing the Fastest Elementor Themes
The speed of your WordPress website depends on several different factors. A lightweight theme is one of the most important. In addition to determining the structure and feel of your website, your theme has a huge impact on your site's speed.
Hello is a powerful choice with impressive speed. However, its design focuses on being as efficient as possible. As a result, you might find that this theme doesn't have all the features you're hoping for.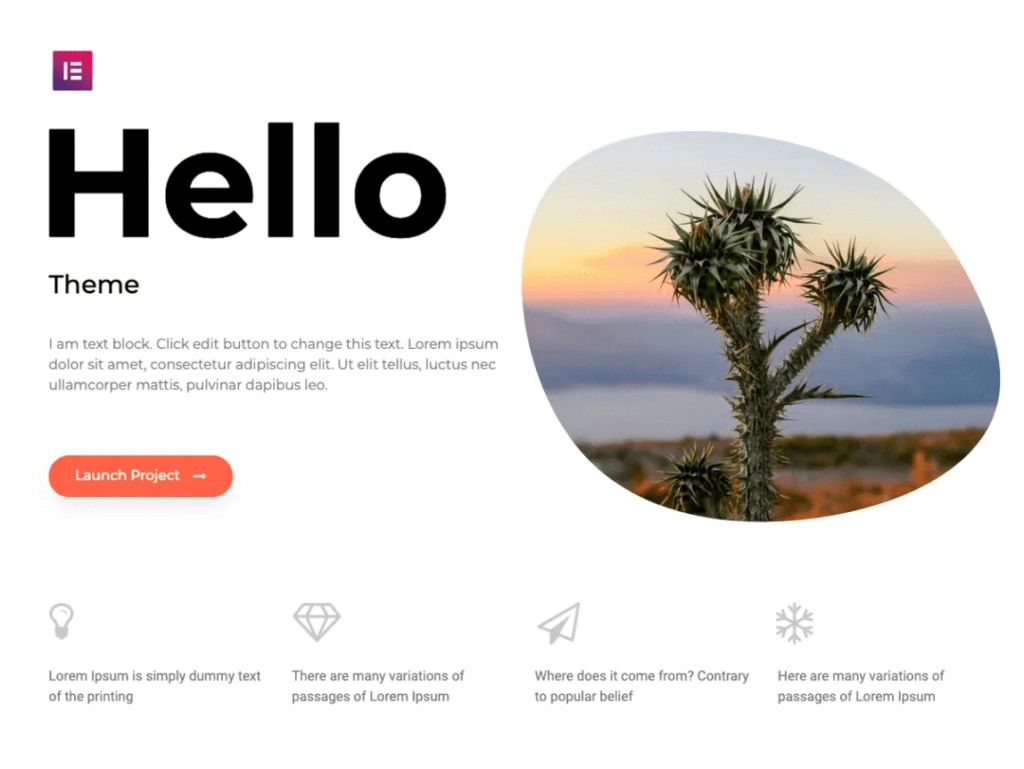 There are several alternatives with extended functionality that don't sacrifice speed. We've curated a list of four themes that work with Elementor. While they're all fast, the exact loading times they produce may vary. 
That's why we'll be speed-testing each theme using GTmetrix.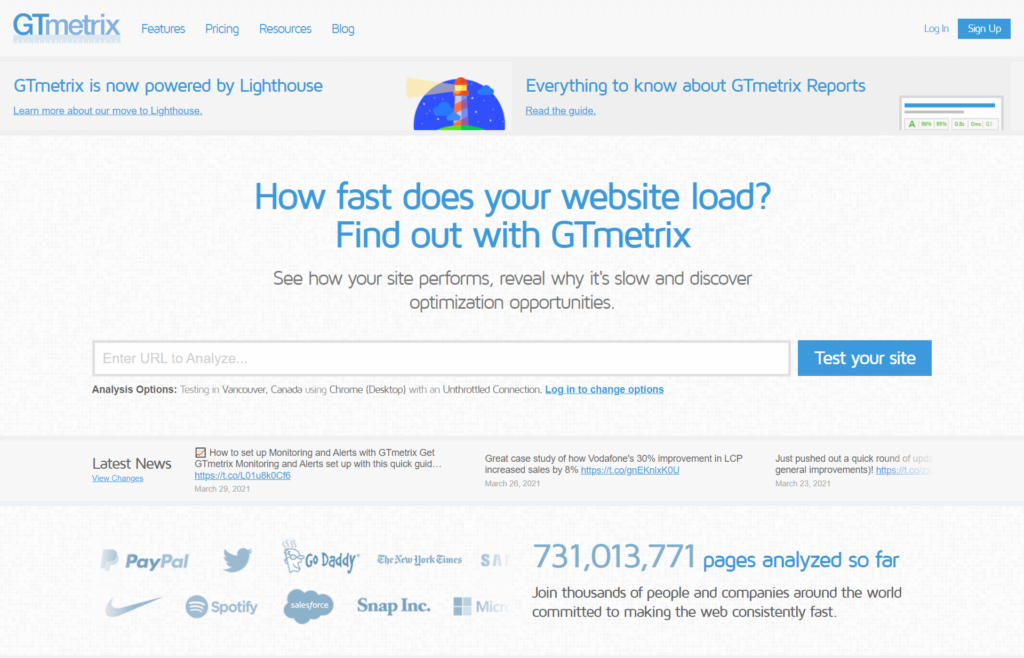 GTmetrix is a well-rounded diagnostic tool. You can enter your website's URL and the test will return an overall letter grade alongside the loading time of your home page. The scanner also offers specific suggestions for improving your site's performance.
And since 83% of Americans use their smartphones to access the internet, we'll also be checking mobile speed results for each theme on this list. PageSpeed Insights is our tool of choice.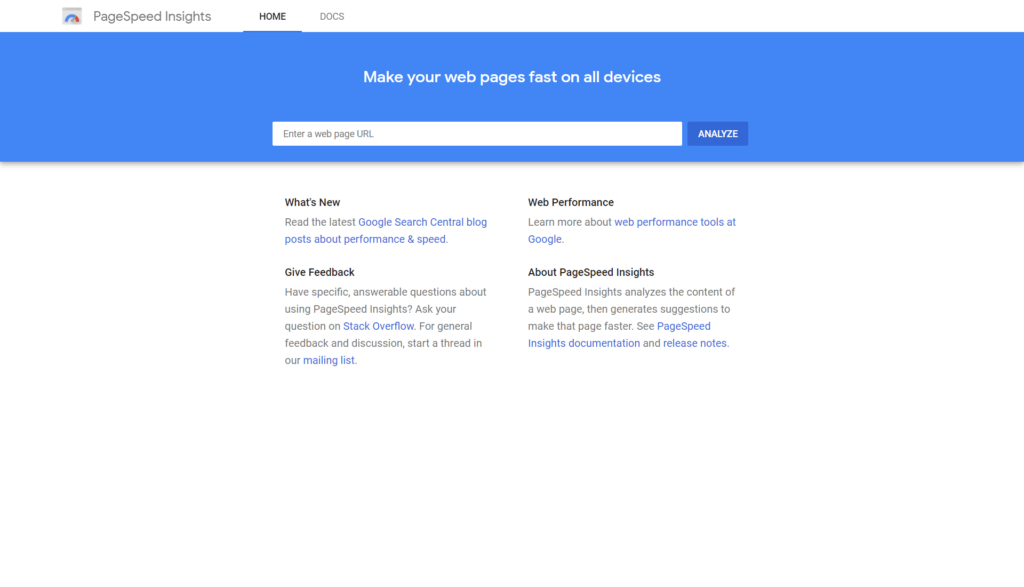 This Google tool estimates mobile page loading times and ranks them on a scale of 0 to 100, with higher scores indicating better performance.
For this article, we'll be focusing on the overall scores from GTmetrix and PageSpeed Insights. If you're interested in feedback specific to your site, use either of these free tests.
We'll use Hello as our baseline. Under our testing conditions, the Hello theme earned an A from GTmetrix with a full loading time of 1.8 seconds. It also earned a perfect 100 from PageSpeed Insights.
Based on those metrics, here's a summary of what we came up with:

1. Astra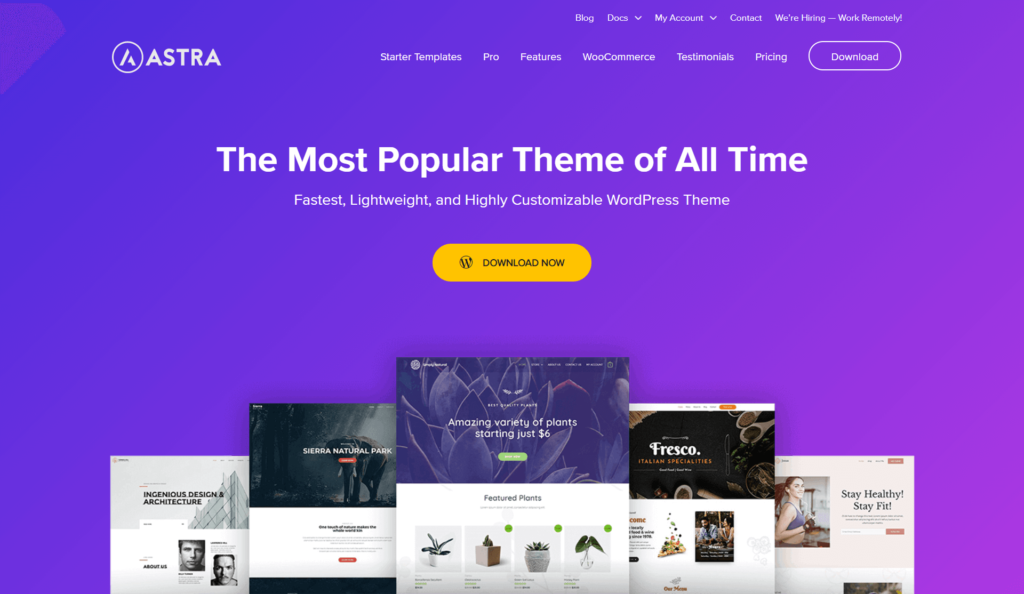 Astra is a lightweight theme fit for virtually any purpose. It has a large number of customizable options for personalizing your site. This theme is also wildly popular, with over one million active installations to date.
There are a few important features that set Astra apart from Hello:
Plugins such as

WooCommerce

can be integrated without complicated adjustments.

It has a library of pre-built sites available for download.

Its Advanced Block Editor functionality allows for a seamless visual editing process.
Astra offers precise control over your website's design. However, it still provides a solid template to build upon. It's worth considering if you'd like a site that can operate right out of the box.
As for speed, this option comes in just behind Hello for desktop users. Under our test conditions, GTmetrix gave Astra an A with a full load time of 2.0 seconds. The theme also earned a perfect 100 on the PageSpeed Insights mobile test.
Astra's basic functionality is available for free. You also have the option to upgrade for more modules and premium support starting at $59 per year. If you want to give it a try before you commit, there is a 14-day money-back guarantee.
2. Neve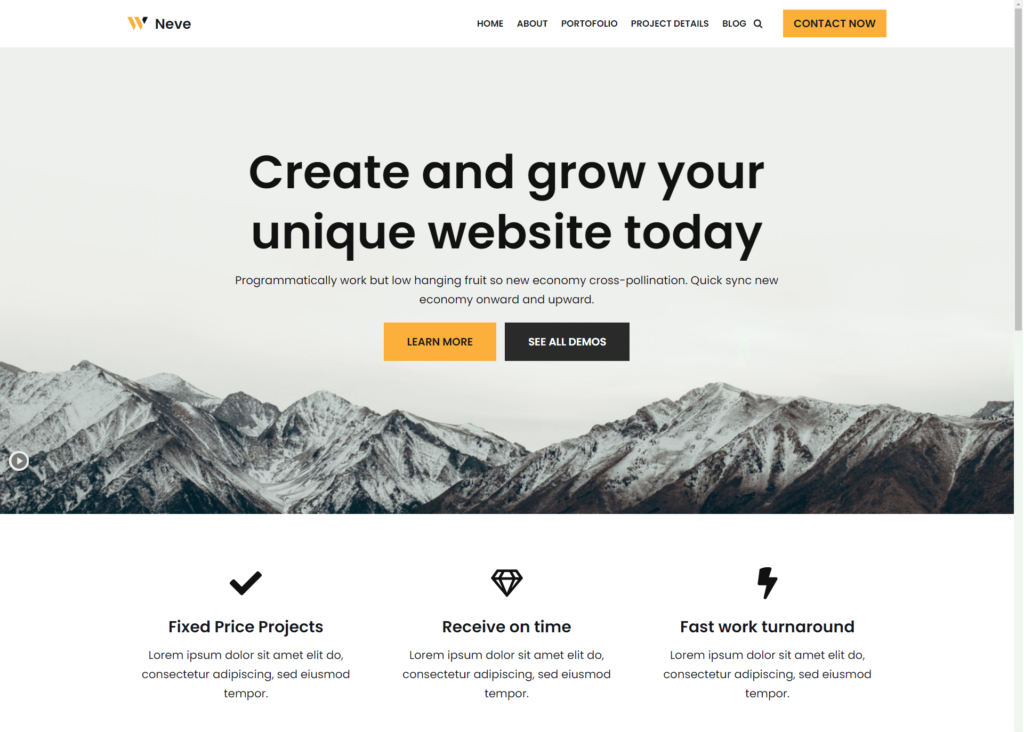 Neve is one of the top minimalist themes available. Its design makes it easily adaptable to any number of uses. WooCommerce readiness and search engine optimization- (SEO) friendly code make this a particularly strong choice for small eCommerce businesses. 
Here's a sampling of some of Neve's standout features: 
Mobile-optimized from the start

Drag-and-drop design for your header and footer

Ability to create and save custom layouts
Neve is a simple yet powerful theme. It offers easy-to-use customization as well as the freedom to apply your own templates.
But how does Neve's speed scores stack up? GTmetrix gives it an A with a fully loaded time of 1.8 seconds, matching Hello in terms of desktop speed. Nevertheless, PageSpeed Insights gives its mobile performance a 99, falling just a hair short of Hello's comparative 100.
Neve's pricing works on a freemium model. You can download the basic version of the theme at no cost. If additional starter sites and pre-built layouts interest you, premium prices start at $59 per year.
3. Zakra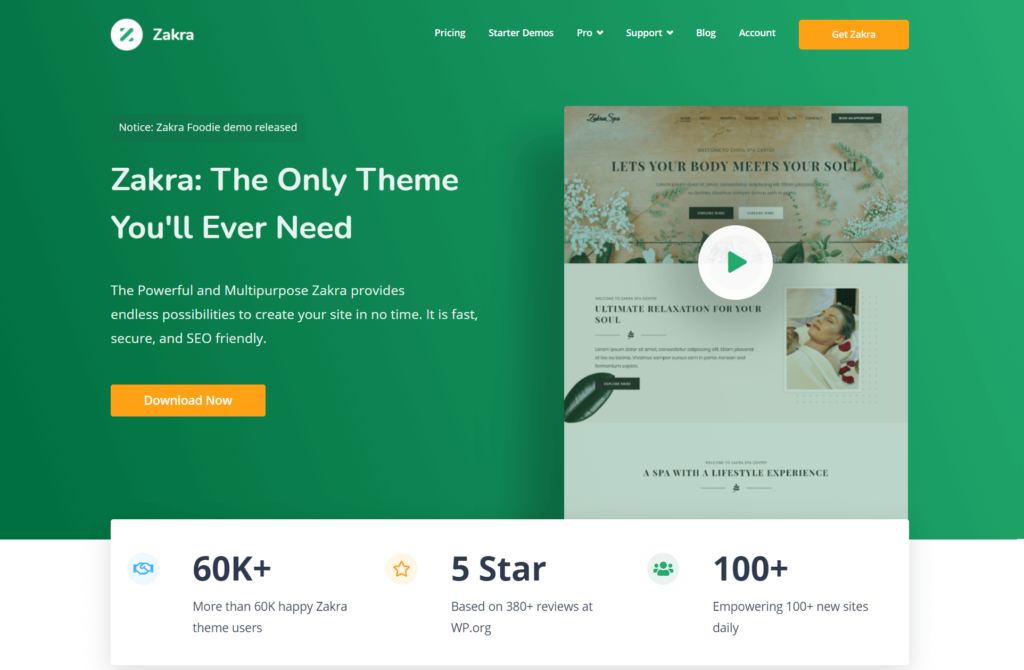 Zakra is a speed-focused theme with a modern aesthetic. With a clean interface and extensive customization options, it's useful for new WordPress users. Nevertheless, a wealth of features makes Zakra equally suitable for seasoned web content creators. 
Zakra offers options such as: 
Easy customization options, including settings for individual pages

A comprehensive knowledge base to help with troubleshooting

Over 50 starter templates ready for import
If you're just starting out or need to create a quality website in a hurry, this is a great option. The user-friendly design means you can spend less time fiddling with your website and more time generating leads.
When it comes to speed, Zakra earns an A from GTmetrix with a fully loaded time of 2.0 seconds. If you're looking at mobile performance, PageSpeed Insights gives this theme a 99. 
Zakra is available for free via the WordPress Theme Directory. However, if you're looking for more features, there are several premium options available to you. Personal plans for a single site start at $41 per year. Alternatively, you can choose to pay $119 for lifetime updates.
4. GeneratePress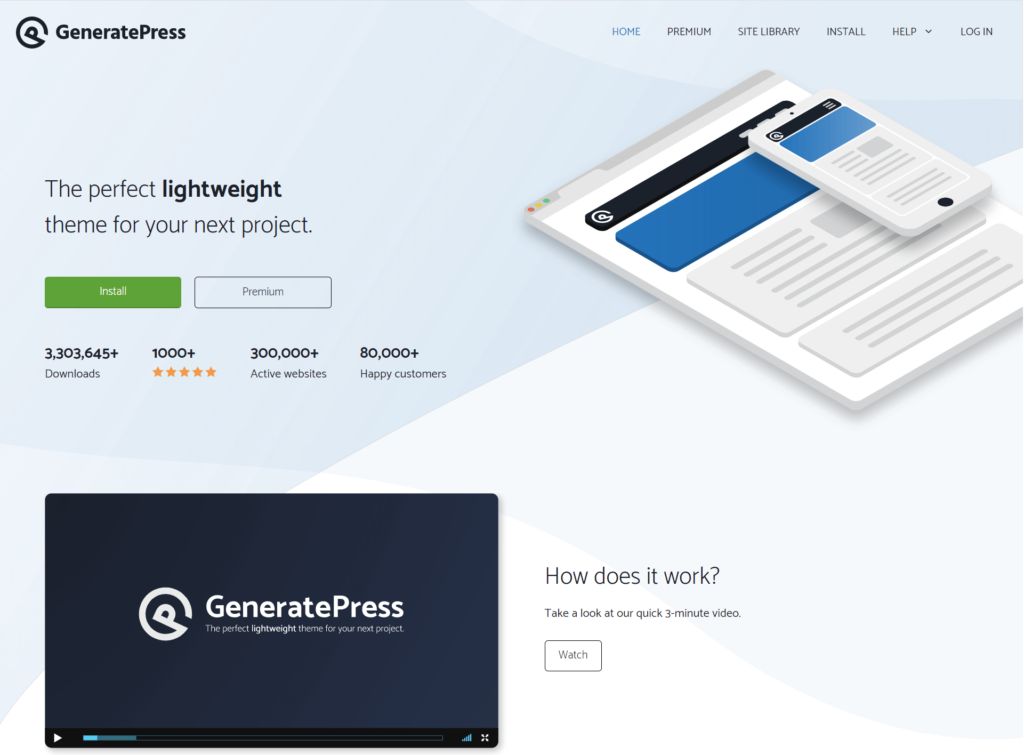 GeneratePress is our final choice. Like Hello, this theme has been optimized for speed but also prioritizes accessibility and user-friendliness.
Some of our favorite GeneratePress features include:
Adherence to

Web Content Accessibility Guidelines (WCAG)

to help all users access your content

Lightweight code designed to eliminate render-blocking issues

Independently reviewed security standards for the theme's code
All of these features make GeneratePress a smart choice for a fast yet accessible website. Additionally, this theme is currently available in over 20 languages. Therefore, you might want to put it at the top of your list if you're trying to reach a wider customer base.
When it comes to speed, GeneratePress delivers. GTmetrix awards this theme an A and a fully loaded time of 2.3 seconds. As for mobile, it earned the maximum score of 100 from PageSpeed Insights.
GeneratePress is free to download from the WordPress Theme Directory. Premium features like extended modules and multisite compatibility are available starting at $59 per year. The developer also offers a 30-day money-back guarantee.
Conclusion
Hello is undeniably one of the fastest themes out there. However, it's far from your only option if you're looking for Elementor compatibility. By reviewing your wishlist and comparing it to available themes, you can find a speedy solution that fits your needs.
In this article, we covered four of the fastest Elementor theme alternatives to Hello:
If you need to speed up your site without sacrificing functionality, our WordPress Technical Support service can help. However, if you'd like to build a lightning-fast site from scratch, we can design and build one for you!