Link building for SEO, as it stands today, is harder than it's ever been in the past. Any link building tactic easily repeatable and scalable puts you at risk for being penalized by Google. More than ever, achieving SEO success depends on you getting quality links from highly trusted, relevant websites.
Today, I want to talk about a service that can help you accomplish exactly that. Help A Reporter Out (HARO) is platform where reporters and media agencies ask for questions to experts in various fields for the stories they are working on.
By subscribing to HARO, you get media opportunities delivered to your inbox everyday. These can range from requests for interviews or just questions about a specific topic. In many cases, the journalist is looking for an expert to quote in their article.
Here's an example from The Next Web, one of the most popular technology blogs on the Internet, looking for an expert to answer a few questions about the cloud.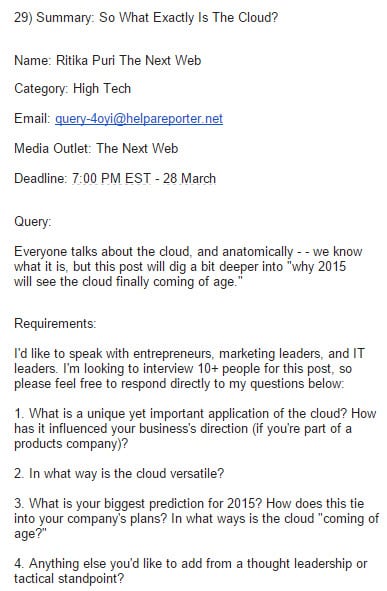 And another example from a major fitness website looking for an expert to comment on fitness fads.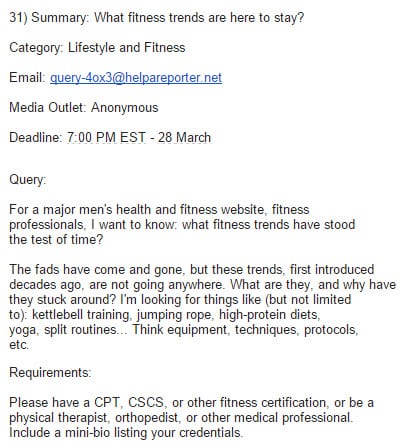 HARO has queries from reporters in every industry – technology, fitness, finance, marketing, travel, healthcare, you name it. There's a reporter out there looking for expert in your industry to help them, HARO gives you a chance to step up and be that expert.
Not every query you respond to will pan out, but the effort you put in with these queries can eventually lead to high quality links and increased brand awareness through some major publications.
The best part about HARO is that it's free. You can sign up today and start receiving daily notifications of pending queries from reporters. They also have paid version that lets you search for specific queries and makes pitching to reporters easier and faster.
The most important part about HARO is that you need to have a process in place to deal with these notifications. When you're inbox is full, it's really easy to ignore HARO notifications and focus on something more urgent, but in many cases, these queries will have short deadlines and it's essential for you to respond quickly.
Here's the process we use at Pronto:
One team member is responsible for scanning the queries in each email notification.
If a query seems like a good fit, it is then forwarded to the team member in the best position to respond.
That team member is then responsible for responding to the query before the deadline.
Often, Derek and Cory, our co-founders, respond to queries since reporters typically want to speak to someone they can quickly assess as an expert and someone with a big job title is more quotable in major publications.
However, if the query asks very detailed questions in a smaller niche like SEO or marketing automation, we'll have a team member with more expertise in that area respond.
So go Help A Report Out so you can earn trusted links and press from major new publications, magazines and blogs.