Where do you promote your business online?
For most manufacturers, the list is small: a handful of directories, possibly some paid search in Google, or an ad on a relevant website. And whether it works or not is often a toss-up. For some, a handful of big wins makes the investment worthwhile. For others, results have been fleeting or non-existent.
Which is why a more comprehensive approach is both incredibly important, and a problematic prospect for so many businesses.
Invest more time and money into digital efforts when past efforts haven't worked — why would you do that?
The truth, though, is that digital marketing is a holistic process. Using a multi-channel approach helps ensure greater success across the board for your investments.
The Pillared Approach to Digital Marketing
One of the reasons the toe-in-the-water method of digital marketing can be so frustrating is that tactically, it's hard to drive results without several other ongoing efforts.
Here's an example:
The owner of McMillan Metal Spinning invests five figures in online directory ads and placement with three of the top manufacturing platforms online. He expects to see a positive ROI, but at the end of the year has closed only one deal worth about what he spent. As such, he assumes they don't work and pulls his investment.
Digging further, however, McMillan's website is outdated, with minimal information about their services, and there are follow-up processes in place. If someone clicks on one of those directory ads, the likelihood that he or she converts to a lead is low because of the landing page. And even then, the lack of follow-up means more leads fall through cracks.
The pillared approach to digital marketing sidesteps single investment, short-campaigns by building a platform. This platform is held up by several pillars, including:
Your website
Your nurturing activities
Advertising efforts
Social media
Content production
Search engine optimization
Each of these six pillars serves a purpose and helps to hold the platform in place. Remove one pillar and it starts to get shaky. Remove three or four and it risks falling.
How to Build a Multi-Pillar Marketing Plan
How then do you build such a platform without spending a fortune? Fortunately, there are ways to take advantage of this pillared approach without spending thousands of dollars for each. The most important factor is to understand the goals of your marketing efforts and how each of these will work toward those goals.
Your Website – Any traffic driven to your website should find what they were promised in your ads, whether it's information about your services, downloadable content to explain your value proposition, or image and videos of your past projects. Fulfill the promise of your marketing campaigns.
Nurturing Activities – When someone does get to your website and indicates interest in chatting, how do you follow up? Sales inquiries should be manually engaged within 24 hours, but what about marketing inquiries or downloads? Have a system in place to follow up with more information or a sales call in a given period of time. Don't let potential leads go ignored.
Advertising Efforts – Diversify your advertising efforts to draw from multiple channels of possible traffic. Manufacturing directories offer highly targeted traffic, but depending on your field, the rates can be high. The more urgent the need you fulfill, the more you should also consider on-demand ads like Google AdWords.
Social Media – Don't think social media works for manufacturers? Think again. A well-optimized LinkedIn Company Page and linked employee profiles, combined with an active Twitter campaign, monthly YouTube videos, and content across the board will drive traffic from diverse sources.
Content – Your website should have some form of regularly updated content. A blog is the easiest way to do this, and it needs to be updated only every 2-4 weeks to be effective in the industry space. Also consider case studies, videos, or PDF documents of your sales materials.
SEO – Search engine optimization is the most important pillar, and it relies on all the previous pillars to be effective. This is the free traffic that will help you grow exponentially online over time.
How a Holistic Approach Will Grow Your Business
Manufacturers have been slower to adopt the wide range of new technologies available for online marketing efforts in the last decade or so. This is a good thing for companies like yours, because you can get a jump start on your competition by implementing a combination of the above pillars to drive results for your business.
The key is to think about everything. While ads alone may drive business, they won't be as effective as if you had a complete marketing platform supported by all six pillars of digital marketing.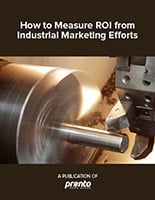 How to Measure ROI from Industrial Marketing Efforts
In this guide we'll show you some of the most effective ways to capture ROI, and how to improve potential conversion rates in each stage of the buying cycle.