If you're familiar with WordPress, you've likely noticed that there are a lot of updates. With new versions coming out so often, it can be challenging to keep track of what's changed. At the same time, failing to keep your site up to date can result in broken themes, plugins, and content.
In this post, we'll share an introduction to WordPress updates and why they're so essential to keep up with. Then we'll have a look at the features introduced by WordPress 5.7 and 5.8. Finally, we'll discuss what you can expect from updates for the rest of 2021. Let's jump right in! 

An Introduction to WordPress Updates (And Why They Matter)
While it might feel like you're constantly installing the latest update for your WordPress site, doing so is crucial for its functionality and security. Hackers are quick to learn about and exploit vulnerabilities in outdated versions of WordPress, so it's essential to update to the latest version.
Fortunately, the 5.6 release of WordPress introduced automatic updates. Many site owners prefer to use this function, so they don't need to worry about staying on top of that task themselves.
Major WordPress updates are typically released two to three times a year. However, it's vital to watch for minor updates, which are released as needed and are no less important.
Before you update your site, be sure you have a backup ready. It's also best to install the update from your WordPress dashboard using the built-in system.

What WordPress 5.7 Brought to the Table
WordPress 5.7 introduced some quality of life upgrades for users, not the least of which is the ability to upgrade from HTTP to HTTPS with a single click. Previously, this process could be a bit of a struggle.
Social icon customization provides users with more freedom regarding the color, size, and styling of social media Calls to Action (CTAs). In addition, site owners can now add icons for Patreon and TikTok:


Finally, 5.7 marked the release of a newly-designed and improved password reset screen. Users can now click a button to generate a strong password quickly:



Not only is this better for security, but it should also improve the User Experience (UX) when resetting passwords.

WordPress 5.8: 3 Key Features and Updates
Freelancers can be a great solution if you have very specific problems with your website that you can't fix on your own. An expert might be able to come in and get your site back up and running in only an hour or two. However, in most cases, you'll be much better off hiring a WordPress maintenance company.
Now that we've covered what's happened so far this year, let's see what's anticipated in the upcoming WordPress 5.8 update. Keep in mind that these features are expected to launch as of this writing, but details may change before the update is released.
Full Site Editing (FSE) Components

Template Editor

Block Pattern Directory
1. Full Site Editing (FSE) Components
Full Site Editing (FSE) is something the WordPress community has been working towards for some time. The hope is that it will enable less code-savvy users to manage more of their websites using the Block Editor.
Some components we expect to see with this release include:
Block-based widgets

New block design tools

More theme-related blocks

General improvements to Gutenberg
FSE is quite ambitious, but once launched, it should create many opportunities for non-developers to exert control over their sites. This includes being able to create headers and footers.

2. Template Editor
The template editor will enable users to create or edit templates right from their posts. This means it will be easier and quicker to give individual posts and pages different designs or colors.
The template editor could be a significant time saver. For example, if you've built a successful landing page, you can save it as a template and simply apply it to your new content each season.
One concern about templates is that they are tied to themes. This can create problems when users decide to switch their themes, and the templates they've made no longer behave as expected.

3. Block Pattern Directory
The Block Pattern directory will be a collection of submitted Block Patterns that users can easily employ on their sites. It will likely function in a similar way to the Theme Directory, where users can preview and import different patterns: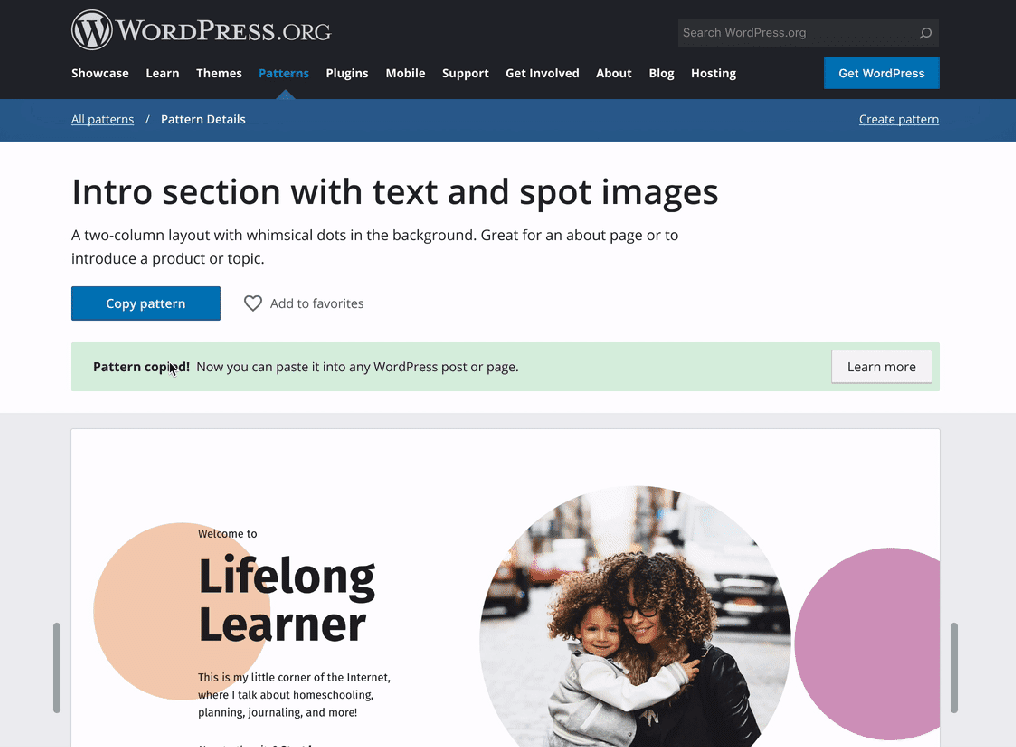 Anyone will be able to submit patterns to the directory, although they will undergo a review process. The ability to import individual patterns may eliminate the need for installing multiple plugins to get all the blocks you want for your site.

What to Expect from WordPress in 2021
WordPress 5.9 is currently scheduled for release in December. While that update is some time away, we expect to see more progress toward FSE. There may also be more tools available to help users transition to Gutenberg from older themes.

Conclusion
There are plenty of exciting changes on the horizon for WordPress in 2021. Between significant progress towards FSE and even more ways to customize your site, you'll want to be sure you stay on top of these updates.
To recap, some of the key features likely to be included with WordPress 5.8 are:
Full Site Editing (FSE) components

A template editor

The Block Pattern directory
If you are looking for an easy way to keep your site up to date, our WordPress experts are here to help!