On Tuesday, October 28, we'll be inviting all Pronto clients to a new account management system, codenamed "Pronto World", that we've been hard at work this year.
We set out to build a better experience for our customers that not only makes it easier to work with Pronto, but to deliver more value to your marketing as well. We've taken a ground up approach to developing a new customer platform from scratch that will serve as the hub for everything we do at Pronto.
We've been using this new dashboard with a small set of beta testers for a few months getting the kinks ironed out. We're now confident that we're ready to release an official public beta to all clients.
Initial Launch Features
Account Management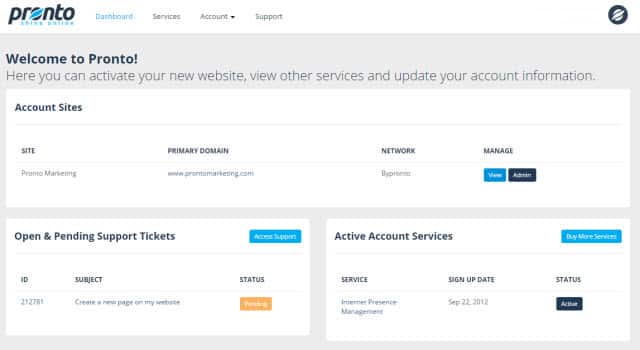 Everything you need to manage your account with Pronto. We've fully integrated our support platform, Zendesk, and our billing system, Zuora, to provide you with a seamless experience. Common scenarios such as submitting new tickets, checking invoices, or updating billing details are a breeze with our support and billing integration features.
Services & Onboarding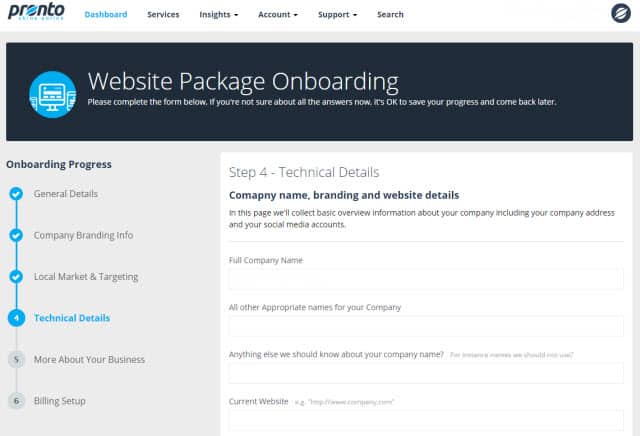 Another area of focus has been our client onboarding process, which hasn't been as streamlined, user-friendly, and integrated as it could be for the best customer experience. Getting our Services and Onboarding system right was one of our big goals and something we've been looking to improve for a long time now. We're introducing a totally redesigned onboarding platform that includes a new Company Profile feature so we always have your company details at hand no matter what service you're signing up for.
Website Platform Integration
Integration to our WordPress based website platform has been core from the start. WordPress is a great CMS that provides a rock-solid technical foundation, superb user experience, and awesome tools for managing websites. However, it doesn't extend past the website and successful internet marketing is much more than just a website, and we know our clients want and need more of that (If you want to know where this is going, keep reading!).
This is Just the Beginning
The initial account management features above are important groundwork to lay the foundation for us to build the really exciting features in the coming months. Our R&D team is already hard at work on the development of Pronto Insights which will bring all of your marketing metrics together in one location. Keyword rankings, traffic, leads and data about your competitors will all be accessible from your dashboard!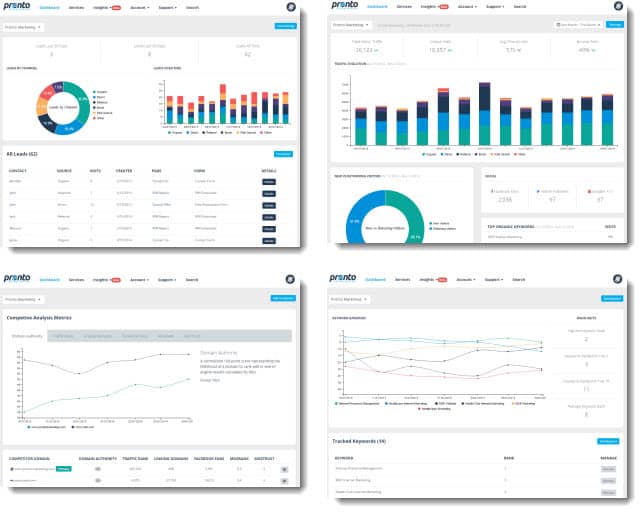 Here's a sneak peek of what Pronto Insights will look like!
Pronto Insights Beta Sign Up
Want to get early access to Pronto Insights? Help us shape our Insights features and be the first to get access to this portion of your Pronto dashboard by signing up for beta testing.
Stay tuned!
Keep an eye on your inbox next Tuesday for an invite to your Pronto dashboard. As always, our team will be on hand to help answer any questions you have.