At the heart of most successful digital marketing campaigns is a blog, and for good reasons. Blogs represent a chance for your manufacturing business to discuss topics that are important to your prospects. It allows you to offer insights, evaluation tips, and discussion points that guide engineers, procurement managers, and executive decision makers in the right direction. According to a GlobalSpec Industrial Buy Cycle Survey, 83 percent of buyers review up to three pieces of content before deciding to make a purchase, which is why original content that guides those buyers is imperative.
But it can also be difficult. Only 21% of B2B manufacturers rank their organization as effective or very effective at content marketing according to a 2013 Content Marketing Institute study. What's more, 64% say that producing enough content is a challenge for their organization.
To help build a system that improves the likelihood of success while offering high-quality, value-rich content for your prospects, here are some industrial blogging tips to keep in mind:
The Right Content Mix for Your Manufacturing Blog
Step one is to determine what you will write about and how often you will write it. These two factors will directly impact your readership and the potential reach of your blog.
For a lot of companies, simply posting a blog is a herculean effort. The amount of time it takes to gather resources, task a writer, review the content and actually upload it onto the site is immense, and if you task the project to an agency or contractor, it can be costly on top of everything else.
Gather Common Questions from the Sales Team – Your best source of material is your own customers and prospects. Speak with your sales reps (both internal and in the field) and find out the most frequently asked questions. Those questions are a perfect starter for a useful blog post.
Target Content for Each Persona in Equal Measure – If you are targeting both procurement and engineering, make sure your blog touches on topics for both audiences in equal measure. Don't just discuss cost reduction benefits of services like yours. Discuss the specific technical decisions such as material selection, tolerance options, and value-add services like FEA.  
Focus on Your Most Important, but Also Most Frequently Questioned Services – If you offer a range of services or products, it's tempting to write about all of them and try to cover your bases. Instead, evaluate which of those services or products get the most questions. Is there a service you offer which requires heavy consultation from your own engineering team? This should be a prime source of material for your blog.  
Balance Company News vs. Educational Content – It's tempting to use your blog as a news platform for your business, announcing new deals, sharing case studies, and broadcasting quality ratings or awards received. Balance these kinds of company news posts with educational content that isn't specific to your company. The latter should make up two out of every three posts.
Choose a Regular Frequency for Your Posts – There is no perfect frequency for blog posting, but whatever you select, be consistent. Don't commit to weekly blog posts if you don't think you can make it happen. Every month or every two weeks is frequently the best target for industrial blogs.
By having a plan and a clear outline of what to write and when, you can streamline this process and reduce some of the friction in getting content published.
Identify Your Internal Experts and Outside Resources
Once you have a clearly defined plan in place, ideally with a calendar to guide your posting schedule, all that content needs to be produced. This is where a lot of companies have difficulties. Most small manufacturing companies don't have a robust marketing staff (or any dedicated marketing at all), and your existing team is pretty busy to find time to write 600+ words every week or two.
To ensure your detailed plan can be executed, spend some time evaluating your internal resources and speaking with members of the team about what they are able to do. Talk to your engineers about getting selection data when preparing a post. Work with your sales and marketing team to set aside enough time to write the content. Or if you're planning to outsource, start vetting possible writers or marketing agencies in advance.
One of the great challenges of the industrial space is finding people who can write accurately and comfortably about manufacturing. Vet your writers in advance and work with them to establish a voice that matches your business. This will save you a lot of time (and stress) in the future.
Having a Promotional Plan for Industrial Content
The third step in producing content for an industrial blog is to have a promotional plan in place. All that content on your blog is useless if no one can find it, and until now, your site hasn't been a recurring source of content. Here are some specific things you should do to ensure optimal exposure for every blog you publish:
Build Relevant Social Media Accounts – For manufacturers, the most effective social channels tend to be LinkedIn, YouTube and Twitter, with some having success on Facebook as well if they can tap into their audience there. Focus on those social media accounts that are relevant and post regularly.
Identify Private Groups in Which to Share Content – On sites like LinkedIn and Google+, there are private communities organized by industry and position. These are great places to share educational content designed to answer a question or help solve a problem. Such content should be posted from a personal account.
Establish a Small Promotional Budget for Each Post – One way to ensure every post is seen by a certain number of people is to spend a small amount to boost it in Facebook, Twitter, or LinkedIn. You can reach hundreds of people with as little as $3-5 per post. If you are blogging once every 2-4 weeks this should be a mandatory expense.
Share Content with Your Existing Contacts – Make sure to send blog posts and other content published to your contact lists. This can be done in a newsletter or as part of an automatic email track that goes to all of your prospects after they become contacts.
Add Blog Links to Your Industrial Directory Profiles – Make sure you link to your blog from all of your relevant online profiles. Any sites like ThomasNet or GlobalSpec should be updated accordingly to help prospective buyers find your most useful content.
Create a checklist of every site on which you plan to share content whenever you post to your blog. This makes it easier to task this to a member of your team and to check that it was accomplished.
Building an Industrial Blog that Works
A good industrial blog is no different than one for a software company or clothing company. The goal remains the same – provide valuable content that addresses real problems your prospects are facing in the decision-making process, ensure you have a plan in place to get that content produced, and follow a routine to promote that content to the places your prospects spend their time online.
If you do these three things, your blog will be relevant, consistent, and easy to find for your prospects, and ultimately, should help to generate new leads for your manufacturing business.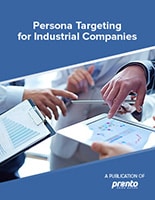 Persona Targeting for Industrial Companies
Learn how personas work and how to define yours in order to attract potential leads and improve your marketing ROI.