Do you know how much you're spending per lead from your marketing efforts? This simple metric can be elusive when your leads come from a mixture of offline and online methods, and especially considering that it can take months or even years for a lead to manifest and close into a sale.
For many manufacturers without a formal marketing strategy, the number varies dramatically. And if you are investing in marketing, that doesn't necessarily mean you're getting a solid ROI on your efforts.
To ensure you get the most from your website and are developing and maintaining a consistent source of fresh, inbound leads from marketing efforts, there are several things you can and should do with your website to make it as efficient as possible.
Let's take a closer look at what a good website can do to improve your cost per lead and help you get a better ROI on all your marketing efforts.
How Manufacturing Websites Generate Leads
It's taken a bit longer than in other industries for manufacturers to acclimate to and take advantage of the digital marketing resources now so freely available to B2B companies. Today's generation of manufacturing websites are more robust, engaging, and effective.
What does that mean, though? Here are some of the things that a good manufacturing website does to ensure it generates leads and provides a positive ROI:
Inclusion of Call to Action Buttons on Every Page – Your website exists to solve problems for your target prospects. For this reason, every page should contain 1-2 call to action buttons that lead to a form asking for information. From the very bottom of the marketing funnel at which prospects request a quote to the top of the funnel where procurement managers seek information about part selection and cost reduction, your website needs to be an engine to answer questions.
Quality Photography and Videos – One of the biggest challenges for procurement is getting a sense of the scope and quality of the work potential suppliers do. The fastest way to address this as a manufacturer is to provide high quality photography and videos of your equipment, past projects, and shop floor (where possible). Even discounting for proprietary information, your visual components will provide the social proof needed to generate trust.
Content Addressing Questions – Manufacturers will frequently voice concern that no one would want to read their content. It's boring stuff, doesn't go into much detail, and isn't enticing enough. Why spend all that time writing content when you could be making sales calls? The truth, however, is that more and more people do research by searching for specific questions and problems they have related to the industry. Answer those questions with blog content, white papers, eBooks, and videos.
Your website is more than a brochure of your services. It's a digital representation of the work your sales team would do on an exploratory call: answering common questions, drawing people into the sales funnel, and building trust with key decision makers who may not be ready to choose a vendor for weeks or months to come.
How to Improve Your Website's Lead Generation
If you're ready to improve the efficiency by which your website generates leads and drives traffic, there are several things you can do right away:
Make Key Resources Downloadable – Make sure prospects can download everything they need from your site, including ISO certifications, MSDS documents, shipping certifications, materials certifications, equipment lists and anything else you have. Require an email address for all downloads.
Develop 1-2 Resources for Procurement and Engineering – Create educational content that is useful to people in the engineering stage and the procurement stages of sourcing.
Launch a Blog – You can update this once a month and still see significant results over time. The key is to have something in place that addresses common questions from your prospects and provides search engines with fresh content to index.
Offer Conversion Points Everywhere – No part of your website should ever be without a visible conversion point. This can be a form, a call to action button, or a graphic pointing to a form.
If you do these four things, your website will be instantly more efficient at capturing traffic and converting it into leads for your sales team. Your website represents an opportunity to engage with key decision makers much earlier in the buying cycle than you could with almost any other medium. Take advantage of that with strong conversion tactics and you'll see much better ROI for your efforts over time.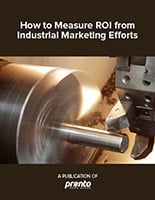 How to Measure ROI from Industrial Marketing Efforts
In this guide we'll show you some of the most effective ways to capture ROI, and how to improve potential conversion rates in each stage of the buying cycle.