One of the greatest challenges for marketers in the manufacturing industry is that the sales and lead generation needs of companies like yours are very different from the typical business. Even other B2B businesses generally have shorter sales cycles and fewer qualifications required to engage and make a sale.
But just because it's different doesn't mean it's impossible to generate leads and build a strong digital marketing campaign for an industrial company. It's a matter of customizing the lead generation process to match that longer sales cycle and ensuring the quality of leads is as high as possible.
What a Quality Lead Looks Like
Before building a lead-generation process and driving new potential customers to your website, it's important to fully define what constitutes a quality lead. This is where a lot of manufacturers have difficulties with their marketing campaigns – either targeting a broad swath of traffic through paid ads, or hiring an agency or consultant who doesn't fully understand what those quality leads look like.
There are several factors to consider when defining a quality lead, including:
Company and Title – Getting a lead from a larger company with a strong track record is always a good sign of quality. Especially if that lead is in the right position to make sales-related decisions or to exert influence on the final decision. For many manufacturers, there is a sweet spot between too small and too large to aim for. Make a list of some of the companies that fit here as a starting point.
Volume and Duration – As a custom manufacturer, you need a certain volume of parts to make a sale both profitable and a driver of growth. Every manufacturer has a different baseline, but try to set a number in advance for your minimum custom parts order. If it's a large enough company, you may be willing to lower that number for a pilot project, but you also want to avoid prototype work whenever possible.
Responsiveness – Is the lead responsive to your outreach and nurturing emails? Even a lead that hits all the marks for company size, job title, volume and duration may turn out to be a dud if they never respond to follow-up attempts.
Nature of the Request – Does the request match your core competencies? Many manufacturers have pigeonholed themselves by agreeing to projects they aren't quite setup for in an attempt to build their portfolio.
By knowing what a quality lead looks like for you, it's easier to develop and execute an effective lead generation plan for your business.
How Lead Generation Works for Industrial Manufacturers
Lead generation for industrial companies needs to be extremely targeted and focused on quality over quantity – one of the reasons we spent time developing our quality checklist above. So, what does that entail? Let's look.
Establish Lead Capture Points – How will people initially engage with your company and become leads? This can be an RFQ form, a simple Contact Us form, a request for consultation or sample form, or an option to download documentation or certifications from your website that require a form to access. Even your phone number listed in the header of the website is a lead conversion opportunity.
Segmentation and Lead Management – When a lead is captured, how is it managed in your system? What happens to someone when they become a lead and how do they engage with your sales team? What part of the process is automated and what part is handled by people on staff? For leads that have only downloaded a document, automated follow-ups can streamline the process and guide people toward the next stage in the sales funnel.
Attracting the Right Traffic to Your Site – As a custom manufacturer, your website is a resource for a very specific spectrum of people: engineers, manufacturing executives, and procurement professionals. A good lead-generation process will identify the best sources of traffic and focus energy into those areas to drive results. Search engines, LinkedIn groups, industrial directories, manufacturing forums, and Q&A sites are all good examples of quality traffic that will engage your target audience.
From initial engagement via an outside channel like a search engine to the capture of that lead, your goal is to provide valuable information that answers questions your ideal prospects are most likely to have. From the cost of different finishing options in relation to specific part types to the most common engineering questions you get during the initial tooling and consultation phases of a new job – engagement with your prospects will lead to a strong response rate and better lead generation.
For these reasons, volume doesn't work for custom manufacturers. In a business where 3-4 good leads can make or break your entire year, you don't need thousands of new leads flooding your inbox. You just need the very best of the best, and that comes from the right targeting and marketing activities.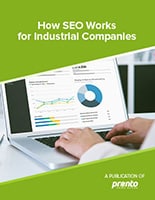 How SEO Works for Industrial Companies
This free, 15-page eBook lets you in on the secrets of tried and tested SEO best practices to drive organic traffic to your company's website.