Business owners and developers are obsessed with refining and optimizing processes and workflows. From the "six sigma" approach in the manufacturing industry to the "agile development" strategy in the software industry, everyone running a project or organization wants to increase the efficiency with which their teams achieve the goals set out before them.
Every industry has totally different resource constraints and production processes, so we aren't going to bother with that in this article. Instead, we want to put the spotlight on a wonderful tool that helps streamline daily workflows — regardless of your industry. It's a tool so versatile that you could use it to plan a trip to Iceland one day, and run an annual conference the next.
We're referencing Trello, a web-based project management application that everyone at Pronto uses to communicate and collaborate. Before we get into how Trello allows our website editors, designers and producers to work more quickly and efficiently, we need to get one thing out of the way: This post was not paid for by Trello, it's just a satisfied customer's view on how a simple app helped us drastically increase our team's production capacity. In a way, this post isn't just about Trello, it's about the Pronto work philosophy.
How does it work?
In its most basic form, Trello is a digital corkboard with unlimited space for notes, images and checklists. Every Trello board is organized by columns, or "lanes," that help teams segment projects into a series of steps. At Pronto for example, the first step in the website production process is copywriting, the second is image sourcing, and so on. So, our Production boards have a lane with the title Editorial, and another named Creative to its right.
Whenever the production team gets a new project, a "card" is created. These cards summarize details such as due dates, client names and who is assigned to the project. Clicking on the card expands its content to show more specific details about the project, and clicking back to the board displays every lane and the cards that occupy them. Once a team member from the Editorial lane finishes their portion of the project, he or she clicks and drags the card to the next lane.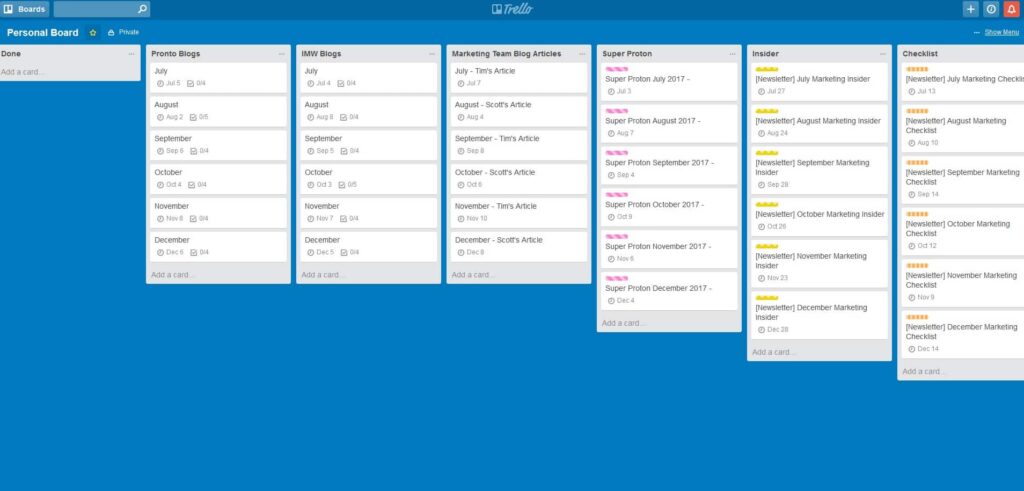 Getting the most out of this approach
Everything from Pronto's human resources to its office layout have adapted to this workflow philosophy. For example, our production team has been split into several "squads," each with its own copywriters, designers, etc. Whenever a copywriter finishes one task, he or she opens Trello and checks the next card in the Editorial lane. Squads learn how the individuals on their team work, which fosters increased efficiency; but because each squad's Trello board is standardized, members of other squads can easily hop onto another board and help out if it gets too busy.
In short, this simple web-based application has allowed us to take #squadgoals to an entirely new level. Trello has created a way for us to erect self-contained silos that can work together to solve problems and efficiently complete a set of tasks. Lastly, because anyone can view the timeline of events in a card, and because information-sharing is centralized, there's no need to meet every time something changes, which translates to a more organized flow of data and fewer meetings.
What comes out the other end?
Trello, and the workflow we've built around it, doesn't just streamline our production process, it also improves the quality of our work and the service we provide to clients. This tool helps us organize everything, from website creation and client support requests to add-on marketing services and personal to-do boards.
Sure, we still use Google's G Suite for email, shared calendars and productivity software, but even those functions are often handled within the Trello app. Due dates assigned to cards can be integrated with Google Calendar, and reminder notifications go directly to employee inboxes. It truly is a tool built for teams and collaboration.
Change is hard, and adapting to a radically new workflow model is sure to cause some growing pains. However, if you stick with it, like we have, you'll see that your team can accomplish more with what it already has — it just needs the right tools.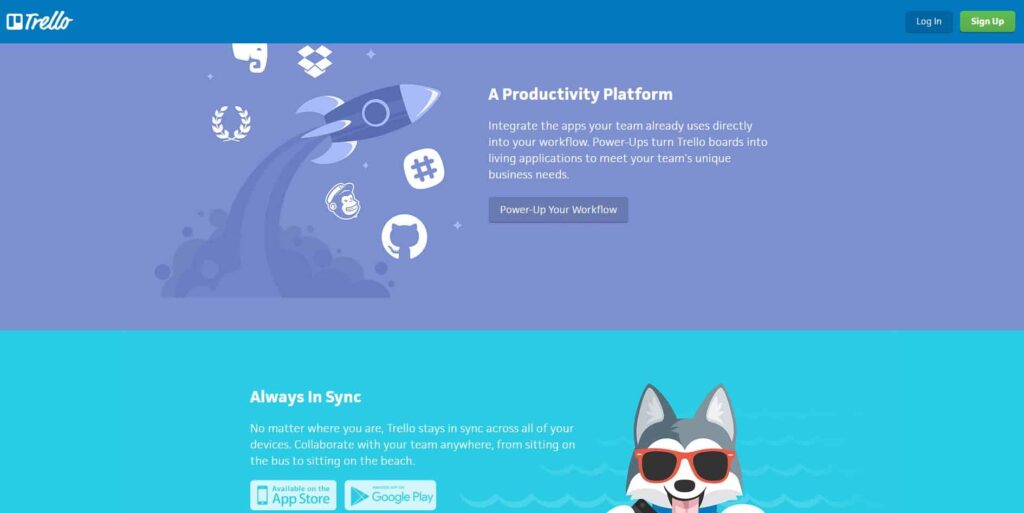 Trello may not be the best option for your organization, but taking the free version for a test drive is definitely worth a shot. You never know, that may be all you need to jumpstart your team's productivity.
The purpose of our blog posts isn't just to provide potential customers and existing clients with useful marketing tips, it's also about getting to know the Pronto team. We're proud of the work we do and the culture we've created in our office. It's why our employees love coming to work every day, striving toward creating better products. If you'd like to hear more about how we work, leave us a comment below or schedule a call!