Your law firm's website needs to do a lot of heavy lifting. It will likely serve as the first impression for many of your clients, so it's the perfect opportunity to convey your professionalism right from the start.
Fortunately, you can easily add a wealth of functionality to your WordPress website using plugins. Here are our top picks to lift your law firm site to the next level:

How to Choose a WordPress Plugin for Your Law Firm
As a law firm, you'll often be working with people through a frustrating or even painful time in their lives.
Since your website will likely be a potential client's first impression, it's vital that you present as an established, respectable, and trustworthy organization. The right plugins can improve a visitor's experience and encourage them to convert.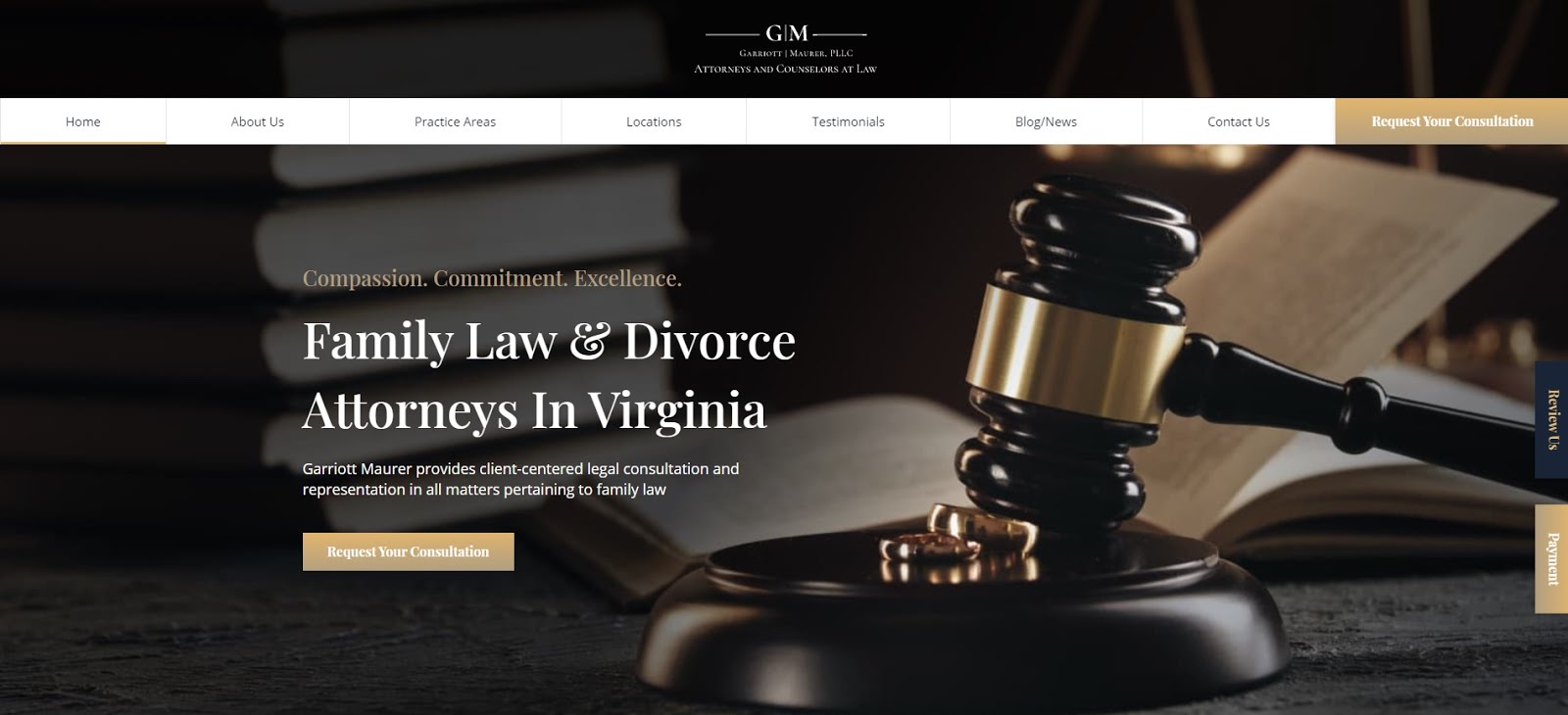 You may also be passing large volumes of sensitive information through your website, so security is a significant concern. Unfortunately, some plugins can present a risk, resulting in millions of websites being hacked.
Fortunately, there are precautions you can take to keep your site secure. For example, always download plugins from WordPress or directly from the developer's website. You'll also want to avoid nulled plugins, which are pirated versions of premium tools.
When shopping for plugins, have a look at some of the reviews. If you're seeing a large number of unhappy customers, you'll be better off continuing your search elsewhere.
Once you've installed a plugin, be sure to always keep it updated. You may even be able to set the plugin to update automatically whenever there's a new release. Even if you go this route, you'll want to check every so often to ensure that all updates have been applied.
Finally, you can install a security plugin that will regularly scan for malware and other potential threats. Being proactive about your site's safety can help you to keep possibly serious breaches from occurring.
Top 6 WordPress Plugins for Law Firms
Now that we've shared some advice on choosing a plugin, let's look at six that you'll want to seriously consider adding to your website.
1. Bookly
Bookly is a popular plugin you can use to schedule and manage appointments with clients.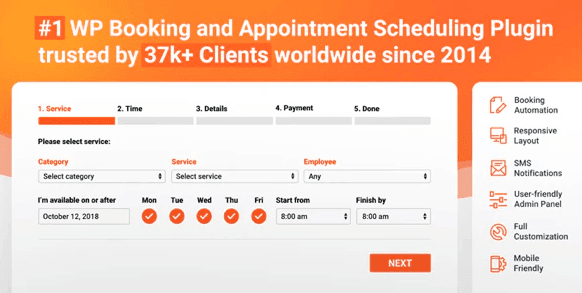 Key Features:
Use the notification system to remind you of upcoming meetings
Accept bookings even when your office is closed
Customize Bookly to fit your needs using optional add-ons
The ability to immediately schedule a consultation could be the difference between landing a new client or losing them to the competition. Users can book an appointment for a particular service, or even with a preferred member of your staff. They can also provide a range of times that they're available, which may cut down on back and forth.
You'll be able to view pending and approved appointments from your WordPress dashboard. The included analytics enable you to track revenue from your scheduled bookings. For larger firms, you can filter appointments by service or staff member, and then export the results for easy invoicing.
Price: Free, with a premium version that costs $89.
2. Strong Testimonials
Including testimonials from satisfied customers is a great way to build social proof. Strong Testimonials makes it easy for you to gather and publish reviews of your firm.

Key Features:
Import reviews from multiple platforms
Choose from a variety of templates to display your testimonials
Customize a testimonial submission form to include on your site
Strong Testimonials gives you a lot of control over which reviews you display on your site. The plugin uses categories to help you organize testimonials by service, or even which pages you'd like particular reviews to appear on. You may want to showcase the most glowing reviews on your home page and organize others by service.
You also have the option of displaying testimonials from social media platforms. You can gather these yourself or let clients know that they can submit YouTube videos, tweets, and photos through your submission form.
Price: Free, with a premium version starting at $49.
3. Sucuri
The free Sucuri plugin is developed by WordPress security experts. The plugin includes a suite of security features that will help you keep your site and your clients' information safe.

Key Features:
Check for modified WordPress core files
Receive reports of suspicious events
Review logs of failed and successful logins
Sucuri's Malware Scanner is one of the most valuable tools included with this plugin. The scanner regularly monitors your website for common security concerns such as outdated software, website errors, and, of course, the presence of malware.
The Event Monitor can provide you with email alerts for various events, including changes to the website theme or the publication of new posts and pages. You can tailor the alerts to suit your needs.
Price: Free.
4. Gravity Forms
Gravity Forms is a popular contact form plugin with a powerful visual builder. You can create forms from scratch using dozens of pre-built fields, or use Gravity Forms templates to get a head start.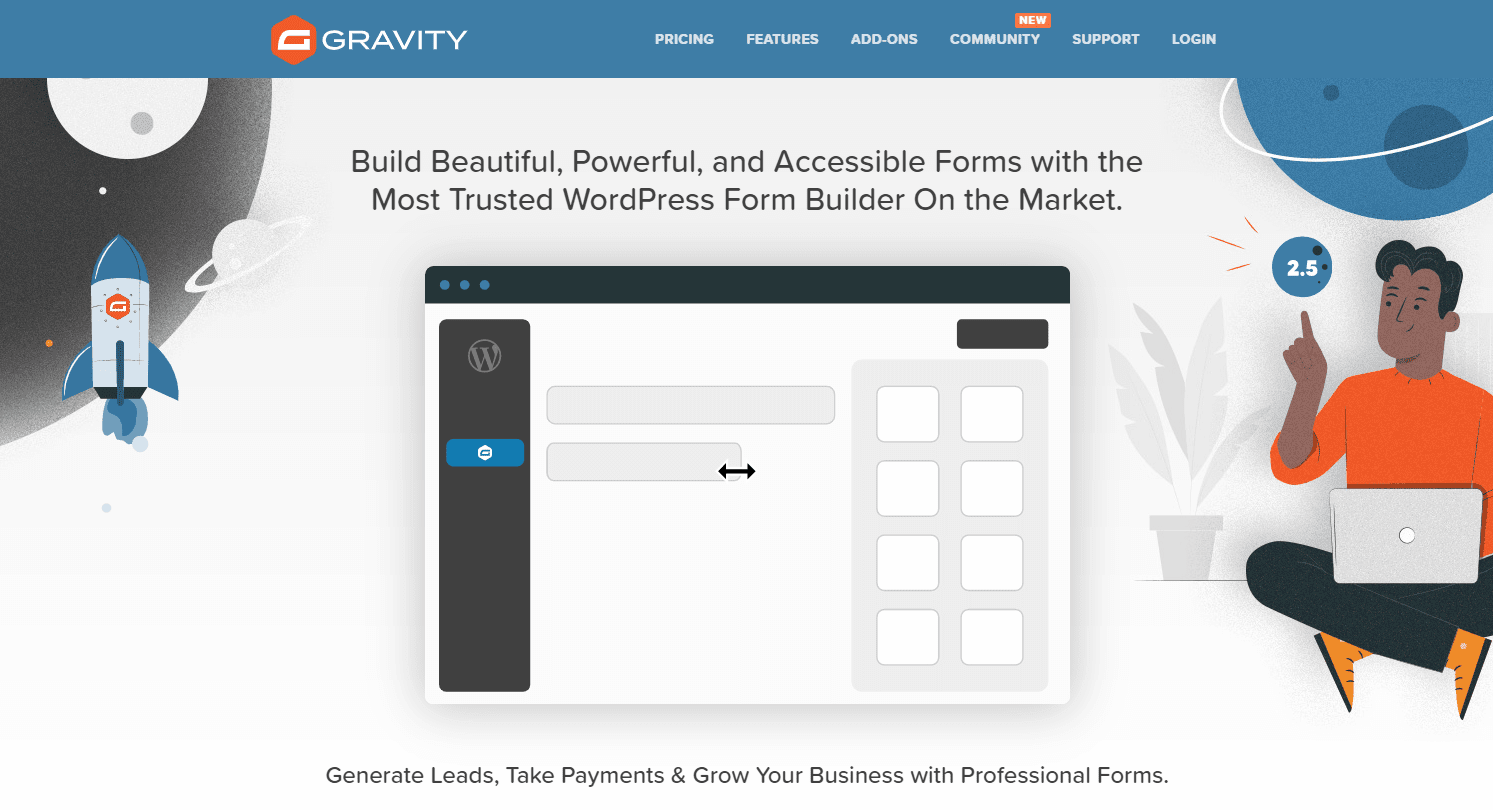 Key Features:
Use a visual form builder with over 30 fields to choose from
Create forms with conditional fields
Manage multiple contact forms with a single plugin
Integrate with reCAPTCHA for spam prevention
Gravity Forms is one of the most flexible form builders you can use with WordPress. It's not a free plugin, but it enables you to create an unlimited number of forms. Plus, you get access to a broad range of add-ons alongside your license.
Price: A one-year license for Gravity Forms starts at $59.
5. WPML
WPML is a translation plugin you can use to make your website accessible to non-English-speaking clients.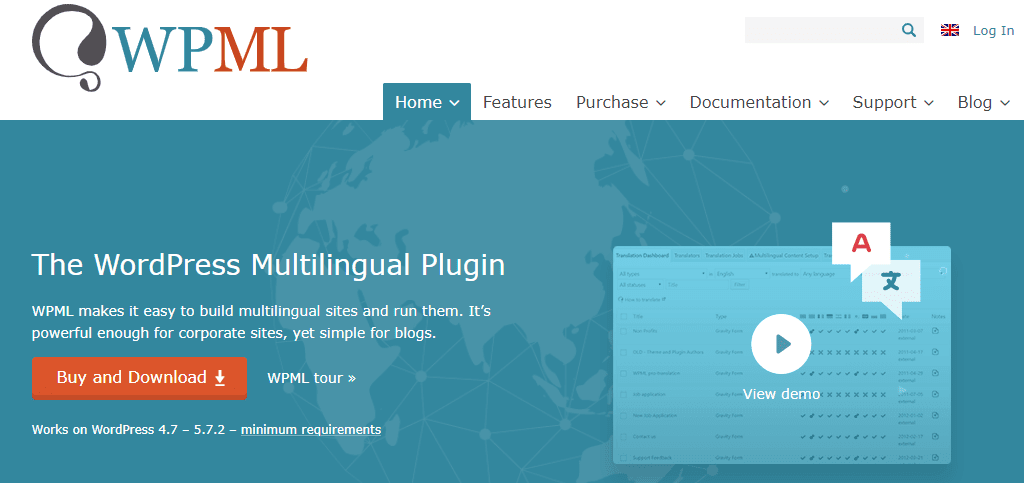 Key Features:
Translate your entire website, including taxonomy and menus
Optimize for multilingual Search Engine Optimization (SEO)
Access over 40 languages, and add variants as needed
If your law firm is multilingual, you'll likely want your website to be as well. With WPML, you can reach your entire potential client base without having to create multiple websites. You can even use WPML to translate the forms you create with Contact Form 7.
For an additional fee, WPML can connect you with vetted, professional translation services. Completed translations are automatically added to your dashboard for convenient publishing.
Price: A one-year license for WPML starts at $29.
6. Birdeye
Birdeye is a service that enables you to manage your firm's reviews from across the web. It offers a WordPress plugin that lets you gather those reviews and share them on your website.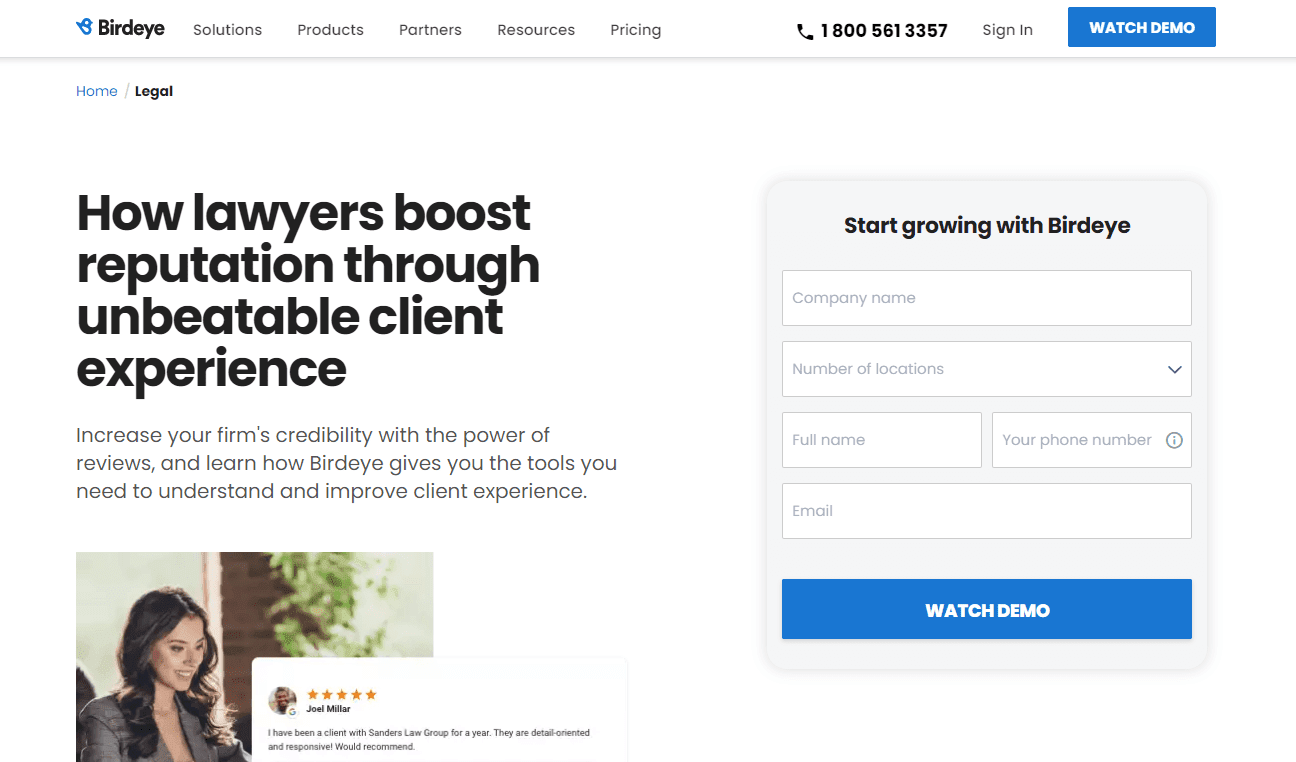 Key Features:
Get reviews from Google, Facebook, Avvo, and Lawyers.com, among other sources
Publish customer reviews on your WordPress website
Receive notifications when customers publish new reviews
Reviews are a key component in helping customers choose the best law firm for their needs. If you have positive reviews on social media and Google, that can go a long way towards making your firm look more trustworthy.
With Birdeye, you'll be able to manage all of your firm's reviews using a single service. Moreover, the platform integrates seamlessly with WordPress, thanks to an official plugin.
Price: Prices vary depending on the size of your business.
Conclusion
Plugins are an excellent way to take your law firm's site to the next level. Whatever sort of functionality you're hoping to offer clients, it's likely there's a tool out there to help you do so quickly and easily.
Do you need help maintaining and choosing the right plugins for your law firm website? At Pronto, we can get your WordPress site into gear.