Brown & Dahan, a full-service family law firm, contacted Pronto Marketing to manage both their website and Google advertising campaigns.
YOY INCREASE IN CONVERSION RATE
YOY INCREASE IN CONVERSIONS
YOY INCREASE IN NEW FORM SUBMISSIONS
Based in Irvine, California, serving in Los Angeles and Orange County Courts, Brown & Dahan provides legal representation services on all matters of family law. They create personable relationships with their clients to provide excellent support through difficult times.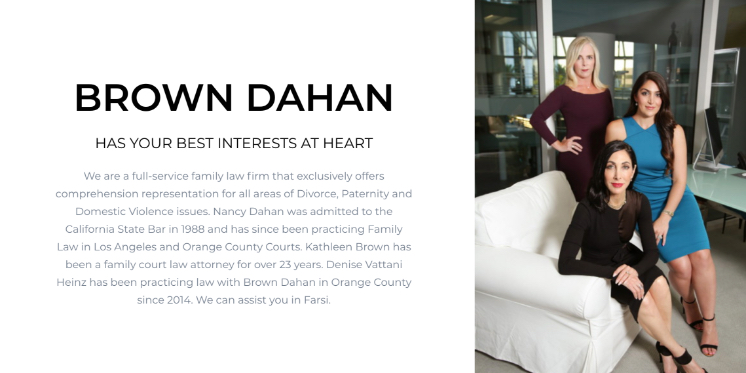 Generating More Local Leads with Only One Office Address
Brown & Dahan's law practice is located in Irvine, a city of about 300,000 people. To continue growing, the firm needed to be able to reach new clients throughout Orange County beyond their location's physical address.
Before reaching out to Pronto, they had been running a few Google Ads campaigns already, but they didn't have time to continue adding new campaigns to expand their Total Addressable Market (TAM).
Creating new campaigns, adverts, and landing pages for new locations and services would require a significant amount of research and testing. Knowing that they also needed to spend the overall budget across 10 different locations and make alterations based on performance, they enlisted Pronto's help to manage their Adwords campaigns.
We had some experience in running Google Ad campaigns, but we didn't have the time or the know-how to optimize them. We approached Pronto to help us carry what we started to new heights."
Pronto developed 18 landing pages to be deployed to a TAM of 3 million people throughout Orange County
Managing Google Ads Campaigns to Drive and Capture Qualified Leads
With 11 different family practice areas to target across 10 locations, a Pronto Advertising Specialist structured a PPC campaign plan that would increase the law firm's TAM to an area of 3,000,000 people.
At a high level, we developed a campaign made up of 200 ad groups, targeting Brown & Dahan's brand, services, and locations.
From there, the PPC campaign specialist worked with Pronto's website design team to build 18 landing pages to ensure high-quality scores and targeted messaging.
We were so impressed with the work Pronto did for our law firm. They consulted us, understood our needs, and came up with a Google Ad strategy that exceeded our expectations."
June 2020 saw a conversion spike at above 60 clients, over double what Brown & Dahan was producing the year prior
Increase in Form Conversions and Calls from Paid Advertising
Paid search efforts were launched in August 2018. Within 3 months, our optimizations had begun to make an impact, evidenced by an increase in leads. At the 6 month mark, the campaign was delivering consistent performance across all the newly introduced markets.
Despite the uncertain nature of 2020, given the COVID 19 crisis, the firm has continued to go from strength to strength on the back of Pronto's PPC management.
Key Year over Year (YOY) campaign improvements made between 2019 and 2020 from March to August:
281% increase in Click Through Rate (CTR)
35% decrease in Cost Per Click (CPC)
27% decrease in Cost Per Acquisition (CPA)
These campaign optimizations resulted in 31% more calls from paid advertising as well as:
31% increase in overall conversions (382 leads generated from calls and form submissions)
20% increase in new form submissions (109 leads)
48% increase in conversion rate (Number of clicks to a conversion)
After our work with Pronto, we saw sustainable improvements in our lead generation and conversion. Their team was fast to act, detail orientated, and a pleasure to work alongside."
Brown & Dahan wanted to improve its Google Ad performance, and by developing a number of unique ad variations and landing pages, we were able to increase the law practice's overall conversion by 31% across Orange County.
Get leads with our Google Ads Campaign Management services
SEO link building services to boost your search rankings
See Other companies we helped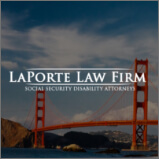 LaPorte Law Firm came to us to increase the number of people who visited their website, especially people within 120 miles of one of their offices