There are a lot of factors to bear in mind when you are thinking about web design for family lawyers. It's always best to do a bit of research, get some advice, and maybe "lift" a couple of ideas from your competitors!
In this blog, we look at some of our favorite family law websites and show you some best practices and features that you need to make your law firm site stand out.
Examples of Great Family Law Websites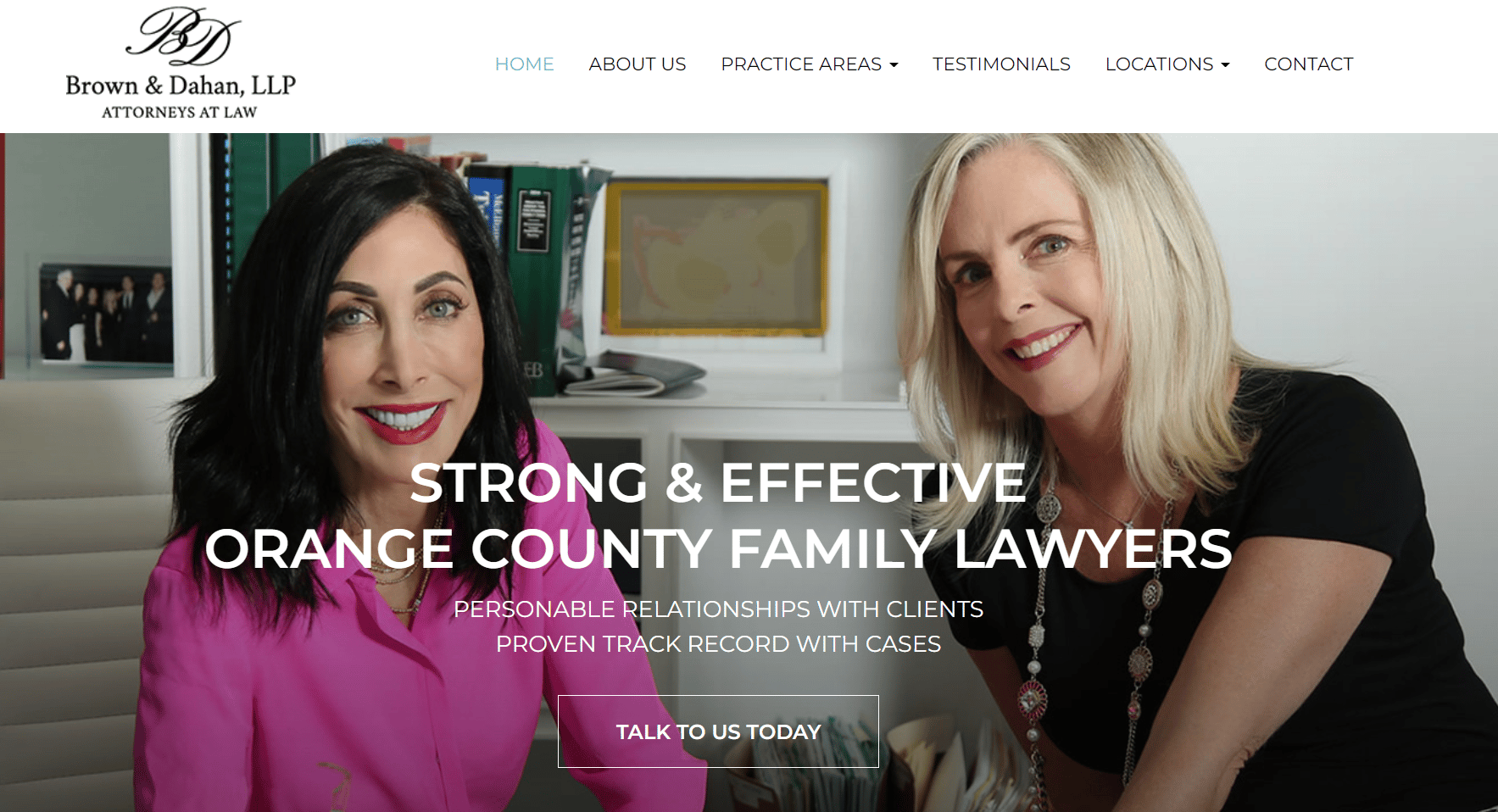 With bright, clean colors and sharp graphics, Brown Dahan's website is easy on the eye. Visitors to the homepage are immediately met by friendly, approachable images of the partners, adding a human touch.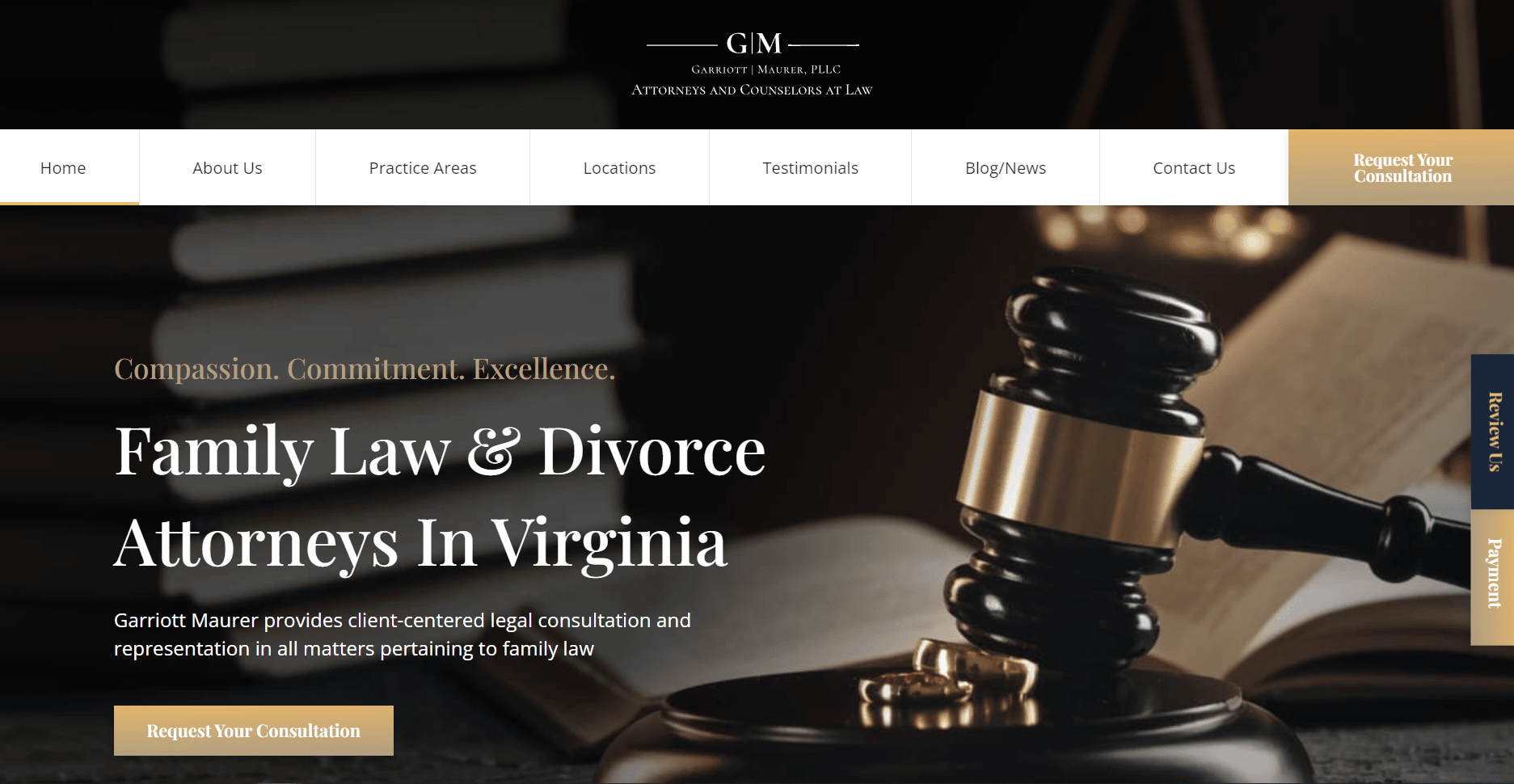 Garriott Maurer's website is easy to navigate and uses fonts and colors that reassures potential clients, giving off an air of professionalism and class. Their biography page is nicely put together.
3. Larison Law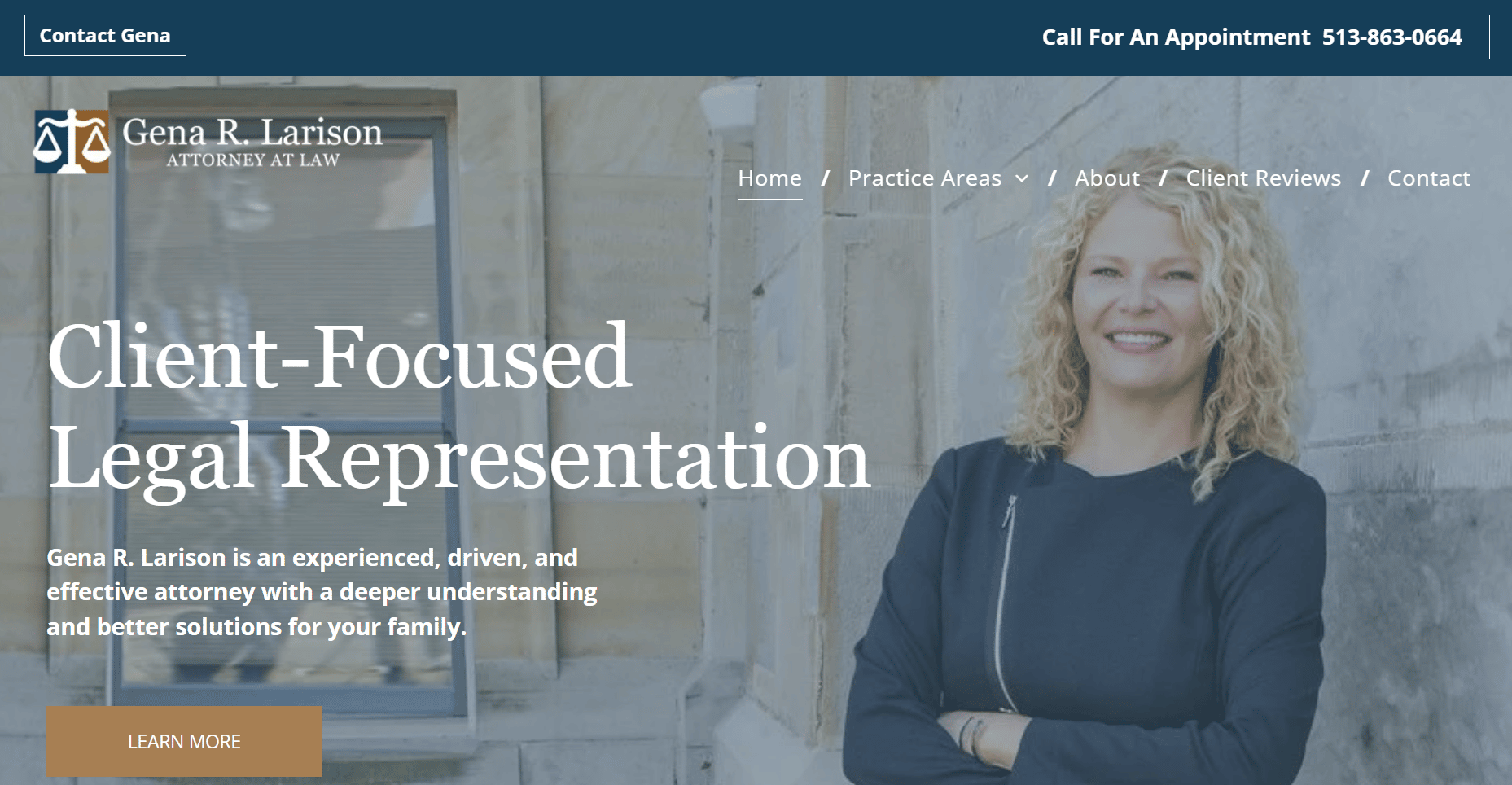 The scrolling graphics on the homepage are eye-catching without distracting readers, and their practice areas pages are well laid out and very informative.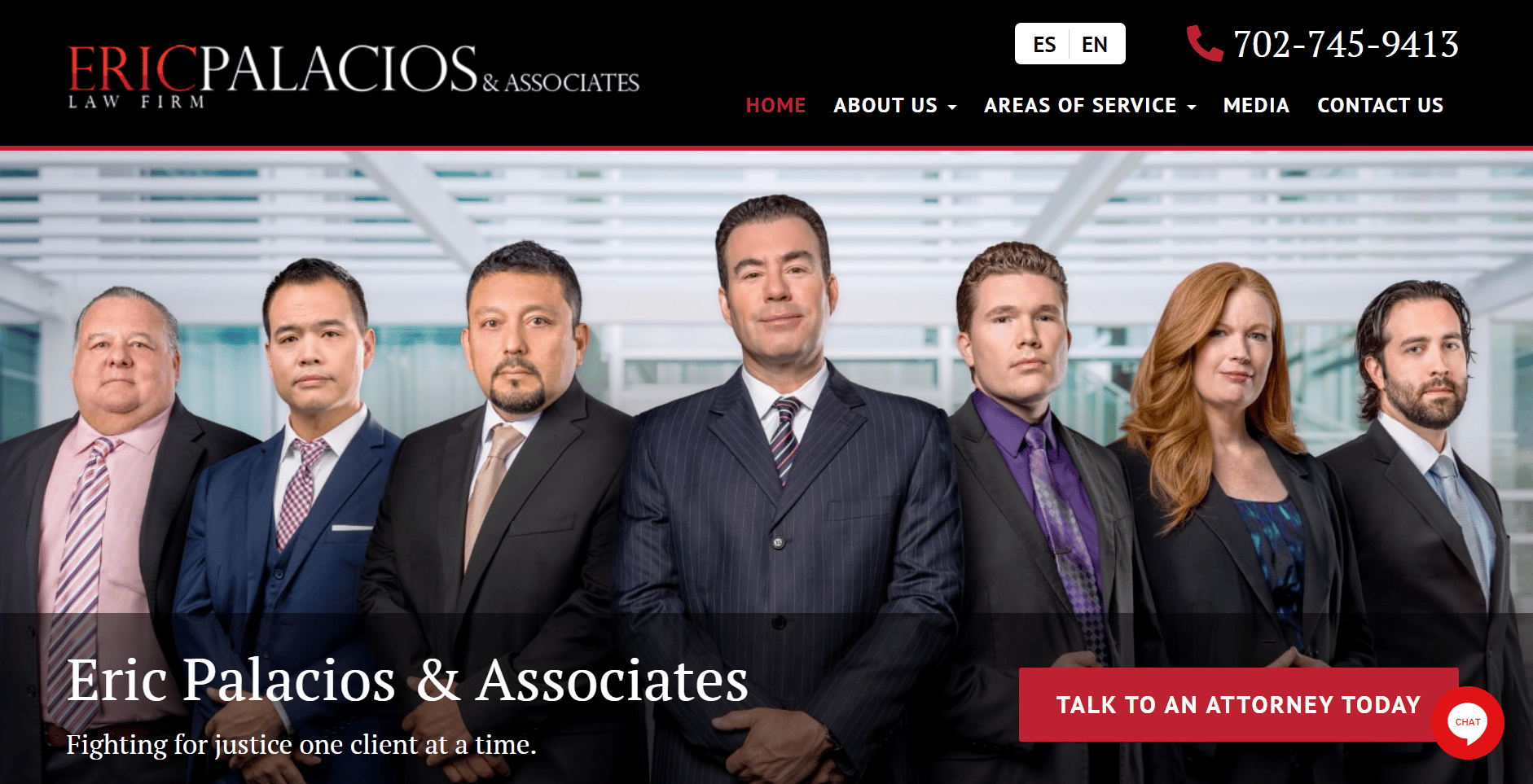 The professional appearance of the partners right on the homepage immediately instils confidence in visitors. We also love the bilingual option button allowing readers to switch to Spanish.
5. Heyman Law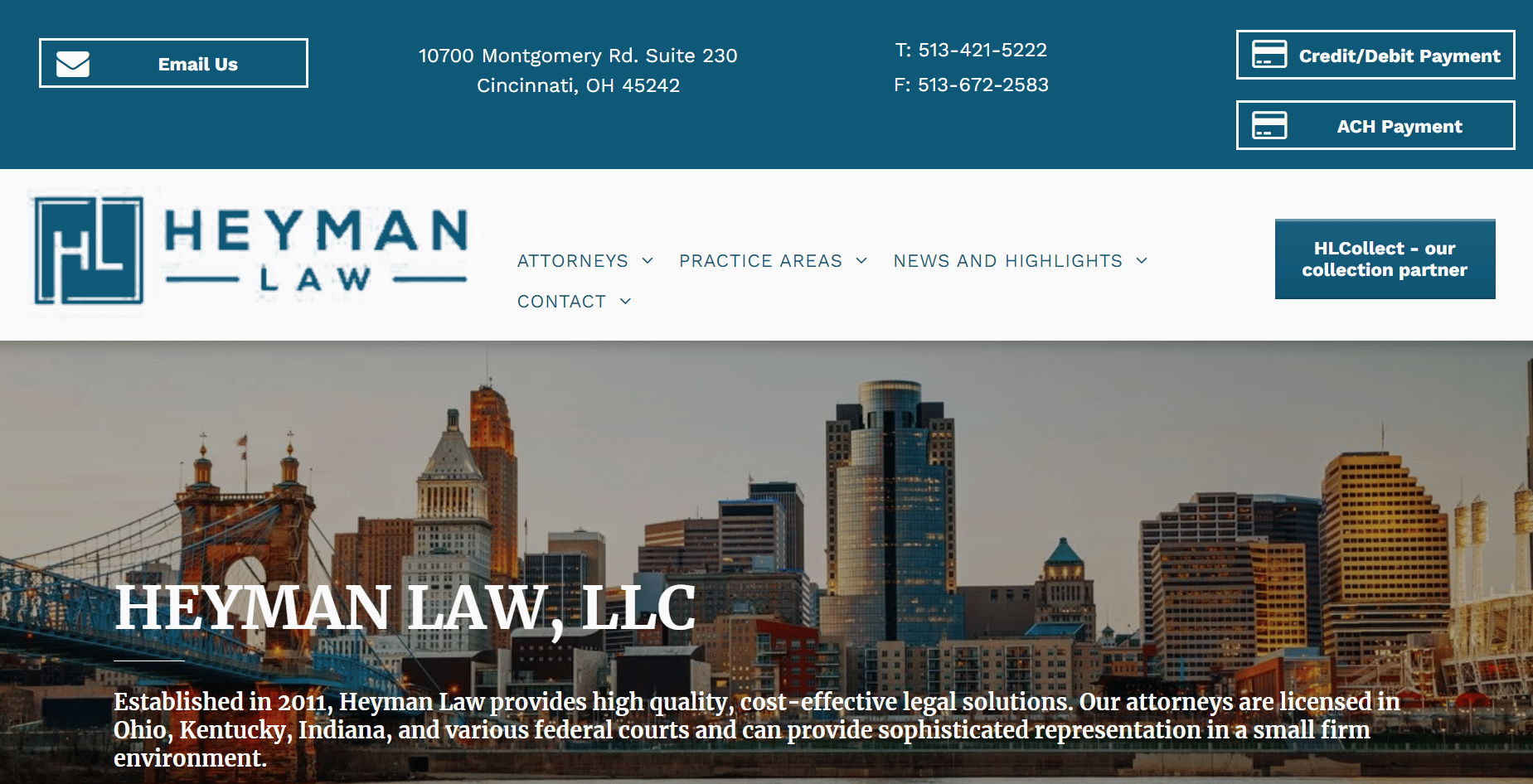 The calm, businesslike color scheme and smooth layout make a visit to this website an enjoyable experience. Their practice area pages clearly list all of Heyman's areas of expertise in an engaging, explanatory way.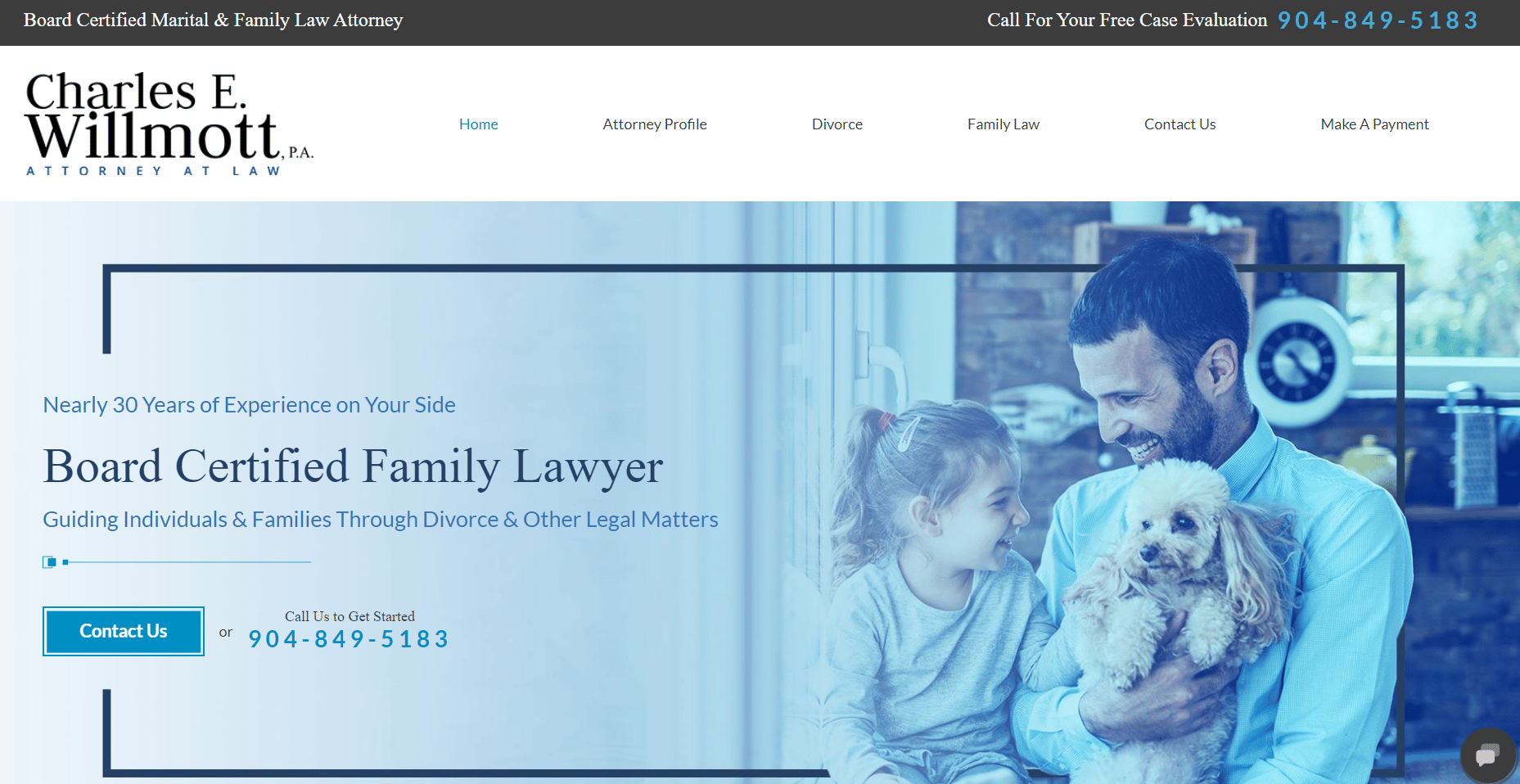 This family law firm website has a clean design and multiple contact buttons. Awards, badges and testimonials on the website all attest to the firm's successful practice.
7. Kraayeveld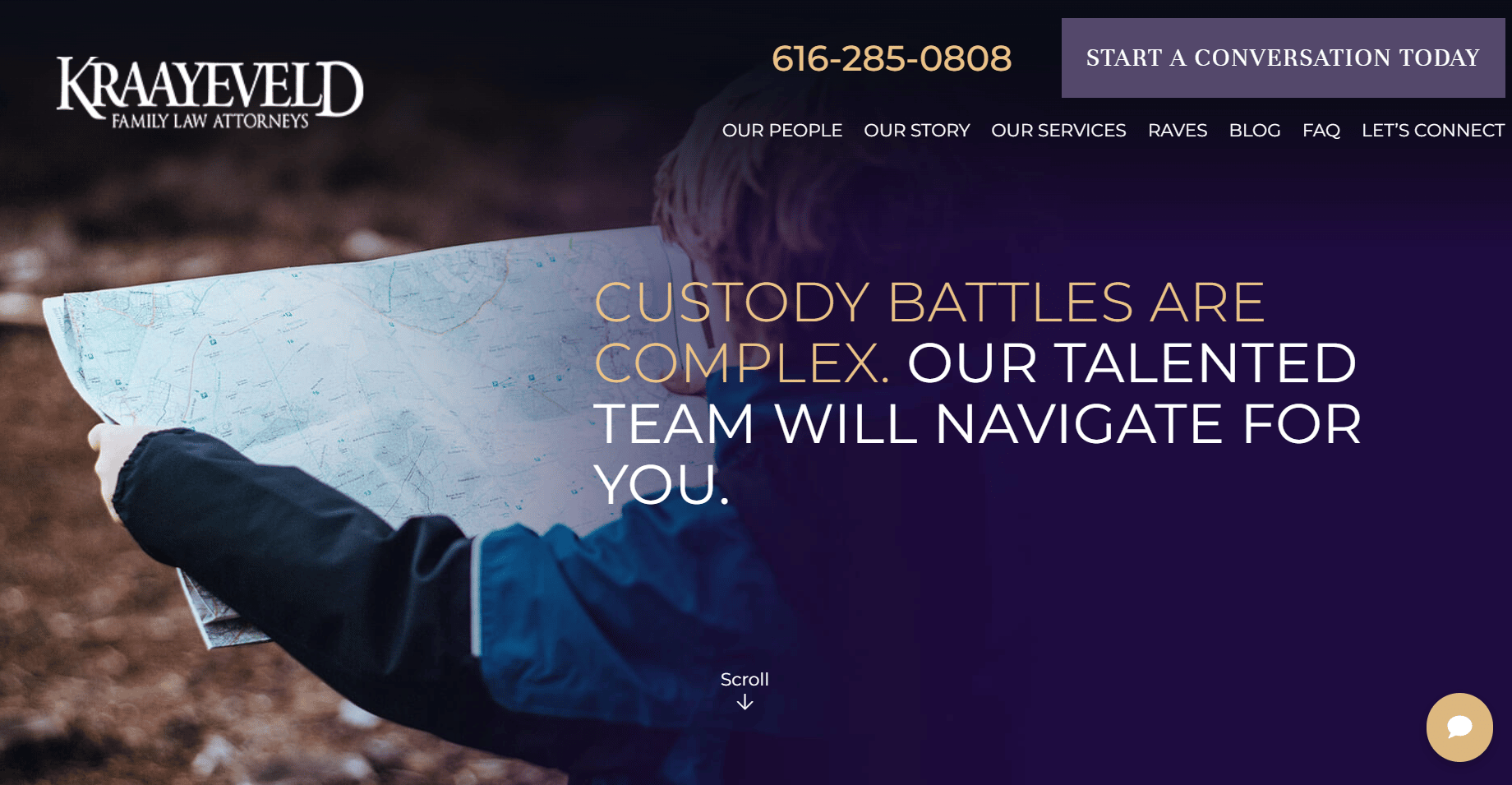 With sharp images, clear readable text,and a user-friendly layout, this slick website aims to ensure that visitors are more than happy to stay a while and read on.
8. Modern Law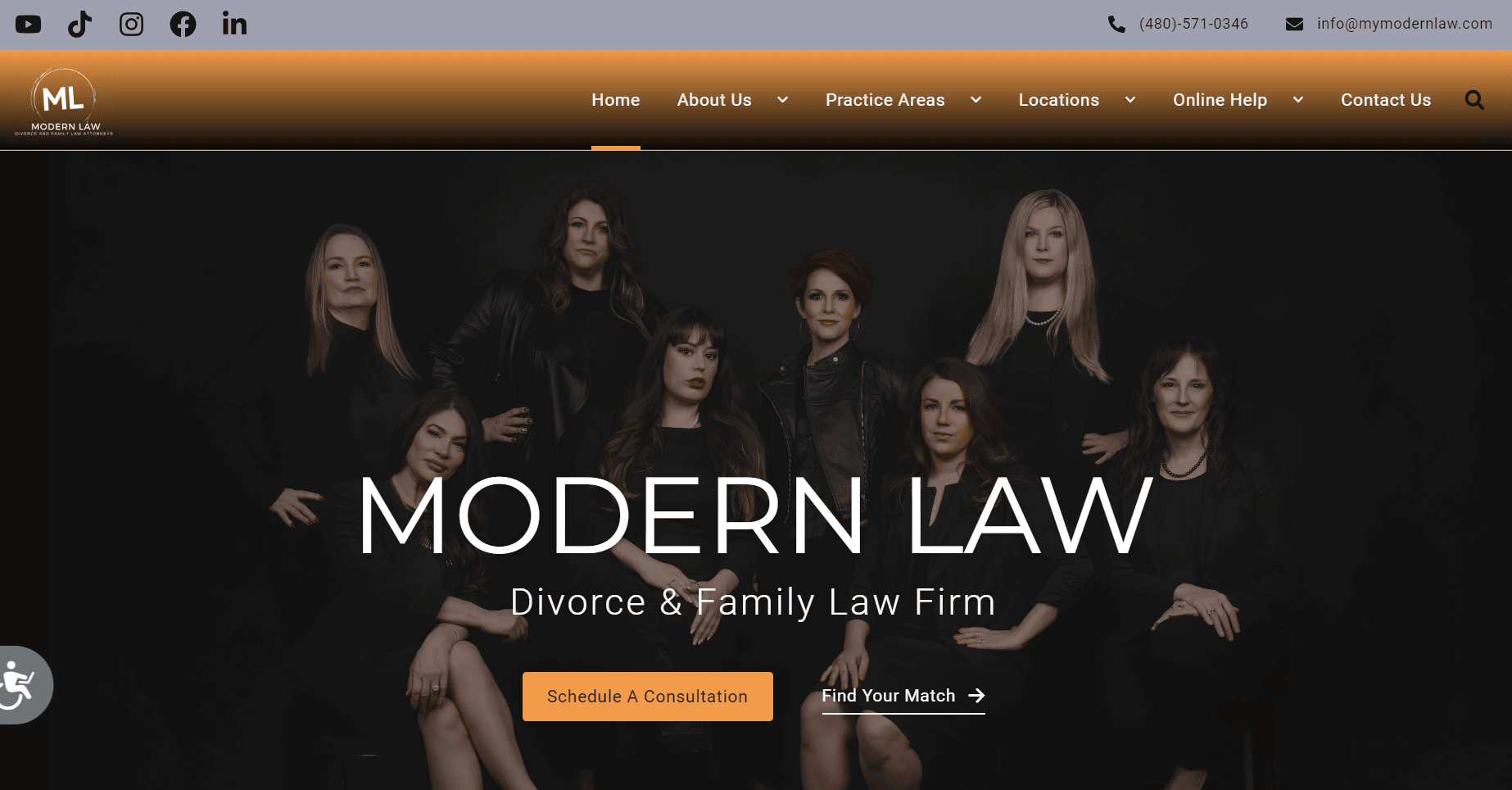 The homepage, with it's ensemble photograph of the law firm's staff, has a sophisticated look. They also clearly list practice areas such as child custody and child support.
9. YLAW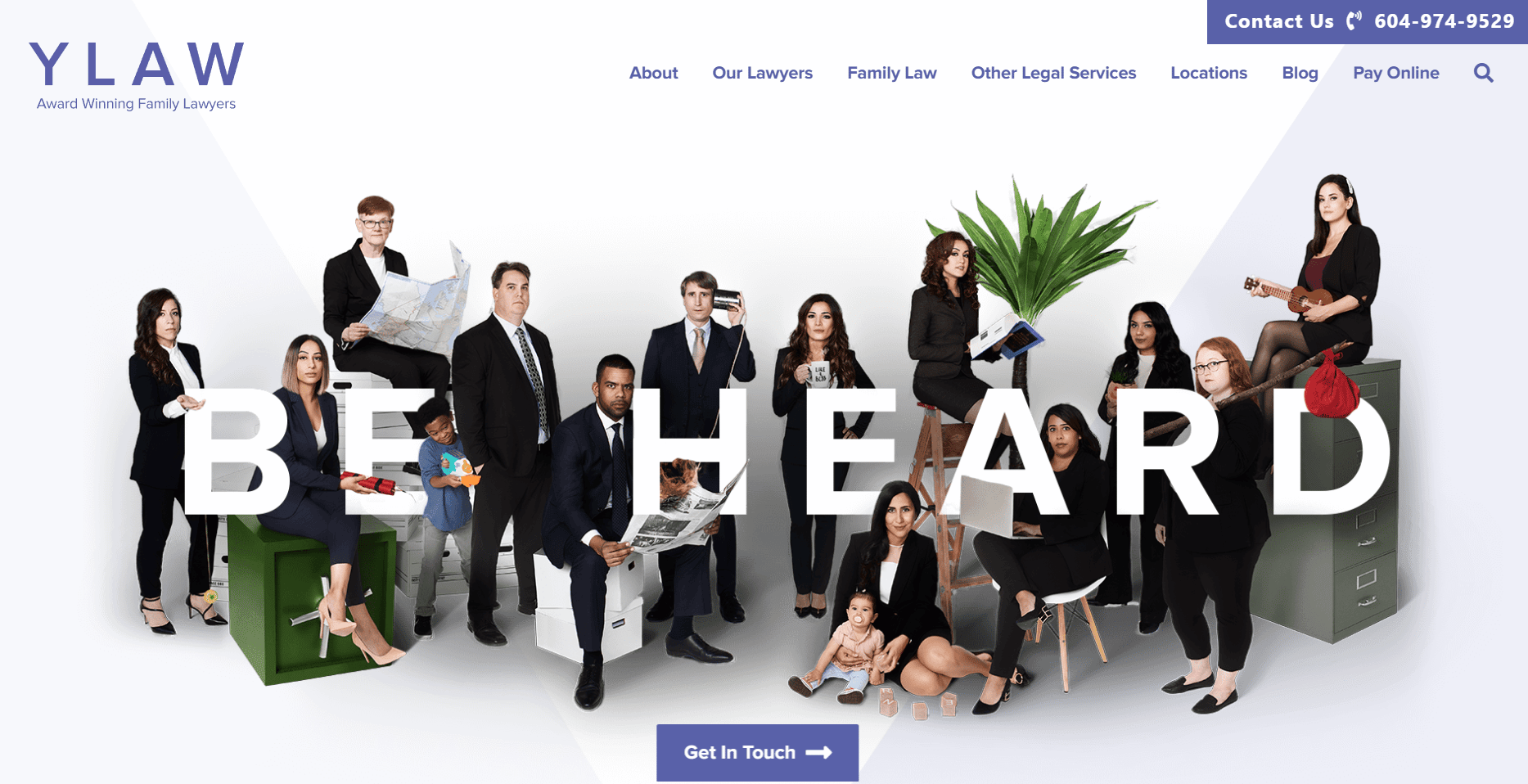 The photos used on the website are quirky and unique, letting visitors know that they have reached a law firm that does things differently. Compact but without sacrificing quality, this family law website design provides a smooth and enjoyable experience for prospective clients.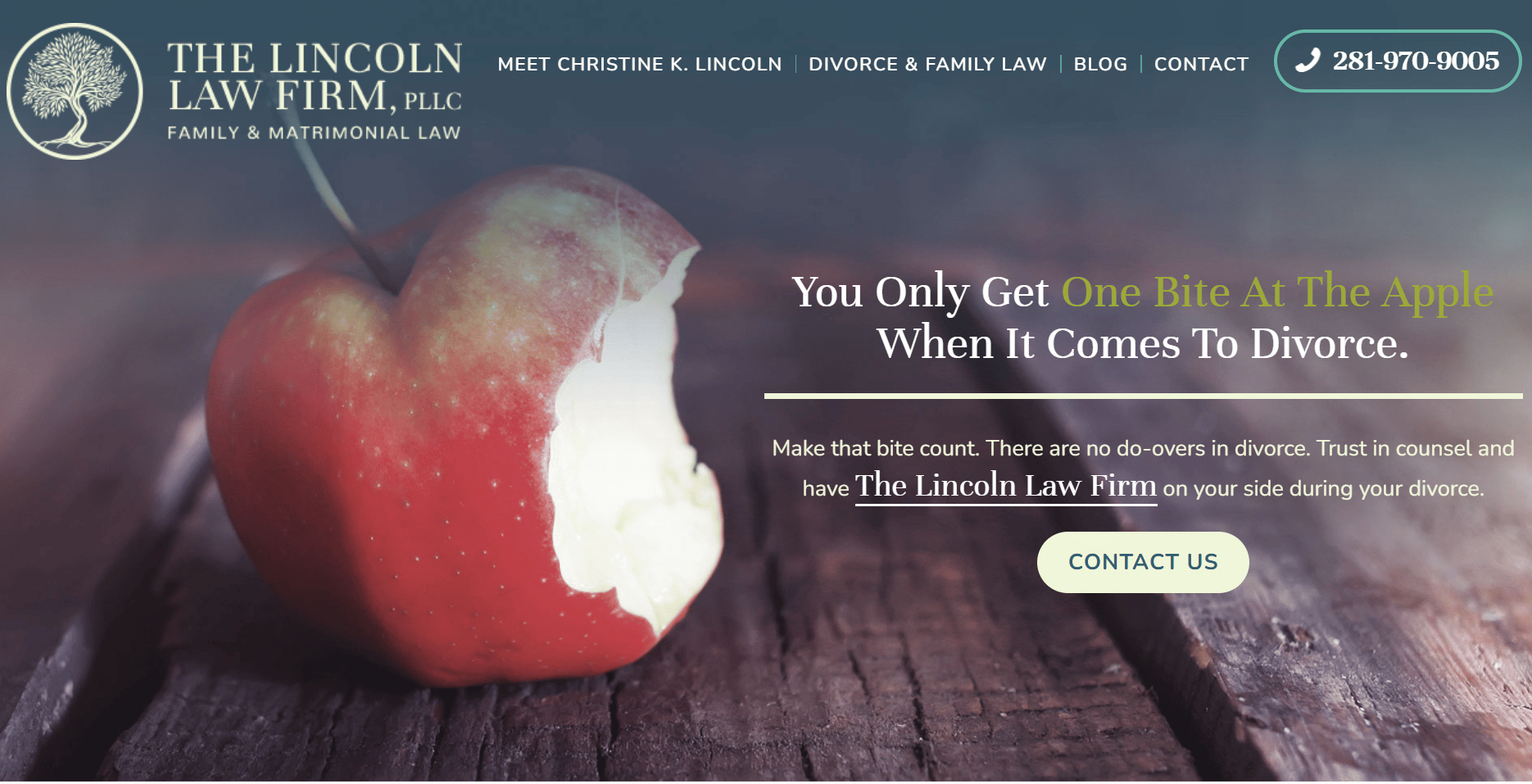 The Lincoln Law Firm has arresting images with catchy taglines, grabbing visitors attention right from the start. On the homepage, they feature a section dedicated to why clients trust them and provide a number of glowing client testimonials.
11. Women's Divorce & Family Law Group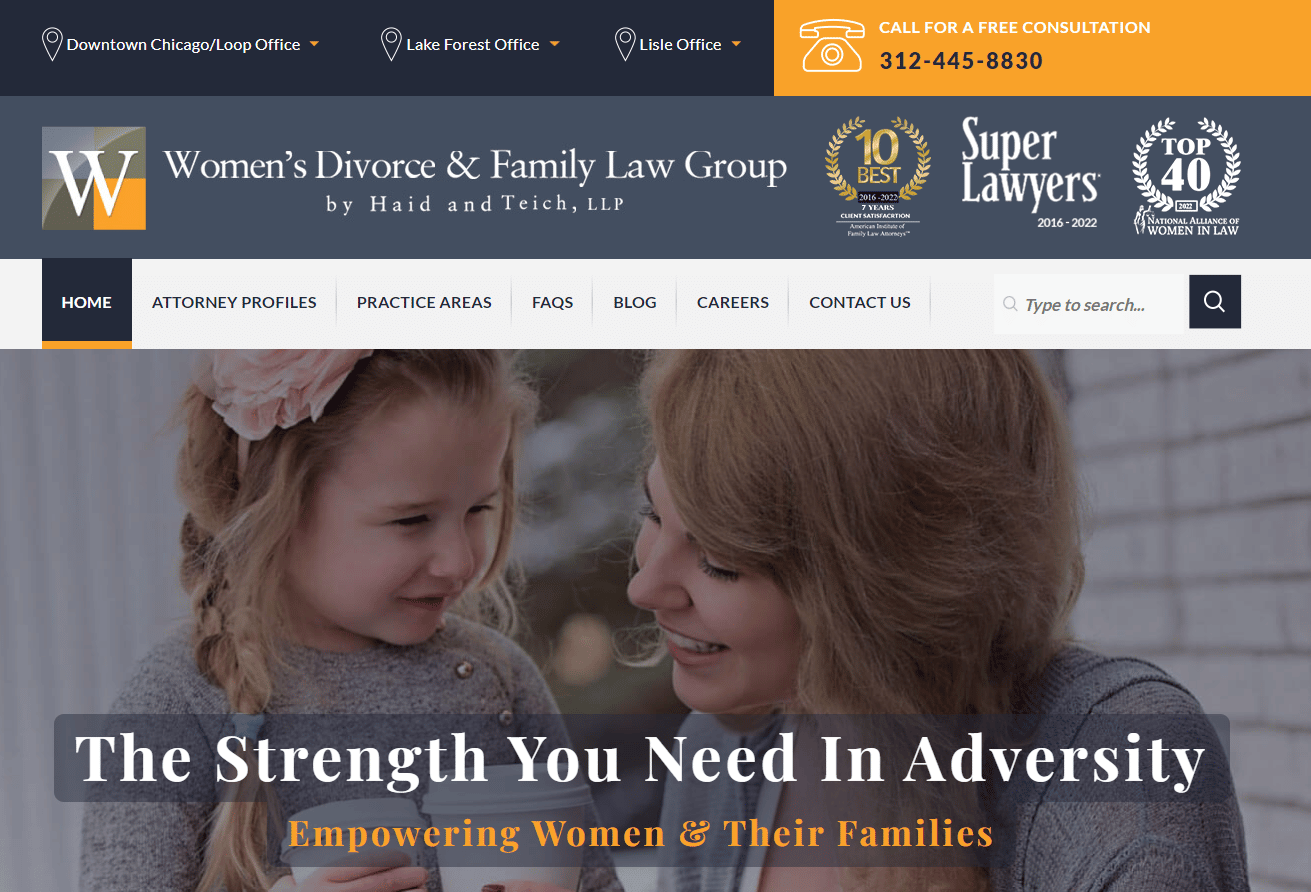 The color choices, graphics, and typography create the impression of authority and competence right from the start.
12. Julyan Law Firm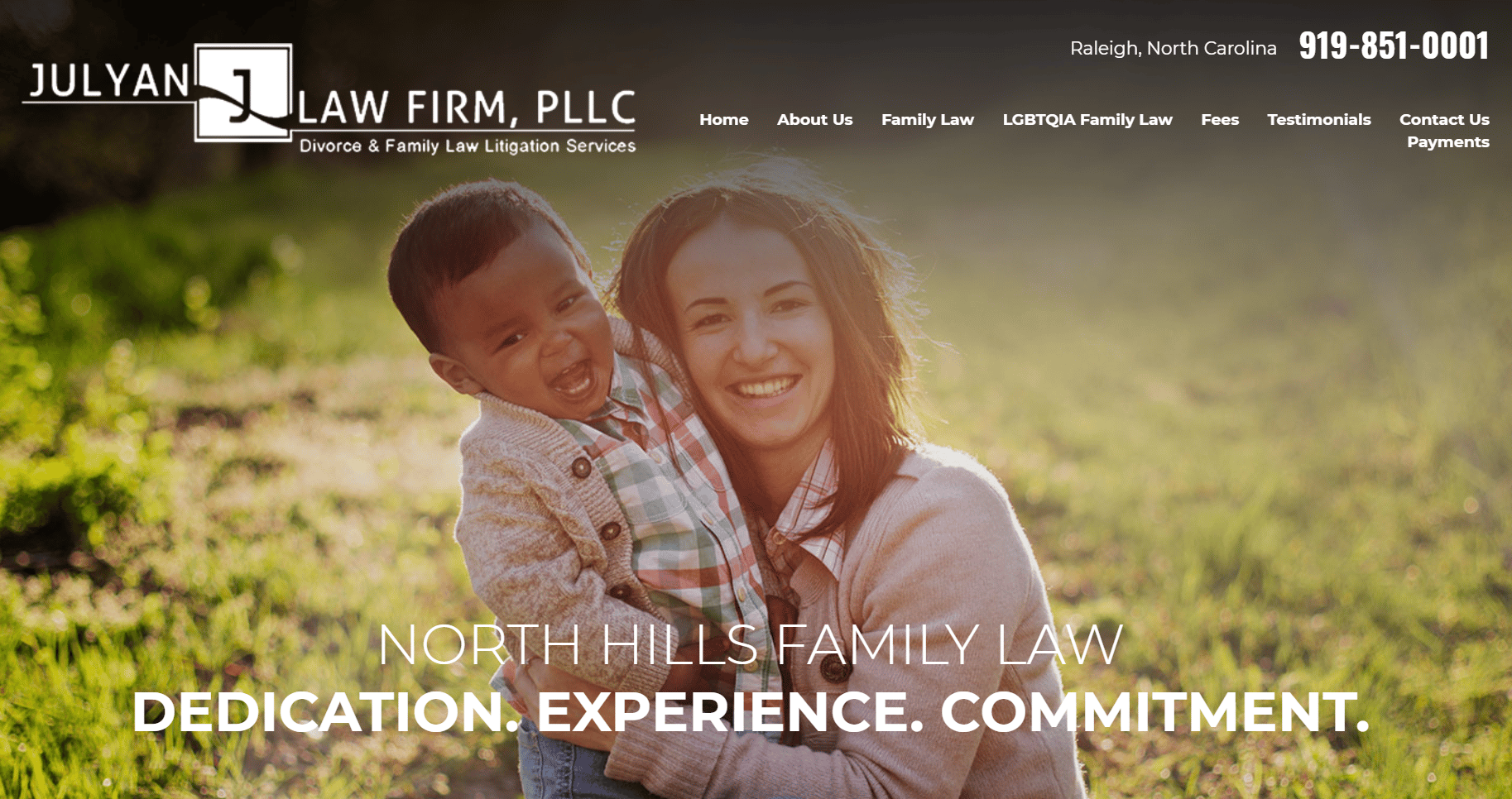 The photos and images that Julyan Law Firm uses on their website are emotive and chime with prospective clients looking for a family lawyer. They also stress that they are LGBTQIA friendly and proudly represent same-sex couples.
13. Vaught Law Firm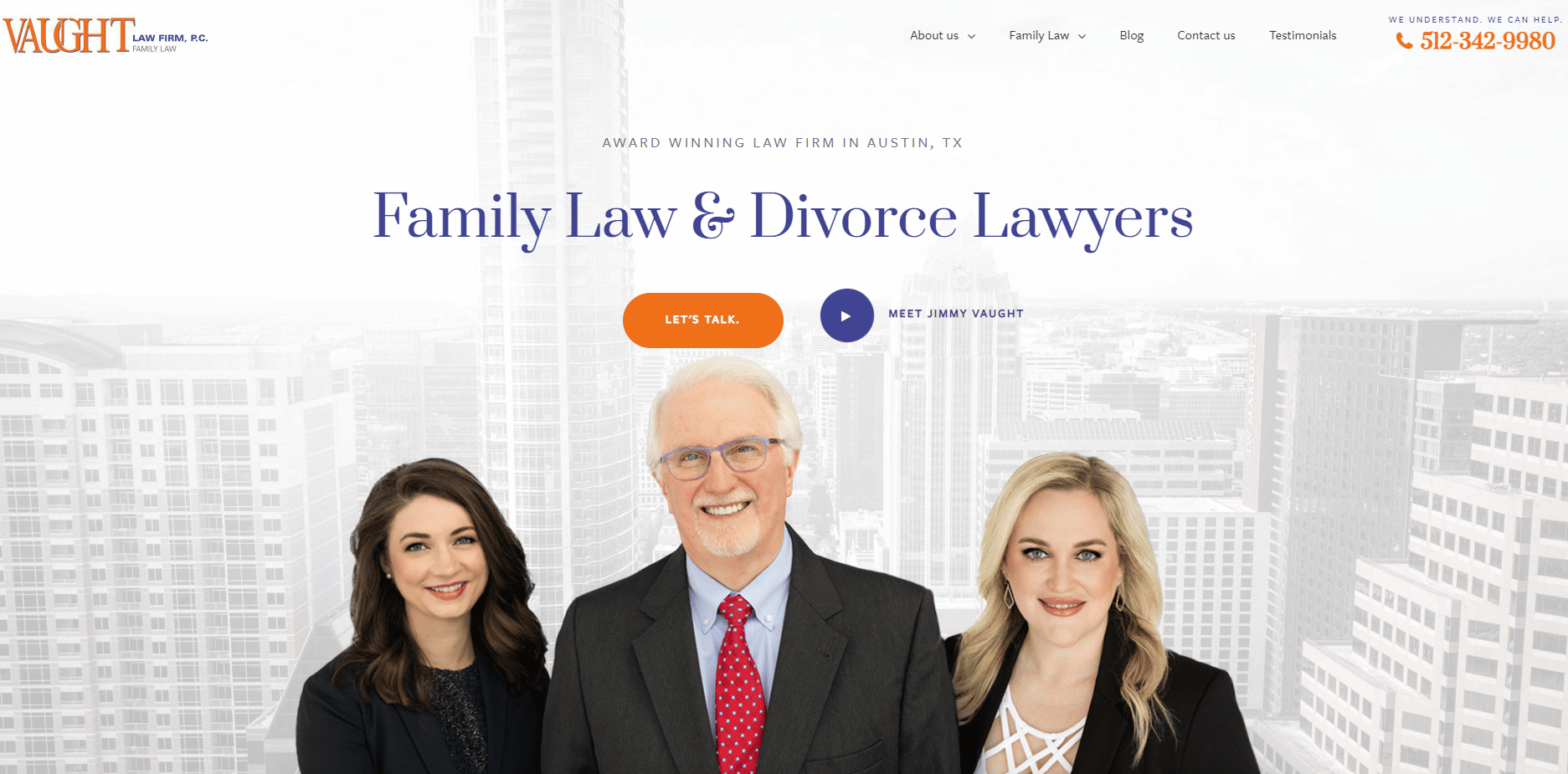 A simple yet elegant website, with high-quality professional pictures used throughout.
14. Mandel Law Firm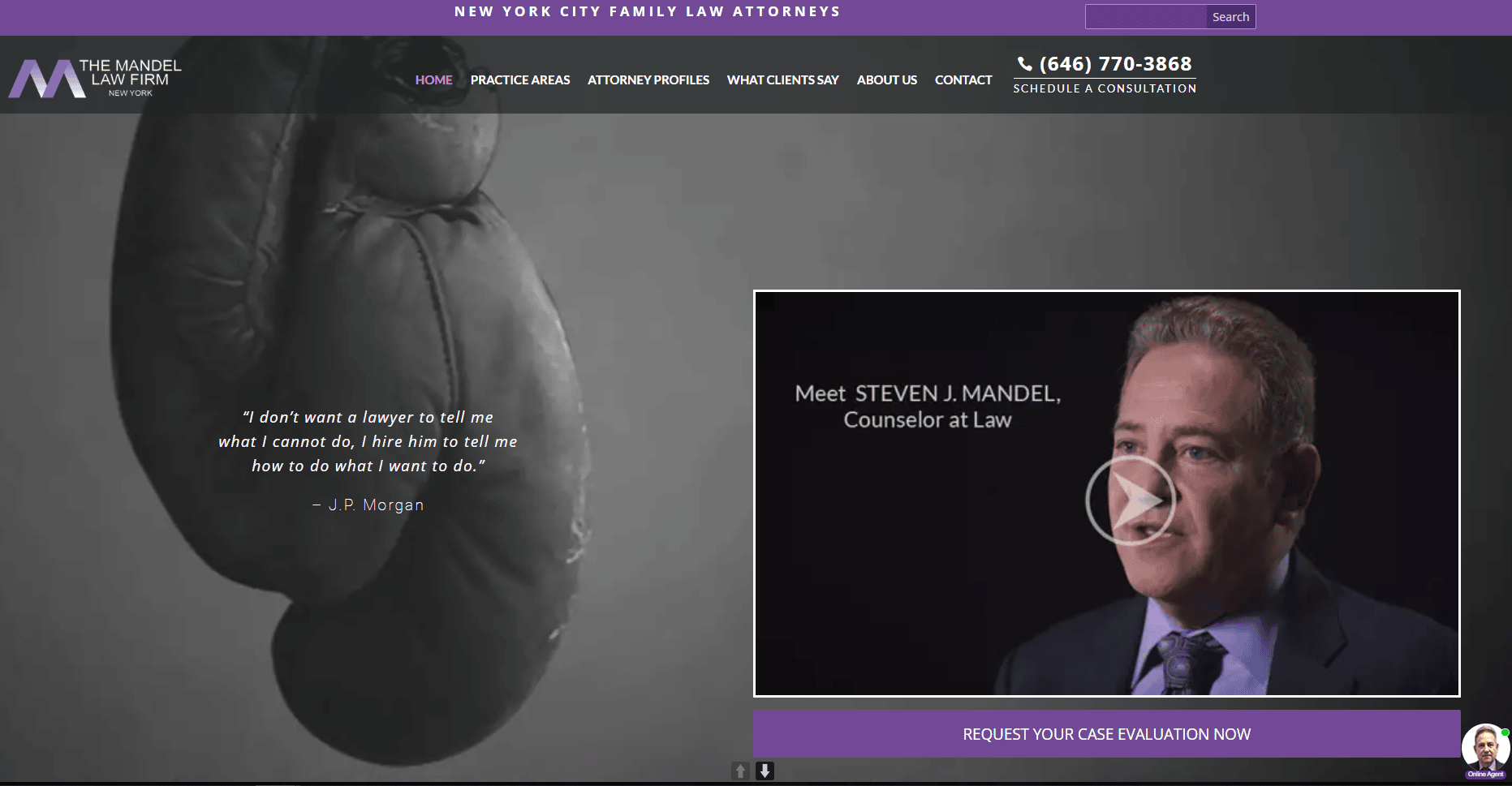 This website engages visitors from the start with it's rolling news update feature.With  live chat functions and consultation form links prominently placed on the website, visitors have no shortage of ways to get in touch.
15. Randal Lowry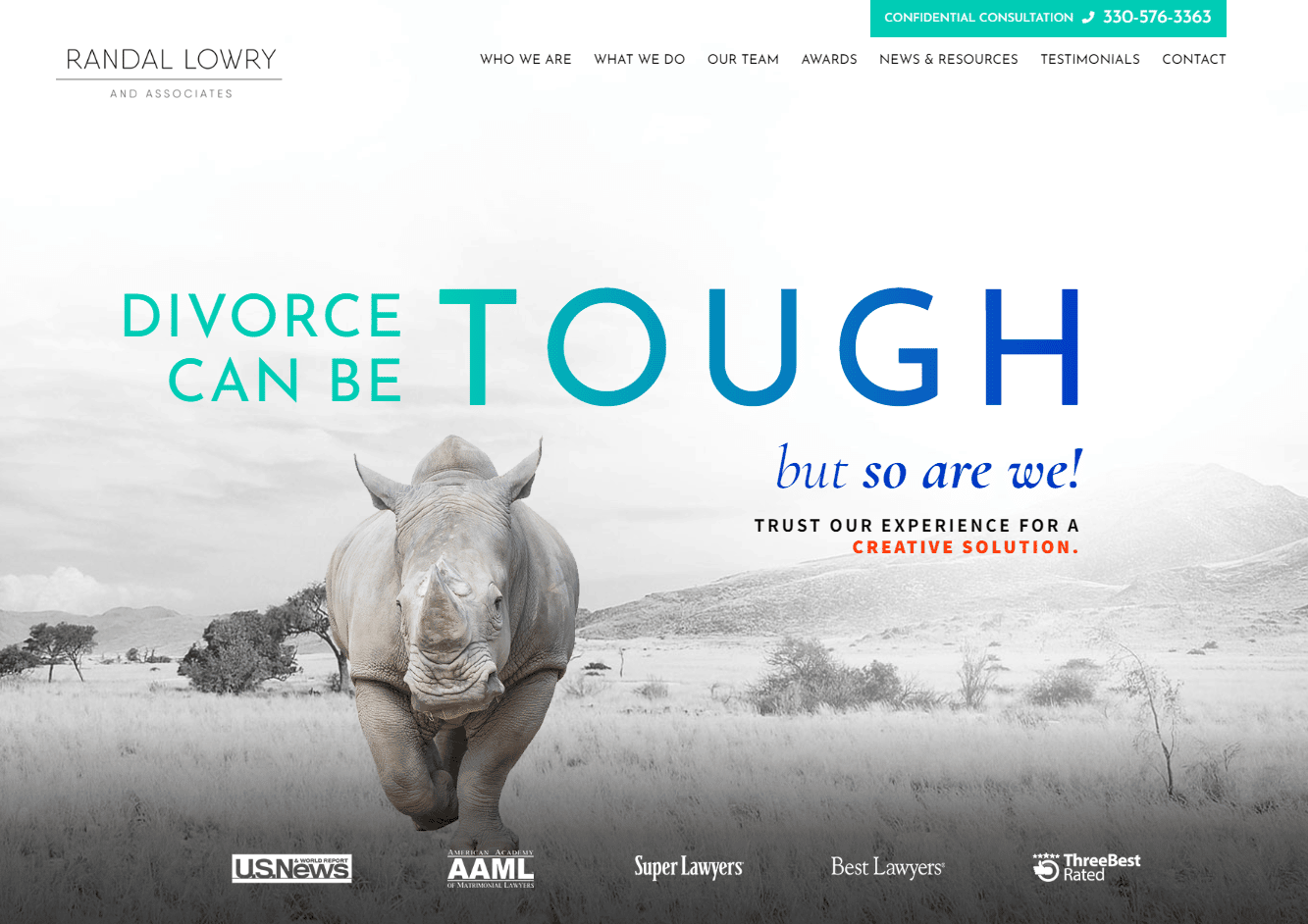 This family law firm website design effectively projects their image of toughness, with attention-grabbing images, bold typography and colors, Randal Lowry have a fresh, different looking website.
Before You Start, Identify Your Target Clients
When designing your family law website, you need to know who you are trying to reach. You have to first know who you are trying to communicate with. You need to create a buyer persona to work out who your ideal client is.
Your website is going to be aimed at communicating with them, so it's vital that you have a clear idea of who you are targeting.
You need to ask questions about who your typical family law firm client is and what they are looking for:
What do they usually look for on a family lawyer's website?
What are their behaviors?
What is their demographic?
What state of mind are they in when they are looking for a family lawyer?
What is their motivation for seeking out the services of a family law attorney?
It can take a long time to do the research and create your buyer persona, but there are a few materials available online that can help make this task a lot easier. To save yourself some time, you can use our Free Buyer Persona template, an invaluable tool which can help to visualize your typical client.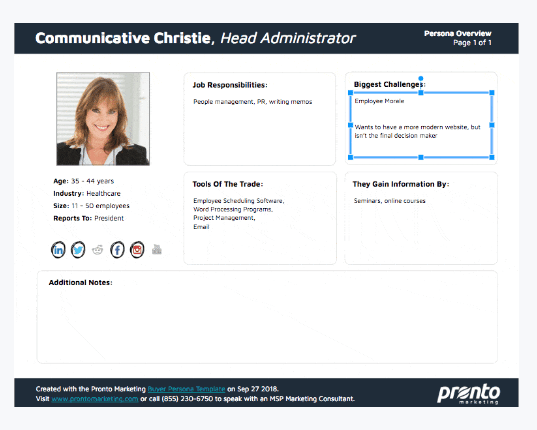 An example of a buyer persona template
Once you have identified the target client for your law firm, you can start to think about what features you need to have on your website that will grab their attention.
Design for Your Target Audience
For many prospective clients your website is the first interaction your audience has with you or your company. That's why it's important to have a law firm website that represents who you are and reflect the message you'd like to get across.
Functional design
You need your law firm's website to be tailored for your prospective clients. For example, if your typical customer is older, you might want to consider making the text a little larger than a typical website and cut out all the distracting animations.
What you should always have in mind when creating your family law website is how potential clients feel when they visit and explore through your site. It should be as easy and enjoyable an experience as possible for them, such as Larison Law's website.
Unreadable fonts, bad color choices, annoying popups, and a poorly laid out site that is difficult to navigate are all things that can leave visitors with a negative impression of your law firm.
If your site isn't user friendly, then it won't attract visitors or generate leads!
Emotional design/marketing
How do you want people to feel when they see your website? It's an important question to consider. You should be thinking about your ideal client, what they are feeling when they arrive at your site.
As a family law firm, you may want to instill emotions such as hope, trust, and reassurance, and project an image of reliability, professionalism and empathy.
Julyan Law Firm skilfully uses images to create an emotional connection with users. Its images of happy families and parents smiling with children speak to the hopes and fears of prospective clients who are looking for a family lawyer.
Hire a Photographer
Photos of your staff and offices are a great way to show prospective clients who you are and reassure them that your firm has the right people to handle their legal problems. But without a professional who knows what they're doing and how to convey your brand image and messaging, you can really hurt your law firm's online business.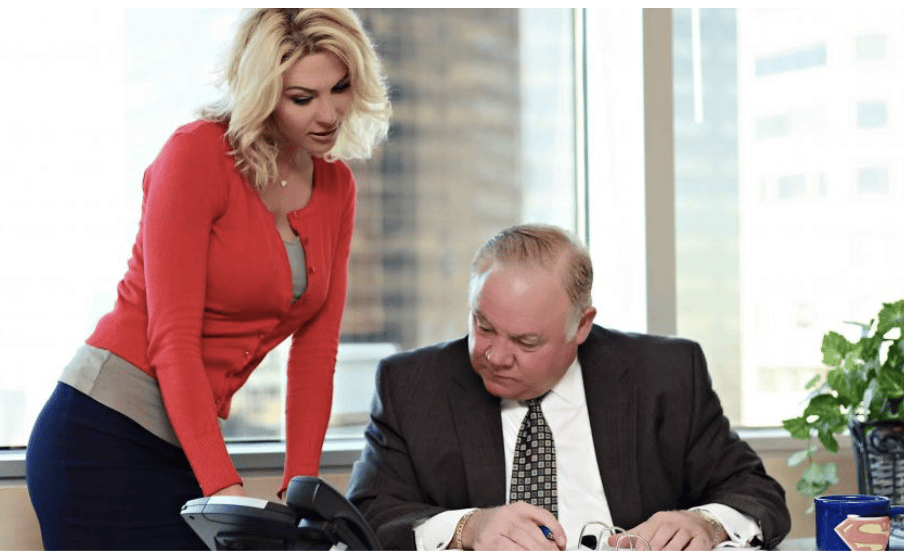 This photo is meant to show a professional lawyer hard at work, but it looks more like a sexual harrassment lawsuit waiting to happen.
Unless you have a professional photographer in-house, you should consider hiring one to do photos at least of your legal team and your family law firm's office.
You should try to avoid stock photos. It's quick and simple to grab a stock photo from the internet but they don't tell the story of you and your law firm.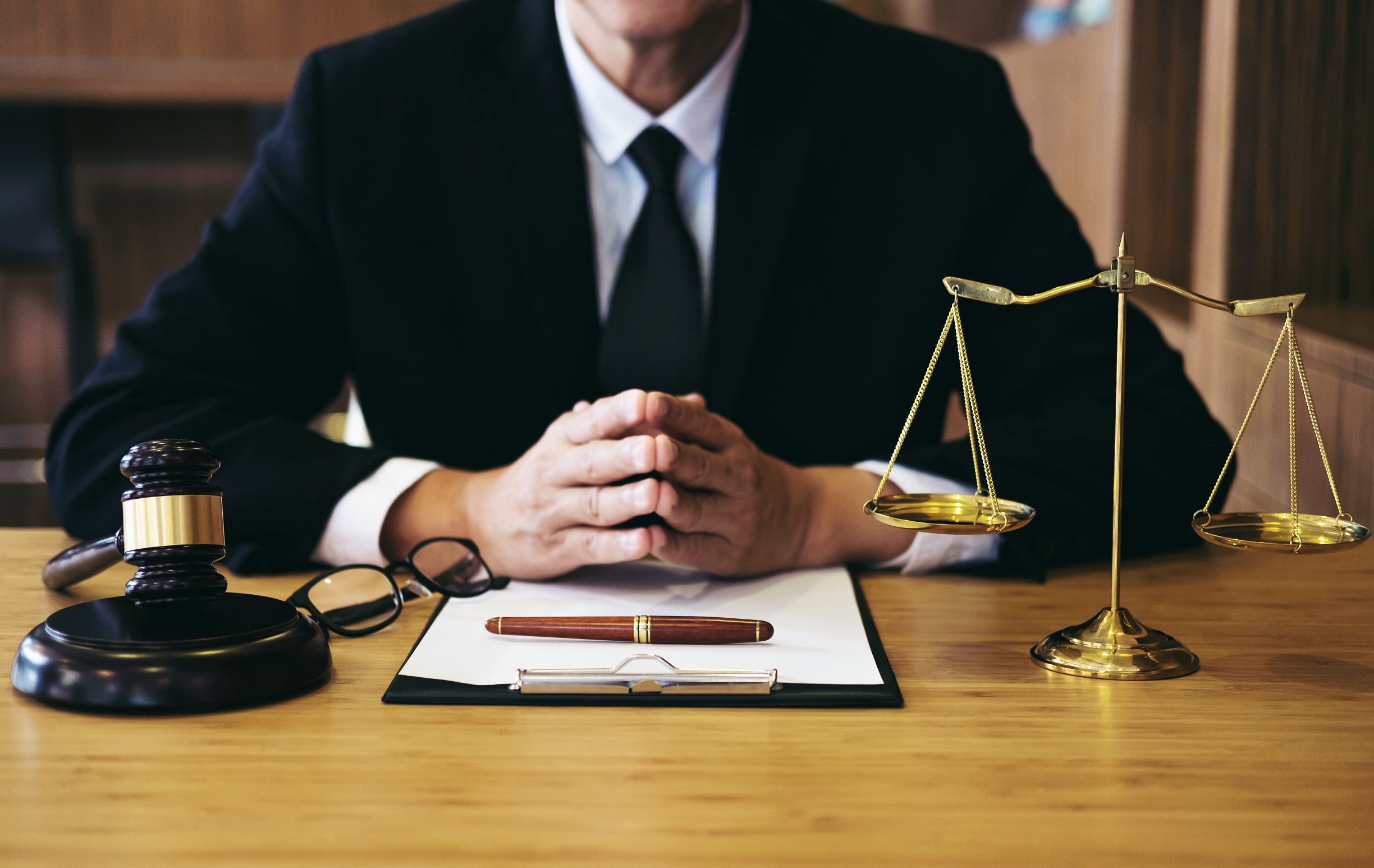 Do you know any more about a family law firm after looking at this picture?
Don't forget to brief your photographer about your target audience and the "emotions" of your brand – your photos should chime with the overall style and design of your website.
Garriott Maurer's staff photo is a good example of a nice clean photo that shows professional, approachable lawyers.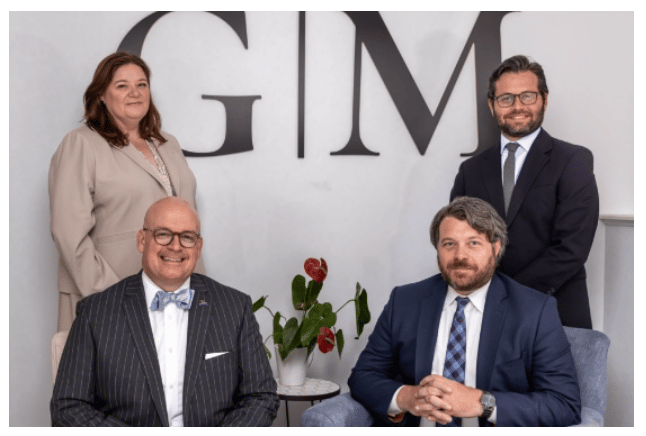 Pictured: Lawyers who look like they're good at their job!
Have a Mobile-Friendly Web Design
Your family law website doesn't just need to work well on a desktop. It also needs to be mobile-friendly so potential clients can find you from their smartphones.
As of August 2022, 62% of all website traffic comes from mobile devices. If your website is difficult to read on a mobile because your family law website was only designed with desktop users in mind, then you are putting off potential clients and causing them to leave your site quickly.
If visitors don't stick around, then you're going to have problems converting leads.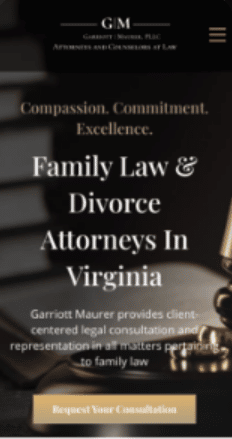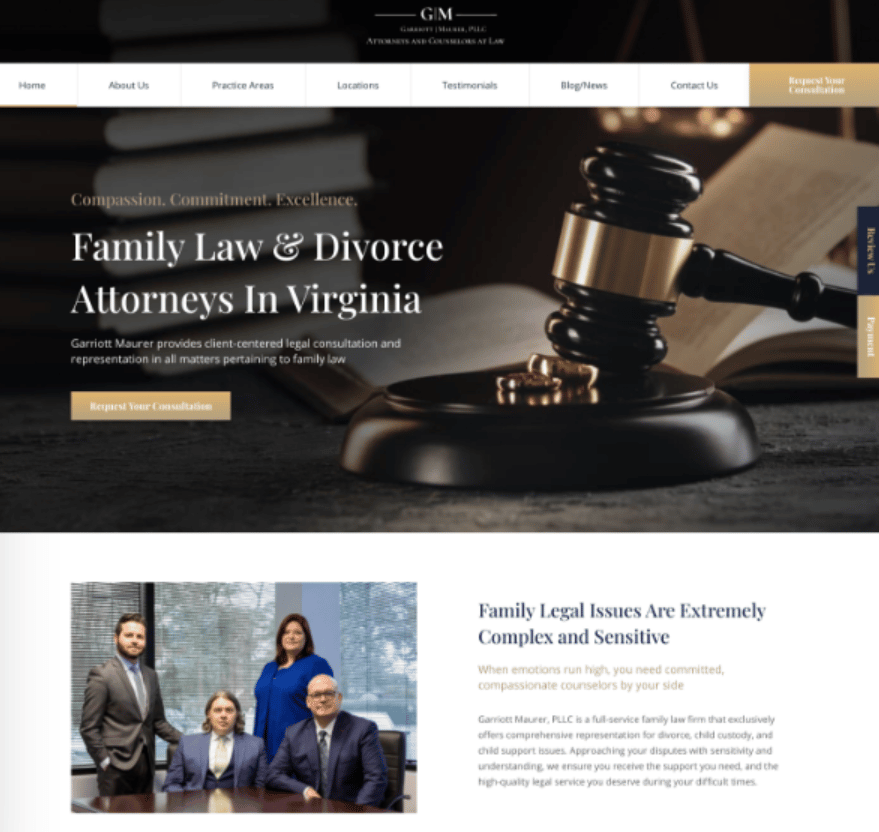 A mobile-friendly design is a must.
Having a site that is designed for mobile devices is also helpful for search engine optimization (SEO). Google differentiates between devices of site visitors when calculating rankings, so not having a good mobile site will really affect your position in search engine results.
You should also make sure that your page load times remain low on mobile devices as well as desktops.
Structure Your Website for SEO Best Practices
When designing a website for a family law firm, SEO (Search Engine Optimization) should form the basis of the web site you build. It is vital for any web site to attract potential clients.
You need to make sure that titles, heading and text on all pages are all optimized for content and relevance. This is how Google determines how your family law website ranks in their search results. SEO strategy is rewarded, especially in the long run – it's the key to getting to the top of the first page of search engine results!
SEO management can be time consuming and difficult if you don't know what you're doing, and ideally you should have a dedicated in-house member of staff dedicated to the task. In most cases (and especially for smaller law firms) it's a good idea to hire a professional to take care of your family law website.
You can leverage the expertise of our SEO specialists here at Pronto, who can do the heavy lifting for you. Get started with an SEO audit today and find out how you can optimize your family law website. You can also read more about how SEO services can boost your law firm's online presence in this case study.
Keep it Simple
In most professions you have jargon and terminology that means nothing to the average person, and the legal industry is no exception. No-one ever uses the word "legalese" as a compliment.
Remember your clients aren't lawyers, so all the content you write needs to be tailored to your target audience. What reads as plain English to you may come across as legal mumbo jumbo that makes potential clients' eyes glaze over. They will appreciate simplicity!
You need to create a website that speaks to your target audience in a language (and layout) that they understand.
Randal Lowry's website is a great example of catchy graphics accompanied by simple messaging.
It's Not About You
It's easy to get carried away when writing content for your website. A lot of firms make the mistake of seeing their websites as a chance for them to blow their own trumpet and celebrate how awesome they think they are.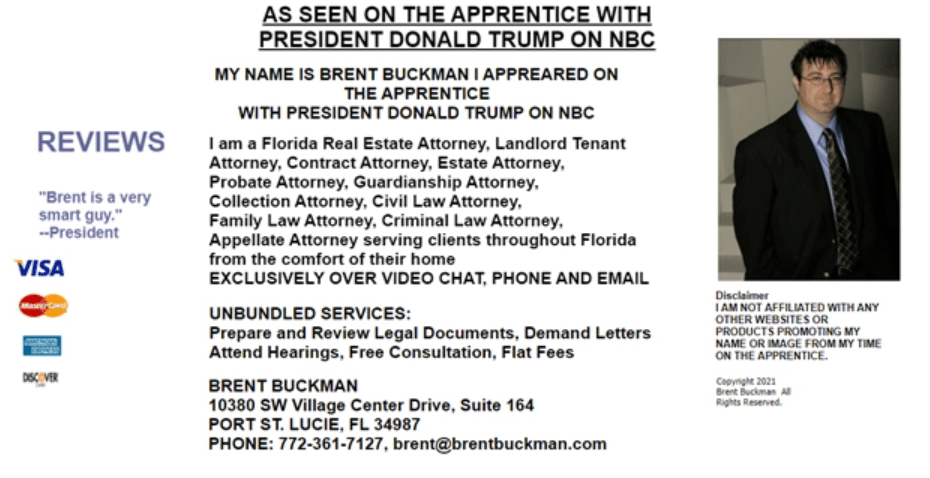 It's probably better to focus on the client instead. 
You can still talk about what you do without sounding self-centered by giving it a different angle and focusing more on how you can help your clients get what they want.
Communicate Your Services
As a family law firm, you cover a number of legal services and cases. It is important that these practice areas are clearly explained on your website. The more information you offer to potential clients, the better.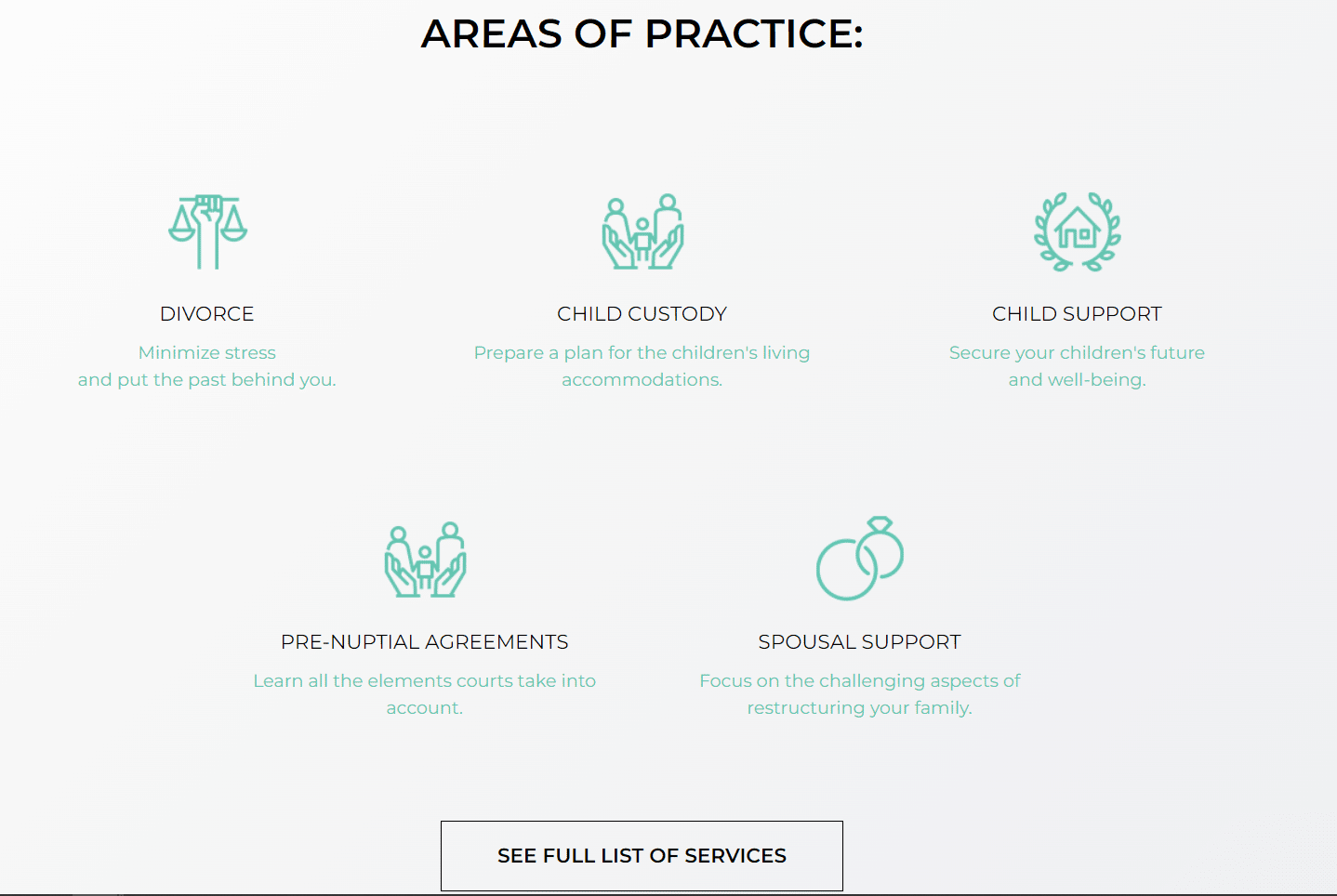 Brown Dahan's list of services.
If you do offer multiple services, we recommend having individual pages for each practice area, for example one for divorce, one for child custody, and so on.
Good Biography Page
A compelling attorney biography is a must. Due to the personal nature of family law, prospective clients like to know who they are dealing with and not just the services you offer.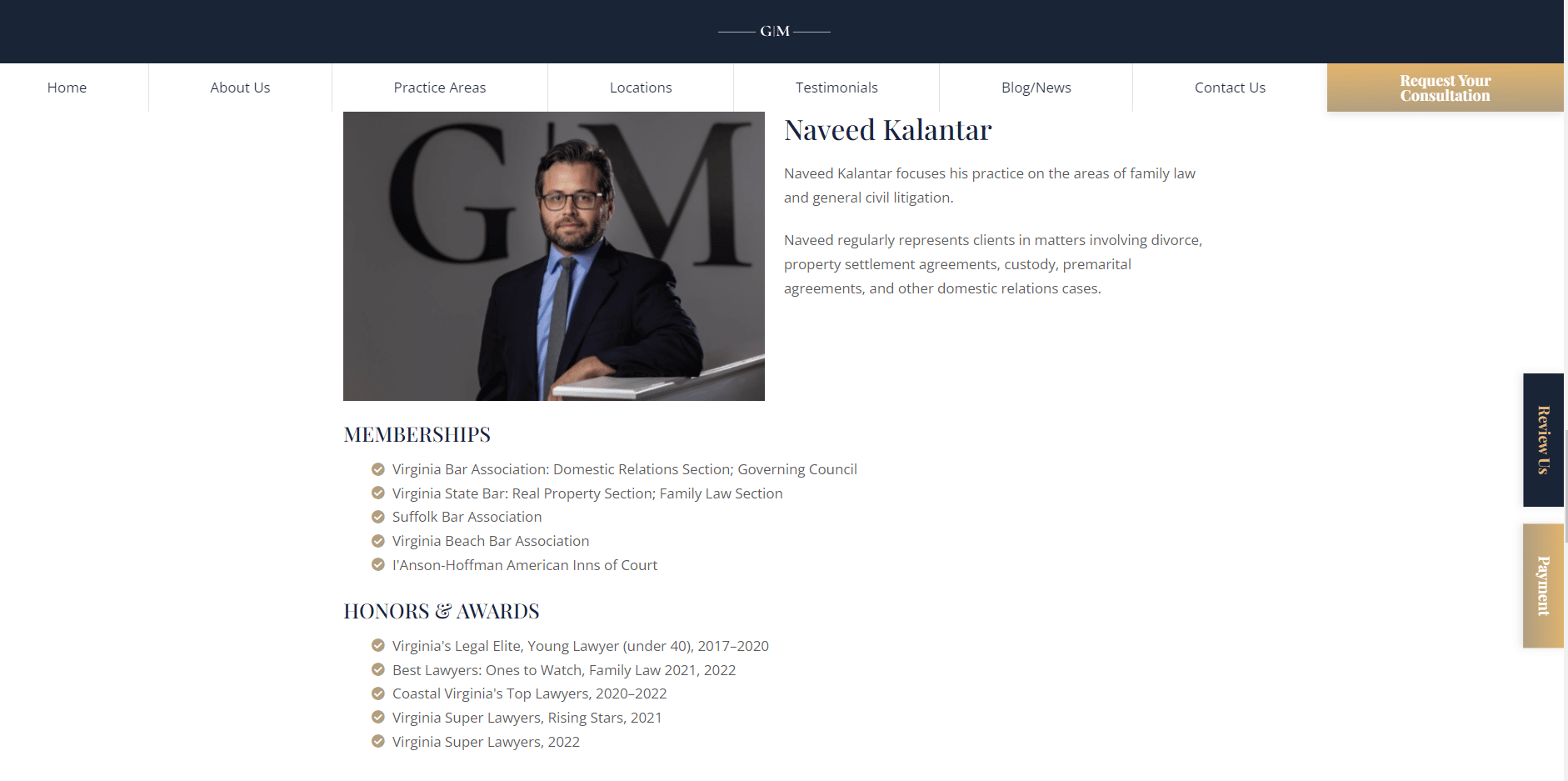 Garriott Maurer's bio page is clean and reassuring.
Make sure that you tell people your personal story, your approach to law, your results, awards and achievements, and finally a little bit about your hobbies and interests.
Customer Reviews
Unlike a lot of industries, clients here will have their personal lives greatly affected by the law firm they choose. It's helpful to have a page or section of your website where prospective clients can read or watch testimonials.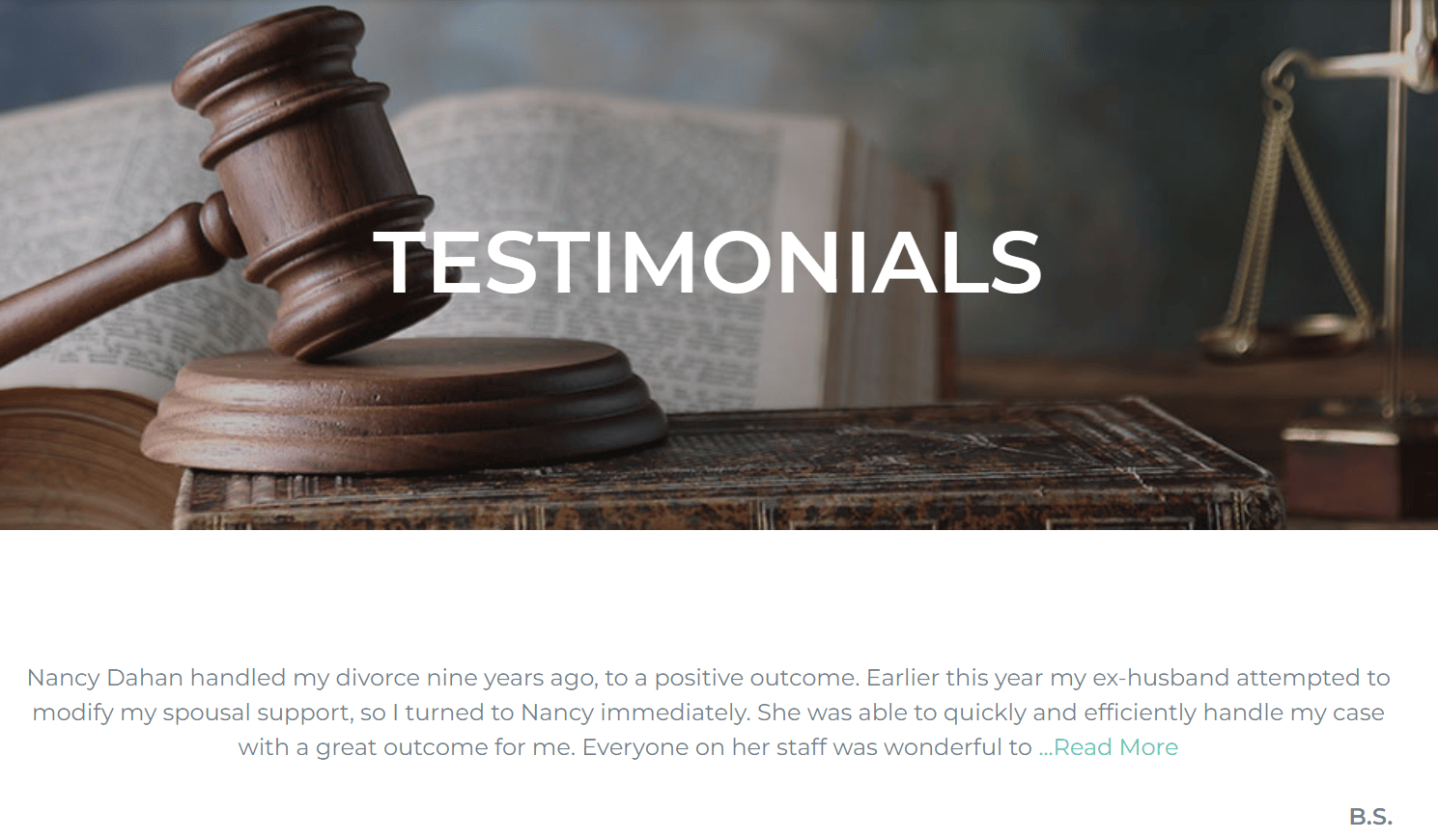 Customer reviews are a great way to persuade prospective clients.
Reviews and testimonials offer a human touch, and showing former clients with happy outcomes provides reassurance to site visitors that your family law firm can deliver for them.
Clear and Easy Way to Get in Touch
Regardless of how you choose to design your website, you need various calls to action placed throughout. There's no point in having lots of visitors and traffic if none of them are converting or if you aren't getting leads!
Make sure there are CTA's on your site inviting potential clients to call or fill out a contact form to make it easy for website users to contact you.
Take a look at Mandel Law Firm's website for some great ideas about well placed calls to action and contact forms.
Conclusion
When considering web design for family lawyers, there is a lot to bear in mind. It can be difficult to incorporate all the best practices onto your website, which is why we recommend that you leverage the expertise of a company that knows about law firm web design. Our experience in building family law websites means that we know how to create a site for you that maximizes your legal practice's online potential.
If you would like to know more about how we can build the right website for your family law firm, please get in touch.