Are you a local business that's looking to acquire more new clients through Google and improve your reputation online? A good place to free two birds with one key is to add Google reviews to your Google Business (formally known as Google My Business) profile.
Many businesses fail to appreciate how important Google reviews are to their success online.
According to a recent study by Moz, businesses with a high rating on Google reviews are five times more likely to be considered reputable by consumers.
"82% of consumers trust online reviews as much as personal recommendations."
These statistics prove that Google reviews are an important part of local business marketing.
In this article, we'll dig even more into why Google reviews are so important, and why you should make time to ensure your Google Business profile has enough positive online reviews to help you rank. Let's dive in!
What is a Google Business profile
Let's start from the beginning and explain exactly what a Google Business profile actually is.
A Google Business profile is your businesses' home on Google. This is where you show your essential business details like your opening times, holidays, founding date, local news, and customer reviews of your business.
Where can I see my Google Business profile
To find your business, you must already have a profile setup. If you haven't set this up already, your listing may have still been created by someone else. If it has, make sure you click the "claim this business" link on the profile and follow the steps.
Knowledge Panel
If your profile has been recently set up, and you don't currently have many (or any) online reviews, you may not be ranking, but you should still be able to see how your company appears on search results by typing in your business name followed by the city your business is located in.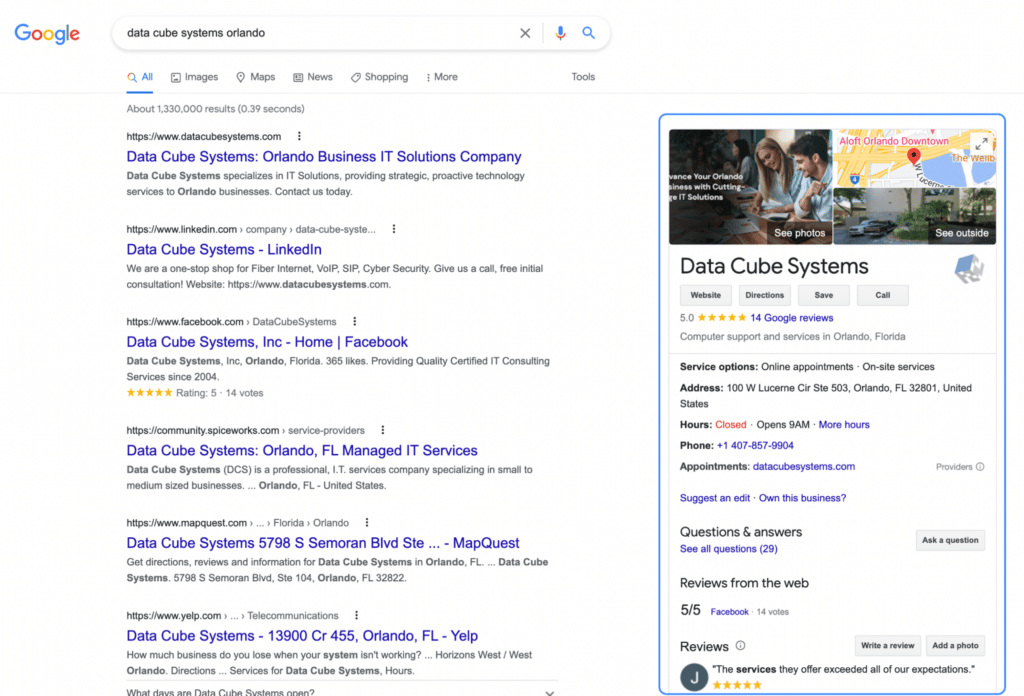 Your business profile should appear on the right-hand side of the page, and this particular area is called the knowledge panel.
You may have trouble appearing here if there are multiple businesses with the same name. In those cases, one of the best things to do is make sure you add as much information as possible to your profile.
Map Pack
Your business may also appear in the map pack — this area is above search results. Appearing here can be harder depending on the competition in your area, so getting more positive Google reviews than your competitors is essential to rank in the top 3.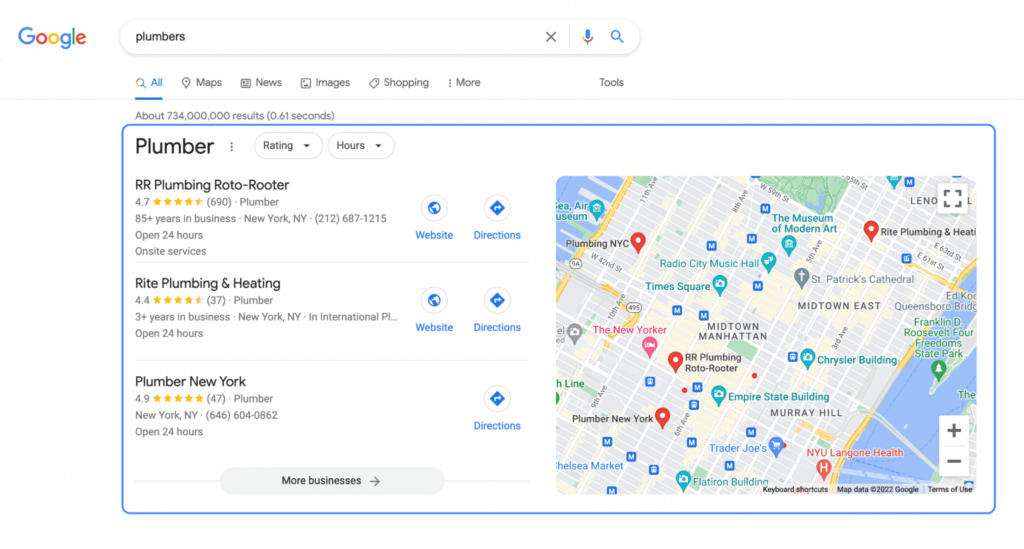 Google Maps
The last place you'll be able to see your Google Business profile is in Google Maps. Similar to the map pack, this list is ordered by relevance and proximity to the searcher, and Google reviews play a big part in how far up your business ranks.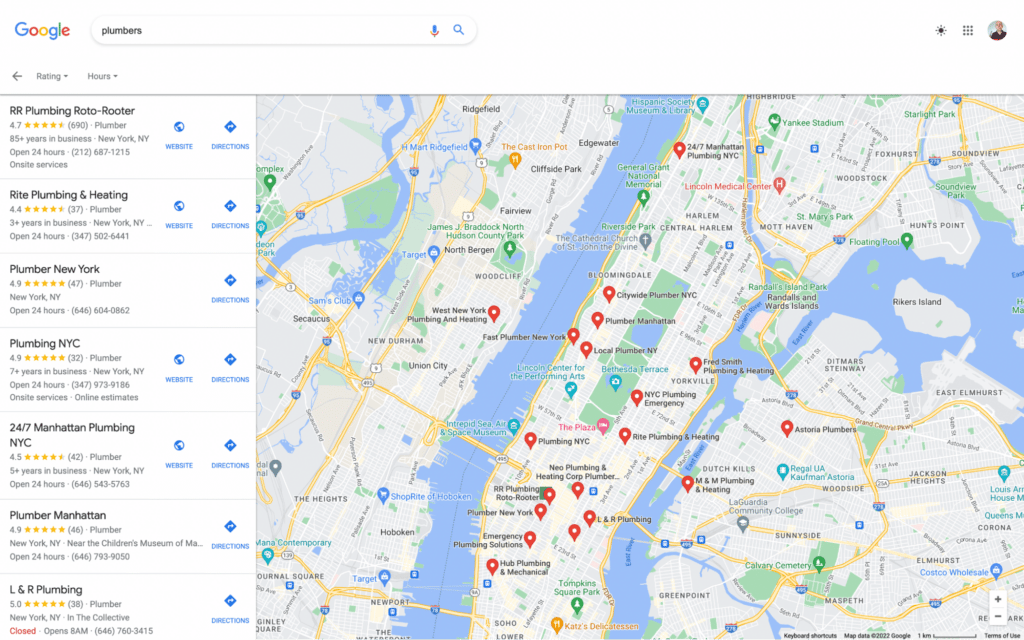 It's important to note that if your business doesn't have a public address you'll find it much harder to appear near the top.
What and where are reviews on Google Business profile
Reviews on your Google Business profile are reviews from customers about your products, business, or services. Only one Google review can be left per customer.
You can find your reviews anywhere your profile is showing, including in Google Maps and in the map pack. However, individual reviews only show up in the knowledge panel if you have at least five. So aim for that as an absolute minimum.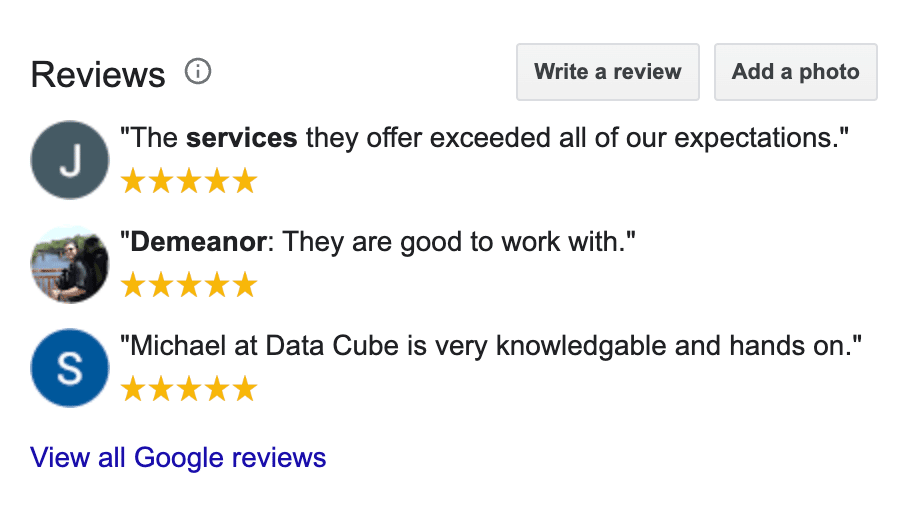 How many reviews do I need
This completely depends on your industry. For example, restaurants tend to have more reviews than the local post office since the experience of visiting a restaurant is more spirited than sending a package to someone.
Since individual reviews only show up in the knowledge panel if you have at least five, that should be your minimum target, but you should try to get ahead of your competition. It's encouraged to check how many Google reviews your competitors have.
To do this, type into Google a phrase that you think your customers would typically use to find your business (for example, "plumbers in charlotte nc"), and notice how many reviews each business has on the map back. You need to beat these three!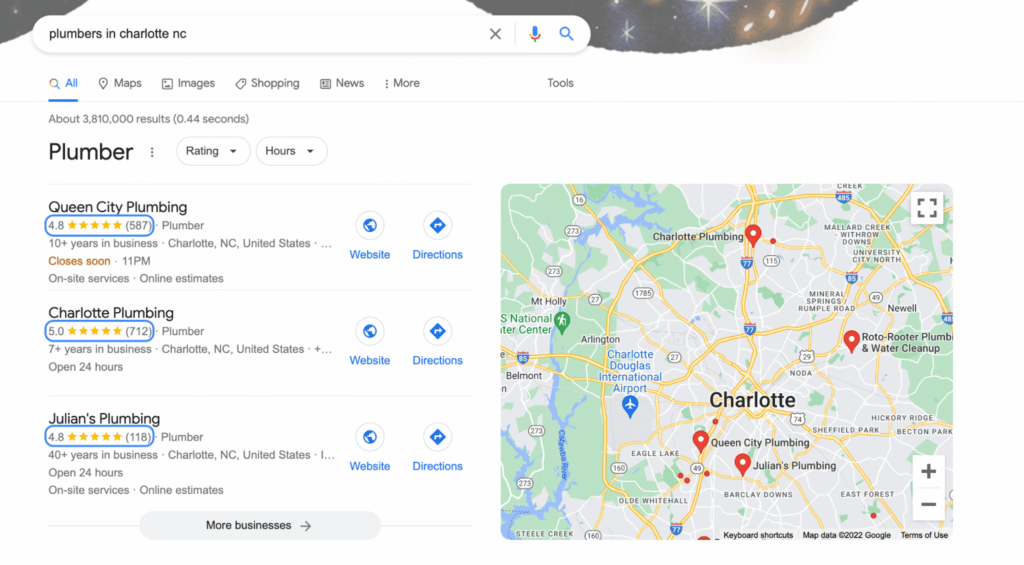 Why are Google reviews important and what are the benefits
Google reviews are often neglected by businesses, but they have a huge impact, not only on getting a better position in Google but also on how customers perceive your business. You could have the best product, services, or website, but if your competitors have a bunch of great reviews (and you have none), you could be losing customers to them.
1. Customers are looking for reviews (especially on Google)
Before purchasing a service or working with a business, potential customers are doing research to check a business's online reputation. In a 2022 BrightLocal survey, they found that 34% always check a local business's online reviews, and 43% regularly check. Only 2% of customers never checked the company's reviews.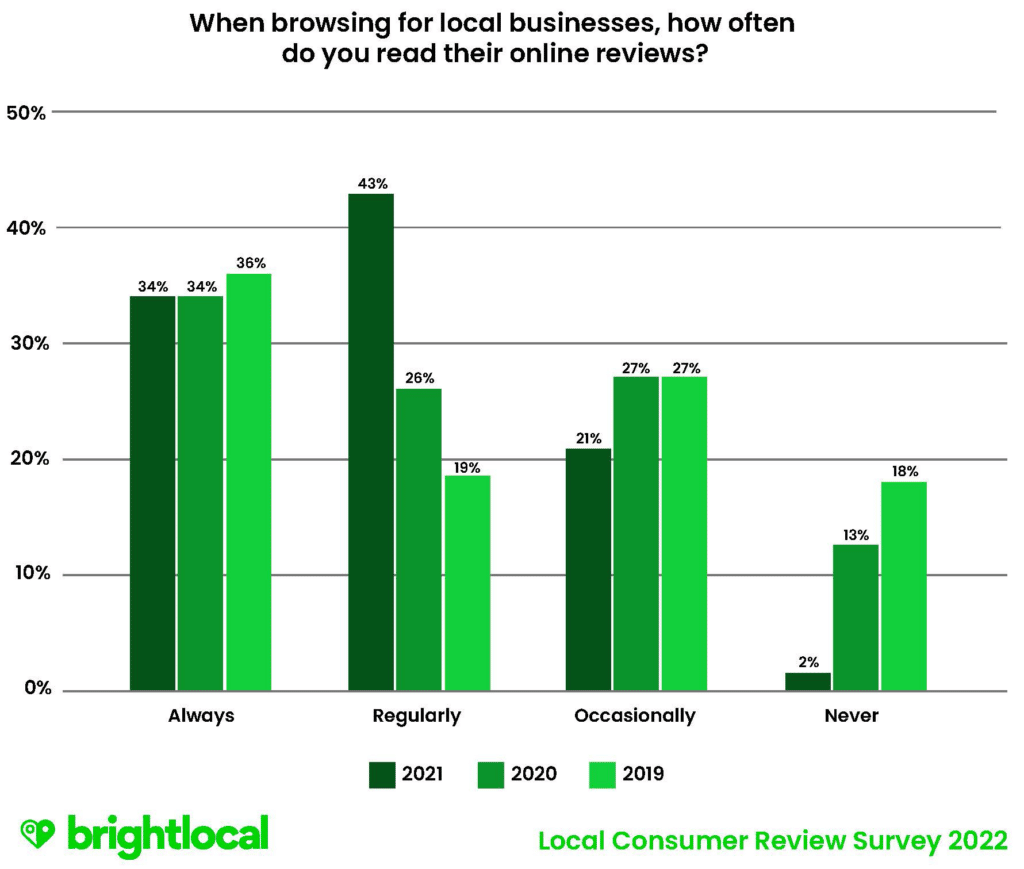 BrightLocal also found that of all the major platforms with reviews, potential customers checked Google most often. So if you're not sure which website to focus on first for your reviews, go with Google.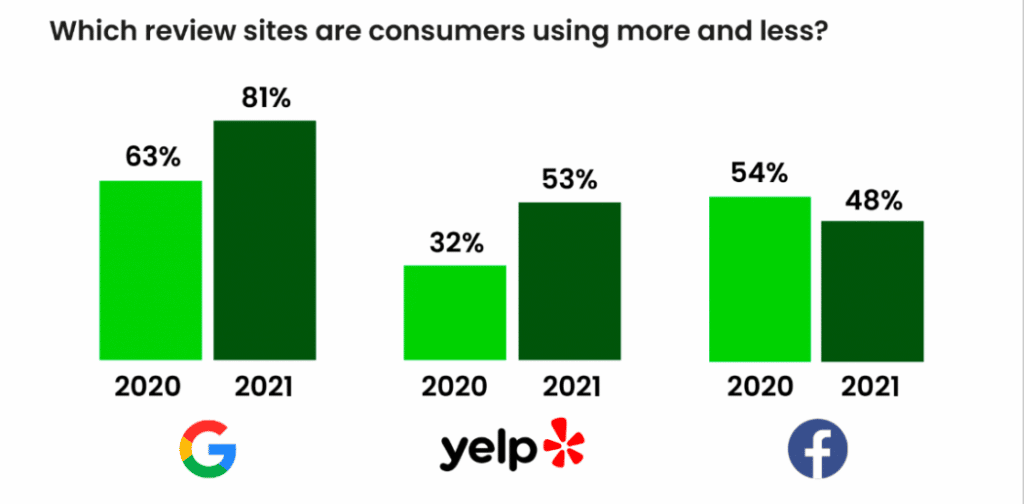 2. Higher local rankings
Reviews have a big impact on rankings and local SEO. In 2021, Whitespark released their Local Search Rankings Survey where marketers thought reviews are the second most important ranking factor when trying to appear in the 3 pack, contributing to 17% of the impact.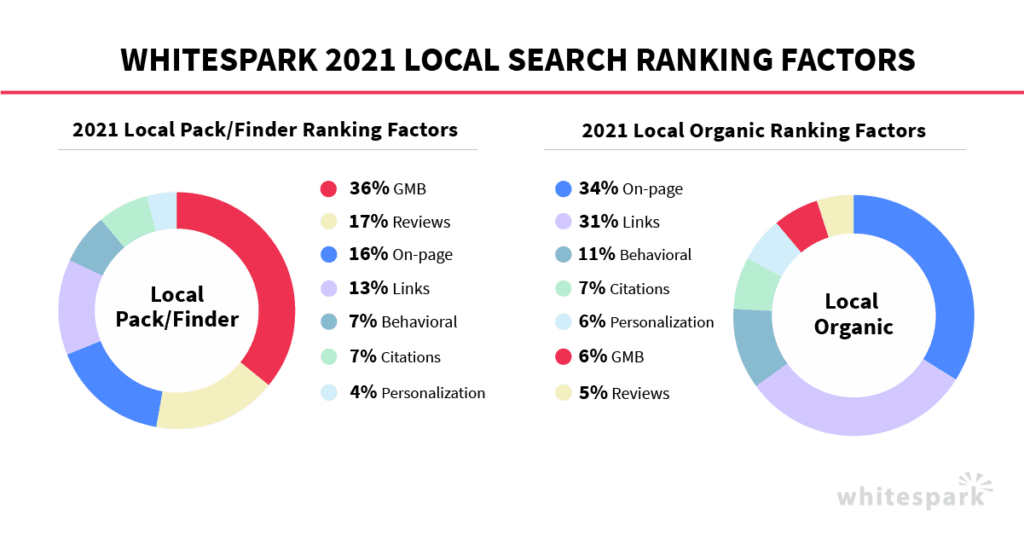 3. Social proof
In a 2021 survey, BrightLocal found that 54% of customers would use a local business with a minimum of 4 stars. It's normal to get some negative reviews, but if you have a star rating below 4 stars, try to reach out to happy customers to boost this rating or you'll be losing 54% of potential customers.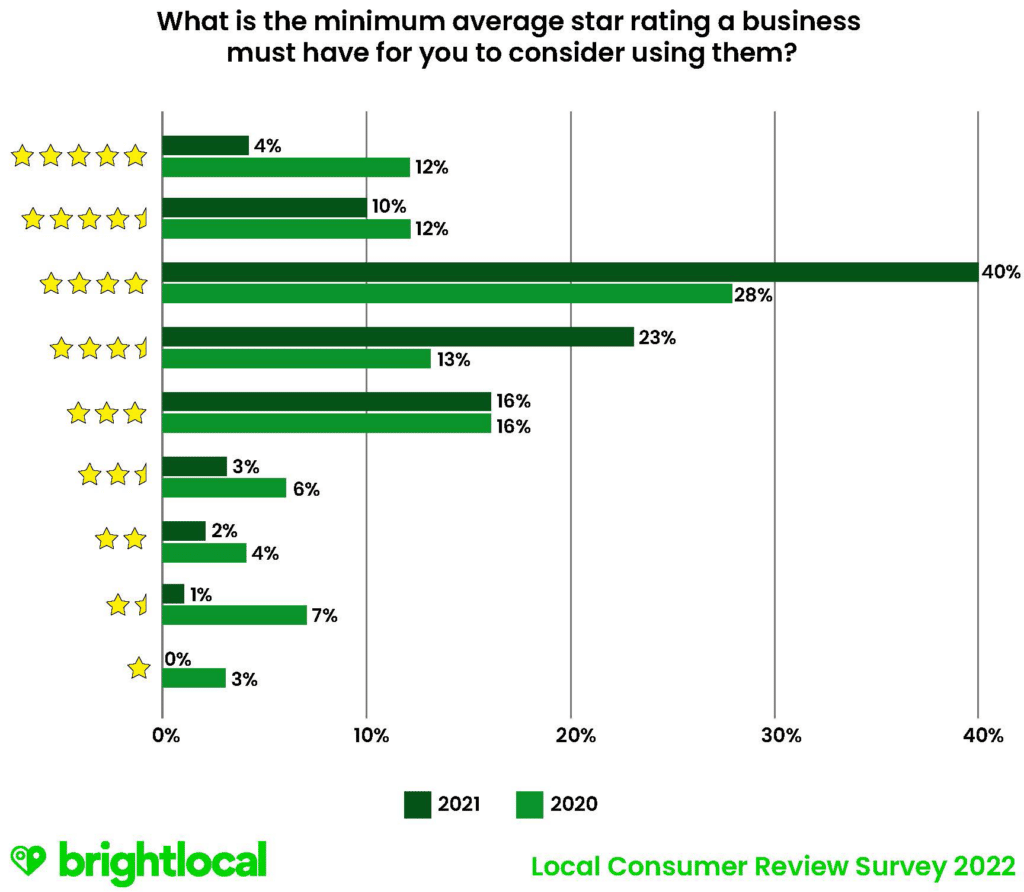 4. More clicks to your website, and calls
If a customer is not satisfied with a 3-star rating, they will stop there and move on to the next company.
Similarly, if a listing doesn't have many reviews (or zero!) potential customers won't have enough trust in the company to click the website link or call your business.
5. Zero click searches
What's increasingly common in Google Search is something called "zero-click searches". Google tries to provide answers directly within Google so you don't have to leave the page.
This means that some customers may not even visit a website before they decide to send a message, make a call, or visit the location. So if you think you have enough testimonials on your website to convince someone to do business with you, think again! Some potential customers are only looking at reviews on Google before they reach out to businesses.
The dos and don'ts of Google reviews
Google reviews should be as natural as possible, but there's still a few things to keep in mind when reaching out and managing your online reviews.
All 5 stars is not the goal and can be suspicious
No business is perfect, so if you have all 5-star reviews, customers may be suspicious as this may not look natural. Google also does its best to quality check reviews, as a potential customer would, so all 5 stars could be suspicious to Google if other signals also point to something unnatural happening.
If you get a negative Google review, don't worry. This is normal and potential customers understand and expect this. Try to outbalance this by reaching out to happy customers to get the total reviews above 4. The sweet spot that gives confidence and trust is a total star score of 4.5.
Don't ask employees
Reviews are not for employees to review their workplace. It may seem obvious but some companies don't know how to reach out to their customers, so ask their employees to leave a review. They then write something like "Great place to work". This isn't what customers want to see and will do little to help them choose your business over another that has genuine customer reviews.
It's also common for some businesses to ask their employees to pose as customers and leave glowing 5-star reviews. Because reviews are good for local SEO and such an important Google ranking factor, Google takes quality control seriously. If there are several reviews that Google thinks are fake, your listing could be removed.
Be proactive
Don't wait for reviews to happen. Depending on your industry, they may not come quickly. Often customers need a soft nudge to leave a review.
I'll give a personal example.
I picked up my car recently from a long-stay car park and rental company. After I arrived home, I received a message from them saying they hoped I had a nice experience, and if I could leave them a review on Google. Guess what… I did! Would I have if they didn't ask for it? Probably not in this case.
So if a customer is happy about the service you provided, don't be afraid to check in with them. Ask them how their experience was and if they wouldn't mind leaving a review, and add a link in the message to your listing.
Don't rush them all at once
Building reviews naturally won't happen overnight, so don't try to rush reviews in one week then stop for months. If reviews happen all at once, and nothing for half a year later, Google is going to think the reviews aren't genuine. So contact customers and ask for reviews, but stay consistent. Make this part of a process so that customers are contacted regularly.
Reply to reviews (even bad reviews)
Potential customers love seeing businesses that are engaged with their customers. So when you start getting reviews on your listing, try to reply to each one of them. It doesn't have to be a long reply. You can just thank them for choosing you and leaving a review.
You should also reply to negative reviews. When you do get some negative reviews, be polite and try to take the issue elsewhere as soon as you can. Ask the customer to reach out to you via email to get the problem fixed. This will soften the negative review for other potential customers as they see you take customer experience seriously.
How can I get more reviews
OK! So now you know why Google reviews are so important, but you might be a bit stuck on where to start. There's no one way, and it can depend on your industry and how you normally interact with your customers. Below are a few ideas to get you started.
Message happy customers
Soon after a positive interaction with a customer, or right after you've done business with them, reach out, ask how their experience was and if they would be OK to leave a review on your Google listing.
Try to send the message out near the time of the interaction to maximize your chances of getting a review. This could be soon after they've purchased a product or a positive interaction during an ongoing service.
Here's a template to get you started.
Hi, [CUSTOMER NAME]
We hope you're happy with our [PRODUCT/ONGOING SERVICE], and if there's anything we can do to help or if you have any questions, please let us know.
If you've got a spare moment, we would appreciate it if you went over to our Google Reviews page and left us some feedback on how we're doing.
Thank you for your time, and if you need anything else just give us a shout on [INSERT NUMBER].
The [BUSINESS NAME] Team
Automate the process
Manually reaching out to customers is personal, but can be time consuming. There are a few reputation management tools out there that can help automate some of the process for you.
These tools tend to have integrations or snippets you can add to your messages where they are prompted to complete a net promoter survey. If the score the customer gives is 8 or higher, the tool will ask them if they could also leave a review on a platform like Google. This way only happy customers are asked to leave reviews.
A few review apps are
Add a review widget to your website
Once you have a few positive reviews, add a review widget to your website to show them off. Not only does this provide social proof to establish trust with the potential customer, but it also shows current customers where they can go to leave a review.

Usually, reputation management apps, like the ones mentioned earlier, also provide widgets you can add to your website. If they don't, and your website is created on WordPress, you can try these plugins.
Where else can I add reviews
Depending on your industry, there are different platforms to collect reviews from. Some website directories are specific to an industry or type of business. For example, what's important for Pronto Marketing is to get reviews on Clutch. This is because Clutch focuses on B2B companies, and is a popular place to look for web design and WordPress maintenance and support companies.
Popular websites for any business
There are some directories that are good for nearly all businesses. Here's a few popular websites to ask for reviews on to get you started.
Search Google to find directories
There are a lot of directory websites covering most industries. The best way to find one for your business is to perform a search on Google with a phrase your customers are likely to use, then look to see what directories (if any) appear in the local search results. Depending on what's important to your business, you might want to send customers to one of these websites over Google, or both!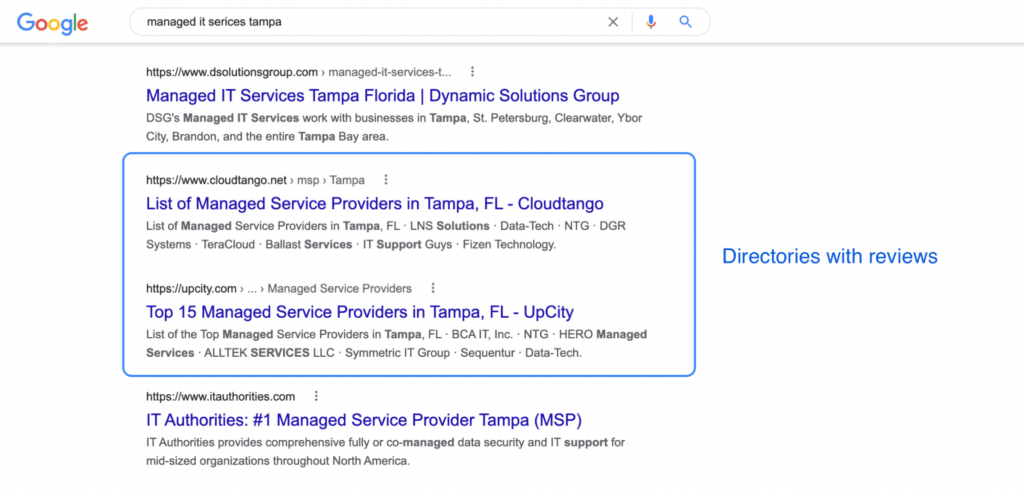 What else can I do to improve my Google Business profile
While getting enough positive reviews on your Google Business profile is important, there's still lots more you can do to make the most out of the platform. We took a deep dive into Google Maps marketing here, but read on to get an overall view of what you should be doing.
The right business category
Aside from reviews, choosing the right category is vital for Google listings. You're able to choose up to 10 categories, but, in this case, less is more!
The more categories you add, the more diluted their strength becomes. The key is to choose the least amount of categories that describe your business. For example, if you're a pizza restaurant and only serve pizza, you wouldn't need to add "restaurant" to your categories. It's better to choose categories like "pizza restaurant", "pizza delivery", and "pizza takeaway".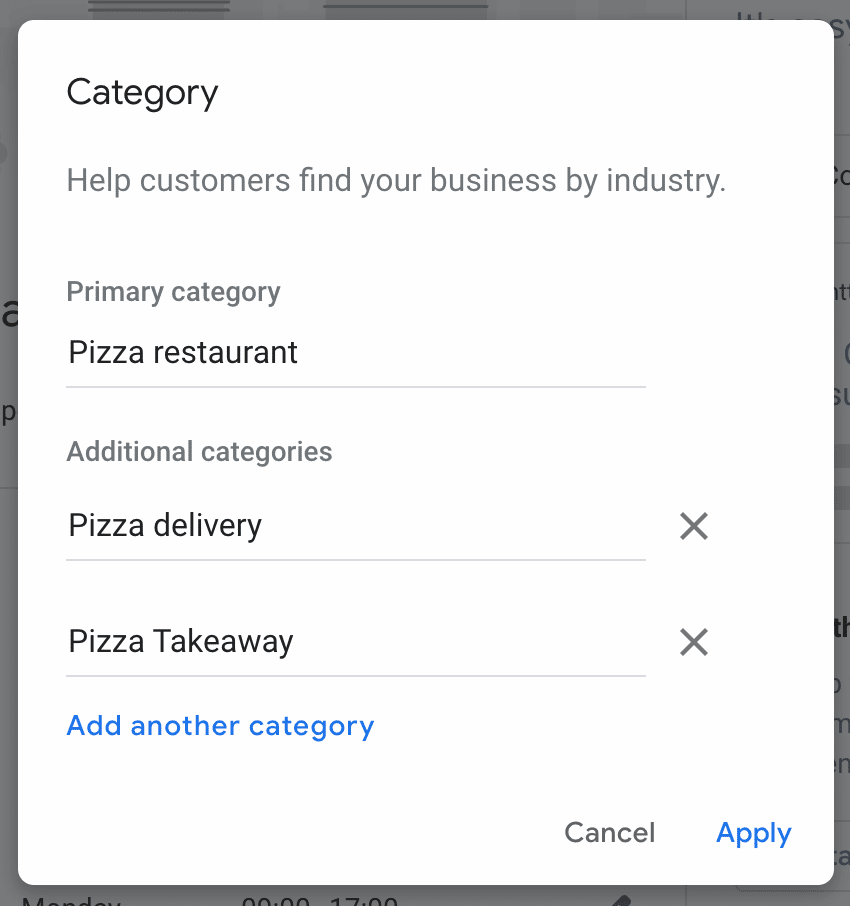 Post
Posts on Google Business Profile don't have a direct impact on local rankings, but they are an important way to show that your business is active and engages with customers. Posting often can let customers know what you're about, the services you offer, and let them know that you're an active company ready to do business.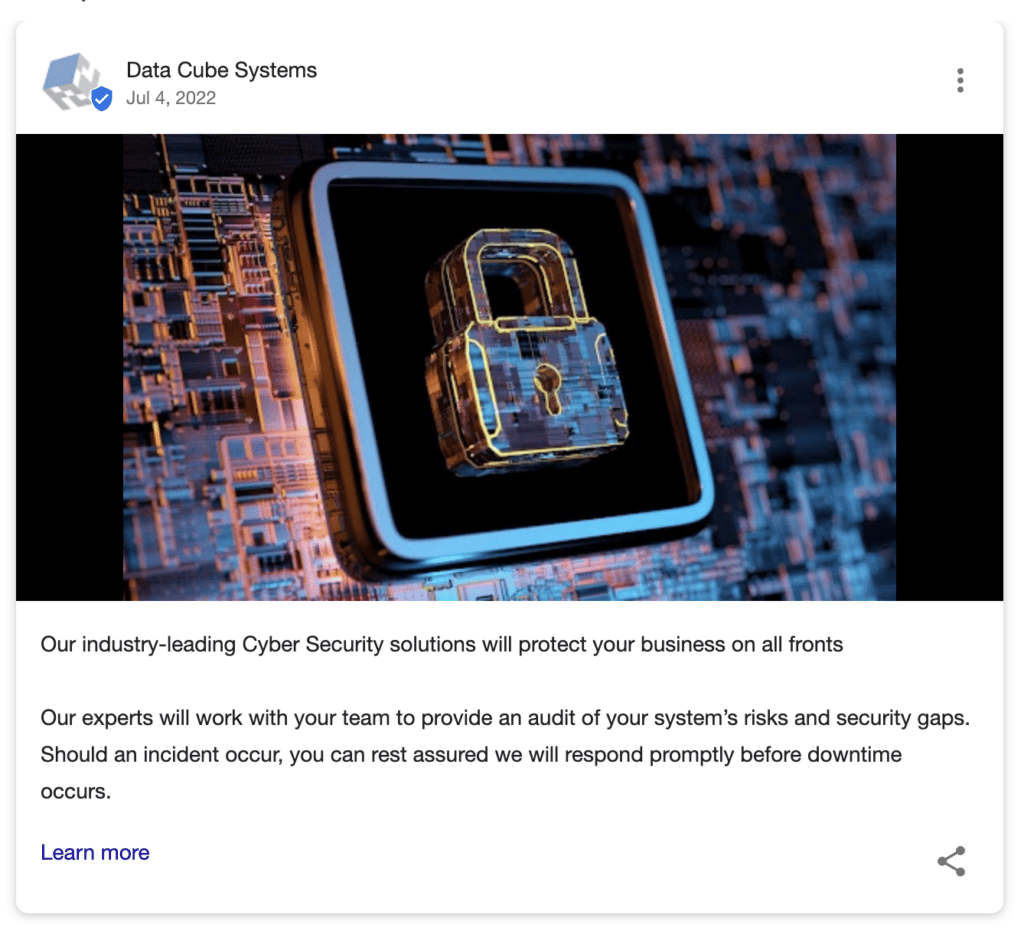 Questions and answers
Questions and answers is a feature for customers to ask questions that the business owner or other customers can answer.
Businesses can also add their own customer questions and answers, so no need to wait for a question to be added. Just think of the most popular questions you get asked, then add them to your questions and answers section. This helps remove any barriers of entry potential customers may have before they contact you or make a purchase.
For example, "Do you offer a money-back guarantee?" or "Is there parking?".

Citations
Citations are company details listed on business directories. Adding your details on these websites will not only put your company in front of potential customers searching the directory, but it's also a signal to Google that you are a well-established company.
When adding your business details to directories, make sure the information you're adding is consistent. Businesses sometimes mistakenly use slight variations of their company name or address on different directories. So make sure you're adding the same details every time.
Conclusion
If you're a local business, Google reviews are not something to sit idly on. Not only do they have a big impact on rankings, but they also improve your online reputation, which heavily affects whether customers would want to do business with you or not. Depending on your industry, customers are likely to research several companies, and they are more likely to choose the company that has 48 positive Google reviews over a company that has one.
Try to think of a simple process of reaching out regularly to your customers to give them a soft nudge towards your Google reviews, or whichever platform is important for your business. The time spent doing this will be greatly rewarded in the form of more sales and signups.
If you're not sure how to optimize your Google listing, or don't have time to manage your Google Business profile account, contact us today to learn more about our Google My Business Management services. Customers who've signed up for the service have seen fantastic results.