The surge of new technology, more advanced forms of automation, and new opportunities in growing fields mean an ever changing landscape for manufacturers across dozens of fields. Whether you're stamping metal parts for the evolving auto industry or are moving into component production for the booming aerospace or green energy industries, your business has likely undergone some significant changes in the last several years.
In 2017, you can expect not only a continuing trend of changes with the growth of Internet of Things (IoT) technologies, the increased use of advanced robotics in more factory and warehouse spaces, and the growth of augmented reality and 3D printing technology. You can also expect a continuing evolution of the marketing technologies you use to reach prospective customers in these booming areas. Here are some of the trends you can expect in 2017:
Influencer Marketing Booms for B2B
Influencer marketing isn't new. Brands have been soliciting digital influencers on social media and blogs for years, sending them products to review and pushing for interviews and guest spots on their channels. But the increase of authority in the B2B space, in particular in manufacturing and industrial means a whole new platform for companies that traditionally didn't have the same crew of online experts to draw from.
For marketing and sales it means continuing to network with people in key industries and spaces that could lead to greater exposure. Trade shows remain an effective way to engage, along with digital channels like LinkedIn, Google+ Communities, and engineering and manufacturing forums.
Live Content
2016 was the year that live content really took off. From Periscope to Facebook Live, brands embraced the opportunity to actively broadcast content to their followers from a cell phone or connected device.
In 2017, the technology will continue to advance, offering manufacturers increased opportunities to tap into their audiences and really drive engagement. From new Live audio options on Facebook, to broadcast, save and share options with all of these live platforms, you'll be able to share virtual tours of your shop, broadcast your booths from tradeshows, and share meetings with your team and prospective customers live without expensive and cumbersome webinar technologies.
Growing Use of Content Marketing
Content marketing isn't a buzz word anymore – it's a part of the marketing and sales stack, and a particularly powerful way for manufacturers to communicate the value of working with them online. According to the Content Marketing Institute, 85% of manufacturing marketers are now using some form of content marketing and the number continues to grow.
But as more manufacturers get into the space, most are still developing. Only 19% of manufacturers who use content marketing in their efforts consider themselves sophisticated or mature, and most have a small one or two person marketing team handling all of these efforts. But with more than half reporting high levels of success, and with the budgets for content marketing growing in almost every field, it will remain a top component of most industrial marketing strategies this year.
Shifting Budgets from Offline to Online Advertising
In recent years, industrial companies have increasingly moved their budget from traditional offline tactics like print ads, brochures, and trade show investment to online marketing such as banner ads and search engine ads. While 85% of manufacturers report using print or offline promotion, it has an effectiveness rating of only 34% compared to the 52% effectiveness rating of paid online ads.
Combined with the rising cost of offline promotion and the lean opportunities of marketing online, the shift will continue as manufacturers look for greater return on their ad investment.
The Year Ahead for Marketing in Manufacturing
The coming year will continue to show a maturation of the marketing strategies being used by manufacturing companies. The accessibility of technology and platforms that make it easier than ever to broadcast your message to a target audience of engineers and buyers will only further expedite the process.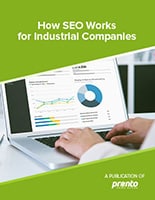 How SEO Works for Industrial Companies
This free, 15-page eBook lets you in on the secrets of tried and tested SEO best practices to drive organic traffic to your company's website.