So, you're ready to implement marketing automation for your business. Good move. Marketing automation techniques allow you to implement automated lead nurturing tracks, follow-up systems, and more in-depth tracking to ensure a higher rate of conversion on your website from potential prospects. It makes your website and everything associated with it more efficient.
But much like automation in your facilities, marketing systems are all created differently, and knowing which will best represent your needs and help you achieve the results you're after might be difficult. To help get the most out of your decision, we've compiled several steps you should go through when choosing a system for your needs.
Step 1 – Evaluate Your Current and Future Marketing Efforts
Most companies start by evaluating one of two things – price or features. It's much more effective to determine what your company needs before you look at any software solutions. Don't let the flashiness of a SaaS website or sales team influence the decisions you make, and ask yourself the following:
What digital channels are you currently using and how might those needs change?
How many campaigns will you realistically run in each year?
What is your total budget for both automation and campaign development?
Who will operate the system and what are they most likely to use?
What kind of CRM do you use and are you willing to change or adjust your sales tracking efforts?
Each question will directly influence whether a marketing automation tool will be a good fit for you. A lot of companies struggle to execute on their marketing plans because they overinvest and end up with a tool that's cumbersome and hard to leverage for success. Know your needs and resources in advance to avoid this.
Step 2 – What Data Do You Need Access to?
Once you know the types of campaigns you are currently running and plan to run in the future, the next thing you should map out is the data you'll need access to. This comes in many forms, but most often depends on the needs of your sales team.
If you're a small company and have only a few salespeople currently using spreadsheets, this becomes a matter of not over-complicating things to the point that they cannot (or will not) use the software. If you have a large team with sophisticated tracking and follow-up processes, make sure the tools you review can replicate those efforts and provide the key insights needed.
Step 3 – Choosing the Right Marketing Automation Solution
Once you know what you need your system to provide, how it will be managed, and what your budget is, you can start evaluating options. There are a lot of different software solutions on the market, many of which offer an "all-in-one" package.
It's important that you evaluate each depending on what you've decided you can afford and what you need the software to perform. While the bells and whistles of these software packages can be impressive and enticing, they may not directly relate to your marketing goals. Some sites that help with comparisons of these options include:
Spend some time reviewing not only the write-ups on these sites, but the user reviews for a sense of what they like and don't about each. Another option you should keep in mind is a custom marketing stack.
There are several tools that offer individual features. While something like Marketo or Hubspot offers almost every tool you would need in one package (and the price reflects this), others are specialized for a single function. Email autoresponders like MailChimp and Constant Contact, landing page tools like Unbounce and LeadPages, and CRM systems like Zoho and Sugar are all low cost and even have free options to start, depending on just how robust of a system you need.
Step 4 – Building Your Marketing Stack to Drive Results
The decision-making process may take a bit of time as you evaluate each option and discuss them with your team. For almost all SaaS products, you can get a trial of between two and four weeks as well – allowing you to evaluate the layout and setup of the tool to see whether it fits your needs.
Once you've chosen a tool that matches your company's campaigns, it's time to build it out and start automating systems. Some of the things you can do with marketing automation include:
Set up automatic follow-up emails for people who complete a form on your website.
Nurture cold or inactive prospects whom you haven't spoken with in a long time.
Track activity on your website by specific prospects, and present different content or outreach based on their actions.
Set up notifications to engage your sales team when certain actions are taken other than a sales-qualifying action (like an RFQ submission).
Capture email and contact information from people who download your brochures or ISO certification.
Offer content upgrades and additional resources to people who read content on your website.
There are several powerful things you can do with these tools that will further enhance your marketing efforts and improve your lead generation and follow-up capabilities.
How Marketing Automation Enables Greater Success for Manufacturing Businesses
Marketing automation is a tool that helps you get more out of your existing digital marketing efforts. It is not, however, a replacement for a good B2B marketing plan and a team that can execute that plan. Like any of the machines in your facility, if there aren't good people maintaining them and overseeing production, it will sit idle and underused.
It's important to take the time before investing to determine exactly what you want to get out of your marketing efforts and how a good marketing automation solution will support those efforts. Do this and you'll be setup for success for some time to come.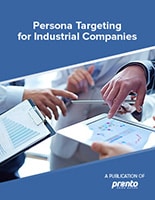 Persona Targeting for Industrial Companies
Learn how personas work and how to define yours in order to attract potential leads and improve your marketing ROI.