Thanks to the Internet, we're world citizens. In these globalized times, it isn't unusual to find yourself chatting with chums in Chicago while playing poker with Polish plumbers and selling stock to Pakistani businessmen before ordering books from Amazon and heading to bed.
Unfortunately, while online information moves at the speed of light, the reality is that our bodies are a little slower than electrons and mouse clicks. This means we're all doomed to do most of our living, at a local level. So if you wake to a flooded kitchen floor in Chicago, you can get in touch with a plumber in Shanghai in seconds, but he may take awhile to get to you and probably can't confirm a morning or afternoon repair. If you need a birthday cake in California, the Bakery in Belgium won't be able to arrange anything before the cream curdles.
For nearly all of our everyday services we have to look locally. And this is why getting listed locally is essential for any company that markets its services online; like doctors, dentists, lawyers, tradesmen, etc. When we think of the Internet as a tool to offer services and sell, the key players spring to mind: Amazon, iTunes, eBay, Staples, etc. But when it comes to the billions of daily Internet searches, these big players are small fish in a very, very big pond. Here is a fact that might get your attention!
Google estimates that 97% of consumers are looking for information about local businesses and services through their online searches!
Yes, 97% is a pretty large percentage. So if you are a small or medium business owner or run a company with several locations it is essential that you represent your company on your (or a third party) website. If you don't, you will miss out on a heck of a lot of business.
The massive increase in media such as smart phones and tablets which people keep in their pockets and use as a portable yellow pages with apps to seek out bars, gyms and restaurants is also driving this demand for local info. So it is well worth taking a look at how local search management and optimization works. So here's the lowdown on local searches.
What is a local search?
Anyone with even the most rudimentary experience of search engines will tend to include a geo-specific term in their search if they are looking for a service nearby. It could be a state or region but is more likely to be something closer to their home: a business they know, the neighbourhood, street name, etc.
And the results listings the search engine brings up will most likely have specific businesses and information such as names, phone numbers, addresses and even map locations. You're probably familiar with the mapped results that Google displays for local searches.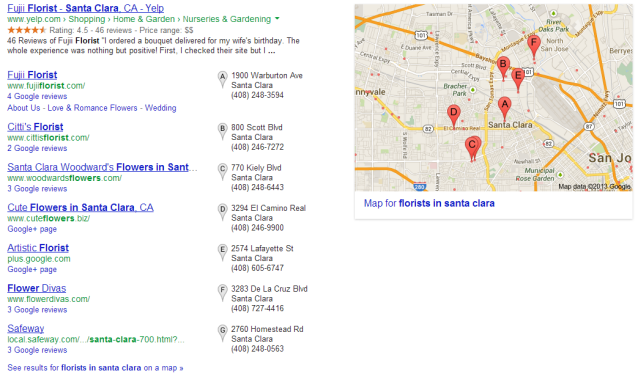 You may have even see the carousel of images that they have showing for some local searches.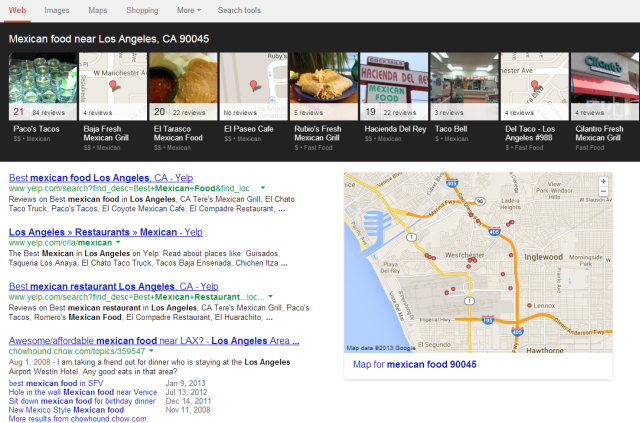 FYI – Hacienda Del Rey makes a killer margarita!
Do I really need to care?
If you care about your business, and its online presence then you need to think locally. Local searches are the lifeblood of companies. Look at it this way: 50 years ago we all did our shopping and found our services on the high street. What would we have thought of an American hardware store that hid its facade behind thick greenery and did its advertising in Tahiti? It would seem like insanity, and bankruptcy would be inevitable. Well in these Internet driven days, if you are not aiming to appear on local searches you are as doomed as our hypothetical hardware sellers!
A local search instantly connects customers and clients with companies selling services. And it seems that local consumers are doing more than searching, with some 75% performing "additional actions" after finding a local site. These "additional actions" will mean clicking on your site, looking for more information about your company or even filling in forms or downloading information.
How do I ensure my business appears in local searches?
This is something that would seem easy but actually isn't. Not so long ago, to reach out to people in the area around you, to let them know you were having a yard sale, were selling a car or even renting out a room, you would print out some fliers, nail them to local trees and fences and hope that the rain, bored kids and the local authorities didn't destroy them before you got a response.
To get your business into local searches is just as challenging. There are many Internet companies offering local area searches and they draw their data from multiple sources. There are also the results of searches from big search engines that extract pertinent information from sites. As a business owner, you need to understand where people are searching for information and ensure your company appears, whatever search parameters are used.
There are a few directories out there on which getting listed is an absolute must: Google+ Local, Yahoo! Local and Bing Places for Business should be the very minimum required for all small businesses. Beyond that, you might want to consider talking to you customers about where and how they discovered your business – Yelp and Citysearch are certainly very popular. Depending on what your company does, you could also look at niche directories like Urbanspoon or TripAdvisor, and don't forget geo-specific directories like your local Chamber of Commerce.
What about mobile devices?
Whatever type of business you're running, whether a bar, a butcher's or a bike shop, you have to be set up so that mobile users can find you. By 2015, if not sooner, it is projected, more local searches will come from mobile devices than desktop or laptop computers. And mobile users are much more likely to be seeking out local info than someone at home leisurely searching the web serendipitously. Already, 42% of smartphone owners are doing at least four local searches a week.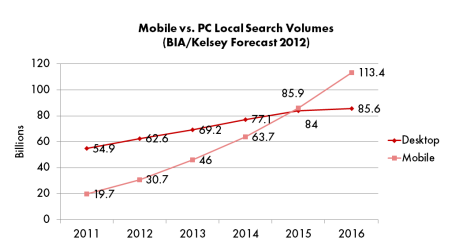 Source: IAB Local Search Study
How are people searching locally?
Searching for specifics – a potential customer has the name of your company, knows roughly where it is or knows what services you offer. Chances are they'll search based on your name, (or approximate spelling, so it always pays to be clear when naming your company) or area. So make sure that all the info you are putting out is accurate and succinct.
Finding you via loose but local parameters – people searching online are often in a hurry and want to narrow down information quickly. If they are looking to buy art supplies in Arizona, they won't put "art" as a search, or even Arizona. They will look for "art supplies, downtown Phoenix, Laveen" because they don't want to peruse the world's artistic heritage just to buy a paintbrush. A keyword and location should be enough to bring them what they need.
Many customers will just choose the nearest location that meets their needs. So for a small to medium business owner it is ESSENTIAL that you are properly managing, updating and overseeing your important keywords. If you are not categorized via search engines and have a description, you just won't show up.
Contextual discovery – Contextual discovery is the big thing in searching. What is known about a user – where they are, what they've looked for in the past, and things they have liked, purchased or places they've visited – can be used to build a user profile and market directly to them. With smart phones and social media platforms this form of targeting new customers is increasingly sophisticated and people can be tracked to their IP address or GPS coordinates.
If a potential customer has recently read an article or watched video on a subject, such as "dogs", then local listings might appear showing the nearest pet shops or kennel and grooming services. There may also be online reviews and ratings. Being inadvertent, contextual discoveries are easily ignored but when they strike a chord with customers can bring in a lot of potential business.
How local searches can work for your company
So to get their attention, you need to know WHERE people are searching, and WHAT information they are seeking out.
Search engines – as with the Google homepage, you will get a list of results, some paid listings. Your business can link from these listings when customers want more information.
Maps – An increasingly popular way to search the local area is by a pinpoint on a map offered by Google, Bing or Mapquest, etc. These show business information when selected. Map apps are part of big search engines and are great for local people as they can visualize where your company is located.
Social media – is a great way to reach out to clients as consumers find you based on positive reviews of peers and friends. You are also integrating yourself into your customers' personal online space and you can find out a great deal about who uses your services.
Online directories – like the old Yellow Pages only less bulky, directories offer company profiles, important information and also allow paid for and organic results.
Local apps for mobile devices – mobile devices are those most likely to be used for local searches and many apps have been created to locate the nearest, bar, restaurant plumber, etc.
How to get results in organic business listings
Publishers put together databases from many sources: consumers, direct business submissions, vertical service providers, etc. So if information about your company is coming from several sources, you have to be sure that they are all accurate. One way to do this is by managing all your information internally. You need to keep a list of your essential data as a source in one place and ensure it's updated regularly.
Data about your location is essential. Make sure it's highly visible on your site and tagged with microformats so it's easily displayed in search listings.
If your business is growing or has several locations, it's worth having an interactive agency manage your listings information. The advantage of this is that their services include full presence management packages including analytics and reputation monitoring, so you can stop malicious reviews or ratings.
Managing your listings
There are two ways that your information can then be disseminated.
Listing data aggregators like Neustar Localeze or Yext make it easy to manage your listings across many directories. By uploading your information to their databases, your listing gets distributed to all the directories they partner with. This can save you a great deal of time and frustration if you have a multiple locations.
You can also do it manually by going through different listing sites and filling out forms with your data. This gives it an "owner verified status" that can potentially improve your performance within that site, but it is a time-consuming process.
A good strategy is mixing these two tactics together. You can manually claim your most important listings like Google+ Local, Yahoo! Local, Bing Places for Business and Yelp and then work with a listing aggregator to cover the remaining mass of directories out there.
Make sure your data is correct
How much information a publisher requires can vary, but always think NAP (Name Address Phone)! These need to be consistent over every site – they are essentially your business' local fingerprint. Don't vary the way you write the address or name of the business or you will get duplicate listings. Remember to add business hours and a mini-description of your company. You won't have much space but always include the name of the city and state.
If your company has a social media presence, (and it really should) add links. Social media can have an impact on search results and will be a big part of your online reputation. In fact, monitoring social media is becoming so important to small businesses that we should probably look at this in a future blog article.
Potential problems
Duplicate listings – with search engines getting information from several sources, overlaps mean that there can be more than one listing for one location. This can be confusing to the people searching and they may end up bypassing your business altogether. This is why it is vital that all information is consistent, each and every time.
Inactive listings – Have you changed the name of your company, moved address or even changed your web address? Then chances are that your old information is still out there and sending people in the wrong direction, or frustrating them with phone numbers that are out of use or offers that are no longer valid. You have to make sure that out-of-date listings are removed and this means tracking down the people hosting it. It can be a long process but worth it, as it keeps your company looking fresh and relevant.
You will never track down every inaccuracy: after all look at what you are dealing with. The spider's web that is the Local Search Ecosystem!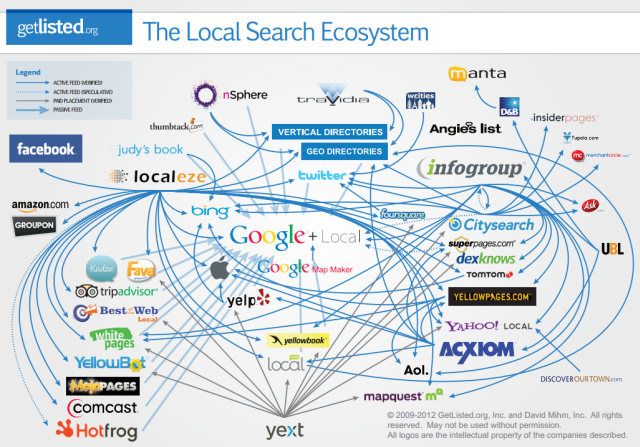 Source: Getlisted.org Local Search Ecosystem
The local search ecosystem is so incredibly confusing and complicated that a certain level of duplication and inaccurate listings is inevitable; however, keeping these to a minimum by maintaining the accuracy of your data (either through manual updates or working with a listing aggregator) will greatly help search engines and directories keep things organized.
Have I been successful?
Well that depends on how you measure your success and this in turn, depends on what type of company you run. If by improving your local search presence you are getting more and more calls from local customers, more appointments made or even just more people visiting your website, then it is probably working well. But it is worth viewing reports to measure progress and site hits. Here are a few resources that might be helpful.
Get a citation report – to show the number of places where search engines find your listing on the Internet. This is done over time so you can measure your citation growth.
Whitespark has a fantastic tool for this, or you can use some advanced search operators in Google to help track down your citations.

Local ranking analysis – Not every keyword phrase will return local results in search engines, but keep an eye on those that do and track your movement within these rankings. SEO Book's free Rank Checker can help out with this.
Visibility reports – these will examine the main search engines and help spot variations in your main data elements such as phone numbers, addresses, whether you are "owner verified", etc. and can help suggest others places where your details can be published. Check out getlisted.org for an excellent report on your listings in major directories.
Check the metrics
There are other ways to check if your drive for local search traffic is working other than simply monitoring clicks, calls and views. Look at how people are using your site with a tool like Google Analytics; are they looking at your service list or reading testimonials? Are customers bringing in online coupons or reviewing your services? Are you being liked and linked on Facebook or mentioned in Yahoo? You have to monitor all of your Internet presence to stay in control.
It's worth the effort!
If you enjoy success in local searches, your business should thrive. Of course, it might take a bit of work to get you started, but if you are getting new reviews, social media mentions as well as links and citations every month, it is totally worth it.
---
Need Some Help?
If you feel confused or overwhelmed, don't be. Pronto has you covered. With over 1500+ WordPress websites under our belt, we can help you with all your WordPress needs and more. From SEO all the way to Integrating platforms.
Schedule a call with one of our Pronto Experts and learn how we can secure your website so you can focus on your business.