Every action you take as part of your online marketing campaign has the same goal: to create new relationships and make new sales. No business wants to spend money on a marketing channel that hasn't proven itself with a demonstrable return on investment, which is what makes digital marketing so difficult. The industrial sourcing process can take as little as a couple of days when it's an emergency, and as much as several months or years in the case of large projects.
All the while, you're spending thousands of dollars on marketing tactics that may or may not one day lead to new projects. That's why it's so important to focus your marketing efforts and the language you use online to the specific problems your target prospects have, when they have them. By fully understanding the supplier decision making process, and knowing when your prospects go online to do research, and at what stages you can capture their attention, you can streamline your efforts and generate more leads with a higher likelihood of success.
Where Marketing Fits in the Sourcing Process
The sourcing process is a long one. Well before someone visits your website or calls for a quote, there is the establishment of a need, then the design and prototype of a new part or product. These steps can take several months and often go through multiple internal iterations before any outside vendors are contacted.
As design and prototype is wrapped up, however, there are two very specific instances in which your website becomes a valuable resource for prospects. The first is for the design engineering team. The men and women who are designing the part will do research to find manufacturing partners who can meet their design specifications. Whether researching development of a prototype or material selection for the shape they've developed, they often need information that only a manufacturer can provide. This is a hugely important part of the process and can directly inform vendor selection by procurement.
Which is what happens next. Once a design and prototype are developed (sometimes even before prototyping), procurement will dive into the research process to qualify potential suppliers. Most companies will start with their existing vendor list – the companies they've already worked with. For new parts, however, or for requirements that go beyond the scope of what those suppliers have done in the past, new vendors may be needed. This is the sweet spot where you can have the greatest impact with your marketing efforts.
How to be Top of Mind During the Procurement Process
Procurement is concerned with the quality of the work the vendors they select do, the cost of that work, and their ability to deliver on time and reliably. So they spend a lot of time vetting and evaluating potential vendors to ensure they can meet every key metric the company has set.
This involves creating and maintaining their approved vendor list, reviewing the Bill of Materials that the design engineer provided for the specific parts needed in the new product, and then finding the best possible source for those parts.
At the same time, this research process requires that they gather ample information from their prospective suppliers – things like:
Certifications
Declaration Information
Materials Safety Data Sheets
Equipment and Capability Lists
At the same time, because this individual works with hundreds of different suppliers in a range of fields, they may not fully understand what you do or the value-add propositions of your services. So, having an easily accessible pool of information on your website is vital to be able to capture attention and gather new leads, all while helping them to more fully understand the things that matter most when sourcing what you offer.
Being Ready for the Sourcing Process
From the initial research done by design engineers preparing their prototype designs, to the research of procurement managers gathering information about your capabilities, it's important to have as much of this information front and center as possible.
A good website, designed with your target audience of decision makers in mind, can not only improve the experience of your prospects, but increase the likelihood that you make sales when the opportunity arises.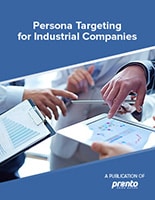 Persona Targeting for Industrial Companies
Learn how personas work and how to define yours in order to attract potential leads and improve your marketing ROI.