Trying to decide between a dedicated WordPress maintenance company and hiring an Upwork freelancer to take care of your site is tricky. It's difficult to weigh your options and effectively compare the two, and making the wrong choice could negatively impact your budget, website, or both.
In this article, we'll give you a brief overview of what an Upwork freelancer does in contrast to a dedicated WordPress maintenance company. Then we'll talk about 4 reasons why it makes more sense to work with the latter. Let's get to it!

What is Upwork? And How is it Different From a WordPress Maintenance Company?
How to Use Upwork?
Upwork enables you to hire independent web professionals to take care of WordPress maintenance tasks for you. If you're running a WordPress website, you can find thousands of 'experts' who can help you with everything from speed optimization to fixing errors on your website: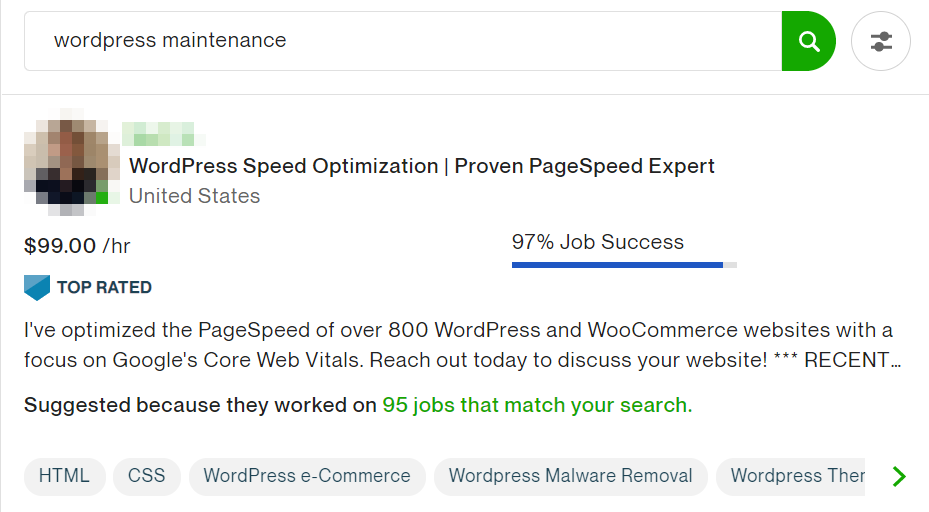 To hire someone on Upwork, you need to create a job that outlines what you need from a freelancer: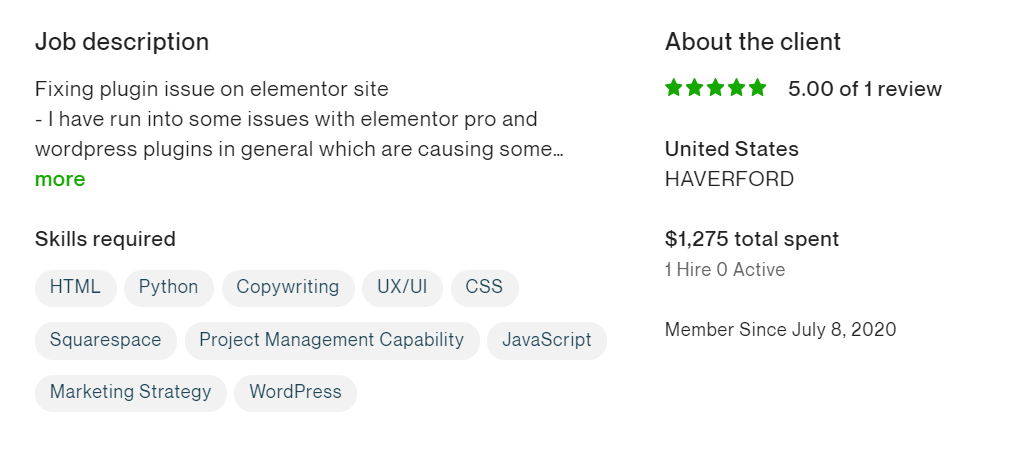 Freelancers can then apply for the job, or you can invite experts who you think would be a good fit. The process itself is simple, but finding a candidate can take a long time if you're new to using Upwork.
Additionally, although you can find affordable freelancers on Upwork, top talent tends to command very high hourly rates – as much as $120 per hour for WooCommerce maintenance. In many cases, you might not know how long it takes to fix an error or carry out routine maintenance, which can easily lead to you accidentally blowing your budget.
What is a WordPress Maintenance Company?
By contrast, a WordPress maintenance company serves as an all-in-one solution for website performance and security. Instead of having different freelancers handling different problems, a maintenance company offers its clients a buffet of services under one umbrella.
Whipping up job outlines and self-performance checks aren't necessary. For clients, a WordPress maintenance company offers around-the-clock reactive and proactive uptime monitoring, ensuring that all websites are firing on all cylinders.
By searching for and installing manual updates, WordPress maintenance companies also keep client WordPress sites on top of the latest features and security fixes.

In the end, business owners can hand over their WordPress website and be rest assured that it's in good and secure hands.
Why Hire a WordPress Maintenance Company Instead of an Upwork Freelancer?
Although finding reliable freelancers on Upwork is relatively simple, it makes sense to partner with a WordPress maintenance company if you think you'll need regular assistance with your website. Below, we'll break down 4 other reasons why hiring a WordPress maintenance provider might be in your best interests.
1. Benefit from a Clear and Established Process
WordPress maintenance companies usually have processes and frameworks in place to manage every type of issue they encounter. For example, if you have a slow website, your maintenance provider will probably have a step-by-step process to identify optimization issues and fix them. This makes for highly efficient solutions.
A freelancer could accomplish the same result, but they often won't have a framework in place to do it. That means they might take more time than a company does to fix a similar problem, which translates to more billable hours and higher expenses on your end.

2. Receive Access to a Complete Skill Set
One of the biggest challenges of hiring a freelancer for WordPress maintenance is that, in most cases, you want to hire specialists instead of generalists. A freelancer who offers Search Engine Optimization (SEO), speed optimization, WordPress support, and web design will usually deliver lower quality results compared to experts in each area.
If you have a long list of maintenance tasks to take care of, finding the right specialist for each of them can be time-consuming and costly. By comparison, hiring a WordPress maintenance company can be the most effective solution as they often employ teams of experts who complement each other's skill sets.
Instead of hiring multiple specialists and negotiating contracts with each of them, you can deal with a single point of contact with a maintenance company. That will save you time and, in most cases, money.

3. Work With a Reliable Team
Even if you're comfortable hiring multiple specialists to help you with WordPress maintenance tasks, it can be hard to assess how reliable a freelancer is on platforms such as Upwork. Even if they have good reviews, you might not be satisfied with the quality of their work or with how long it takes them to complete a project.
Upwork usually protects clients in the case of disagreements with freelancers. However, disputing payments and project terms can be a long and arduous process. WordPress maintenance companies tend to be more reliable as a whole since you have clearly outlined terms for each service that they offer.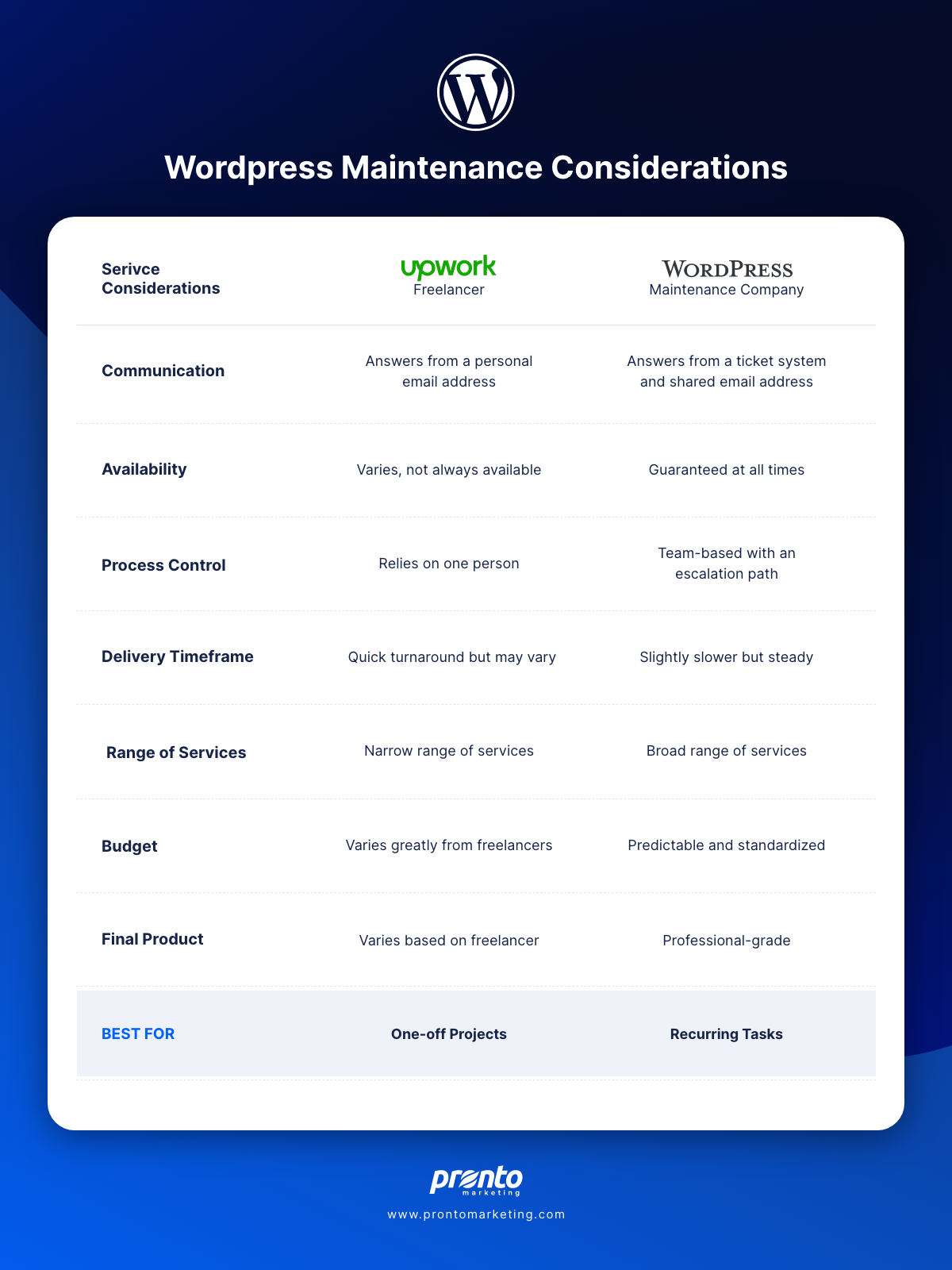 Additionally, it's also much easier to check a maintenance company's reliability as you should be able to find reviews for any reputable service. On top of that, an established company might have awards for customer service and past clients that you can review.

4. Get a Long-Term Solution from the Start
One of the most important advantages of working with a WordPress maintenance company is that once you find a reliable provider that offers support for all areas of need, you might not need to go through the hiring process again. With freelancers, you run the risk of having to seek out a new professional for future tasks if your previous hire becomes unavailable.
A lot of WordPress maintenance companies offer ongoing services for their clients. That usually means that you pay a set fee every month for a specific amount of work, and your provider will ensure that your website remains in top shape without you needing to worry about it.
Conclusion
Freelancers can be a great solution if you have very specific problems with your website that you can't fix on your own. An expert might be able to come in and get your site back up and running in only an hour or two. However, in most cases, you'll be much better off hiring a WordPress maintenance company.
Let's recap the reasons why we recommend hiring a WordPress maintenance company over an Upwork freelancer:
Benefit from a clear and established process.

Receive access to a complete skill set.

Work with a reliable team.

Get a long-term solution from the start.
Ready to start working with a WordPress maintenance company? At Pronto, we're here to help keep your site fast and secure!