Website evaluation is something people tend to overlook. Sorry to rock your boat, but even though you have a website that doesn't mean it's a good one. Your website is one of the best mediums for getting your business out to the world. As such, you need to make it as easy as possible for your clients and future prospects to navigate through your site.
There are a lot of moving parts to a website, such as user experience, the type of content you're producing to the speed of your site. Finding the best balance for everything is not as easy as finding a generic template and following it. But one thing is for sure, the foundations of a good website are the same. That's why we've broken it down to four sections:
User Experience
Website Design
Content
Search Optimization
User Experience
When a client lands on your site, they are expecting to find the information they need easily. When a site becomes too complex or if some navigational tools are missing, people will get lost. To help ensure there is no confusion moving through your site, think about it like breadcrumbs: Does the trail reach your desired destination? Does it break? Do any issues prevent visitors from reaching their desired page?
User Experience Checklist:
How long does it take your site to load? – People have grown accustomed to receiving information fast! We all expect to get what we want, right when we ask for it. So If your site takes even a few seconds to load, people will not wait. Remember, you're not the only company in your industry.
Is your site easy to navigate? – Imagine you are a client wanting certain information. Look through your site, is it easy to do so? Bad navigational paths lead to bad conversion. If you are having trouble moving around your own website, then your clients and prospects will probably have the same problem.
Site optimization – not everyone uses a computer to surf the web, especially with the massive handheld technology boom. People are adopting mobile phones and tablets to browse the internet, and they expect your website to work seamlessly on these devices
Website Design
Your website is an extension of your brand, and like meeting someone new for the first time, first impressions are very important. The better the user experience the more likely they'll trust and remember you. So what are the things you need to look out for? Your industry will play a big role in how your website will turn out, but other things to keep in mind include colors, composition, layouts and a clear eye path.
Website Design Checklist
Does my website reflect my brand? – Your website should always fit your branding design, the colors you use, and the themes. That way, if someone sees your site they will know it's from you.
Are you using high-quality photos? – High-quality images have high resolutions. This means they're not pixelated, are set on a neutral angle, and so complement your site. Using pictures taken from your iPhone is not a good look. Getting images professionally taken shows you care about the small details.
Is your layout easy on the eyes? – Too much clutter on your site will cause confusion and in turn, be extremely unappealing for the user. Too minimalistic and your site might seem unfinisheds. Find a good baseline and stick to one style rather than many — you don't want your clients to get a stroke.
Here are some examples from our clients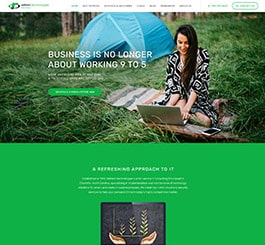 Is your website outdated? Pronto offers a complete and affordable website solution for Website Design and Website Support!
Website Content
Website content refers to the information you're trying to convey to your users. This could be in the form of text, videos and/or images. Without the following, it will be difficult for your viewers to understand who you are, what you are doing, and why they should contact you. Things like the tone of your writing, typo and grammatical mistakes play a big roll in your success. Outdated information can be the nail in the coffin, too.
Website Content Checklist
Is your content easy to understand? – Well-structured sentences that are straightforward and easy to comprehend are what you should aim for because once your readers start getting confused, they'll end up moving on to another website. All of your content needs to be connected; don't just put in things for the sake of filling up space.
Are there any typos and grammar mistakes? – When readers see mistakes in your content, it tells them that you're careless. You might think this unrelated to how you do business, but it is. The lack of detail implies that if you can't even look after your site, you probably can't provide the support your clients need.
Is your content up to date? – People are looking for a reliable source, so if the content on your page is three years old and isn't relevant to your audience, users will automatically think you're not looking after your site and so look elsewhere. Learn more about why fresh content is critical for your website and SEO.
Search optimization
Let's say you have a great-looking website, but have no idea why people aren't seeing it. This is likely because your website isn't optimized for search engines. SEO is your friend and prior to common belief, it is quite complicated. When search engines bot crawl the web, they look for sites that are…
Search optimization Checklist:
Are your images tagged? – Alt attributes are text the pop up when an images has an error in downloading. The more descriptive your images are, the more likely they will show up on Google Images. Things like Meta Descriptions and title tags can substantially improve visibility.
Local SEO – Google searches are based off of user location, so it's only beneficial if you show up on people's searches that are in the same area you are in. The more you show up, the higher your local ranking is.
Is your site linked to your social media? – Social media platforms like Facebook, Twitter, and LinkedIn can help your business gain traction and engagement because they expose your business to a wide range of visitors. The key is to determine which platforms are most popular for your audience.
Long story short, even if you have a website, there is always room for improvements. There is a lot more that goes into a website than just finding nice pictures and a domain name. All the small details when added up impact your site greatly. We here at Pronto Marketing believe that the best websites cover all of these bases and much more. Let's push your business forward, together. Contact our team for more information.