Using Interactive Design Functions to Vitalize a Family Law Website
Garriott Maurer, PLLC is a full-service family law firm located in Virginia Beach, Virginia. The firm's attorneys specialize in a broad spectrum of legal services, including child custody, child support, divorce, property settlement, spousal support, and criminal matters.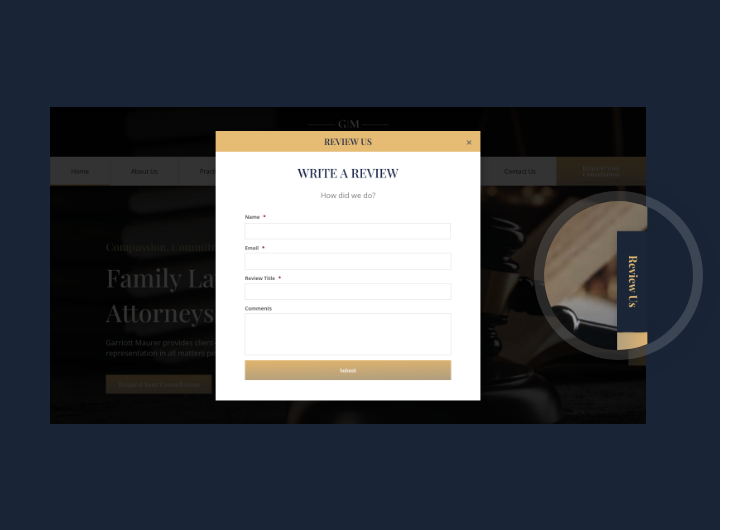 Refining the Call To Action (CTA)
When building a website, it's strategic to think about some immediate calls to action — what are they, and how you want to present them. 
When we started working with Garriott Maurer, it was clear right away that the law firm had a sense of class that was important to maintain.
 We set out to highlight both a 'Review Us' and 'Payment' CTA without compromising the website's classy finish. We did this by building two clickable floating tabs that are permanently anchored to the right side of the website.
"Going into the project, it was important for us to maintain a professional image. Pronto did a great job in adding important and fun elements to our website without compromising that."
Choosing a law firm is a big decision for consumers. It often hinges heavily on trust, and a great way to build that initially is to offer clear and detailed information about your services. Garriott Maurer offers counsel in Divorce, Child Custody, and Child and Spousal Support cases. 
When building their new website, we developed respective pages for each service. This allowed us to deliver the information around each of them in a clean and easy-to-follow manner. To help achieve this, we made use of accordion-type text boxes as well as clear CTA functions.
"As a law firm, we get a lot of questions about our services. Pronto was able to help us provide answers preemptively by expanding our website pages. We can now use our website as a reliable source of information for our clients."
Client testimonials are easy to incorporate but sometimes tricky to nail. They often go unnoticed because of their placement and design.
Ideally, a web visitor should never have to probe for testimonials. They should be present and easy to find.
Garriott Maurer had several solid testimonials for us to work with. We incorporated the five strongest into the website's homepage and did so with an elegant and inviting design.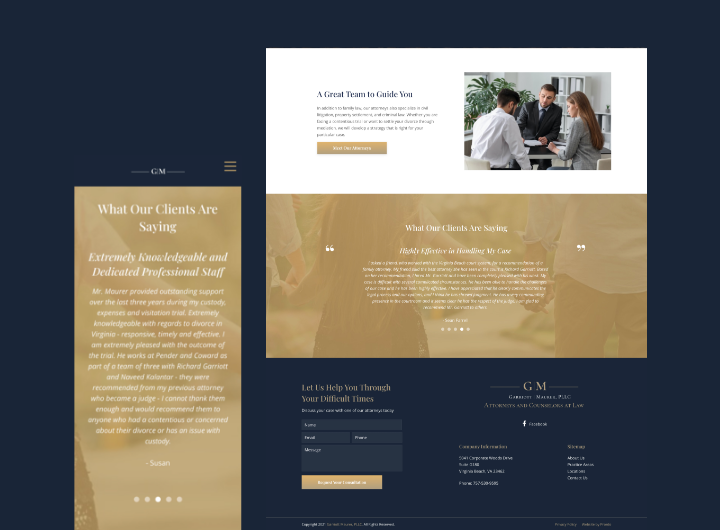 Garriott Maurer had a clear objective in mind, and they approached Pronto to help them see it through. The website redesign helped highlight essential information that is fun to navigate and pleasing to the eye.
Make your business stand out with a unique WordPress website design
Reliable WordPress website support services
See Other companies we helped Dawna Gutzmann MD & Associates
Engaging patients through interactive design measures