Your brand is the focus of your marketing efforts, but should it be the primary focus of your website?
It's important to ask this question because most businesses believe that their customers are interested in the company's story. However, the reality is that businesses need to frame their marketing message around the customer's needs because that's why they ultimately turn to a business: to fulfill their needs.
While it is true that customers want to know about your business eventually, they first must be convinced that you are the one who can meet their needs and solve their problems. That's where the power of storytelling comes into play.
By creating a narrative framework, your business website can lead a customer through a curated journey that concludes with a successful conversion. StoryBrand, a marketing philosophy created by Don Miller, uses a framework that helps us simplify this journey by casting the reader as the protagonist in their story.
Their story takes them through a journey that highlights their needs, recognizes their pain points, and establishes the brand as the "guide" that helps them address their problems and achieve their goals.
Let's take a deeper look at what StoryBrand is and how it can keep visitors engaged and inspired to take action.
StoryBrand and the hero's journey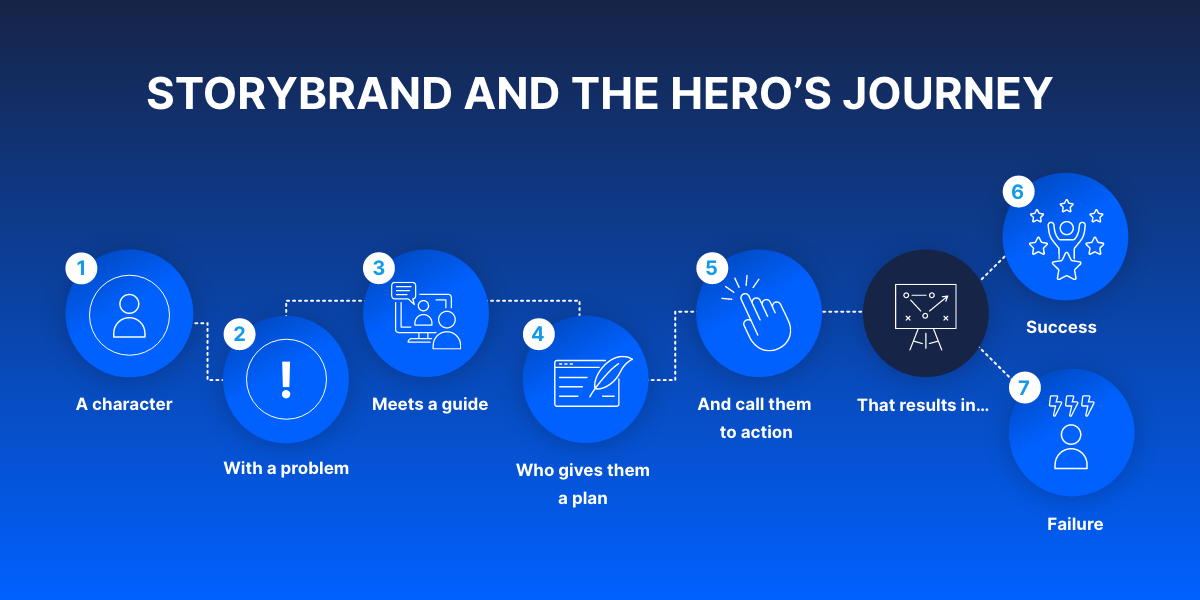 So how exactly does the StoryBrand framework create a compelling narrative that translates well to business websites? Casting the reader as the protagonist puts them front and center in the story.
By highlighting their needs from the beginning, we can hold their attention while we lay down the path to getting these needs met, explaining how they will enjoy excellent benefits and the resolution of those troublesome pain points along the way.
You already know that these benefits and pain points are important to prospective customers, but you must make sure that they know that you know. By displaying empathy and showing them an understanding of their problems, your brand becomes a key figure in helping the hero overcome their challenges.
You are the Master Yoda to their Luke Skywalker, the Gandalf to their Frodo, the Mr. Miyagi to their Daniel-san.
How does Pronto leverage story telling for our clients?
Creating a satisfying hero's journey is one of our main objectives when developing effective marketing copy for our clients' websites. While StoryBrand can be used in many aspects of marketing and branding, we try to present a complete story up front on the homepage. This grabs the reader's attention immediately — the first and perhaps most important step to getting them to fulfill our clients' marketing objectives.
The main heading of the homepage is the most prominent text on the site, and we use this to summarize what the business does in the most concise way possible. Once the reader knows that they are in the right place, the focus turns to their pain points and problems, because negative feedback in this form is more likely to make them consider the solution immediately at hand (in our case, this is the business or brand).
Here's an example of how we frame pain points on an insurance provider's homepage: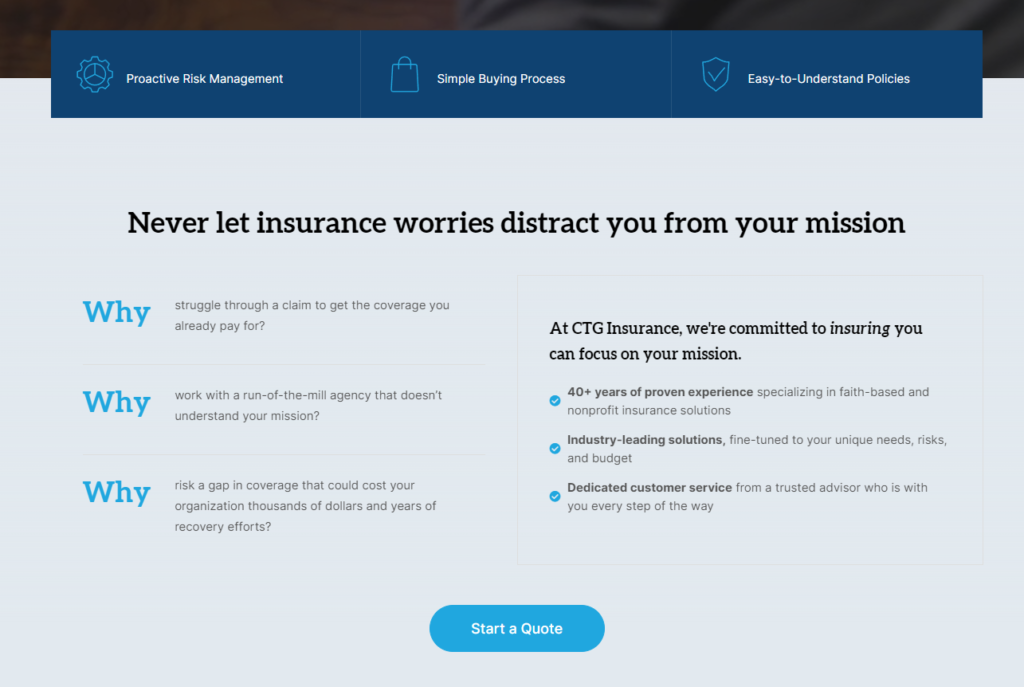 As you can see, pain points are very specific, and they emphasize the difficulty of what the reader wants to achieve and that the business understands this difficulty. It is at this point where we can present the brand as the guide with the answers to these pain points, as well as some of the benefits enjoyed from employing this guide.
There are some do's and don'ts to keep in mind here, and one of the main imperatives is keeping the focus off the company. For example, there's no need to talk about all the services in one massive block of text on the homepage, like this website does: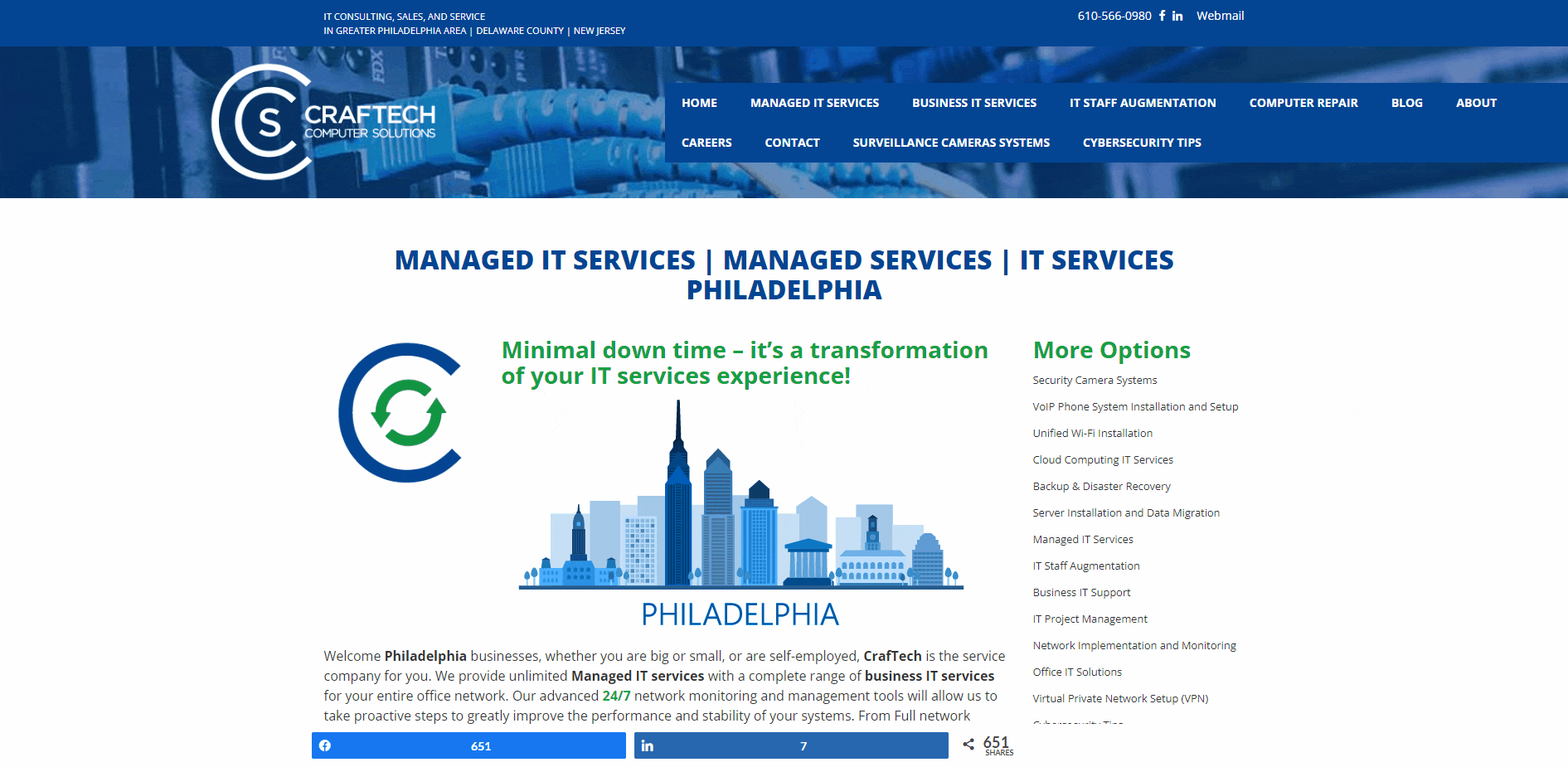 This is the proverbial "cart before the horse." The reader is already bombarded with solutions which they might not want or even understand yet. The website has too much information about their services, and little, if any of it, pertains to the customer's immediate needs.
This is usually a major turnoff for readers, as they will probably close the page rather than continue reading. It's the digital age after all, and attention is at a premium.
Here's why StoryBrand works
Creating a succinct, structured, and well-designed homepage is key to catching and holding attention, and StoryBrand helps Pronto create the framework to do it. We avoid pitfalls such as excessive text, bloated segments, and large amounts of pointless or tangentially related information.
Instead, we create pages that engage readers right off the bat, build trust, focus on the reader, demonstrate that we understand their needs, and finally present them with a tantalizing future with ideal solutions to their problems.
We also supplement StoryBrand with other proven methods from our marketing toolbox, such as social proof, lead generators, SEO best practices and targeted conversion opportunities.
Conclusion: "If you confuse, you'll lose"
There's only one chance to make a good first impression, and your business's website is the perfect venue where you can put your best foot forward to build a foundational relationship with a prospective client.
In the storytelling journey we craft on each homepage, every piece of content has a role and a purpose. There's no room for fluff or content that doesn't speak to the reader, so they are less likely to become confused or bored and click away.
Contact Pronto today if you'd like an engaging homepage and site content that concisely shows your prospective customers how you are the one to help them find their way to an ideal solution to their problem.
Interested in applying a more holistic approach to your marketing? Growth Connect, our white-glove sister company can create custom marketing strategies and materials for all of your marketing channels.