Digital marketing can be intimidating for decision-makers in the manufacturing industry. Many shops have gotten by without investing heavily in a website or internet presence, and their owners often question why they need them at all.
Whether it's because their factory has a solid customer base, or because they don't know where to start, a lot of manufacturers neglect digital marketing in favor of more traditional approaches. But handing out printed product catalogs and data sheets is no longer sufficient. Old-school marketing limits the scope of your leads, and ultimately, your plant's growth.
Is online marketing really non-negotiable?
The majority of manufacturing customers come from the business-to-business market, and Google's research shows that 89% of B2B buyers use the internet during their research process. So if you're not online, you're hardly getting leads. But if the number of leads isn't what motivates you, what about the prospect of cheaper leads? A Hubspot study found that companies using digital inbound marketing report a 62% lower cost per lead.
Online marketing isn't just about remaining competitive or keeping your head above water; it's also about using modern approaches to generate more business with less effort. Take a look:
Online marketing is usually cheaper than traditional methods such as magazine or journal advertisements.
With online tracking and analytics, your Return on Investment (ROI) is much easier to calculate and monitor.
Manufacturers with a healthy online presence can easily build brand recognition and customer engagement.
Internet advertising can be focused on more relevant and targeted audiences than can print advertising.
Where to start
Before you begin mapping out your marketing strategy, you need to decide what its core goals are. Do you want to generate more leads, increase sales, build brand recognition, retain customers, reduce costs, or something else?
Tempted to just answer, "All of the above"? Sure, but the more focused your goals are, the more cohesive your message will be across each campaign. Once you've settled on a set of measureable goals, you're ready to start picking which strategies you're going to use.
"Content is king"
Industrial businesses clinging to the notion that this online marketing adage doesn't apply to them don't have a leg to stand on. Content drives everything on the internet — and that's as true for those in the manufacturing industry as it is for any other field.
When leads arrive at your website, they're looking for information on your prototypes, quality control, capacity, and raw materials. If one of your competitors does a better job structuring and presenting its content, it takes only 30 seconds for a lead to compare, contrast, and cross you off their list of possible suppliers.
Well-written content won't even give your leads the opportunity to check a competitor's site; it'll funnel them from useful information straight to your 'Request a Quote' page. Best of all, you already have access to free content — your own experience in the industry.
Search Engine Optimization (SEO)
Building a website with carefully created content is important, but if leads can't find your site on search engines, it might as well be invisible. Google's search algorithms change several hundred times a year, so it's no wonder many think of SEO as an untameable beast.
And although SEO was once about gaming the system, it's far more nuanced today. Google is constantly working on moving away from easily-manipulated metrics toward those that measure user experience and satisfaction. Other than a handful of back-end website optimizations, SEO is mostly about content that keeps your site visitors engaged and interacting with your site.
Don't waste money on expensive SEO coaches and consultants. Many of them got into the business when cheating Google was the name of the game, and now they're stuck trying to peddle the same solutions to stay in business.
Email campaigns
Marketing automation platforms have made email campaigns extremely effective at reaching large numbers of people. Building a list of interested recipients is the hardest part. Although you could purchase email lists, it's very unlikely you'll get anything other than "unsubscribes."
The best strategy for building your email list is totally free. Because you need recipients who are actually interested in what you're selling, your website is the best source of email addresses. All your visitors need is to be convinced that your material is worthwhile. Offer quality resources like free eBooks or quotes in exchange for contact information.
As your list grows over time, you'll be able to stay in contact with more and more prospective buyers and loyal customers. This is a great way to generate interest in a new product, discuss industry developments or announce promotions. You can utilize an email marketing platform like MailChimp or ConvertKit, which cost around $50/month.
Analytics
The final step is to track the success of your digital marketing efforts so you can tweak and improve your content, SEO and email campaigns. There are several helpful tools, but most of the time, your website can provide all the insight you need. Google's free Analytics service can help you track:
Desktop vs. mobile web traffic
The source of your site visitors (from search engines, links, social media, etc.)
How long viewers interact with content segments
New vs. returning site visitors
Which pages result in visitors leaving your site
To take advantage of this tool, just get a quick string of code from Google and insert it into your website. If you can accomplish that, analytics is yet another strategy you can add to the list at virtually no cost.
Getting everything to work together
Online marketing increases growth and profitability, encourages word-of-mouth advertising, and facilitates global expansion. It's not an alternative to traditional marketing — online marketing is the new "normal."
We promised you two things in the title of this article: cohesive and affordable. Well, as long as you have a great-looking, finely-tuned website, you've got both. Your messaging originates with your website's copy; as long as everything else evolves from that, you can utilize a number of cheap solutions to spread your message.
Of course, the most affordable option is enlisting the help of a digital marketing agency like Pronto. We'll build you a website from the ground up, and once it's finished, we'll manage your entire internet presence for a fixed monthly cost.
With this solution, you'll never have to worry about the latest SEO updates, or even writing your own content. We stay up to date on developments in the online marketing industry and the manufacturing field so you don't have to waste time and effort learning how to market your shop online. Pronto takes care of it for you, and it costs only $249/month — it doesn't get much more affordable than that. Contact us today!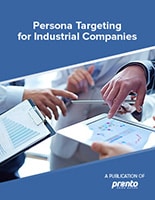 Persona Targeting for Industrial Companies
Learn how personas work and how to define yours in order to attract potential leads and improve your marketing ROI.