One of the most challenging aspects of digital marketing for a manufacturing business, especially a job shop, is identifying and targeting the right people in companies with which you want to do business.
Broad messaging can lead to unwanted inquiries in need of prototypes or small count orders at per-piece rates you cannot afford. That's why it's important to build your digital marketing efforts around the kinds of common questions your sales staff gets from procurement managers about your business.
These are the types of questions that if you answer in advance can help you attract and close more high volume business than if you simply marketed your services and technical abilities alone.
Why Procurement-Focused Marketing Works
There are several decision makers when sourcing part needs from a new supplier. Design engineers will search for and make recommendations on the process and supplier they feel best fits the needs of their designs. Executives will cultivate partnerships with new suppliers with whom they feel they can build a long-term relationship.
But in many cases, the ultimate decision is made by a procurement manager whose job is to find an affordable, reliable, and properly certified supplier with the credentials most valued by their organization. For this reason, your digital marketing efforts should focus heavily on the types of things that matter most to this individual.
Whether you are trying to get on the approved vendor list for a large company or are seeking new opportunities with small- or medium-sized manufacturers, here are five questions procurement managers will have that you can preemptively answer in your marketing materials.
How Do Your Services Compare to Other Vendors?
There are only three situations in which a procurement manager will seek a new supplier:
They are launching a new product and need to source new parts that their current vendors cannot produce.
They are redesigning a current product and are seeking a vendor who can match updated specifications that reduce costs.
They are unhappy with their existing supplier due to delivery, quality, or cost issues.
In all three situations, your quote will be compared to those of numerous other suppliers in almost every way. The cost per part, the tooling process, your on-time record, certifications, and examples of past work; everything will be compared to whom they have previously worked with or are currently reviewing.
From a marketing perspective, this means highlighting the areas in which you stand out against your competitors. If your prices are competitive, be sure to say so. If your quality and safety record are exemplary, and your shop floor is immaculate, write about it and share photos of the space to entice interest. Get ahead of this conversation and show how you compete in the space.
What Is Your Time On Time and Quality Record?
Unless your record is less than glowing, your website and marketing collateral should clearly indicate your on-time record, as well as any other quality indicators you can share.
If you are on time 99.8% of the time, make sure you promote this, along with your average lead times, and the process for starting work with you. If you have delivered massive orders with minimal or no defects, be sure to highlight this in case studies or in the copy of your website, especially on relevant service pages.
This can be as simple as a small bit of text added to the header of your website, or it can be as detailed as a PDF document detailing your average on-time rates, lead times, and general quality ratings.
Can I See Examples of Past Work?
One of the most effective ways to illustrate all the above points and to showcase what your company is capable of is to produce case studies of past work.
This is information you already have on hand. Job sheets, work orders, and specifications for past projects you have completed are in a file box somewhere in your office. Dig them up and task one of your team (or an outside writer) to produce descriptions of your work. These should include descriptions of the part (within the boundaries of any NDAs you have signed), the processes used to produce it, and specifically anything difficult or non-standard you might have done to meet the customer's specifications.
Why are these so important? Because they instantly show a decision maker what you are capable of, what you have done in the past, and how you approach a job similar to theirs. These are the ultimate social proof and can land you work on their own.
What Certifications Do You Have?
For some people you interact with, this will be a nice thing to see. For others, they are a requirement. Especially if you want to work in key industries with stringent requirements, you know how important these certifications are.
So rather than waiting for a procurement manager to ask for them, publish them on your website. Create a library and make it quick and easy for someone to download the most recent ISO certification from your website for their reference, along with anything else you might hold.
Are You On Any Approved Supplier Lists?
For many companies, approved vendor lists act as an easy gateway to their selection process. Rather than going to a supplier database and sourcing blindly, they use the lists that other large corporations like GE or Exxon have already produced to find a supplier.
Getting on these lists is an arduous process in its own right and is probably not the most efficient marketing task, but if you are already on any approved vendor lists, be sure to promote it in your marketing materials (when able). The same is true for simple trust badges – displaying the names or logos of large companies you have worked with in the past.
Targeting Procurement Decision Makers in Target Account Companies
The job shop and manufacturing industry is becoming increasingly competitive online as more companies build effective websites that promote their services, paying for advertising in Google, on ThomasNet and GlobalSpec, and in key social networks. Rather than attempt to outspend your competitors, you can be successful by narrowing your targeting and speaking to the very specific needs of your target audience.
Procurement managers working within companies you know you want to do business with will have very specific questions if you want to work for them, and by preemptively answering those questions on your website, providing valuable content that helps to resolve key concerns they might have about their current project, and engaging with them through long term nurturing campaigns, you can stand out in a crowd of active competitors.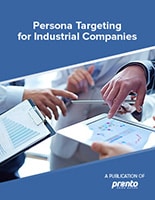 Persona Targeting for Industrial Companies
Learn how personas work and how to define yours in order to attract potential leads and improve your marketing ROI.