Your website is an extension of your brand. It represents your first touchpoint with a significant percentage of your visitors, and if it's not up to modern design standards, it can actually hurt your company. Fifty-seven percent of internet users say they won't recommend a company if the website is poorly designed or doesn't run on a mobile device. In the blink of an eye, the vast majority of users will form an opinion of your website that can directly impact their perception of your company. With these things in mind, it's more important than ever to invest in a high-quality, user-friendly website that clearly communicates your unique value proposition to customers. But the cost can be high and the turnaround time long, so what is the best option? Should you go the DIY route or hire a professional? Let's look at some of the pros and cons of each option.
Pros and cons of building a DIY website
DIY websites are quick and easy to set up, often built on ready-made templates that you can drag and drop within a streamlined interface. For a small business owner with an extremely out-of-date website (or none at all), this represents a fast and cost-effective way of checking a box. At the same time, these services can be severely lacking in key technology and design capabilities. They might be slow to load, don't scale well (if you have seasonal traffic), and look a lot like every other website built on the service. Some key elements to consider include:
Cost
DIY websites are generally inexpensive (some are even free), but the features are severely limited and key elements might be very costly. It can also be difficult (and sometimes impossible) to move your site to a new provider if you choose to upgrade later. Another major issue is that while DIY website builders are user-friendly, they require some level of technical acumen. With no experience building websites or with visual design, they might be just as challenging and time-consuming. At the end of the day, if you are on an extremely tight budget, the biggest benefit to DIY website options like off-the-shelf WordPress templates, or templated platforms like Wix or Squarespace, is that they offer a low or no-cost implementation. If you absolutely cannot afford to have a website built, this makes it a viable option for anyone.
Time and effort
There are two sides to this coin. While it's generally faster to drag and drop content into a template and launch a site quickly, it will likely take a non-technical user far longer than it would a developer, and your time is likely already limited. In the future, if a change is needed, you can make it immediately, but if you do require extended support, options are somewhat limited and you may still need help from a developer.
Customization
Finally, there's the issue of your brand and your desired functionality. DIY templates are often extremely limited in terms of how much customization you can do. There are thousands of free templates out there (and hundreds more paid ones), but they are still going to look and behave like templates without heavy customization. If you want your website to stand out and your brand to be carefully represented in the layout, a template may come up short.
Pros and cons of hiring a professional website developer
In contrast to a DIY solution, a professional developer or agency offers nearly unlimited opportunities to customize your website to match your brand, while being largely hands-off with the actual process of building it. That said, there are both pros and cons to consider as you weigh whether to hire someone to build your website.
Cost
A professional developer will have a higher immediate cost than a DIY solution, but there is some nuance here to consider. The range between an entry-level freelancer, for example, and a large design agency can be massive. The quality of service you receive and the scope of your website can also impact the total cost. There are also some agencies that might have hidden or additional costs in the future when you need updates or changes made. These are all factors to consider.
Time and effort
This is where a professional can stand out against DIY solutions. While the timeline to build a website can be weeks or even months when working with an agency, your personal time isn't devoured in the process. While there will certainly be conversations about design elements, submissions for feedback, and requests for content and images from your company, the actual task of building the website will fall to experts who can do it much faster and to a higher level of professional quality.
Customization
When hiring a website developer, you aren't limited by a template. Typically, you'll go through a design mockup stage during which you will work with a graphic and UX designer to craft the look and feel of your site, ensuring it is in line with your brand. Instead of jamming images and logos into predefined spaces as with DIY options, your developer can adjust your site to match your preferences. This extra customization can come at a cost, but it ensures a high-quality site that will match the unique needs of your business.
Choosing your website solution
Whether you opt for a DIY solution that will cost you less money out of pocket and fill an important gap in your marketing materials, or a professional developer who can build a high-quality website tailored to your business, know exactly what you are getting. Spend time mapping out what matters most and researching which option will best fit your needs. A website is immensely important to your success, so make sure yours is a choice that will serve you best.
---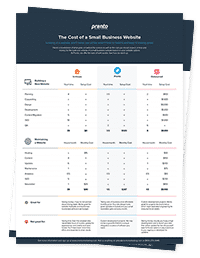 Do you know how much a website actually costs?
Get a real world cost comparison between DIY, local web agencies and Pronto