Digital Marketing for a B2B-focused business can be challenging. The focus is less on volume of traffic or number of Likes, and more on the quality and flow of leads through various web properties.
Your boss doesn't care how many people Follow you on Twitter – if you're not driving new leads to the sales team with requests that match your company's core capabilities, it's not a success.
So, it's incredibly important to have a good plan in place for those efforts before you get started. To help, we've gathered several steps you should follow as you build out your own B2B marketing plan.
Step 1 – Know Your Goals
Before you invest a single penny, have a very clear sense of your goals and how you will achieve them. These are the ultimate objectives your business is striving for – the things that your marketing plan will be measured against to determine success.
What is your overriding objective for these marketing efforts? Are you trying to become a trusted parts partner for businesses in California? Are you aiming to generate new leads from your current core audience? Do you want to re-engage inactive customers? When defining your goals, be more specific than just "increase revenue."
Once you know your goals, set specific KPIs that can be measured and tracked over time. These should include:
Traffic growth over time
ROI on marketing efforts
Number of sales-qualified leads produced
Number of new customers acquired
Number of old customers re-engaged
Make sure you are realistic about your KPIs – if your sales cycle can be as long as six months, don't set a three-month ROI goal you won't be able to measure because of the length of your sales process.
Step 2 – Evaluate Past Efforts
For a lot of manufacturing businesses, past efforts may be strictly offline, or short engagements through online efforts.
But whatever your past efforts, take time to evaluate them now and determine where you had success, where you didn't, and in what areas you'd like to improve. Other things you should evaluate and track include:
Competitor performance and realistic benchmarks
Search engine optimization and advertising strategies
Previously published content and its performance levels
Owned and earned media outlets that you already have in place (social media, online directory listings, etc.)
By having a clear sense of which resources are already at hand, how they are used by competitors, and how you can take advantage of them, you can be more effective in your efforts.
Step 3 – Understand Your Target Audience
One of the most important steps you can take to ensure your marketing efforts are a success is to optimize and customize your content to the types of people you are contacting. Who are they and what are they interested in? What are their core needs and how can you resolve them?
Spend some time reviewing our articles on some of the most common personas targeted by manufacturers, including those in procurement, engineering, and the executive team for an overview of what that type of targeting will look like.
Step 4 – Set a Budget
No matter how many cool ideas you've developed from Steps 2 and 3, it's important to know your budget and available resources so you can work within those constraints. Some of the factors you should consider when setting a budget include:
What resources do you already have in house that you can leverage for your efforts?
What is your overall budget for marketing efforts (including your current offline efforts)?
How will you allocate your budget to each of the targeted channels you'll be working within?
Once you have a sense of how much money is available for your marketing efforts, what results you can realistically expect from each channel, and who is available in-house to facilitate these efforts, you can create a budget for your digital efforts.
Step 5 – Create an Actionable Plan
You now have all the pieces you need to create an actionable plan for your digital marketing efforts. There are several factors to keep in mind, though, especially for those of you who are obsessively organized and want to know what is going to happen in advance.
Marketing is inexact by its very nature. What works for one company may not work for another. And what works for you once may not work forever. So, your plan needs to be as flexible as possible to account for seasonality, shifts in consumer interests, budget adjustments, and other factors that may sideline some of your tactics.
Continuing to spend or invest time in certain efforts that just aren't working is a sure way to end up with an indefensible marketing report that you must explain to your boss. Here are steps you should consider:
Create a clear outline of dates and actions for the first 90 days, along with the goals you hope to achieve from those efforts.
Clearly outline the specific resources and elements needed to execute your plan, and determine who gets ownership of each.
Establish review interviews – monthly for tactical overview and quarterly for strategy – to determine what is working and what isn't.
More important than anything, if something isn't working, be ready to act and change your efforts accordingly. Don't be afraid to blow up a part of your marketing plan after three months if it just isn't working. At the same time, be wary of certain efforts that need more time to show results – search engine optimization, for example, may take at least six months to show tangible results, even when done properly. So, it's important to be ready for that potential interval.
Using Your Marketing Plan to Drive Success
The success of your digital marketing efforts will depend on a lot of factors: trial-and-error, constant monitoring, and in some cases, being in the right place at the right time. Persistence and attention to detail are vital, and those are possible only with a clear plan that shows what needs to be done and when.
Do these things to significantly increase your B2B marketing plan's chance of success.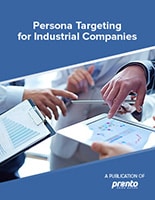 Persona Targeting for Industrial Companies
Learn how personas work and how to define yours in order to attract potential leads and improve your marketing ROI.