Few businesses give email marketing and newsletters campaigns the attention they deserve. They underestimate its importance as a marketing channel and the influence it can have on your customers.
Unfortunately, many of these businesses focus their marketing efforts on social media platforms instead of email campaigns. Facebook and Twitter are a great way to promote your product, and Google AdWords is an excellent solution for cost-effective advertising, but nothing can replace the selling power of a well written newsletter.
Newsletters are your own. You have total control of the content, there are fewer distractions than a social media feed or a search engine results page, and above all else — newsletters are personal.
Here are a few stats that show why email marketing and newsletters are so awesome:
Clearly, email marketing can be extremely powerful in building relationships, increasing clickthrough rates and getting more conversions from your marketing efforts.
But here's the catch: Newsletters and email campaigns must actually be worth reading to work.
If you have thousands of email subscribers, but your content isn't up to snuff, or doesn't offer real value, you're not going to see a lot of ROI. That leaves a lot of businesses asking the question: How can I balance quantity and quality to keep up with my competitors?
If you're trying to churn out a weekly, or even monthly, newsletter, coming up with fresh and unique content can be quite a challenge. We're here to help.
Below are a shortcuts so you never run out of relevant and engaging ideas for your newsletters.
It All Starts With Research
Keyword research, topic research, trends research. Generating fresh content ideas doesn't have to appear out of thin air, at least for you. There are several free tools to help you brainstorm awesome topics for your email marketing campaigns:
Google Adwords shows you the keywords people are searching for. If people aren't searching for the topics you are writing on, there may not be enough interest to warrant an email. Take a look at our AdWords keyword research guide to understand how to determine whether people are actually interested in what you're writing about.
BuzzSumo reveals which topics are trending in your industry, who the influencers are and what is being talked about. This not only gives you ideas for topics, but it also links to full articles, the websites they are on, and which social platform they are getting the most shares from.
SimilarWeb tracks which factors have helped your competition succeed. You'll find out what keywords they are ranking for, what pages are getting the most visits, and how you rank compared with your competition. This provides valuable insight into how your content marketing can beat out the competition.
When you're finished researching, you can't just mash everything together in soulless prose. Finalized content needs to engage your audience so they can connect with your business on a deeper level.
Here's how you can mold your keywords and topic ideas into full-fledged content your audience will love to read…
Educate Readers About Your Industry
Suppose you are an IT company offering managed IT services. Before anyone gives you their contact information, or their business, they need to be confident that you are an expert full of valuable insight.
We could write an entire book on how to get those email addresses, but today we're writing about newsletters. And to keep your subscribers from hitting the Unsubscribe link, you absolutely must send them worthwhile information.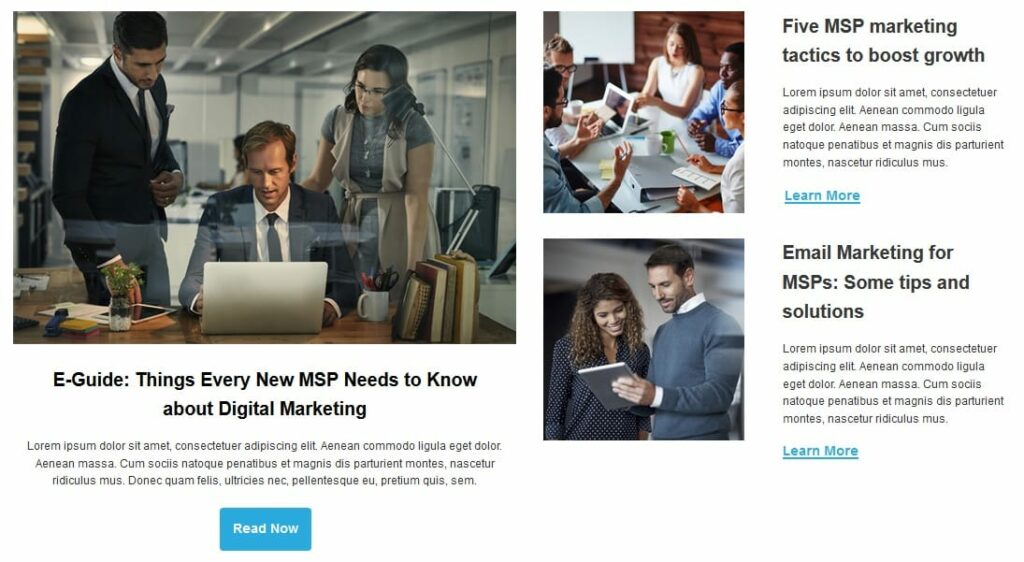 Chances are that the people who have subscribed to your newsletter are your paying customers as well. This means they are interested in what you do, and by extension, what's going on in your industry.
In your newsletter, you can inform your customers of the various updates in your field affecting you and your customers. This could be updates to data security regulations, new technology, or relevant statistics. Any one of these would add to your credibility and increase your brand's authority in that particular field.
Provide quick, easy and actionable suggestions
The most obvious way to go about this is by providing helpful tips and tricks that readers aren't aware of. If you can provide a small preview of the value you provide to them, you're sure to be on their reading list for a little while longer — maybe just long enough for you to close the deal.
In our IT provider example, providing information on how to enable new privacy features in Windows 10 wouldn't take a lot of time to draft up, and it wouldn't give away anything you should be charging for. And most important of all, this has tangible benefits to the reader!
Tell Your Story
Yet another option is to share honest and personal stories about challenges you've encountered and how you overcame them. Testimonials are great, but readers are hungry for details. Case studies and informative recaps go beyond bullet points and benefit lists to paint a clear picture of exactly what working with you is like.
This type of content is clearcut evidence of your value, and when conveyed correctly it shows how much you care about the success of your customers.
As long as case studies don't use language that puts all the focus on you and how wonderful you are, it's a great opportunity to set customer expectations and write what you offer in a more conversational, relaxed tone than your product pages.
Back to Basics
Creating compelling stories and educating your audience may be the best way to inject fresh content into your newsletters, but there's still room for tried and true strategies like surveys, promotions, giveaways and more. The trick is to add this content wisely and sparingly.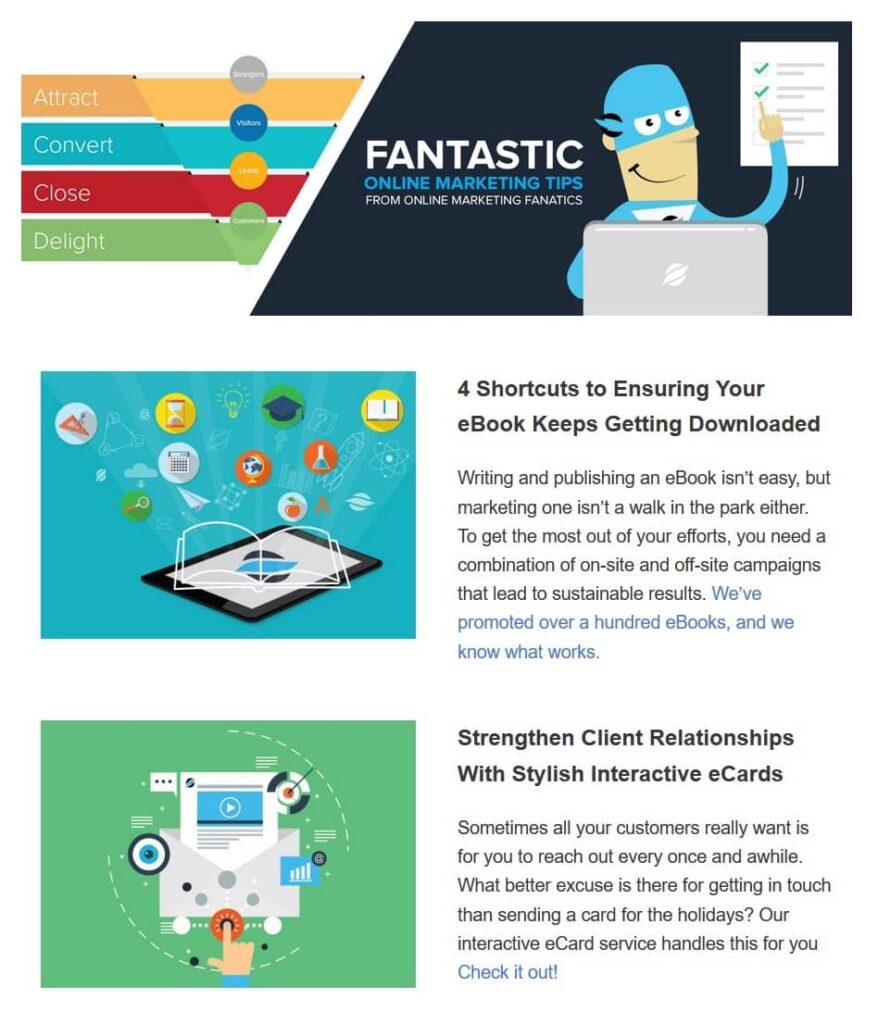 Whatever you end up putting in your newsletter, make sure to include 3-4 calls-to-action to direct readers to your website. If you aren't pushing readers to the next step in your sales funnel, all your content creation efforts are going to waste.
When all's said and done, topic and content creation isn't quite as difficult as it seems — it's finding the time that is the hardest.
Even if your company has a full-time marketer, it's probably not too hard to think of better things you could be doing with your time than writing several newsletters every month. Why not hand the work to digital marketing professionals like Pronto?
---
Need Some Help?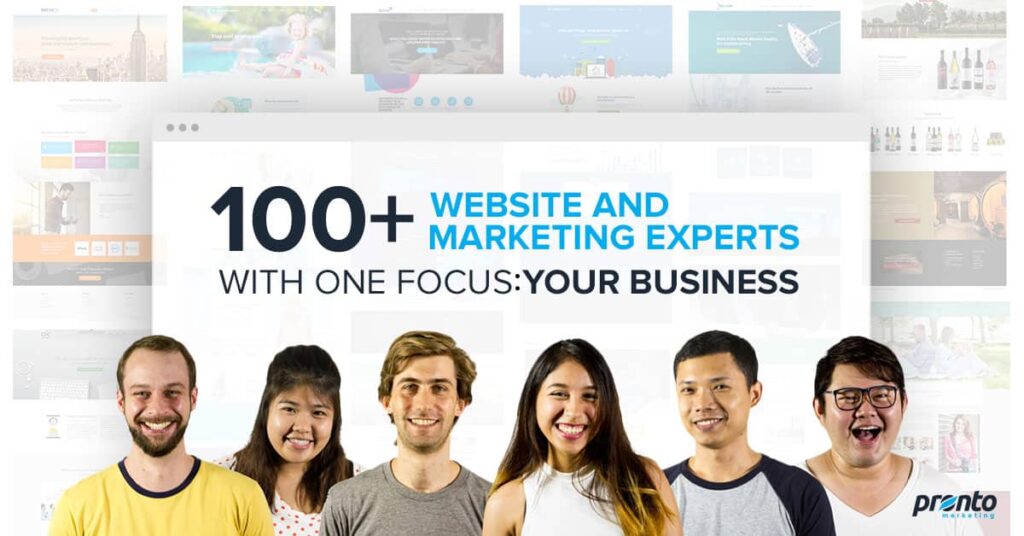 If you feel confused or overwhelmed, don't be. Pronto has you covered. With over 1500+ WordPress websites under our belt, we can help you with all your WordPress needs and more. From Content all the way to Integrating platforms.
Schedule a call with one of our Pronto Experts and learn how we can secure your website so you can focus on your business.