Let's settle this once and for all…
You and your business must have a blog.
In an age when consumers are hungry for content but stingy with their attention spans, regularly posting concise, high-quality content comes with several tangible benefits to your business and its marketing efforts.
A blog can attract new leads, earn inbound links which are important for SEO, and give you a place to build relationships and customer loyalty.
The articles on your blog are some of the best ways to develop and show off your brand identity — and that's not something you can ignore. Here are five reasons that blog posts are a must-have for content marketing — and what you'll miss out on if you skip them:
Connect with your audience on a personal level
The time when businesses were formal, robotic and "businesslike" with customers is long gone. Today's digital world has become a place where everything and everyone has to be transparent, open and humanized.
So, if you want to keep your customers, you have to gain their trust and earn their loyalty. And a blog is the most effective way to do that.
To accomplish that, you should be focusing on creating content that answers customers' questions or concerns and gives them memorable takeaways. This develops your reputation as a subject-matter expert and increases customers trust (and interest) in what you have to say.
Reading content that is relevant and targeted makes them think, "Hey! This company gets me…Look at all this useful content they're providing for free."
And when you ask readers for a tiny favor in return, like subscribing to your newsletter, downloading your free eBook, or following one of your social media accounts, they're more than likely to agree.
One great example of this is BodyScene, a group of Dublin-based fitness trainers. BodyScene's business model is based on personalized workouts whereby the trainers come to your home or gym.
Because they have no brick and mortar location, a blog is vital for them to reach new customers.
Think about it, have you ever searched for exercise advice online? If the content you found offered free advice that you found useful, wouldn't you at least give thought to checking out their fitness-where-you-are services?
This is just one of the few ways you can get leads, followers and emails with a few articles per month!
A blog will fuel your marketing efforts
It's easy to create social media accounts on ten different platforms, and with enough guidance most business owners can manage pay-per-click ads for Facebook and Google. Heck, even email marketing solutions are user-friendly enough to master in a reasonable amount of time.
But there are a few important questions you need to ask yourself:
What will you post on those platforms?
How will you research the keywords and topics that perform best on social media?
What type of content will you provide to email subscribers?
How will you convert visitors on an AdWords page if they've never been to your site?
No one will follow your social media accounts if they're solely promotions, nobody will give you their email for free and very few people buy on day one.
Your blog, its concrete advice and your brand identity are what makes it easier for prospects to give you the thumbs up.
Get found on search engines
This is what every company or business wants when they start a blog. They want to be found on search engines.
Getting a place on the first page of a search engine results page (SERP) guarantees you traffic you didn't know was possible. As long as your content is worthwhile, that's incredibly valuable traffic too.
The higher you're listed on the SERP, the more likely you are to get newsletter signups, social media followers and return visitors.
Every single blog post you write gets "indexed" by Google. And as more and more people read an article, share it and interact with it, it gets ranked higher and higher.
Eventually, after months — sometimes years — of hard work, you'll have enough successful content to keep bringing traffic to your website while you're off surfing or vacationing abroad. All thanks to blog posts that encourage readers to trust your business and its services.
How to write internet-ready content
All these benefits boil down to one thing: excellent content. Without it, readers will head back to the results page and look for another business. One with promises that are more believable.
Remember, internet users have remarkably short attention spans.
In addition to usable advice and information, you need to present it in a way that holds your readers' attention. Use:
Short sentences
Variable paragraph lengths
Conversational language
Statistics that include eye-catching characters (e.g., $, %, #, etc.)
Relatable stories and personal experiences
Writing for web content stands in stark contrast to what you learned in high school or college, but mastering a few of the essentials takes only a few days.
But to really get into the groove of writing phenomenal posts a few times a month, it'll take more than a few days…
Put someone in charge of your content strategy
Without a dedicated content curator, your blog can run into problems with a poorly defined brand identity or inconsistent advice.
Pronto Marketing builds websites for its clients and handles ongoing maintenance and optimizations for a flat monthly fee, so it only makes sense that we would offer a content marketing service in the form of customized blogging.
With our Custom Blogging add-on service one of our in-house writers will plan your editorial calendar and write articles tailored to your business's products, services and brand identity.
This bundles all the things we wrote about in this article for one low monthly fee.
The BodyScene blog we mentioned above is produced by Pronto Marketing and it's doing wonders for their lead generation and SEO rankings. For just a couple hundred bucks, they get keyword research, topic planning and end-to-end content management.
---
Need Some Help?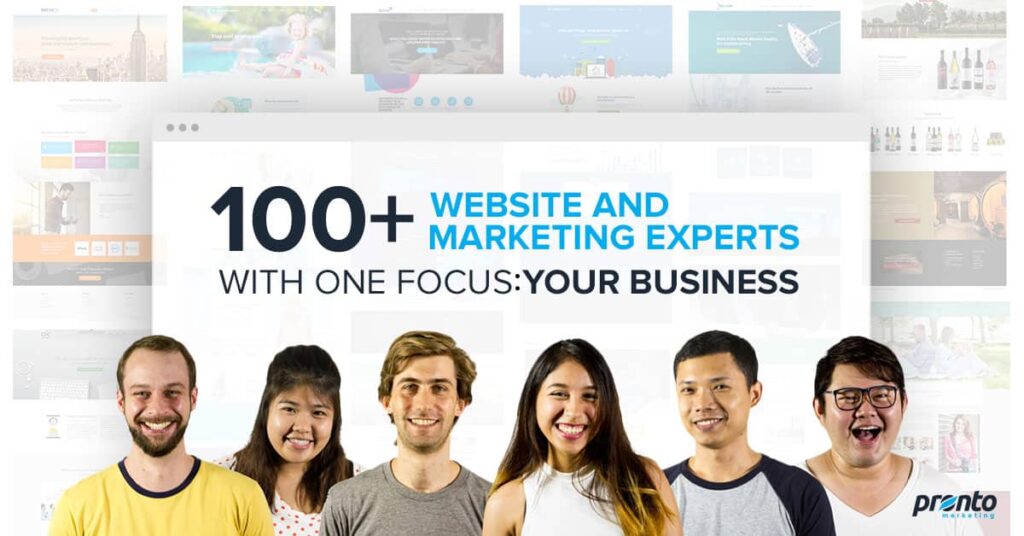 If you feel confused or overwhelmed, don't be. Pronto has you covered. With over 1500+ WordPress websites under our belt, we can help you with all your WordPress needs and more. From Content all the way to Integrating platforms.
Schedule a call with one of our Pronto Experts and learn how we can secure your website so you can focus on your business.