You've been hearing about the virtues of digital marketing to build your business and generate leads for years. But for a lot of industrial and manufacturing businesses, a big question mark remains as to whether the same tactics used by startups and shoe shops can work in such a unique and highly curated sales process.
Can digital marketing play an important role in your marketing and sales funnel?
Does it have the potential to offer real value to your business and drive new sales?
While the answer to this question is yes, it's not as simple as you might expect. The reason so many industrial companies are wary of digital marketing is that they've tried some aspect of it in the past and did not have success.
It's for this reason that we need to approach digital marketing from the unique perspective of an industrial manufacturer and what its prospects really need when searching for your products or services online.
How Does Digital Marketing Work in the Industrial Space?
What's the first thing that comes to mind when thinking about digital marketing?
Facebook?
Twitter?
Teenagers making goofy videos on YouTube?
How can those things possibly work for a manufacturer whose highest value prospects are mid-to-high tier procurement managers and career engineers?
The truth is that they don't. They don't work very well at all, but digital marketing is more than just the flashy, kitschy stuff that kids love. It's an entire ecosystem unto itself – a new way of looking at the same types of sales conversations and marketing practices you've been using for decades.
The Goal of Your Marketing Efforts
For most industrial companies, the primary goal is to generate high quality leads that eventually convert to sales. It's all about ROI.
But your metrics aren't necessarily the same as those of a company selling directly to consumers. Because you work with other large businesses and the sales cycle is anywhere from six weeks to six months, marketing needs to be persistent and educational.
It's about building a strong relationship before and during the sale, not afterwards. Fortunately, today's digital marketing resources make this not only possible, but more efficient than it ever was offline.
A good digital marketing campaign for an industrial company must do the following:
Implement a machine that efficiently captures the attention of the right people.
Automatically categorize and nurture leads once they become engaged.
Communicate actively with sales to provide key insights needed to pursue a sale.
Minimize waste on ineffective channels that don't enable points 1-3.
In the past, there were only a handful of viable channels that could do this. Things like:
Trade show appearances where your target audience is most likely to be.
Advertising in industry-standard directories and publications.
A highly proactive sales force, actively prospecting on the ground and in person.
These tactics are still effective and may make up the majority of your current marketing efforts, but they are also costly and are hard to scale. There are only so many trade shows you can attend, and those directories have a limited reach that is often highly competitive.
That's why an increasing number of industrial manufacturers have started to pull back from the traditional marketing channels and invest in digital channels that offer similar or better results.
How Digital Marketing Works for Industrial Manufacturers
So, what exactly works in the industrial space that can match or exceed your existing investments? There are three areas to review based on the specific type of results they can drive. The strategy you build will depend largely on your budget, internal resources, and existing marketing resources.
1. The Platform
First is your platform. This includes the channels you own and can directly manage. For most companies, this is a website, though some others may have online catalogs or databases, eCommerce systems, or software tools and CAD files that can support their marketing efforts.
The platform comes first, because without a good one, nothing else you do will be nearly as effective. It's like trying to run new parts on outdated machinery. You can probably produce something, but whether you can meet the tolerances quoted or quality required will be spotty at best.
Your website needs to be fully optimized to handle the marketing efforts you plan to run. This means:
A clean, responsive design that works well on desktops, tablets, and smartphones. Nearly 20% of all industrial website traffic is mobile so you need to build for that.
Ample content that clearly defines what you do and how you do it better than others. What are the key benefits of your services to the people you work with? Is that communicated on your website?
High-quality photographs and videos. Show the results of your work in the highest fidelity possible. This includes both the photography on your website and some video representation of your work (and machinery if it is not proprietary).
A good website is the machinery that will allow you to successfully run your campaign. If it is not built properly, the quality of your campaign will suffer.
In addition to the structure of your site, you need resources in place to capture attention. Most people visiting your website are there for a good reason: They need what you offer and are doing research at some stage of the process.
So provide them valuable information they can use to inform their decision. This includes:
ISO Certification and other industry-related certifications
Equipment lists and machinery specifications
Case studies showcasing your capabilities and the end results
Educational resources about how to work with your company
Charts and checklists for part selection and decision making in your industry
A combination of high-quality educational content and evaluation content that help prospects make buying decisions will capture more leads and better monetize the traffic you are about to generate.
2. Driving People to Your Website
Once the machine is built and fully optimized for marketing purposes, next up is traffic. You need to get people to your website where they can read your educational content, review your case studies and certifications, and inquire about your capabilities.
There are several channels that are better suited for industrial manufacturers than other businesses, including:
LinkedIn – While most social media marketing requires a substantial time investment, LinkedIn is an effective channel with minimal upfront investment. You can start driving leads from LinkedIn Groups, Pulse articles, and even your personal profile in a matter of days with the right content.
Google AdWords – Paid search can be highly effective if properly optimized and targeted. The more specific the services you offer and the more materials worked with, the better you can refine these campaigns to represent the types of questions your prospects are asking.
Search Engine Optimization – You'd be surprised by just how much traffic is available in a lot of industrial spaces, and how few of your competitors are doing the work needed to rank for relevant keyword terms. Even a modest SEO investment can start driving traffic in a few months.
Email – Even with all the advanced technology and targeting we now have, email remains one of the most effective channels for digital marketing. Re-engaging past customers, promoting your services in email newsletters, or following up with lost prospects can all drive results.
There are several other channels that can also be effective depending on the resources at your disposal. YouTube is highly effective if you have high-quality videos to share. Twitter is surprisingly effective in building your brand if you have the time to invest in building a community. Reddit's engineering communities and Quora's question-and-answer forums are also excellent places to engage with people if you have the time share your expertise.
The bottom line is that if you go where your target prospects are spending their time, you're much more likely to generate quality traffic that ultimately converts on your newly optimized website.
3. Nurturing New Prospects
One of the reasons so many manufacturers are wary of investing in digital marketing is that they have a much longer sales cycle than most B2C companies. It might take months to quote and close a big project. Most digital tactics feel like short-term bursts of attention.
That's where Stage 3 comes in. This is where you build a nurturing structure that keeps prospects engaged, even if they are not ready to have a sales conversation for weeks or even months. This should include:
Regular scheduled emails that go out at least once every month to anyone on your list.
Automated followup emails that go out to people who download an educational document, request a quote but don't followup, or who go cold after a lost project.
Frequent updates to your website in the form of new educational documents, a company blog, and social media content.
By providing regular content updates and touch points every week for warm prospects and every month for colder prospects, you can keep people engaged for much longer, staying top of mind so they think of you when the time comes to request a quote.
Digital Marketing Works for Manufacturers When Planned Properly
Not only does digital marketing work well for manufacturers, it is one of the great equalizers. Allowing you to compete with much larger companies through careful attention to your website, traffic sources, and nurturing tracks, you can build an audience that looks to you as an expert in your space and ultimately trusts you to provide the services or parts they need for their next project.
Does this mean your traditional marketing tactics are dead? Far from it.
In fact, the manufacturers driving the best results online are those who integrate their previous and new marketing tactics, moving directory leads into nurturing tracks, creating web resources for trade show followups, and including educational documents in sales emails.
By leveraging what you already have and implementing digital tactics that have been shown to work in the industrial space, you can drive better results over time for your company.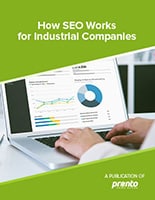 How SEO Works for Industrial Companies
This free, 15-page eBook lets you in on the secrets of tried and tested SEO best practices to drive organic traffic to your company's website.